Reversible Single-Crystal-to-Single-Crystal Phase Transition of Chiral Salicylidenephenylethylamine
1
Department of Advanced Science and Engineering, Graduate School of Advanced Science and Engineering, Waseda University, 3-4-1 Okubo, Shinjuku-ku, Tokyo 169-8555, Japan
2
Department of Chemistry and Materials Science, Graduate School of Science and Engineering, Tokyo Institute of Technology, 2-12-1 Ookayama, Meguro-ku, Tokyo 152-8551, Japan
3
Researh Organization for Nano & Life Innovation, Waseda University, 513 Wasedatsurumaki-cho, Shinjuku-ku, Tokyo 162-0041, Japan
*
Author to whom correspondence should be addressed.
Academic Editor: Sławomir J. Grabowski
Received: 3 December 2016 / Revised: 22 December 2016 / Accepted: 26 December 2016 / Published: 29 December 2016
Abstract
The chiral crystal of enantiomeric (
S
)-
N
-3,5-
di-tert
-butylsalicylidene-1-phenylethylamine in the enol form [enol-(
S
)-
1
] undergoes a reversible single-crystal-to-single-crystal (SCSC) phase transition at
T
c
≈ 3 °C from the room temperature
α
-form in orthorhombic space group
P
2
1
2
1
2
1
(Z′ = 1) to the low temperature
β
-form in the monoclinic space group
P
2
1
(Z′ = 2) with a thermal hysteresis of approximately 1.7 °C. A detailed comparison of the crystal structures of the
α
- and
β
-forms revealed that the 5-
tert
-butyl group of one molecule in the asymmetric unit of the
β
-form rotated by ca. 60°, and the dihedral angle between the phenyl and salicyl planes increased slightly in the
β
-form crystal. However, the changes in the molecular conformation and packing arrangement are small, which leads to the reversible SCSC phase transition with no destruction of the crystal lattice. The dielectric constant along the
b
-axis was small, probably due to the weak intermolecular interactions in the crystals.
View Full-Text
►

▼

Figures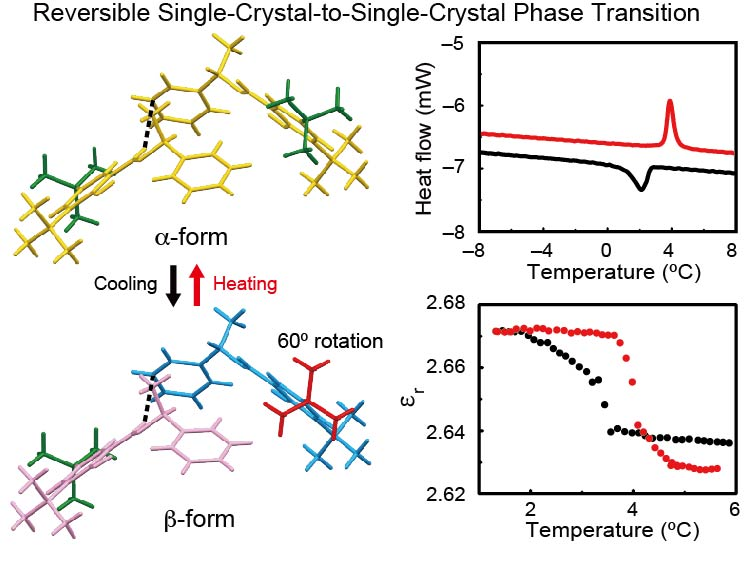 Graphical abstract
This is an open access article distributed under the
Creative Commons Attribution License
which permits unrestricted use, distribution, and reproduction in any medium, provided the original work is properly cited (CC BY 4.0).

Share & Cite This Article
MDPI and ACS Style
Takanabe, A.; Katsufuji, T.; Johmoto, K.; Uekusa, H.; Shiro, M.; Koshima, H.; Asahi, T. Reversible Single-Crystal-to-Single-Crystal Phase Transition of Chiral Salicylidenephenylethylamine. Crystals 2017, 7, 7.
Note that from the first issue of 2016, MDPI journals use article numbers instead of page numbers. See further details here.
Related Articles
Comments
[Return to top]