DOX-Vit D, a Novel Doxorubicin Delivery Approach, Inhibits Human Osteosarcoma Cell Proliferation by Inducing Apoptosis While Inhibiting Akt and mTOR Signaling Pathways
1
Faculty of Pharmacy and Pharmaceutical Sciences, University of Alberta, Edmonton, AB T6G 2E1, Canada
2
Cardiovascular Research Centre, Department of Pediatrics and Medicine, Mazankowski Alberta Heart Institute, Faculty of Medicine and Dentistry, University of Alberta, Edmonton, AB T6G 2E1, Canada
3
Department of Pharmaceutical Chemistry, School of Pharmacy, University of Kansas, Lawrence, KS 66047, USA
4
Department of Pharmaceutical Chemistry, Faculty of Pharmacy, Kuwait University, Safat 13110, Kuwait
*
Author to whom correspondence should be addressed.
Received: 3 August 2018 / Revised: 29 August 2018 / Accepted: 31 August 2018 / Published: 4 September 2018
Abstract
Doxorubicin (DOX) is a very potent and effective anticancer agent. However, the effectiveness of DOX in osteosarcoma is usually limited by the acquired drug resistance. Recently, Vitamin D (Vit-D) was shown to suppress the growth of many human cancer cells. Taken together, we synthesized DOX-Vit D by conjugating Vit-D to DOX in order to increase the delivery of DOX into cancer cells and mitigate the chemoresistance associated with DOX. For this purpose, MG63 cells were treated with 10 µM DOX or DOX-Vit D for 24 h. Thereafter, MTT, real-time PCR and western blot analysis were used to determine cell proliferation, genes and proteins expression, respectively. Our results showed that DOX-Vit D, but not DOX, significantly elicited an apoptotic signal in MG63 cells as evidenced by induction of death receptor, Caspase-3 and BCLxs genes. Mechanistically, the DOX-Vit D-induced apoptogens were credited to the activation of p-JNK and p-p38 signaling pathway and the inhibition of proliferative proteins, p-Akt and p-mTOR. Our findings propose that DOX-Vit D suppressed the growth of MG63 cells by inducing apoptosis while inhibiting cell survival and proliferative signaling pathways. DOX-Vit D may serve as a novel drug delivery approach to potentiate the delivery of DOX into cancer cells.
View Full-Text
►

▼

Figures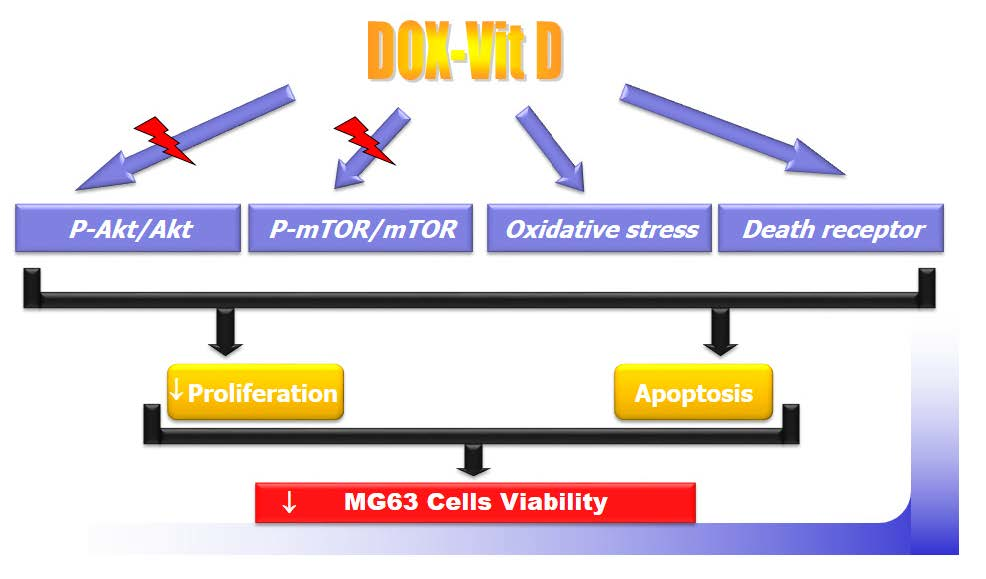 Graphical abstract
This is an open access article distributed under the
Creative Commons Attribution License
which permits unrestricted use, distribution, and reproduction in any medium, provided the original work is properly cited (CC BY 4.0).

Share & Cite This Article
MDPI and ACS Style
Maayah, Z.H.; Zhang, T.; Forrest, M.L.; Alrushaid, S.; Doschak, M.R.; Davies, N.M.; El-Kadi, A.O.S. DOX-Vit D, a Novel Doxorubicin Delivery Approach, Inhibits Human Osteosarcoma Cell Proliferation by Inducing Apoptosis While Inhibiting Akt and mTOR Signaling Pathways. Pharmaceutics 2018, 10, 144.
Note that from the first issue of 2016, MDPI journals use article numbers instead of page numbers. See further details here.
Related Articles
Comments
[Return to top]