Human Cytomegalovirus Encoded miR-US25-1-5p Attenuates CD147/EMMPRIN-Mediated Early Antiviral Response
1
National Translational Science Center for Molecular Medicine, Xi'an 710032, China
2
Cell Engineering Research Center & Department of Cell Biology, State Key Laboratory of Cancer Biology, Fourth Military Medical University, Xi'an 710032, China
3
Key Laboratory of Combinatorial Biosynthesis and Drug Discovery, Ministry of Education, and School of Pharmaceutical Sciences, Wuhan University, Wuhan 430071, China
4
Department of Immunology, Zunyi Medical College, Guizhou 563000, China
5
Division of Infectious Diseases and Vaccinology, School of Public Health, University of California, Berkeley, CA 94720, USA
*
Author to whom correspondence should be addressed.
Received: 26 October 2017 / Revised: 23 November 2017 / Accepted: 28 November 2017 / Published: 1 December 2017
Abstract
Cellular receptor-mediated signaling pathways play critical roles during the initial immune response to Human Cytomegalovirus (HCMV) infection. However, the involvement of type-I transmembrane glycoprotein CD147/EMMPRIN (extracellular matrix metalloproteinase inducer) in the antiviral response to HCMV infection is still unknown. Here, we demonstrated the specific knockdown of CD147 significantly decreased HCMV-induced activation of NF-κB and Interferon-beta (IFN-β), which contribute to the cellular antiviral responses. Next, we confirmed that HCMV-encoded miR-US25-1-5p could target the 3′ UTR (Untranslated Region) of CD147 mRNA, and thus facilitate HCMV lytic propagation at a low multiplicity of infection (MOI). The expression and secretion of Cyclophilin A (sCyPA), as a ligand for CD147 and a proinflammatory cytokine, were up-regulated in response to HCMV stimuli. Finally, we confirmed that CD147 mediated HCMV-triggered antiviral signaling via the sCyPA-CD147-ERK (extracellular regulated protein kinases)/NF-κB axis signaling pathway. These findings reveal an important HCMV mechanism for evading antiviral innate immunity through its encoded microRNA by targeting transmembrane glycoprotein CD147, and a potential cause of HCMV inflammatory disorders due to the secretion of proinflammatory cytokine CyPA.
View Full-Text
►

▼

Figures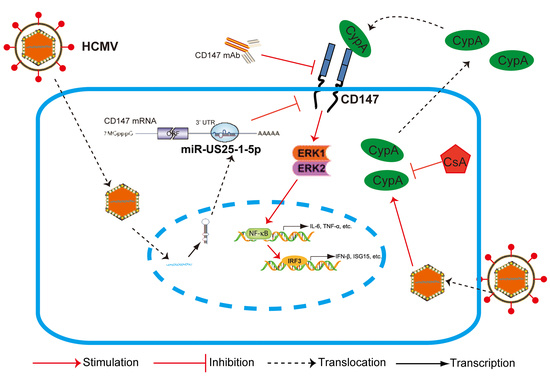 Graphical abstract
This is an open access article distributed under the
Creative Commons Attribution License
which permits unrestricted use, distribution, and reproduction in any medium, provided the original work is properly cited (CC BY 4.0).

Share & Cite This Article
MDPI and ACS Style
Chen, J.; Xia, S.; Yang, X.; Chen, H.; Li, F.; Liu, F.; Chen, Z. Human Cytomegalovirus Encoded miR-US25-1-5p Attenuates CD147/EMMPRIN-Mediated Early Antiviral Response. Viruses 2017, 9, 365.
Note that from the first issue of 2016, MDPI journals use article numbers instead of page numbers. See further details here.
Related Articles
Comments
[Return to top]