Cetacean Morbillivirus: Current Knowledge and Future Directions
1
Cetacean Conservation Medicine Group (CMED), Peruvian Centre for Cetacean Research (CEPEC), Pucusana, Lima 20, Peru
2
Department of Ecosystem and Public Health, University of Calgary, Calgary, AL T2N 4Z6, Canada
3
Wildlife Zoonoses and Vector Borne Disease Research Group, Animal and Plant Health Agency (APHA), Weybridge, Surrey KT15 3NB, UK
4
The Marine Mammal Centre, Sausalito, CA 94965, USA
5
Zoological Pathology Program, College of Veterinary Medicine, University of Illinois at Maywood, IL 60153 , USA
6
Department of Pathobiology and Veterinary Science, and Connecticut Sea Grant College Program, University of Connecticut, Storrs, CT 06269, USA
7
Faculty of Veterinary Medicine, University of Teramo, 64100 Teramo, Italy
8
Department of Ecology and Evolutionary Biology, Princeton University, Princeton, NJ 08544, USA
9
Centre de Recerca en Sanitat Animal (CReSA), Autonomous University of Barcelona, Bellaterra, Barcelona 08193, Spain
10
National Marine Fisheries Service, Marine Mammal Health and Stranding Response Program, Silver Spring, MD 20910, USA
11
Department of Veterinary Pathology, Institute of Animal Health, Veterinary School, Universidad de Las Palmas de Gran Canaria, Las Palmas 35413, Spain
12
One Health Institute School of Veterinary Medicine University of California, Davis, CA 95616, USA
13
Fogarty International Center, National Institutes of Health, Bethesda, MD 20892, USA
14
Department of Pathology, School of Veterinary Medicine and Animal Sciences, University of São Paulo, São Paulo 05508-207, Brazil
15
Instituto Baleia Jubarte (Humpback Whale Institute), Caravelas, Bahia 45900-000, Brazil
16
Marine Mammal Commission, 4340 East-West Highway, Bethesda, MD 20814, USA
17
Department of Natural Sciences, Hawai'i Pacific University, Kaneohe, HI 96744, USA
18
Institute of Zoology, Regent's Park, London NW1 4RY, UK
19
Sea Mammal Research Unit, Scottish Oceans Institute, University of St. Andrews, St. Andrews KY16 8LB, UK
20
Department of Viroscience, Erasmus MC, Rotterdam 3015 CN, The Netherlands
21
Department of Comparative Biomedicine and Food Science, University of Padua, Padua 35020, Italy
22
Department of Fisheries and Oceans Canada, Central and Arctic Region, 501 University Crescent, Winnipeg, MB R3T 2N6 , Canada
23
Marine Zoology Unit, Cavanilles Institute of Biodiversity and Evolutionary Biology, University of Valencia, Valencia 22085, Spain
24
Athens Veterinary Diagnostic Laboratory, College of Veterinary Medicine, University of Georgia, Athens, GA GA 30602 , USA
25
School of Veterinary and Life Sciences, Murdoch University, Perth 6150, Western Australia, Australia
26
QML Vetnostics, Metroplex on Gateway, Murarrie, Queensland 4172, Australia
27
South Australian Museum, North Terrace, Adelaide 5000, South Australia, Australia
28
Commonwealth Scientific and Industrial Research Organisation (CSIRO), East Geelong, Victoria 3220, Australia
29
Department of Infectious Diseases and Pathology, College of Veterinary Medicine, University of Florida, Gainesville, FL 32611, USA
30
Department of Small Animal Clinical Sciences, College of Veterinary Medicine, University of Florida, Gainesville, FL 32611, USA
*
Author to whom correspondence should be addressed.
Received: 7 November 2014 / Revised: 2 December 2014 / Accepted: 16 December 2014 / Published: 22 December 2014
Abstract
We review the molecular and epidemiological characteristics of cetacean morbillivirus (CeMV) and the diagnosis and pathogenesis of associated disease, with six different strains detected in cetaceans worldwide. CeMV has caused epidemics with high mortality in odontocetes in Europe, the USA and Australia. It represents a distinct species within the
Morbillivirus
genus. Although most CeMV strains are phylogenetically closely related, recent data indicate that morbilliviruses recovered from Indo-Pacific bottlenose dolphins (
Tursiops aduncus
), from Western Australia, and a Guiana dolphin (
Sotalia guianensis
), from Brazil, are divergent. The signaling lymphocyte activation molecule (SLAM) cell receptor for CeMV has been characterized in cetaceans. It shares higher amino acid identity with the ruminant SLAM than with the receptors of carnivores or humans, reflecting the evolutionary history of these mammalian taxa. In Delphinidae, three amino acid substitutions may result in a higher affinity for the virus. Infection is diagnosed by histology, immunohistochemistry, virus isolation, RT-PCR, and serology. Classical CeMV-associated lesions include bronchointerstitial pneumonia, encephalitis, syncytia, and lymphoid depletion associated with immunosuppression. Cetaceans that survive the acute disease may develop fatal secondary infections and chronic encephalitis. Endemically infected, gregarious odontocetes probably serve as reservoirs and vectors. Transmission likely occurs through the inhalation of aerosolized virus but mother to fetus transmission was also reported.
View Full-Text
►

▼

Figures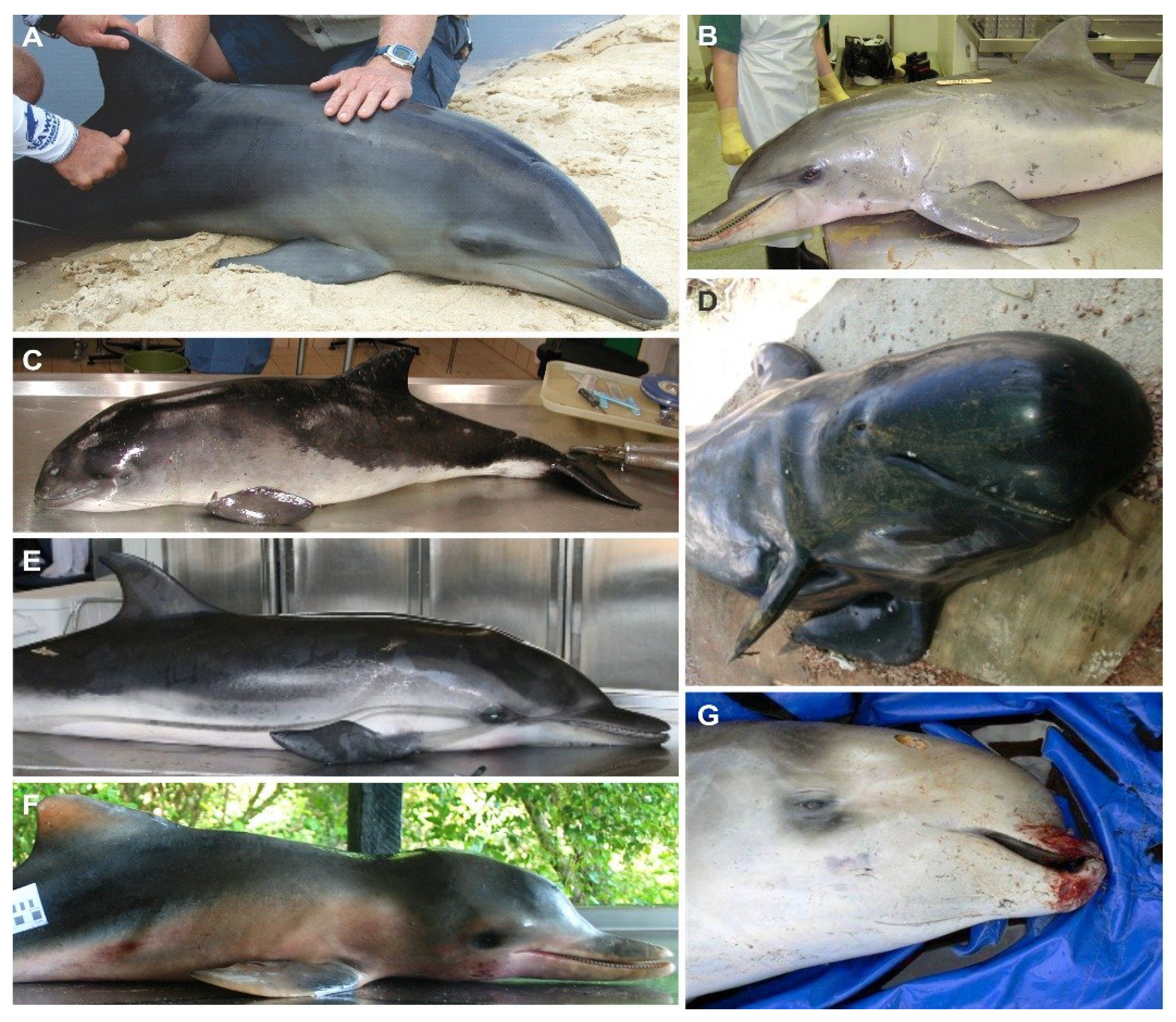 Figure 1
This is an open access article distributed under the
Creative Commons Attribution License
which permits unrestricted use, distribution, and reproduction in any medium, provided the original work is properly cited (CC BY 4.0).

Share & Cite This Article
MDPI and ACS Style
Van Bressem, M.-F.; Duignan, P.J.; Banyard, A.; Barbieri, M.; Colegrove, K.M.; De Guise, S.; Di Guardo, G.; Dobson, A.; Domingo, M.; Fauquier, D.; Fernandez, A.; Goldstein, T.; Grenfell, B.; Groch, K.R.; Gulland, F.; Jensen, B.A.; Jepson, P.D.; Hall, A.; Kuiken, T.; Mazzariol, S.; Morris, S.E.; Nielsen, O.; Raga, J.A.; Rowles, T.K.; Saliki, J.; Sierra, E.; Stephens, N.; Stone, B.; Tomo, I.; Wang, J.; Waltzek, T.; Wellehan, J.F. Cetacean Morbillivirus: Current Knowledge and Future Directions. Viruses 2014, 6, 5145-5181.
Related Articles
Comments
[Return to top]