Innate and Adaptive Immune Response to Pneumonia Virus of Mice in a Resistant and a Susceptible Mouse Strain
1
VIDO-Intervac, University of Saskatchewan, 120 Veterinary Road, Saskatoon, Saskatchewan, S7N 5E3, Canada
2
Veterinary Microbiology, University of Saskatchewan, 52 Campus Drive, Saskatoon, Saskatchewan, S7N 5B4, Canada
3
Veterinary Pathology, University of Saskatchewan, 52 Campus Drive, Saskatoon, Saskatchewan, S7N 5B4, Canada
4
Microbiology and Immunology, University of Saskatchewan, 107 Wiggins Road, Saskatoon, Saskatchewan, S7N 5E5, Canada
*
Author to whom correspondence should be addressed.
Received: 31 December 2012 / Revised: 13 January 2013 / Accepted: 15 January 2013 / Published: 21 January 2013
Abstract
Respiratory syncytial virus (RSV) is the leading cause of infant bronchiolitis. The closely related pneumonia virus of mice (PVM) causes a similar immune-mediated disease in mice, which allows an analysis of host factors that lead to severe illness. This project was designed to compare the immune responses to lethal and sublethal doses of PVM strain 15 in Balb/c and C57Bl/6 mice. Balb/c mice responded to PVM infection with an earlier and stronger innate response that failed to control viral replication. Production of inflammatory cyto- and chemokines, as well as infiltration of neutrophils and IFN-γ secreting natural killer cells into the lungs, was more predominant in Balb/c mice. In contrast, C57Bl/6 mice were capable of suppressing both viral replication and innate inflammatory responses. After a sublethal infection, PVM-induced IFN-γ production by splenocytes was stronger early during infection and weaker at late time points in C57Bl/6 mice when compared to Balb/c mice. Furthermore, although the IgG levels were similar and the mucosal IgA titres lower, the virus neutralizing antibody titres were higher in C57Bl/6 mice than in Balb/c mice. Overall, the difference in susceptibility of these two strains appeared to be related not to an inherent T helper bias, but to the capacity of the C57Bl/6 mice to control both viral replication and the immune response elicited by PVM.
View Full-Text
►

▼

Figures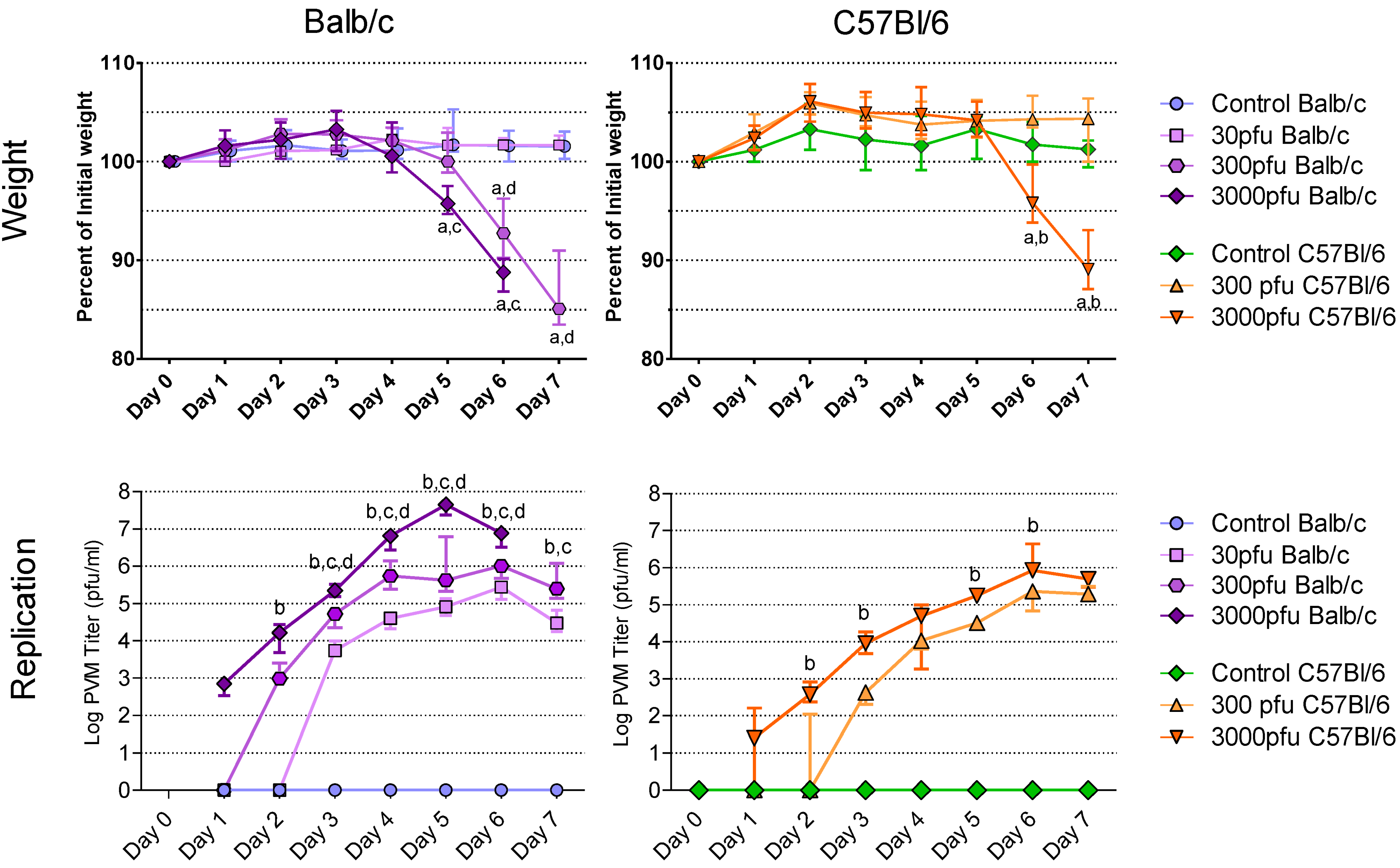 Figure 1

Share & Cite This Article
MDPI and ACS Style
Watkiss, E.R.T.; Shrivastava, P.; Arsic, N.; Gomis, S.; Van Drunen Littel-van den Hurk, S. Innate and Adaptive Immune Response to Pneumonia Virus of Mice in a Resistant and a Susceptible Mouse Strain. Viruses 2013, 5, 295-320.
Related Articles
Comments
[Return to top]