Subclade 2.2.1-Specific Human Monoclonal Antibodies That Recognize an Epitope in Antigenic Site A of Influenza A(H5) Virus HA Detected between 2015 and 2018
1
Division of Virology, Department of Microbiology and Immunology, Institute of Medical Science, University of Tokyo, Minato-ku, Tokyo 108-8639, Japan
2
Department of Special Pathogens, International Research Center for Infectious Diseases, Institute of Medical Science, University of Tokyo, Minato-ku, Tokyo 108-8639, Japan
3
Department of Pathobiological Science, School of Veterinary Medicine, University of Wisconsin-Madison, Madison, Wisconsin 53706, USA
*
Authors to whom correspondence should be addressed.
Received: 11 March 2019 / Revised: 29 March 2019 / Accepted: 30 March 2019 / Published: 2 April 2019
Abstract
Highly pathogenic avian H5 influenza viruses persist among poultry and wild birds throughout the world. They sometimes cause interspecies transmission between avian and mammalian hosts. H5 viruses possessing the HA of subclade 2.3.4.4, 2.3.2.1, 2.2.1, or 7.2 were detected between 2015 and 2018. To understand the neutralizing epitopes of H5-HA, we characterized 15 human monoclonal antibodies (mAbs) against the HA of H5 viruses, which were obtained from volunteers who received the H5N1 vaccine that contains a subclade 2.2.1 or 2.1.3.2 virus as an antigen. Twelve mAbs were specific for the HA of subclade 2.2.1, two mAbs were specific for the HA of subclade 2.1.3.2, and one mAb was specific for the HA of both. Of the 15 mAbs analyzed, nine, which were specific for the HA of subclade 2.2.1, and shared the VH and VL genes, possessed hemagglutination inhibition and neutralizing activities, whereas the others did not. A single amino acid substitution or insertion at positions 144–147 in antigenic site A conferred resistance against these nine mAbs to the subclade 2.2.1 viruses. The amino acids at positions 144–147 are highly conserved among subclade 2.2.1, but differ from those of other subclades. These results show that the neutralizing epitope including amino acids at positions 144–147 is targeted by human antibodies, and plays a role in the antigenic difference between subclade 2.2.1 and other subclades.
View Full-Text
►

▼

Figures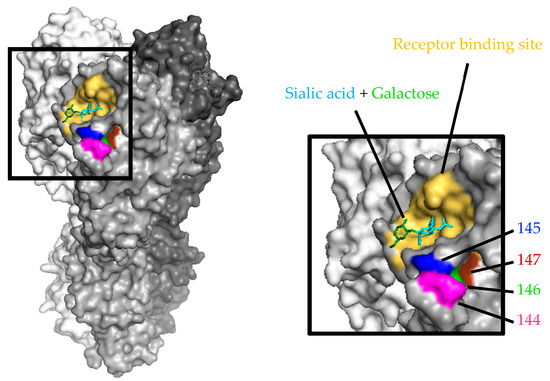 Figure 1
This is an open access article distributed under the
Creative Commons Attribution License
which permits unrestricted use, distribution, and reproduction in any medium, provided the original work is properly cited (CC BY 4.0).

Share & Cite This Article
MDPI and ACS Style
Okuda, M.; Yamayoshi, S.; Uraki, R.; Ito, M.; Hamabata, T.; Kawaoka, Y. Subclade 2.2.1-Specific Human Monoclonal Antibodies That Recognize an Epitope in Antigenic Site A of Influenza A(H5) Virus HA Detected between 2015 and 2018. Viruses 2019, 11, 321.
Note that from the first issue of 2016, MDPI journals use article numbers instead of page numbers. See further details here.
Related Articles
Comments
[Return to top]