Calcitriol Inhibits HCV Infection via Blockade of Activation of PPAR and Interference with Endoplasmic Reticulum-Associated Degradation
1
Department of Gastroenterology, Shin Kong Wu Ho-Su Memorial Hospital, Taipei 11101, Taiwan
2
Department of Medical Laboratory Science and Biotechnology, College of Medicine, National Cheng Kung University, Tainan 70101, Taiwan
3
Department of Biomedical Engineering, College of Engineering, National Cheng Kung University, Tainan 70101, Taiwan
4
Department of Pharmacy, Chi-Mei Medical Center, Tainan 71004, Taiwan
5
Department of Long Term Care, Chung Hwa University of Medical Technology, Tainan 71703, Taiwan
6
Department of Public Health, College of Medicine, Taipei Medical University, Taipei 11031, Taiwan
*
Author to whom correspondence should be addressed.
Received: 27 November 2017 / Revised: 17 January 2018 / Accepted: 26 January 2018 / Published: 30 January 2018
Abstract
Vitamin D has been identified as an innate anti-hepatitis C virus (HCV) agent but the possible mechanisms for this issue remain unclear. Here, we clarified the mechanisms of calcitriol-mediated inhibition of HCV infection. Calcitriol partially inhibited HCV infection, nitric oxide (NO) release and lipid accumulation in Huh7.5 human hepatoma cells via the activation of vitamin D receptor (VDR). When cells were pretreated with the activators of peroxisome proliferator-activated receptor (PPAR)-α (Wy14643) and -γ (Ly171883), the calcitriol-mediated HCV suppression was reversed. Otherwise, three individual stimulators of PPAR-α/β/γ blocked the activation of VDR. PPAR-β (linoleic acid) reversed the inhibition of NO release, whereas PPAR-γ (Ly171883) reversed the inhibitions of NO release and lipid accumulation in the presence of calcitriol. The calcitriol-mediated viral suppression, inhibition of NO release and activation of VDR were partially blocked by an inhibitor of endoplasmic reticulum-associated degradation (ERAD), kifunensine. Furthermore, calcitriol blocked the HCV-induced expressions of apolipoprotein J and 78 kDa glucose-regulated protein, which was restored by pretreatment of kifunensine. These results indicated that the calcitriol-mediated HCV suppression was associated with the activation of VDR, interference with ERAD process, as well as blockades of PPAR, lipid accumulation and nitrative stress.
View Full-Text
►

▼

Figures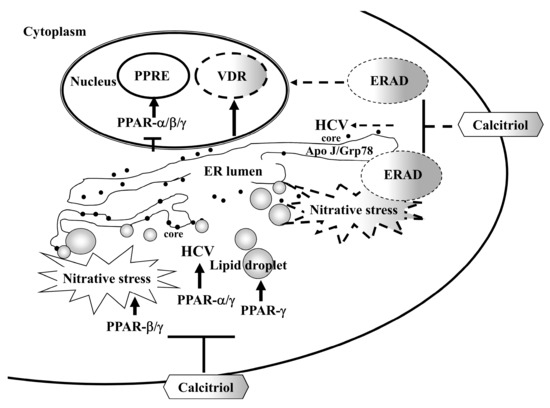 Graphical abstract
This is an open access article distributed under the
Creative Commons Attribution License
which permits unrestricted use, distribution, and reproduction in any medium, provided the original work is properly cited (CC BY 4.0).

Share & Cite This Article
MDPI and ACS Style
Lin, Y.-M.; Sun, H.-Y.; Chiu, W.-T.; Su, H.-C.; Chien, Y.-C.; Chong, L.-W.; Chang, H.-C.; Bai, C.-H.; Young, K.-C.; Tsao, C.-W. Calcitriol Inhibits HCV Infection via Blockade of Activation of PPAR and Interference with Endoplasmic Reticulum-Associated Degradation. Viruses 2018, 10, 57.
Note that from the first issue of 2016, MDPI journals use article numbers instead of page numbers. See further details here.
Related Articles
Comments
[Return to top]