Willingness to Participate and Associated Factors in a Zika Vaccine Trial in Indonesia: A Cross-Sectional Study
1
Medical Research Unit, School of Medicine, Syiah Kuala University, Banda Aceh, Aceh 23111, Indonesia
2
Tropical Disease Centre, School of Medicine, Syiah Kuala University, Banda Aceh, Aceh 23111, Indonesia
3
Department of Microbiology, School of Medicine, Syiah Kuala University, Banda Aceh, Aceh 23111, Indonesia
4
School of Biomedical Sciences, University of Western Australia, Nedlands, WA 6009, Australia
5
Department of Family Medicine, School of Medicine, Syiah Kuala University, Banda Aceh, Aceh 23111, Indonesia
6
Department of Statistics, Faculty of Mathematics and Natural Sciences, Syiah Kuala University, Banda Aceh, Aceh 23111, Indonesia
7
School of Medicine, Malikussaleh University, Lhokseumawe, Aceh 24352, Indonesia
8
Community Health Centre of Meurah Mulia, North Aceh, Aceh 24372, Indonesia
9
Community Health Centre of Tapaktuan, South Aceh, Aceh 23711, Indonesia
10
Bunda Hospital, Lhokseumawe, Aceh 24351, Indonesia
11
Community Health Centre of Teunom, Aceh Jaya, Aceh 23653, Indonesia
12
Meuraxa Hospital, Banda Aceh, Aceh 23231, Indonesia
13
Department of Public Health and Community Medicine, School of Medicine, Syiah Kuala University, Banda Aceh, Aceh 23111, Indonesia
14
Community Health Centre of Gunung, Padang Panjang, West Sumatera 27122, Indonesia
15
Community Health Centre of Lima Kaum, Tanah Datar, West Sumatera 27211, Indonesia
16
Community Health Centre of Tanjung Paku, Solok, West Sumatera 27317, Indonesia
17
Department of Internal Medicine, School of Medicine, Syiah Kuala University, Banda Aceh, Aceh 23111, Indonesia
18
Department of Economics, Faculty of Accountancy and Management, Universiti Tunku Abdul Rahman, Selangor 43000, Malaysia
19
Department of Epidemiology, University of Michigan, Ann Arbor, MI 48109, USA
20
Institute of Occupational Medicine, Social Medicine and Environmental Medicine, Goethe University, Frankfurt am Main 60323, Germany
21
Unit of Medical Entomology, Institute of Tropical Medicine, Antwerp 2000, Belgium
22
Eijkman Institute for Molecular Biology, Jakarta 10430, Indonesia
*
Authors to whom correspondence should be addressed.
Received: 23 October 2018 / Revised: 12 November 2018 / Accepted: 13 November 2018 / Published: 18 November 2018
Abstract
One of the crucial steps during trials for Zika and other vaccines is to recruit participants and to understand how participants' attitudes and sociodemographic characteristics affect willingness to participate (WTP). This study was conducted to assess WTP, its explanatory variables, and the impact of financial compensation on WTP in Indonesia. A health facility-based cross-sectional study was conducted in eleven regencies in the Aceh and West Sumatra provinces of Indonesia. Participants were recruited via a convenience sampling method and were interviewed. The associations between explanatory variables and WTP were assessed using a two-step logistic regression analysis. A total of 1,102 parents were approached, and of these 956 (86.8%) completed the interview and were included in analysis. Of those, 144 (15.1%) were willing to participate in a Zika vaccine trial without a financial compensation. In the multivariate analysis, WTP was tied to an age of more than 50 years old, compared to 20–29 years (odds ratio (OR): 5.0; 95% confidence interval (CI): 2.37–10.53), to being female (OR: 2.20; 95% CI: 1.11–4.37), and to having heard about Zika (OR: 2.41; 95% CI: 1.59–3.65). Participants' WTP increased gradually with higher financial compensation. The rate of WTP increased to 62.3% at the highest offer (US$ 350.4), and those who were still unwilling to participate (37.7%) had a poorer attitude towards childhood vaccination. This study highlights that pre-existing knowledge about Zika and attitudes towards childhood vaccination are important in determining community members being willing to participate in a vaccine trial. Financial incentives are still an important factor to enhance participant recruitment during a vaccine trial.
View Full-Text
►

▼

Figures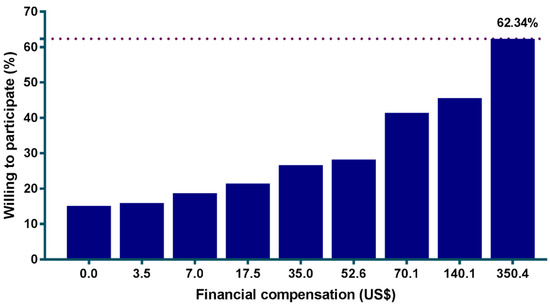 Figure 1
This is an open access article distributed under the
Creative Commons Attribution License
which permits unrestricted use, distribution, and reproduction in any medium, provided the original work is properly cited (CC BY 4.0).

Share & Cite This Article
MDPI and ACS Style
Harapan, H.; Mudatsir, M.; Yufika, A.; Nawawi, Y.; Wahyuniati, N.; Anwar, S.; Yusri, F.; Haryanti, N.; Wijayanti, N.P.; Rizal, R.; Fitriani, D.; Maulida, N.F.; Syahriza, M.; Ikram, I.; Fandoko, T.P.; Syahadah, M.; Asrizal, F.W.; Jamil, K.F.; Rajamoorthy, Y.; Wagner, A.L.; Groneberg, D.A.; Kuch, U.; Müller, R.; Sasmono, R.T.; Imrie, A. Willingness to Participate and Associated Factors in a Zika Vaccine Trial in Indonesia: A Cross-Sectional Study. Viruses 2018, 10, 648.
Note that from the first issue of 2016, MDPI journals use article numbers instead of page numbers. See further details here.
Related Articles
Comments
[Return to top]