Intramuscular Exposure of
Macaca fascicularis

to Low Doses of Low Passage- or Cell Culture-Adapted Sudan Virus or Ebola Virus

1

Department of Virology and Immunology, Texas Biomedical Research Institute, San Antonio, TX 78227, USA

2

Current Affiliation: Graduate School of Biomedical Sciences, University of Texas Health Science Center at San Antonio, San Antonio, TX 78229, USA

3

Current Affiliation: Institute of Environmental Health, 9330 Corporate Drive, Selma, TX 78154, USA

4

Current Affiliation: National Institute of Allergy and Infectious Diseases (NIAID), Integrated Research Facility, Division of Clinical Research, 8200 Research Plaza, Fort Detrick, MD 21702, USA

5

Current Affiliation: Department of Microbiology and National Emerging Infectious Diseases Laboratories, Boston University School of Medicine, 620 Albany St, Boston, MA 02118, USA

*

Author to whom correspondence should be addressed.

Received: 19 October 2018 / Revised: 13 November 2018 / Accepted: 14 November 2018 / Published: 16 November 2018
Abstract
The filoviruses Ebola virus (EBOV) and Sudan virus (SUDV) can cause severe diseases, and there are currently no licensed countermeasures available for use against them. Transmission occurs frequently via contact with bodily fluids from infected individuals. However, it can be difficult to determine when or how someone became infected, or the quantity of infectious virus to which they were exposed. Evidence suggests the infectious dose is low, but the majority of published studies use high exposure doses. This study characterized the outcome of exposure to a low dose of EBOV or SUDV, using a
Macaca fascicularis
model. Further, because the effect of virus passage in cell culture may be more pronounced when lower exposure doses are used, viruses that possessed either the characteristics of wild type viruses (possessing predominantly 7-uridine (7U) genotype and a high particle-to-plaque forming unit (PFU) ratio) or cell culture-passaged viruses (predominantly 8-uridine (8U) genotype, a lower particle-to-PFU ratio) were used. The time to death after a low dose exposure was delayed in comparison to higher exposure doses. These data demonstrated that an extremely low dose of EBOV or SUDV is sufficient to cause lethal disease. A low dose exposure model can help inform studies on pathogenesis, transmission, and optimization of prevention strategies.
View Full-Text
►

▼

Figures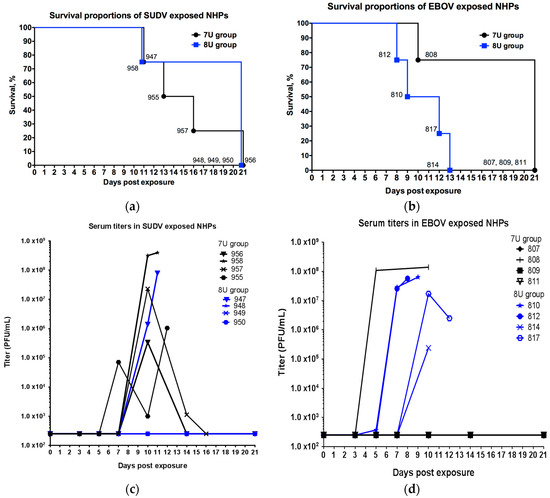 Figure 1
This is an open access article distributed under the
Creative Commons Attribution License
which permits unrestricted use, distribution, and reproduction in any medium, provided the original work is properly cited (CC BY 4.0).

Share & Cite This Article
MDPI and ACS Style
Alfson, K.J.; Avena, L.E.; Beadles, M.W.; Worwa, G.; Amen, M.; Patterson, J.L.; Carrion, R., Jr.; Griffiths, A. Intramuscular Exposure of Macaca fascicularis to Low Doses of Low Passage- or Cell Culture-Adapted Sudan Virus or Ebola Virus. Viruses 2018, 10, 642.
Note that from the first issue of 2016, MDPI journals use article numbers instead of page numbers. See further details here.
Related Articles
Comments
[Return to top]