Drought Sensitiveness on Forest Growth in Peninsular Spain and the Balearic Islands
1
Instituto Pirenaico de Ecología (IPE-CSIC), 50192 Zaragoza, Spain
2
Departamento de Sistemas Físicos, Químicos y Naturales, Universidad de Pablo de Olavide, 41013 Sevilla, Spain
3
Department of Geography, Mansoura University, 35516 Mansoura, Egypt
4
Estación Experimental Aula Dei, Consejo Superior de Investigaciones Científicas (EEAD-CSIC), 50192 Zaragoza, Spain
5
Department of Evolutionary Biology, Ecology and Environmental Sciences, Barcelona University, 08028 Barcelona, Spain
6
Departamento de Geografía y Ordenación del Territorio—IUCA, Universidad de Zaragoza, 50009 Zaragoza, Spain
7
Departamento de Ecología, Universidad de Alicante, Carretera San Vicente del Raspeig s/n, 03080 Alicante, Spain
8
Departamento de Ciencias Agroforestales, EU de Ingenierias Agrarias, iuFOR—Universidad de Valladolid, 42004 Soria, Spain
9
Centro de Capacitación y Experimentación Forestal. C/. Vadillo-Castril, 23470 Cazorla, Spain
10
Departamento de Botánica, Escola Politécnica Superior de Enxeñaría Campus Terra, Universidade de Santiago de Compostela, 27002 Lugo, Spain
11
Departamento de Biología Animal, Parasitología, Ecología, Edafología y Química Agrícola, Universidad de Salamanca, 37071 Salamanca, Spain
12
Ingeniería Forestal y del Medio Natural, Universidad de Extremadura, 10600 Plasencia, Spain
13
Departamento de Sistemas y Recursos Naturales, Universidad de Politécnica de Madrid, 28040 Madrid, Spain
14
Forest and Wood Technology Research Centre (CETEMAS), 33936 Asturias, Spain
15
Ionplus AG. Lerzenstrasse 12, 8953 Dietikon, Switzerland
*
Author to whom correspondence should be addressed.
Received: 23 July 2018 / Revised: 22 August 2018 / Accepted: 27 August 2018 / Published: 30 August 2018
Abstract
Drought is one of the key natural hazards impacting net primary production and tree growth in forest ecosystems. Nonetheless, tree species show different responses to drought events, which make it difficult to adopt fixed tools for monitoring drought impacts under contrasting environmental and climatic conditions. In this study, we assess the response of forest growth and a satellite proxy of the net primary production (NPP) to drought in peninsular Spain and the Balearic Islands, a region characterized by complex climatological, topographical, and environmental characteristics. Herein, we employed three different indicators based on in situ measurements and satellite image-derived vegetation information (i.e., tree-ring width, maximum annual greenness, and an indicator of NPP). We used seven different climate drought indices to assess drought impacts on the tree variables analyzed. The selected drought indices include four versions of the Palmer Drought Severity Index (PDSI, Palmer Hydrological Drought Index (PHDI), Z-index, and Palmer Modified Drought Index (PMDI)) and three multi-scalar indices (Standardized Precipitation Evapotranspiration Index (SPEI), Standardized Precipitation Index (SPI), and Standardized Precipitation Drought Index (SPDI)). Our results suggest that—irrespective of drought index and tree species—tree-ring width shows a stronger response to interannual variability of drought, compared to the greenness and the NPP. In comparison to other drought indices (e.g., PDSI), and our results demonstrate that multi-scalar drought indices (e.g., SPI, SPEI) are more advantageous in monitoring drought impacts on tree-ring growth, maximum greenness, and NPP. This finding suggests that multi-scalar indices are more appropriate for monitoring and modelling forest drought in peninsular Spain and the Balearic Islands.
View Full-Text
►

▼

Figures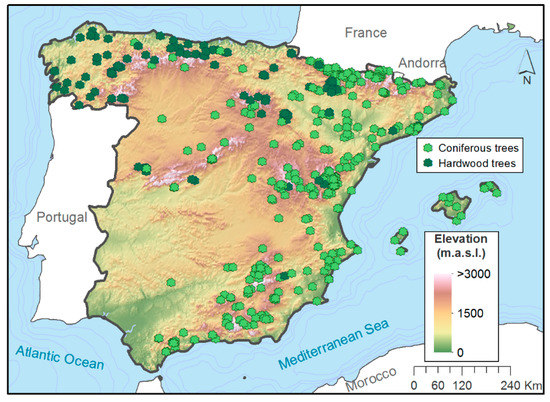 Figure 1
This is an open access article distributed under the
Creative Commons Attribution License
which permits unrestricted use, distribution, and reproduction in any medium, provided the original work is properly cited (CC BY 4.0).

Share & Cite This Article
MDPI and ACS Style
Peña-Gallardo, M.; Vicente-Serrano, S.M.; Camarero, J.J.; Gazol, A.; Sánchez-Salguero, R.; Domínguez-Castro, F.; El Kenawy, A.; Beguería-Portugés, S.; Gutiérrez, E.; De Luis, M.; Sangüesa-Barreda, G.; Novak, K.; Rozas, V.; Tíscar, P.A.; Linares, J.C.; Martínez del Castillo, E.; Ribas Matamoros, M.; García-González, I.; Silla, F.; Camisón, Á.; Génova, M.; Olano, J.M.; Longares, L.A.; Hevia, A.; Galván, J.D. Drought Sensitiveness on Forest Growth in Peninsular Spain and the Balearic Islands. Forests 2018, 9, 524.
Note that from the first issue of 2016, MDPI journals use article numbers instead of page numbers. See further details here.
Related Articles
Comments
[Return to top]