Open Access This article is
freely available
re-usable
Review
Biotic Factors Affecting Ecosystem Services in Urban and Peri-Urban Forests in Italy: The Role of Introduced and Impending Pathogens and Pests
Department of Agrifood Production and Environmental Sciences, Plant Pathology and Entomology Division, University of Florence, Piazzale delle Cascine, 28, 50144 Florence, Italy
*
Author to whom correspondence should be addressed.
Received: 29 November 2017 / Accepted: 19 January 2018 / Published: 26 January 2018
Abstract
:
The present-day phytosanitary disasters caused by biological invasions are afflicting urban and peri-urban forest stands worldwide, as well as the varied services they normally provide. In Europe, we are witnessing an alarming situation due to an increasing introduction of infectious diseases and pests. The authors present an up-to-date list of alien microbial pathogens and insect pests affecting urban greening that have been accidentally imported in Italy or that are likely to be introduced. Information about the biology, epidemiology, ethology, and control of these invasive organisms is provided. For each species, the current geographical distribution, including newly-colonized areas, is also given, as well as the chronological progression of its occurrence. Particular detail is used for describing symptoms—the key diagnostic elements for appropriate and timely phytosanitary management. This paper will benefit urban forest management, which is a crucial factor in maintaining the social and ecological viability of urban green spaces, as well as ecosystem services. The importance of engaging citizens in community-based monitoring of urban greenspaces for tracking the location, abundance, and pathways of invasive pathogens and pests will also be touched upon.
Keywords:
microbial pathogens; insect pests; biotic invaders; forest ecological value; ecosystem services; citizen science
Acknowledgments
The authors wish to thank the Foundation "Cassa di Risparmio di Firenze" for financial support. We thank anonymous reviewers for comments and discussion.
Author Contributions
S.M. and T.P. designed the study, identified its content and structure, interpreted data, and wrote the manuscript; M.B., F.C. and S.C. helped write the manuscript; R.T. and A.R. critically reviewed the manuscript.
Conflicts of Interest
The authors declare no conflicts of interest.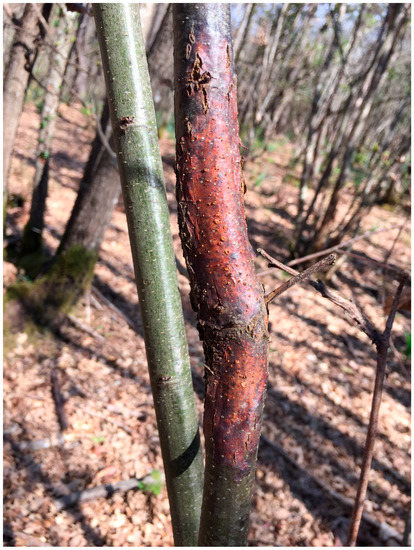 Figure 1.
A canker on the stem of a young European chestnut (
Castanea sativa
) tree. The characteristic orange-brown discoloration of the bark, with bark cracks and yellowish-to-orange stromata containing locular pycnidia (conidiomata) are clearly visible. Under favorable moist conditions, yellow tendrils consisting of sticky conidia extrude from pycnidia.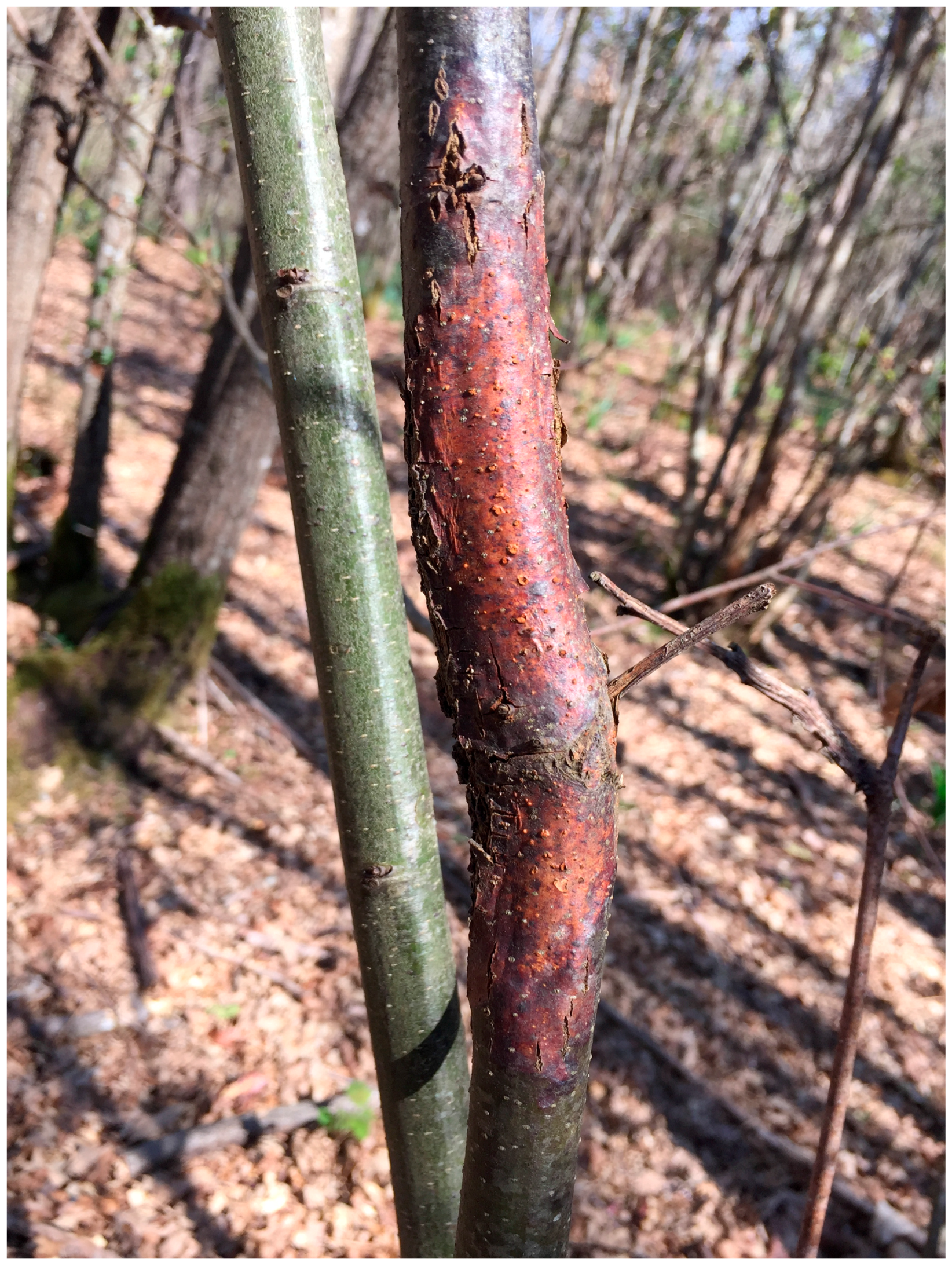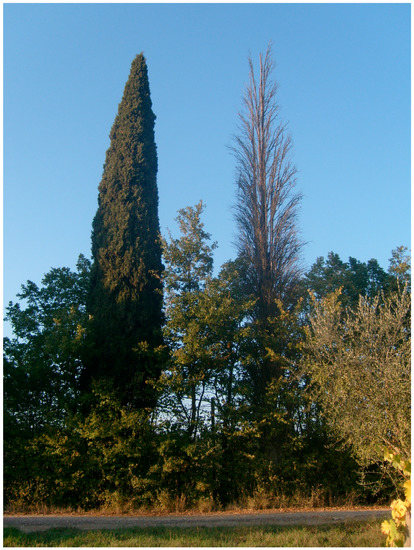 Figure 2.
A common cypress (
Cupressus sempervirens
L.) tree killed by cypress blight next to a healthy-looking common cypress. Trees were located in a row along a road in a suburban area and had high ornamental and landscape value. The aesthetic damage is evident.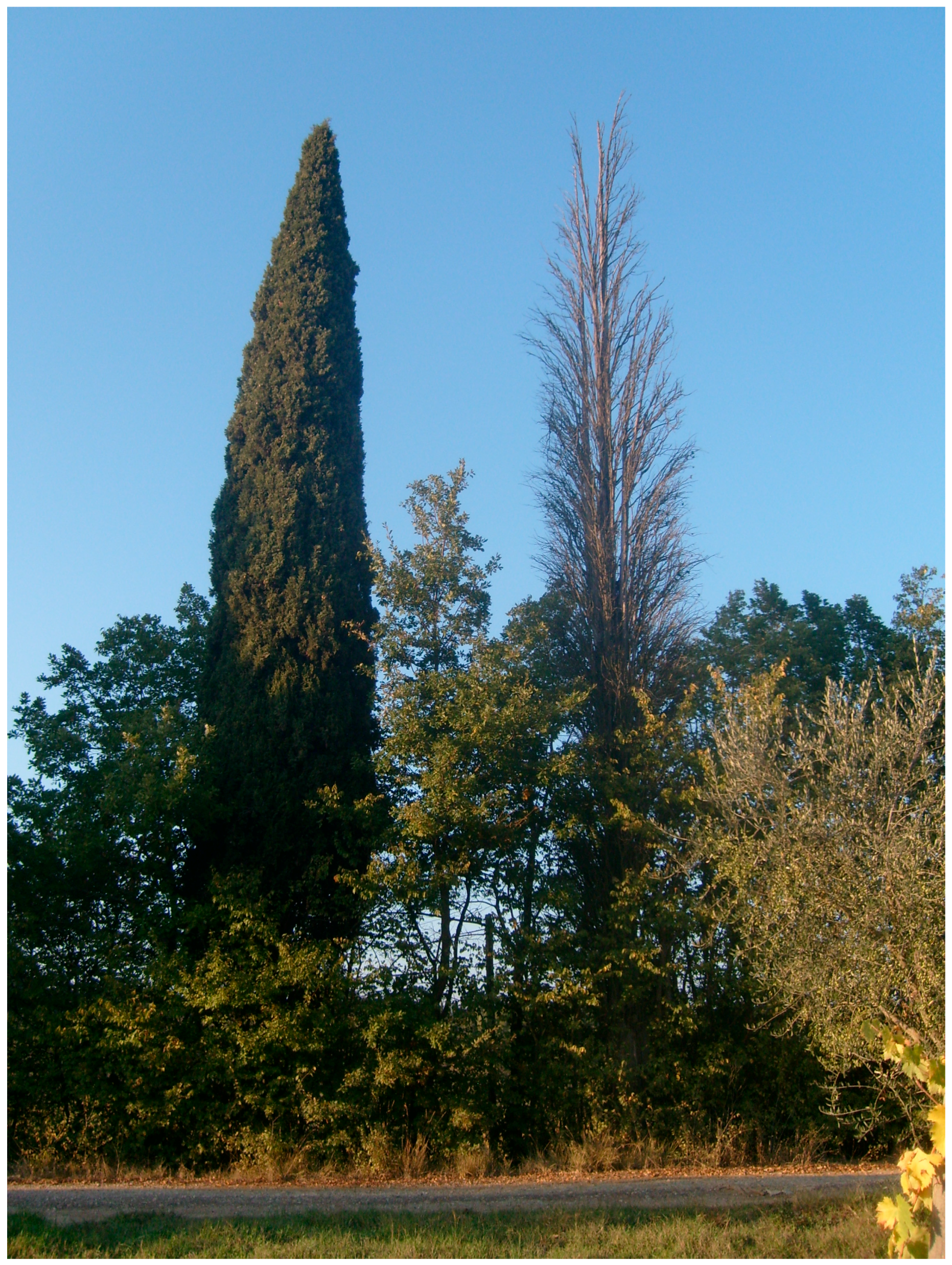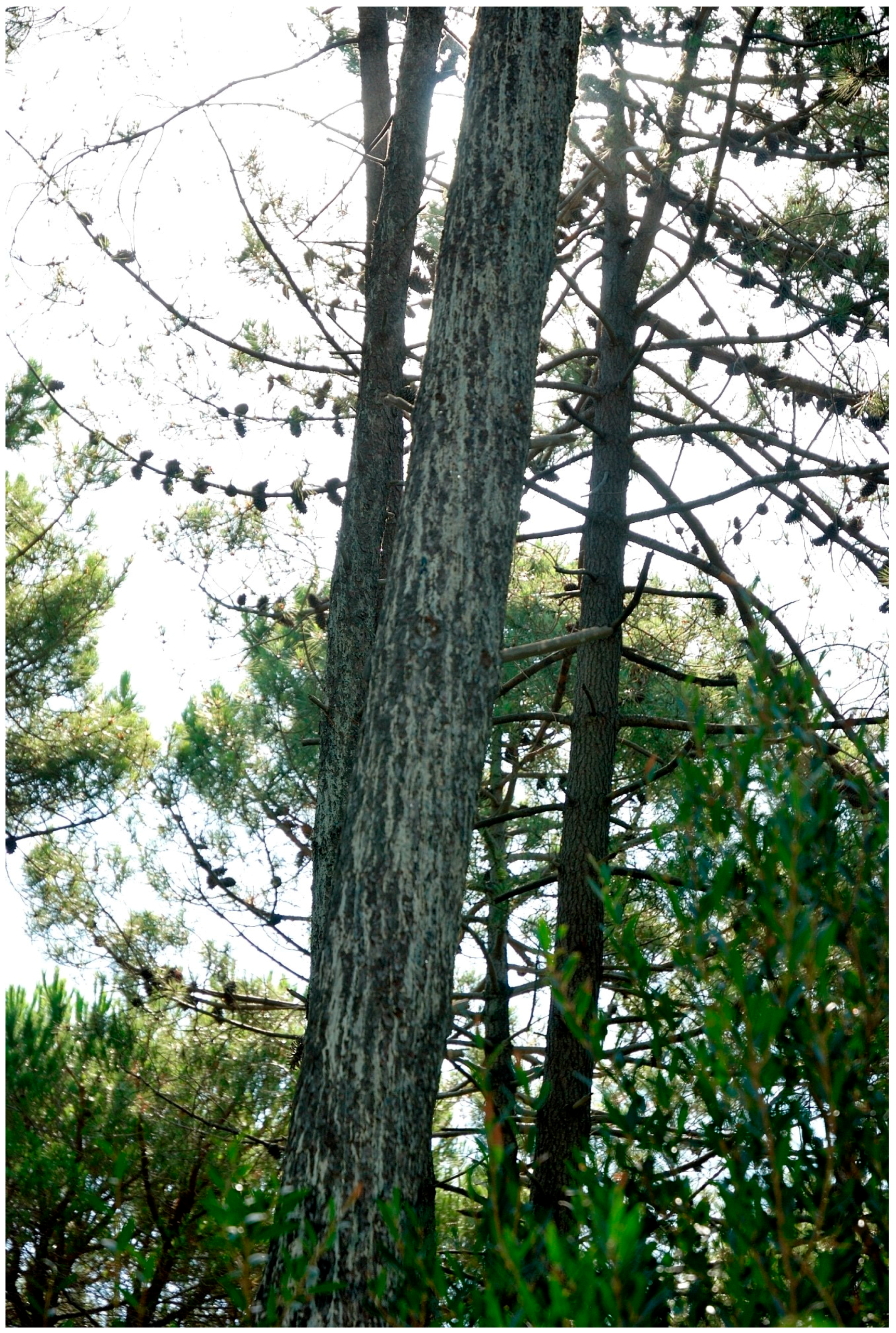 Figure 4.
Several
Leptoglossus occidentalis
adults feeding at the expense of a three-year stone pine cone.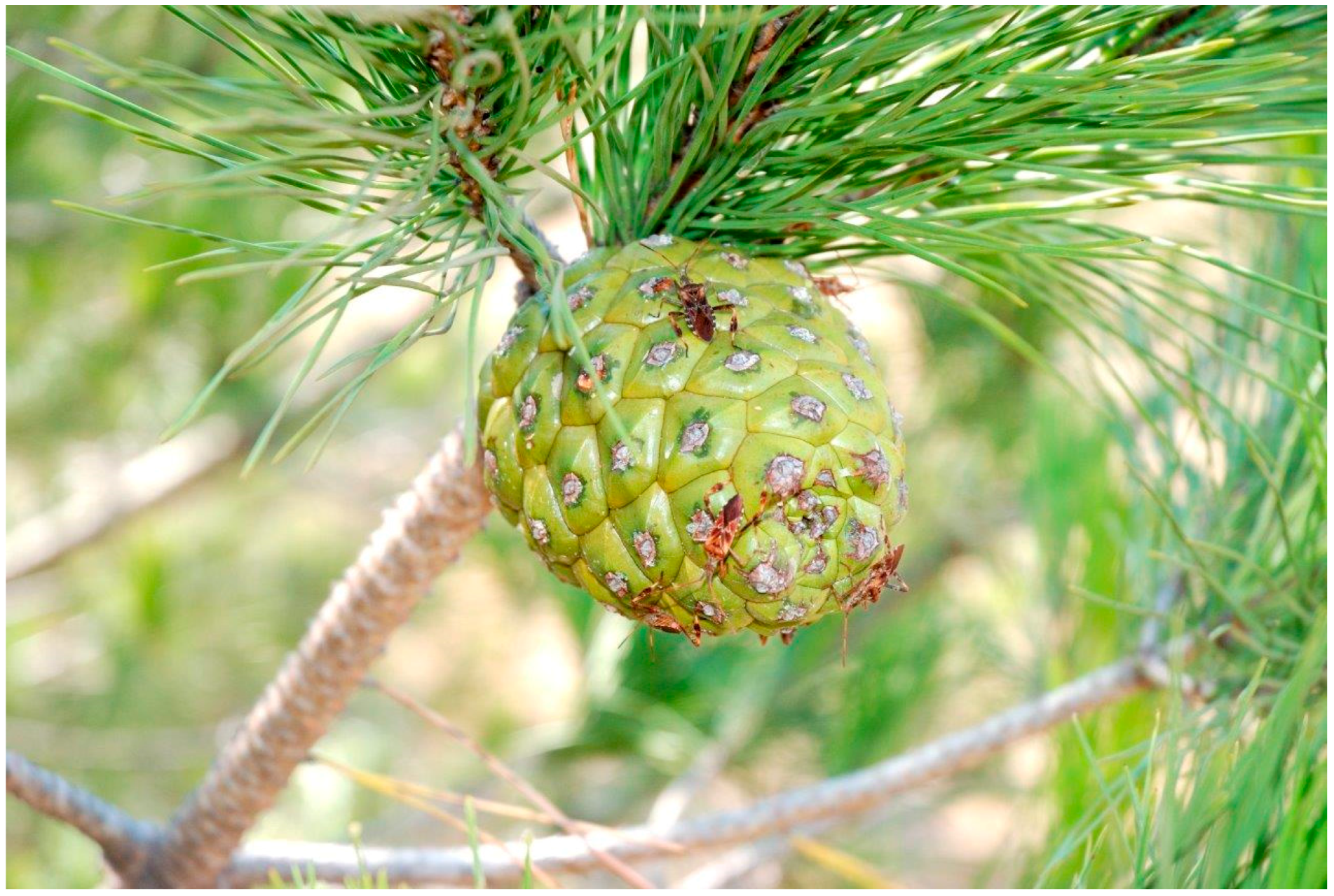 Table 1. Main introduced and impending diseases and insect pests that are harmful for plants in urban and peri-urban areas in Italy.
Plant Host
Fungi and Chromista
Bacteria
Insects/Nematodes
Native Range
Year of First Report in Italy
Current Diffusion in Italy
Broadleaves

Ulmus

spp.

Ophiostoma ulmi s.s.

,

O. novo-ulmi

Asia
1900s
pandemic

Aproceros leucopoda

Asia
2009
northeastern areas

Platanus

spp.

Ceratocystis platani

North America
1960s
widely distributed

Corythucha ciliata

North America
1964
widely distributed

Quercus

spp.

Biscogniauxia mediterranea

North Africa
1987
widely distributed

Phytophthora ramorum

northern/central Europe
2002
Tuscany

Ceratocystis fagacearum

North America
-
not present

Cronartium quercuum f.sp. fusiforme

North America
-
not present

Castanea

spp.

Cryphonectria parasitica

Asia
1940
widely distributed

Ceratocystis fagacearum

North America
-
not present

Cronartium quercuum

North America
-
not present

f.sp. fusiforme

Dryocosmus kuriphilus

China
2002
widely distributed

Acer

spp.

Phytophthora acerina

probably Asia
2014
Lombardy

Aesculus hippocastanum

L.

Cameraria orhidella

probably Balkans
1992
widely distributed

Fraxinus

spp.

Hymenoscyphus fraxineus

Asia
2009
Eastern Italy, Tuscany

Agrilus planipennis

Asia
-
not present

Arecaceae

spp.

Paysandisia archon

South America
2002
widely distributed

Rhynchophorus ferrugineus

probably India
2004
widely distributed

Olea europea

L.

Xylella fastidiosa

North America, Brazil
2013
Apulia
Conifers

Cupressus

spp.

Seiridium cardinale

California
1951
widely distributed

Chamaecyparis

spp. and

Taxus

spp.

Phytophthora lateralis

North America
-
Not present

Pinus

spp.

Heterobasidion irregulare

North America
2004
Latium

Fusarium circinatum

North America
2005
eradicated

Matsucoccus feytaudi

Atlantic areas of Morocco, Portugal, Spain, and France
1970s
Liguria, Tuscany

Leptoglossus occidentalis

North America
1999
widely distributed

Bursaphelenchus xylophilus

North America
-
Not present
Various ornamentals

Erwinia amylovora

North America
1991
widely distributed

Hyphantria cunea

North America
1981
northern and central areas

Metcalfa pruinosa

North America
1979
widely diffused

Anoplophora chinensis

Far East
2000
Lombardy, Latium, Tuscany

Anoplophora glabripennis

Far East
2007
Lombardy, Veneto, Marche

Xylosandrus crassiusculus

Asia
2003
Tuscany, Liguria, Veneto

Xylosandrus germanus

Asia
1992
northeastern areas

Aromia bungii

East Asia
2012
Campania, Lombardy

Popillia japonica

northeast Asia
2014
Lombardy

Malacosoma disstria

North America
-
Not present
- = No date is given as the organism is currently not present.

© 2018 by the authors. Licensee MDPI, Basel, Switzerland. This article is an open access article distributed under the terms and conditions of the Creative Commons Attribution (CC BY) license (http://creativecommons.org/licenses/by/4.0/).