Open Access This article is
freely available
re-usable
Article
Responding to Climate Change in Tropical Countries Emerging from Armed Conflicts: Harnessing Climate Finance, Peacebuilding, and Sustainable Food
International Center for Tropical Agriculture (CIAT), Km 17 recta Cali-Palmira, Cali 763537, Colombia
Received: 7 August 2018 / Accepted: 26 September 2018 / Published: 10 October 2018
Abstract
:
Linking climate action with sustainable development goals (SDGs) might incentivize social and political support to forest conservation. However, further examination of the conceptual entry points for linking efforts for reducing forest-based emissions with those for delivering SDGs is required. This review paper aims to contribute to fulfilling this research need. It provides insights into the links between conserving forests for climate change mitigation and peacebuilding. Specifically, the paper examines opportunities to harness climate finance for conserving forests and achieving long-lasting peace and sustainable food. It does so via a literature review and the examination of the Orinoquia region of Colombia. The findings from the literature review suggest that harnessing climate finance for conserving forests and peacebuilding is, in theory, viable if the activities are designed in accordance with social, institutional, and economic factors. Meanwhile, the Orinoquia region provides evidence that these two seemingly intractable problems are proposed to be solved together. At a time when efforts for reducing forest-based emissions are being designed and targeted at (post-) conflict areas in Colombia and elsewhere, the paper's findings might demonstrate the compatibility of programs aimed at reducing forest-based emissions with efforts relating to peacebuilding and sustainable food to both environmental and non-environmental government agencies.
Keywords:
climate finance; REDD+; forest conservation; peacebuilding; sustainable food systems
1. Introduction
This paper examines opportunities to harness climate finance for conserving forests and achieving long-lasting peace. It does so via a literature review and the examination of a case study. In the following section, I provide the conceptual entry points for linking efforts for reducing forest-based emissions with those for delivering peace. I then present and discuss how these two seemingly intractable problems could be solved together and simultaneously support sustainable (low-carbon) food production in the Orinoquia region of Colombia, within an initiative for achieving sustainable forest landscapes that is being implemented and that could be expanded to other regions facing similar challenges around the world. Finally, the paper discusses the findings and concludes with a consideration of the lessons learned emerging from designing landscape approaches in a region that, while emerging from a long period of armed conflict, aspires to become a center of agricultural production. The article draws on the experience of the author in the research, policy (global climatic negotiations), and practitioner aspects of climate finance, forest conservation, and peacebuilding.
2. Conceptual Entry Points for Linking Climate Finance, Forest Conservation, and Peacebuilding
2.1. Peacebuilding
Recent studies suggest that REDD+ contributions to SDGs may also arise outside the environmental sector, for instance, in considering the mechanism's compatibility with peacebuilding activities [
36
,
37
,
38
]. However, there could be further examination of the peacebuilding concept and its links with rural development and forest conservation [
39
,
40
]. Peace research, along with the peacebuilding concept, has its beginning in the mid-20th century when the International Peace Research Institute (PRIO) was launched in Oslo [
41
,
42
]. From the very start, peace studies focused on understanding the conditions for peace, ideally, in transdisciplinary (the integration of different academic perspectives) and transnational (the integration of different global, national, regional, and local establishments) manners [
41
]. It is within this emerging academic discipline that the concept of peacebuilding continues to evolve [
43
,
44
]. This discipline emphasizes the importance of addressing the root causes of conflict and differentiates among responses to conflict. As Johan Galtung (1976) [
42
] argued in his essay, "Three Approaches to Peace: Peacekeeping, Peacemaking, and Peacebuilding", there are different levels at which peace can be established. He argued that short-term measures (i.e., peacekeeping approaches) aim to reduce overt physical violence (usually in the form of armed conflict), whereas longer-term measures (i.e., peacemaking and particularly peacebuilding) aim to address the root causes of conflict, which he terms "structural violence" (e.g., institutions that impede certain social groups' access to services). Galtung argued that achieving sustainable peace requires addressing the structural causes of war and undertaking efforts to support local communities' capacities to manage and overcome conflict. Lederach (1997) expanded this line of thought by arguing that peacebuilding is a dynamic process that goes beyond post-conflict reconstruction and involves several activities that both precede and follow peace agreements. Therefore, violent conflict should be managed at all phases by processes of "conflict transformation", which entails building new relationships, behaviors, attitudes, and structures [
45
].
Over the years, peace studies have been moving from solely understanding the conditions of the presence (or absence) of violence toward a discipline that also puts forward suggestions on how to build resilient, peaceful environments, for example, by means of "peace education" and "peace action" [
41
]. This evolution is built on the similarities between peace and development studies. Indeed, peacebuilding approaches resemble development programs in a way that it is difficult to determine which output would be specifically attributable to which objective. Some scientists have even considered them as "two faces of the same coin" [
41
]. Furthermore, some of the metrics to measure the performance of peacebuilding initiatives are based on development indicators [
46
,
47
,
48
].
In practice, there are wide-ranging interpretations of what constitutes a "peacebuilding intervention". Definitions range from "support to safety, security, and political processes" to the "provision of basic services and livelihoods" (UN, 2010 [
44
]). However, the common agreement is that to reduce the risk of a relapse into conflict, interventions should include a relatively narrow set of activities. Even conservation approaches (e.g., those that restrict rural peoples' access to forests) could create conditions for further violence if implemented, for example, in contexts where the root causes of conflict are linked to access to land and forest resources [
49
]. Therefore, in order to reduce the risk of a relapse into conflict, the United Nations recommends that any peacebuilding intervention be designed to achieve the following objectives: address the drivers and root causes of conflict; build institutions and capacities of individuals, communities, and authorities to manage conflict and deliver services; enhance social cohesion and build trust among social groups; and build trust in and the legitimacy of governments.
2.2. Links between Tropical Forests and Armed Conflicts
Identifying opportunities for reducing deforestation as a means to access climate finance while simultaneously contributing toward peacebuilding requires understanding the links between tropical forests and armed conflicts. In the tropics, countries with extensive forested areas also often have conflicts, ranging from local-level disputes to armed conflicts [
21
,
22
]. Across the globe, disputes have arisen around issues such as land access, resources and property rights, and land-use policies that prioritize particular uses (i.e., legal uses) over others (i.e., illegal uses) [
22
,
50
]. Disputes may also arise over conservation priorities. When powerful actors with vested interests intervene in local disputes, they often inflame latent tensions, which may escalate into violence [
51
]. Different academic disciplines propose a range of causal links between forest cover and armed conflicts, although the majority originates from the "environmental security" field. According to this discipline, natural resources can influence armed conflict through any of three possible mechanisms: scarcity or the unequal sharing of natural resources [
52
]; accessibility to and competition over natural resources [
53
]; or opportunities for covert operations of illegal armed groups [
54
]. Meanwhile, research has found that tropical forest landscapes are often areas (1) where state presence is weak; (2) where disputes over land rights and access to land exist; and (3) that contain high-value natural resources, which can finance combatants and armed groups' hideouts [
54
,
55
,
56
].
Despite arguments linking forests with armed conflicts, the findings of the empirical research indicate that the mere condition of 'tropical forest cover' is a poor predictor of conflict [
56
,
57
]. However, empirical analyses might be faulted for their myopic focus on national and sub-national level correlations between tropical forest cover and armed conflicts, without considering other factors contributing to conflict—i.e., these studies often fail to account for the complex interplay of social, economic, and institutional contexts surrounding the existence of valuable resources [
57
]. As a consequence, limited progress has been made in determining the links between forests and armed conflicts.
2.3. Causes of Forest Cover Change in The Tropics
2.4. Economic and Policy Approaches for Tackling Causes of Forest Cover Changes
During the last few decades, diverse economic and policy instruments aimed at curbing deforestation and forest degradation have been promoted and abandoned at both international and national levels [
107
]. Despite these interventions, the annual global rate of deforestation remains above 13 million ha [
108
]. Arguably, mechanisms that have been promoted globally, such as those for biodiversity conservation, respond to global priorities that do not necessarily match developing countries' national or local development priorities. Policies derived from such mechanisms have generally aimed to curb deforestation by promoting legal reforms in the forestry sector [
64
]. Among the most commonly used mechanisms are: loan conditionality (i.e., providing loans conditional upon legal reforms within the forestry sector); donor coordination (i.e., increasing the effectiveness of official development assistance); debt relief (i.e., reducing international debt in exchange for establishing a trust fund to finance conservation initiatives); and demand management (i.e., trade certifications).
At the national scale, the adoption of such policies is usually limited to the environmental sector. Forest conservation is not generally a priority activity for governments, which typically allocate resources to other activities. Policies that have aimed at curbing deforestation include restrictions on land and natural resource use (e.g., delimitation of "natural protected areas") and attempts to increase the value of standing forest through the provision of economic incentives to promote sustainable production alternatives, such as payment for environmental services (PES) schemes [
32
]. Likewise, concessions (i.e., permits for the sustainable use of forest resources) and decentralization (i.e., the transfer of forest management authority to local governments or communities) are common mechanisms (implemented nationally) to avoid deforestation and forest degradation [
28
]. Although these policies should address nationally determined causes of deforestation in order to ensure success, they all too often focus on promoting local initiatives that are dependent on donor funding. At the local level, projects to mitigate forest clearance commonly include: sustainable forest management; conservation areas; integrated development and conservation; or capacity building. More recently, these efforts have been expanded to include afforestation, reforestation, and avoided deforestation. However, these initiatives are usually designed to address the direct (and most obvious) causes of deforestation and forest degradation, and do not necessarily consider communities' priorities and preferences [
39
].
2.5. The Mechanism for Reducing Forest-Based Emissions
2.5.1. The REDD+ Rationale
REDD+ aims to incentivize developing countries to reduce deforestation and conserve their forests in a bid to reduce GHG emissions. Therefore, a key expectation is that the financial benefits resulting from REDD+ activities will outweigh their costs, and that the rent generated will incentivize governments and local communities to maintain them [
14
]. Such an expectation was mainly built upon land-use opportunity cost models [
31
,
32
,
35
], which generally assume land-use opportunity costs to be the largest and principal cost component. However, what constitutes the total costs of and benefits from REDD+ remains uncertain [
34
,
124
,
125
].
A number of studies that have assessed the benefits and costs of REDD+ demonstrate uncertain or low benefits (Coomes et al., 2008 [
126
]; Isenberg and Potvin, 2010 [
127
]), as well as high transaction and implementation costs [
125
,
126
]. Moreover, evidence indicates that even in the absence of transaction and implementation costs, REDD+ might not compete with high land-use opportunity costs [
14
,
31
,
32
,
33
,
35
]. For instance, a recent study based on six carbon-based Peruvian projects calculated the transaction and implementation costs to be between US
$
0.16 and 1.44 ha
−1
year
−1
[
125
]. Nonetheless, the analysis did not consider that these initiatives ought to build upon long-term conservation efforts. Therefore, the transaction and implementation costs in areas without previous interventions (such as those affected by armed conflicts) may greatly exceed these estimates, thereby limiting the mechanism's efficiency, and therefore its effectiveness. In such scenarios, actions should demonstrate that they contribute toward the priorities of respective governments and farmers in order to gain their support and secure subsidies for their implementation.
2.5.2. Environmental Safeguards and Non-Carbon Benefits
Beyond expectations of financial revenues, constraints to REDD+ implementation are comparative to those faced by other rural development and conservation efforts [
39
,
128
]. These constraints include economic dependence on natural and forest resource exploitation; trade-offs between economic growth and environmental objectives; a lack of effective coordination mechanisms for the integration of environmental objectives into non-environmental policy sectors; a lack of capacity to design and implement strategies to combat deforestation; the presence of corruption, illegal activities, and conflicts; and the emergence of undesired social and environmental impacts [
17
,
20
,
129
]. Indeed, the recognized impacts of these listed challenges prompted the need to define environmental and social safeguards [
114
,
130
].
Meanwhile, other scholars argued that these challenges should not overshadow the potential for REDD+ to generate SDG co-benefits. Moreover, it has been argued that generating evidence of the co-benefits of addressing climate change could attract funding and increase political and social support [
4
], particularly among the sectors of society that would not support mitigation actions based purely on anticipated climate change impacts [
30
]. Furthermore, studies of co-benefits point to the importance of integrating carbon storage actions into sustainable development efforts more broadly, thereby integrating social and environmental goals [
130
].
In response, evidence of further co-benefits is arising from considering REDD+'s compatibility with peacebuilding activities. However, while a few studies have examined the relationship between forest-based emissions and land-related conflicts, they are dwarfed by the body of research that is focused solely on the link between conflict and unclear "carbon rights" (which are closely linked to unclear land tenure rights) [
14
,
131
]. These studies suggest that forest-based mitigation efforts implemented in situations of unresolved land tenure might exacerbate existing tensions [
132
]. Awareness of these types of conflicts led the UNFCCC to adopt safeguards aimed at preventing conflict and securing the rights of indigenous peoples and local communities [
114
]. These important safeguards are designed to increase the potential success of forest carbon storage approaches. However, importantly, they do not consider peacebuilding co-benefits that could also arise from REDD+ implementation, and vice versa.
3. The Case Study
The opportunities for and barriers to harnessing climate finance to conserve forests and build peace are best understood through ongoing efforts that link a country's climate change policy with its ongoing peace process. We analyze here the case of the Orinoquia (
Figure 1
), which is a region in Colombia where a program to reduce forest-based emissions and achieve low-carbon agricultural development is being implemented.
3.1. The Orinoquia Region, Colombia
Located in eastern Colombia, Orinoquia's vast areas of natural savannas and grasslands extend into the Amazon rainforest. The Orinoquia region of Colombia spans four departments: Arauca, Casanare, Meta, and Vichada. These four departments comprise an area of about 250,000 square kilometers that belong to the Orinoco River watershed, and is home to 1.37 million people, 32% of whom reside in rural areas. Despite the peace agreement, violence remains there due to the presence of organized crime gangs, which are reportedly made up of ex-paramilitary group members.
Considered one of the last agricultural frontiers in the world, the agricultural sector significantly contributes to the economy of the region. Consistently, the agriculture, forestry, and other land uses (AFOLU) sector is a major contributor to the region's emissions. The conversion of forest to pasture lands is a main source of region's emissions. As indicated by various studies over time, the expansion of areas for cattle grazing and illicit crop production—mainly in southern areas where savannas meet the Amazon forests—constitutes the main causes of deforestation in the Orinoquia [
103
,
105
,
133
]. However, new studies indicate the existence of a strong connection between the armed conflict and deforestation, which are interconnected with coca production, cattle pasture, and land grabbing [
37
]. The second most important category of emissions relates to enteric fermentation, followed by forest degradation, land conversions to cropland, and nitrous oxide emissions from soil management. Current land-use trends show that oil palm production has had the greatest increase in plantation area. The establishment of forest plantations and cultivation of agricultural commodities (e.g., maize, soybean, forage grasses, and rice) have also taken place, especially in the Altillanura of the Meta and Vichada departments.
Land-use dynamics are expected to change in the Orinoquia, particularly considering the Colombian government's plans to promote agricultural development in the region. Some authors argue that because of the peace agreement, land-use dynamics would exacerbate deforestation and further shrink the area for endangered species in Colombia [
134
]. Upcoming causes of forest and species loss might include the opening of new deforestation frontiers, new infrastructure investments, and large-scale agricultural development [
135
]. Conversely, other studies have argued that the peace agreement will create an environment that is conducive to implementing policy measures to counteract threats to Colombian forest landscapes and simultaneously address structural causes of conflict [
38
].
3.2. The Orinoquia Sustainable Integrated Landscape Program
Reducing forest-based emissions is a key component of Colombia's strategy to achieve its Paris Agreement commitments. The Colombian government has committed to reducing 20% of countrywide emissions (against a business-as-usual level) and to increasing climate ambition if provided with international financial support. It has also committed to reducing the country's deforestation to zero by the year 2020. In that context, Colombia is prioritizing the Orinoquia as a region that can help reduce forest-based emissions, achieve sustainable peace, and realize its potential to become a breadbasket for the country and the world.
The World Bank is also looking at the Orinoquia as a region that can help mitigate climate change, address the causes of armed conflict in Colombia, and achieve sustainable food production [
136
]. The implementation of the first phase of the World Bank-funded Orinoquia Sustainable Integrated Landscape (OSIL) project has started under the leadership of two Colombian agencies, the Ministry of Agriculture and Rural Development (MADR) and the Ministry of Environment and Sustainable Development (MADS). OSIL is part of a broader program funded by the World Bank's BioCarbon Fund Initiative for Sustainable Forest Landscapes (ISFL) [
137
]. It adopts a two-phase approach.
During the first phase, OSIL will define the strategy to reduce deforestation and achieve payments for emissions reductions in the Orinoquia's AFOLU sector [
138
] It will also identify how such financing can achieve long-lasting peace and sustainable (and low-carbon) food production [
138
]. In the subsequent phase, the initiative will establish an emissions reduction program, which will include a performance-based payment mechanism, in order to achieve sustainable (low-carbon) landscape management and promote the adoption of suitable land uses among farmers.
The ISFL will provide results-based finance at the jurisdictional scale based on a comprehensive carbon estimation approach of AFOLU emissions [
139
]. Accounting for emissions reduction from AFOLU for result-based payments on a jurisdictional scale has yet to be tested in the country or elsewhere. Thus, OSIL's first phase will also put in place a set of tools that are needed to assess the program's performance and ensure the accomplishment of the BioCarbon Fund's requirements relating to landscape carbon accounting and social and environmental safeguards. Among the necessary tools that the initiative will develop include: the AFOLU reference level that will be used as the benchmark to assess the performance of the emissions reduction program (ER program) and make payments; the benefit-sharing mechanism that defines the equitable sharing of the (carbon and non-carbon) benefits deriving from the ER program and its beneficiaries; and the safeguard instruments to mitigate the social and environmental risks and comply with World Bank safeguard policies, land-use strategies, and forest and land management practices.
The first phase of OSIL will also develop and test approaches for sustainable landscape management with a strong focus on reducing deforestation, as well as an emphasis on promoting sustainable (low-carbon) agricultural production systems. Specifically, it will implement activities that are oriented toward creating the enabling environment for the implementation of sustainable landscape management that leads to emissions reductions. These activities include: improving land-use policies; mainstreaming sustainability and climate considerations into land-use planning processes and land title programs that are currently under implementation as part of the peacebuilding agenda; developing and promoting sustainable, low-carbon agricultural production systems; and developing an incentive mechanism to reward communities and other value chain stakeholders for making the transition to zero-deforestation and low-carbon practices.
4. Discussion and Concluding Remarks
Recognizing that REDD+ is at a crossroads where political and public confidence, or lack thereof, may determine its future, this paper investigates the role of climate finance in contributing toward achieving SDGs. Specifically, it examines the opportunities to harness climate finance in order to achieve forest conservation, long-lasting peace, and sustainable food production. This idea is framed in current policy discussions regarding the role of non-carbon benefits to increase political and social support for REDD+. For instance, in the context of limited financial resources to incentivize climate action, I propose that the co-benefits of climate change mitigation could be better exploited to attract funding and increase political and social support, for example, by generating evidence that shows the potential for the integration of forest carbon storage and development priorities.
The findings from the literature review suggest that harnessing climate finance for conserving forests and promoting peace is in theory viable if activities are designed in accordance with social, institutional, and economic factors. Meanwhile, the Orinoquia region of Colombia provides evidence that these two seemingly intractable challenges can be proposed to be solved together. It also offers lessons on how to implement sustainable (and low-carbon) forest landscapes in a region that, while emerging from a long period of armed conflict, aspires to become a center of agricultural production.
Funding
This research was partially funded by the International Climate Initiative (IKI). The Federal Ministry for the Environment, Nature Conservation and nuclear Safety (BMU) supports this initiative on the basis of a decision adopted by the German Bundestag.
Acknowledgments
The author thanks CIAT's Sustainable Food Systems and Ecosystem Services teams for providing technical and financial support.
Conflicts of Interest
The author declares no conflict of interest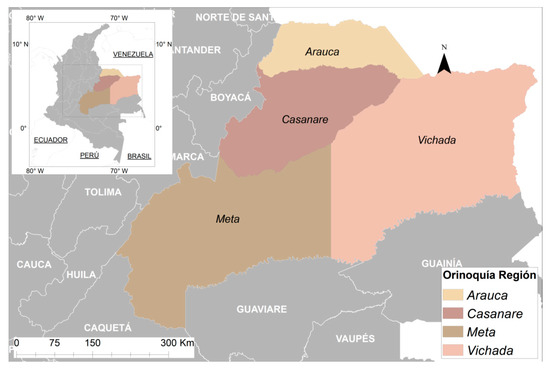 Figure 1. The Orinoquia region, as prioritized by the Colombian government in its efforts to reduce forest-based emissions, addresses the causes of armed conflict, and achieves sustainable food production.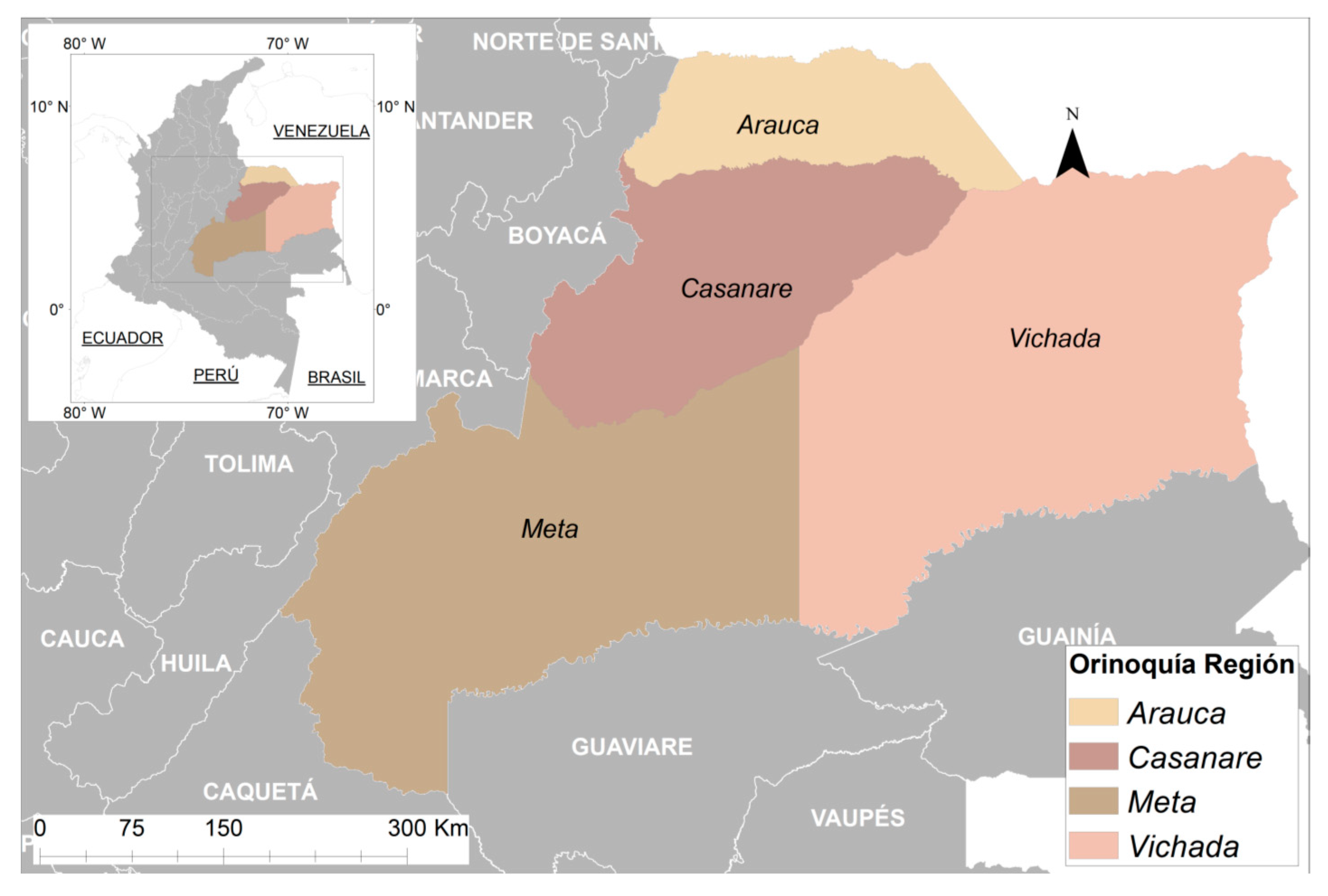 © 2018 by the author. Licensee MDPI, Basel, Switzerland. This article is an open access article distributed under the terms and conditions of the Creative Commons Attribution (CC BY) license (http://creativecommons.org/licenses/by/4.0/).