Open Access This article is
freely available
re-usable
Article
Fire Suppression Resource Scarcity: Current Metrics and Future Performance Indicators
1
Department of Forest and Rangeland Stewardship, Colorado State University, Fort Collins, CO 80523, USA
2
Rocky Mountain Research Station, US Department of Agriculture Forest Service, 800 East Beckwith Avenue, Missoula, MT 59801, USA
*
Author to whom correspondence should be addressed.
Received: 30 December 2019 / Accepted: 11 February 2020 / Published: 14 February 2020
Abstract
:
Wildland fire occurrence is highly variable in time and space, and in the United States where total area burned can vary substantially, acquiring resources (firefighters, engines, aircraft, etc.) to respond to fire demand is an important consideration. To determine the composition and scale of this set of suppression resources managers may utilize data produced by past supply and demand information. The key challenge with this approach is that there is currently no clear system of record to track suppression resource supply and demand, and there are potential pitfalls within existing systems that may provide misleading information regarding the true levels of resource scarcity. In this manuscript, we investigate the issue of resource scarcity by examining two key resources that operations personnel have identified as both high value and scarce: type 1 firefighting crews and large airtankers. We examine data from the Resource Ordering and Status System and analyze the level of resource scarcity indicated by these data over the 2014–2018 fire seasons. We focus on data metrics with potential utility for managers responsible for annual national-level decisions regarding crew and airtanker acquisition; some of these metrics are already used to inform such decisions. We examine the limitations of each metric and suggest new metrics that could more accurately reflect true resource use and scarcity. Such metrics could lead to a substantially improved decision-making process.
Keywords:
wildland fire; resource use; fire suppression; large airtankers; interagency hotshot crews; type 1 crews
2. Materials and Methods
We examined five recent fire years, 2014–2018. Our analysis was focused on these five years due to consistent availability of reliable data for multiple data systems of interest, including those tested for potential utility that are not included in our final analysis framework and summary presented in this manuscript (data from calendar year 2019 were not yet available at the time of this analysis). Five years of data will not capture the range of variability in US national fire occurrence, nor do we suggest that this is our intention. Instead, we hope to demonstrate whether or not variability in resource requests appears related to variability in fire demand, and we hope to investigate recent history to see how demand (both met and unmet) may be changing over time. To contextualize the analyses of resource demand and scarcity we first examined the LAT fleet size and the number of IHCs. From 2014 to 2018 the USFS LAT fleet changed substantially while the IHC corps remained relatively unchanged. We note the implications of the changing LAT fleet as we examine metrics of scarcity, since we would expect changing supply to affect unmet demand. We also analyzed LAT flight time by year to see how use aligns with aircraft numbers.
We obtained ROSS requests for all LATs and T1 crews in the US. Data are summarized to provide daily and yearly total filled requests, resources assigned, and UTF requests. We associated each UTF with the incident management team in charge of the fire when the order was placed and grouped the UTF requests into three categories: (1) requests from "large fires" with Type 1, 2, or 3 incident management teams managing the fire at the time of the request ("LF"); (2) requests from initial response or extended response fires that never escalated to Type 1, 2, or 3 team complexity—i.e., no team ever assigned ("IA"); and (3) requests from initial response or extended response fires that turned into a large fire—i.e., the fire did not have a Type 1, 2, or 3 incident management team on the fire at the time of the request, but later required such management ("IA to LF"). We also computed both the ratio of UTFs to filled requests and the ratio of UTFs to resource-use days. This latter metric better reflects total crew resource use given the predominance of multi-day assignments for T1 crews. We looked at daily and aggregate counts of UTF and filled requests across the season in time and space to assess temporal and spatial distribution of annual requests, specifically, we examined the daily number of T1 crews and LATs assigned to a unique fire, requests returned UTF, and the daily ratio of these counts. We further investigated 2018 data in-depth, specifically to explore the regional drivers of resource scarcity.
4. Discussion
4.1. Current Metrics: Capabilities and Limitations
Further analytical challenges affect the utility of ROSS requests. In ROSS, we have no way to determine consistently from archived data whether limitations on related resources may be the actual cause of a primary UTF; for LATs, a key example would be an inability to simultaneously fill a leadplane order (some LATs may not be assigned without a coincident leadplane assigned). Once an order is returned UTF, we cannot determine whether ensuing resource orders were potential substitutions for unfilled primary orders, and ultimately the effect that these UTFs may have had on a manager's ability to meet suppression objectives. In addition, ROSS data only go back to 2007, with the current archival process only dating back to 2012. Thus, our ability to compare current fire years with previous fire years and to examine long term trends is limited.
4.2. Future Metrics: Improved Performance Measurement
Our work revealing the deficiencies with the current resource scarcity metrics raises two key questions: What does a functional resource scarcity performance indicator look like? What data do we need to calculate such a metric? We believe this metric is attainable through existing systems, with the prerequisite that first establishes consistent national policy and mandates compliance regarding the ordering of national resources through a single national system; specifically, policy requiring managers to order what they think they need through the national ordering channels. It should be clearly communicated to the broader fire community that ROSS request data (or data from a future national system) will be the foundation for assessment of national resource demand—both filled and unfilled—thereby encouraging managers and dispatchers to log requests, even if the chances of receiving resources are low.
To prevent potential inflation of demand to attempt to shape future resource availability and to better track what the resources are needed for, we propose two new data fields to be collected with request data. First, we propose a new categorical field that distills order urgency and risk information. We propose a numerical scale from 1 to 4, where 1 is immediate need to protect lives, 2 is urgent need for initial attack to prevent escape, 3 is urgent need for extended attack to protect high value assets, and 4 is time-sensitive need to improve operational effectiveness of other actions. None of the definitions for these numerical categories assign judgement about the importance of the requests, but instead assign an urgency value with an underlying categorical reason for the request. The intent of this information is essentially to hold requestors accountable to the need for the resources in a non-judgmental, standardized way. In other words, the intent is to not question the requestor's expertise or judgement, but to obtain more information to better inform resource use decisions. This categorical field could distill some valuable information that is already collected but may be missed in archived data because it is instead captured on paper forms or non-standardized electronic logs at dispatch centers or airtanker bases. Additionally, this categorical field is different than existing ROSS fields that specify a date and time the resource is needed by; these existing fields are not readily analyzed and do not indicate what the resource is needed for. Finally, the values we suggest would greatly benefit from input from an interagency body of operations professionals prior to adoption of any formalized data requirement. A broader or more clearly defined range of choices may be required in order to capture all potential scenarios. Nevertheless, the objective of this proposed field is to obtain key information not currently captured on urgency and risk that is key to real-time prioritization decisions and longer term analytical assessment of resource needs.
Second, we propose a new data field to track the task for which the resource is needed. This could help address existing issues around resource substitution and prioritization because we could analyze the data to determine the implications of resource scarcity for management actions. This field would need to be specific to each resource category, and should be formatted with pre-populated values, versus as an open text field, to facilitate effective analyses. Many current fire data collection tools are limited in analytical value by the use of open text fields (e.g., the ICS-209 critical needs fields [
41
] previously described). The pre-populated values we suggest must be thoughtfully generated with input from operations experts, but should remain highly general to limit impacts on operational efficiency from a dispatch perspective. These data, if collected as proposed for nationally available resources, could demonstrate unmet objectives stemming from resource scarcity. This, in turn, could help analytically determine whether adjustments in national resource numbers are warranted.
While the reality of this proposed metric is technically manageable since it builds off of an existing system, we recognize significant hurdles that must be cleared to make adjustments to existing interagency systems. While the USFS plays a key role in shaping the interagency dispatching environment, decisions about ROSS are ultimately governed by an interagency Change Control Board [
45
]. The USFS has limited ability to direct ROSS changes, and further, the ROSS system is on the verge of retirement, with a modernized dispatch program called Interagency Resource Ordering Capability (IROC; [
46
]) planned for roll-out in the spring of 2020 [
47
]. This new system may facilitate implementation of the metric as proposed or highlight unforeseen issues, given the untested functionality of IROC. Nevertheless, our intent in this manuscript was to delve into the details of existing resource demand and use metrics to explain the limitations and justify the need for improved data collection. We propose a future performance indicator for resource use in an abstract concept; whether this exists in ROSS, IROC, or a yet to be determined data collection mechanism, we recognize that resource request data are important for resource acquisition decisions, and that they are much more complex than simple summaries of UTF requests.
5. Conclusions
Through this work, we focused on ROSS request data to assess the utility of the dataset to describe resource scarcity. We generally focused at the national and annual scales through the lens of resource acquisition decision-making. Resource scarcity metrics are fundamental to an efficient wildfire suppression response, and these data are needed to facilitate improved, transparent, and analytical decision-making, positioning the USFS to more efficiently respond to challenges from a changing fire environment and associated budgetary pressures. Our analysis demonstrates that annual ROSS request summaries mischaracterize demand because they may not represent the population of use and scarcity, they do not necessarily gauge resource scarcity for core assets due to an increasing reliance upon surge capacity resources for some resource types, and they are not the most fitting summary of demand for resources with multi-day assignments (
Figure 4
). ROSS request data (in its current form) provide limited utility for guiding resource acquisition decisions, provided those decisions are based upon the historical ability to meet specific levels of demand.
Fire managers can generally address resource scarcity by choosing from three actions: (1) add more resources to the system, (2) improve efficiency of existing resource use in the system, and (3) restrict use of existing resources under conditions where they will not likely be effective. Each of these choices essentially increases the number of resources available to meet other demand; however, each comes with challenges. First, simply adding more resources requires an initial investment that may not pay out, depending on the severity of the fire year. As previously described, an overabundance of resources does not predicate improved fire response, and it may further incentivize managers to over order resources [
42
,
43
,
44
]. Second, in order to improve efficiency of resource use, we must first be able to describe our response. Yet our currently limited understanding of both resource use and suppression effectiveness [
48
,
49
] challenges the utility of this management action. Further, resource movement and prepositioning is an important consideration for efficiency questions. A growing body of research has helped build a foundation of knowledge in this area (e.g., [
17
,
18
,
50
,
51
,
52
]); however, there is still much to be learned for the wide variety of resource types and agencies at play in the national response arena. Finally, imposing restrictions on resource use in an interagency realm is fraught with challenges, particularly given different agency priorities with respect to fire management policy, values at risk, and relative appetite for beneficial fire opportunities. Regional or national control of limited or high-value assets should be informed by an analytical basis of suppression effectiveness; yet, this information is not well established. Ultimately, the path toward improved system performance (i.e., improved fire response) may include a combination of all three actions, but fundamentally, each decision requires a more thorough characterization of historical demand, related resource use, and management implications of unmet demand. This progress first requires an improved performance indicator for fire suppression resource scarcity to form the analytical foundation for future work.
Author Contributions
Conceptualization, E.J.B., D.E.C. and C.S.S.; methodology, E.J.B., D.E.C., and C.S.S.; software, E.J.B.; validation, E.J.B., D.E.C. and C.S.S.; formal analysis, E.J.B., D.E.C. and C.S.S.; investigation, E.J.B. and C.S.S.; resources, E.J.B., D.E.C. and C.S.S.; data curation, E.J.B. and C.S.S.; writing—original draft preparation, E.J.B. and C.S.S.; writing—review and editing, E.J.B., D.E.C. and C.S.S.; visualization, E.J.B. and C.S.S.; supervision, D.E.C.; project administration, E.J.B., D.E.C. and C.S.S.; funding acquisition, D.E.C. All authors have read and agreed to the published version of the manuscript.
Funding
This research was funded by joint venture agreement number 18-JV-11221636-099 between Colorado State University and the USDA Forest Service Rocky Mountain Research Station.
Conflicts of Interest
The authors declare no conflict of interest. The funders had no role in the design of the study; in the collection, analyses, or interpretation of data; in the writing of the manuscript, or in the decision to publish the results.
Appendix A
In this appendix we provide a table of acronyms for the readers' convenience.
| Acronym | Definition |
| --- | --- |
| ABS | Aviation Business Systems |
| ATU | Additional Telemetry Unit |
| CA | California |
| CWN | Call When Needed |
| DOI | Department of the Interior |
| EXU | Exclusive Use |
| IA | Initial Attack |
| IHC | Interagency Hotshot Crew |
| IROC | Interagency Resource Ordering Capability |
| LAT | Large Airtanker |
| LF | Large Fire |
| NICC | National Interagency Coordination Center |
| PL | Preparedness Level |
| ROSS | Resource Ordering and Status System |
| T1 | Type One |
| US | United States |
| USFS | United States Forest Service |
| UTF | Unable to Fill |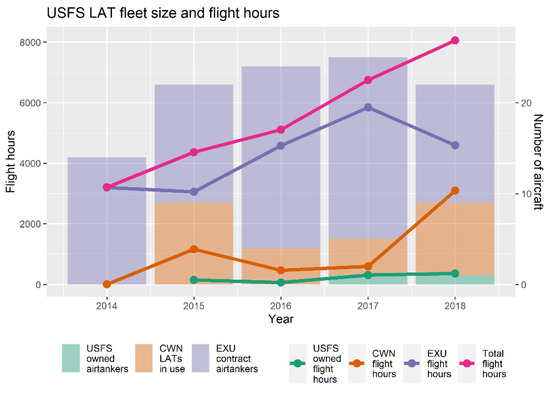 Figure 1.
Forest Service large airtanker fleet size and use over time. Fleet size depicted by contract/ownership category (Exclusive Use—EXU; Call When Needed—CWN; United States Forest Service (USFS) Owned); fleet size data obtained from USFS Fire and Aviation Management Annual Aviation Reports (Available at:
https://www.fs.fed.us/managing-land/fire/aviation/publications
) and derived from Aviation Business System (ABS) billing data. Total annual flight time derived from ABS.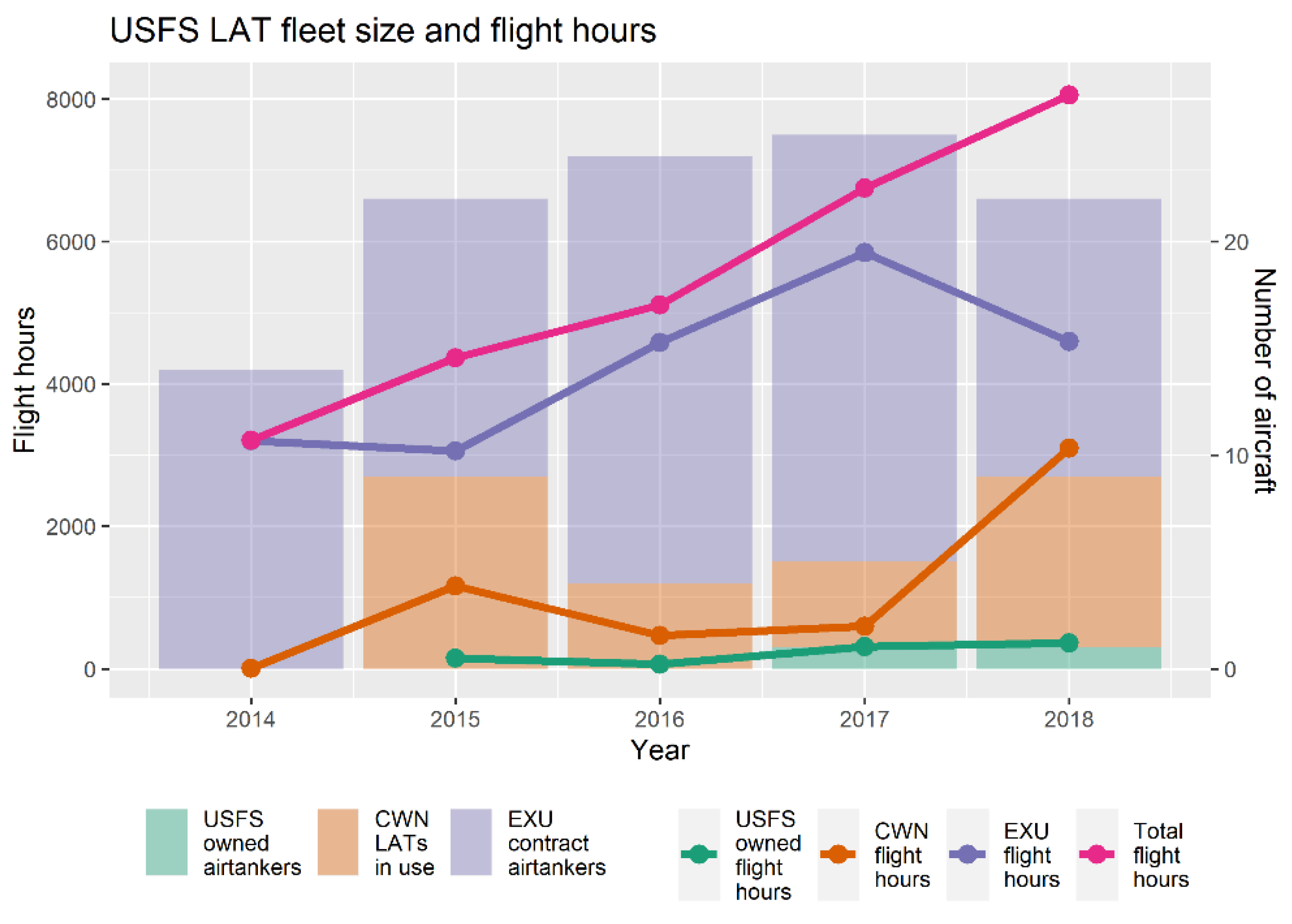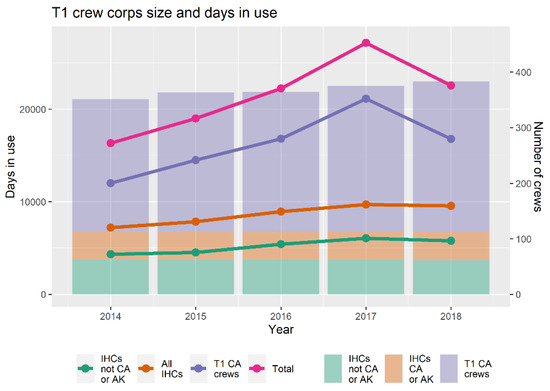 Figure 2. T1 crew corps size and use over time. Corps size depicted by crew type (Interagency Hotshot Crew not from California or Alaska, Interagency Hotshot Crew from California or Alaska, or T1 crew from California that is not an Interagency Hotshot Crew); corps size and number of days of crew usage data obtained from the Resource Ordering and Status System (ROSS). The T1 California crew hours include the California Interagency Hotshot Crews (IHCs).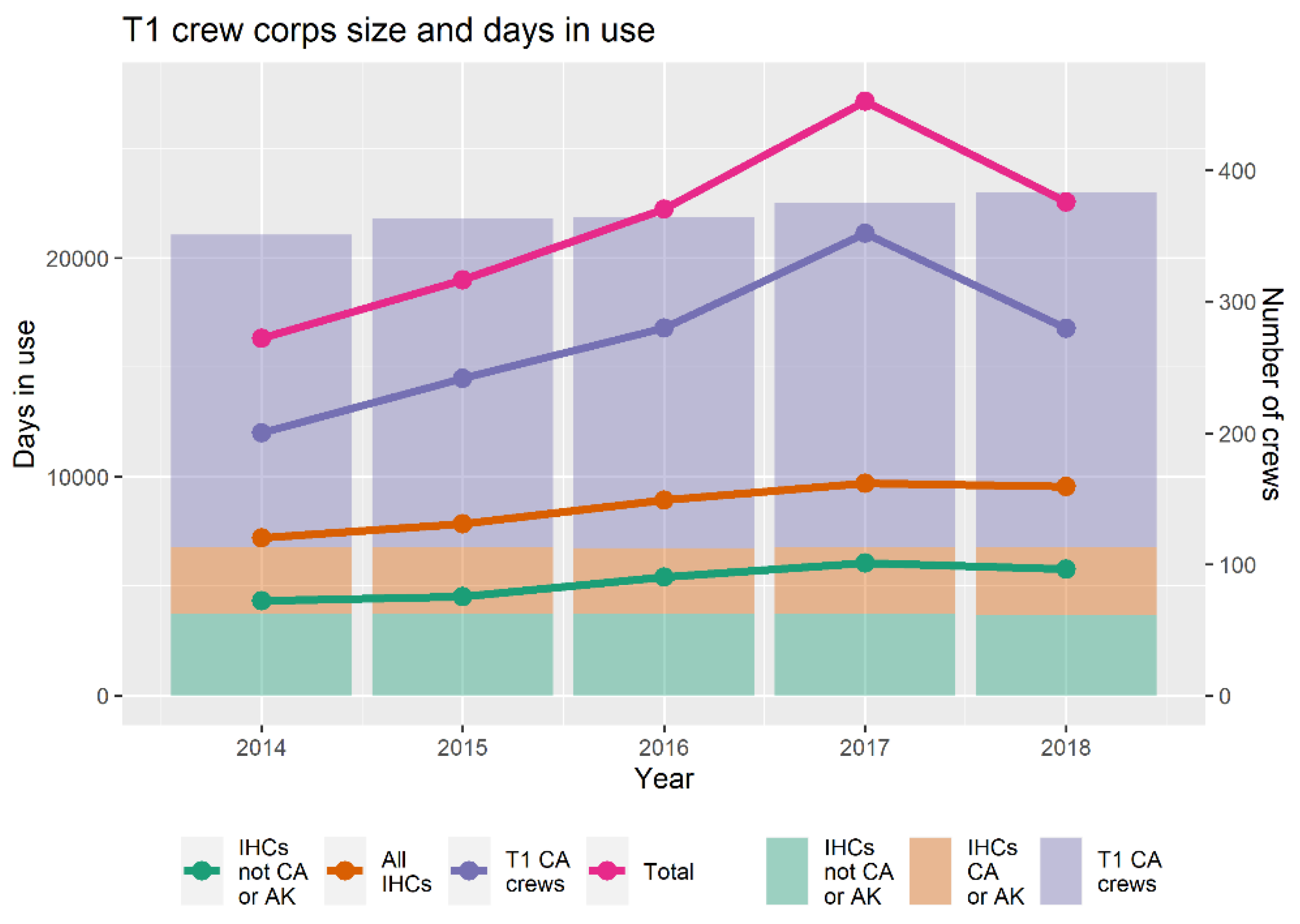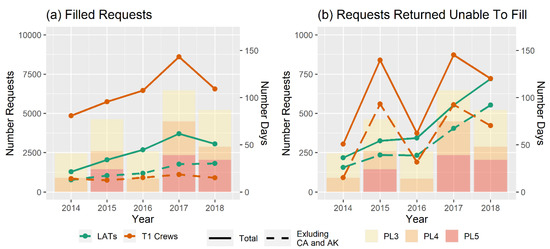 Figure 3. The number of large airtanker and type 1 crew (a) filled requests and (b) requests returned Unable to Fill in ROSS by calendar year against the number of days at or above Preparedness Level 3 for calendar years 2014–2018. The solid lines all requests within the US. The dashed lines are for all requests except California and Alaska.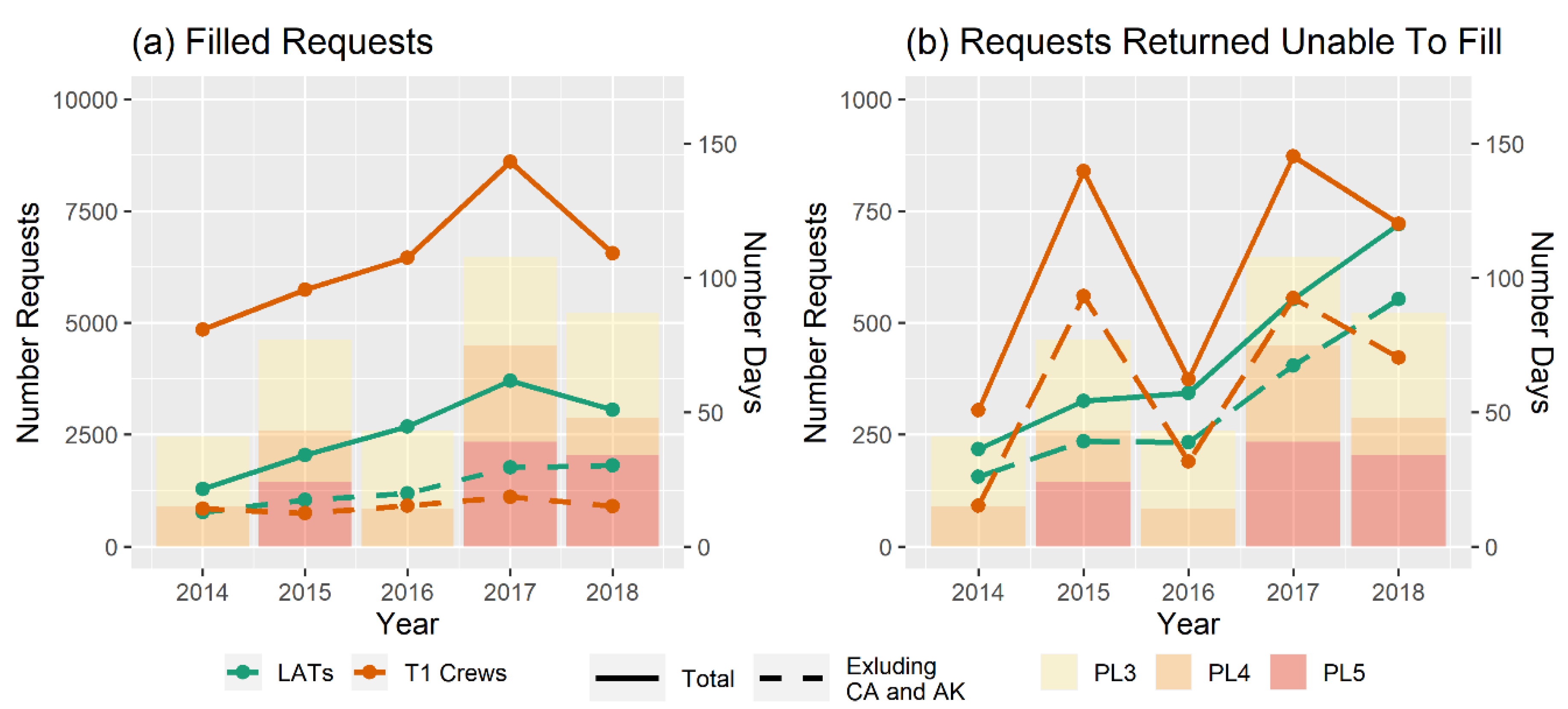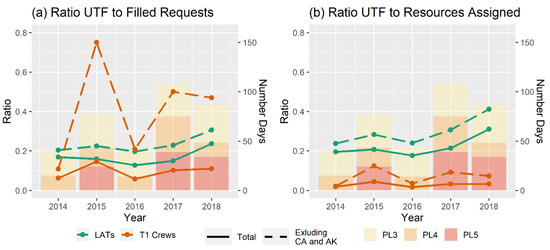 Figure 4. The ratio of large airtanker and type 1 crew of request returned Unable to Fill to Filled requests (a) and resources on assignment (b) in ROSS by calendar year against the number of days at or above Preparedness Level 3 for calendar years 2014–2018. The solid lines are all requests within the US. The dotted lines are for all requests except California and Alaska.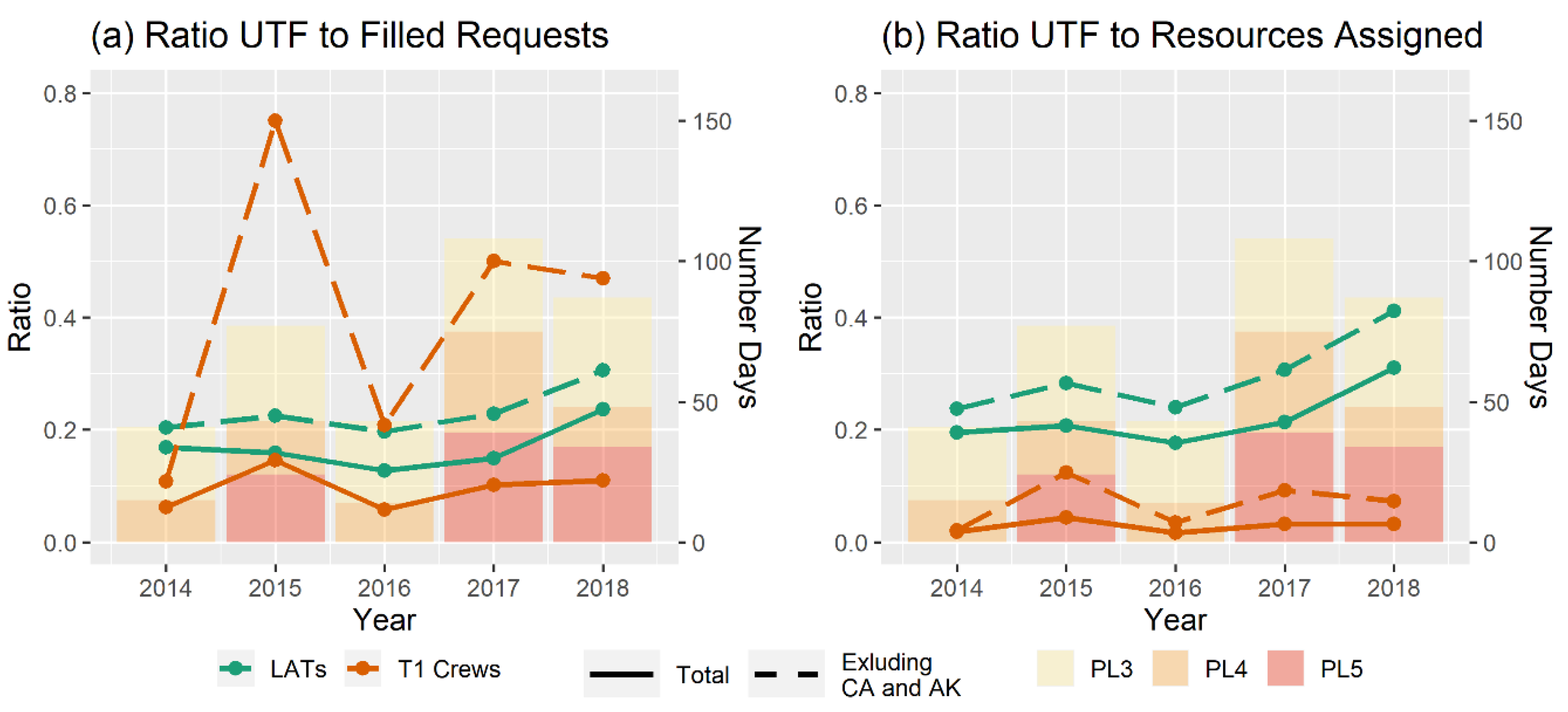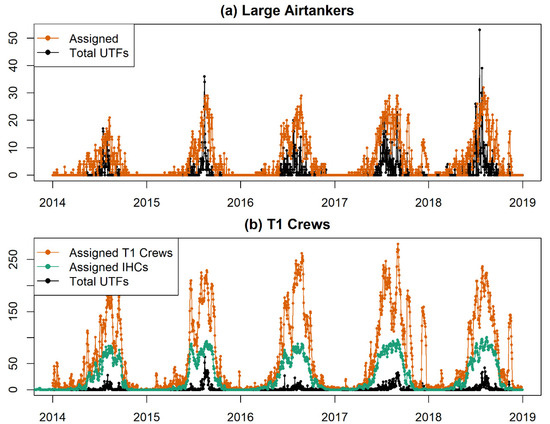 Figure 5. Two daily metrics of resource use and scarcity for large airtankers (a) and Type 1 crews (b). The orange line indicates the number of such resources assigned each day as recorded in ROSS. The black line indicates the number of requests returned Unable to Fill (UTF) as recorded in ROSS. The data summary utilizes all requests within the United States.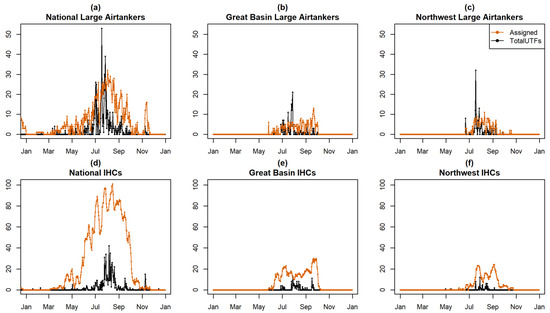 Figure 6. Three subsets of data (one subset per column) showing the two daily metrics of resource use and scarcity for large airtankers (top row of each set) and IHCs (bottom row of each set) from all 2018 ROSS requests. The orange line indicates the number of such resources assigned each day as recorded in ROSS. The black line indicates the number of requests returned Unable to Fill (UTF) as recorded in ROSS. The left two graphs are all requests within the US. The middle two graphs are all requests from the Great Basin Geographic Area. The right two graphs are all requests from the Northwest Geographic Area.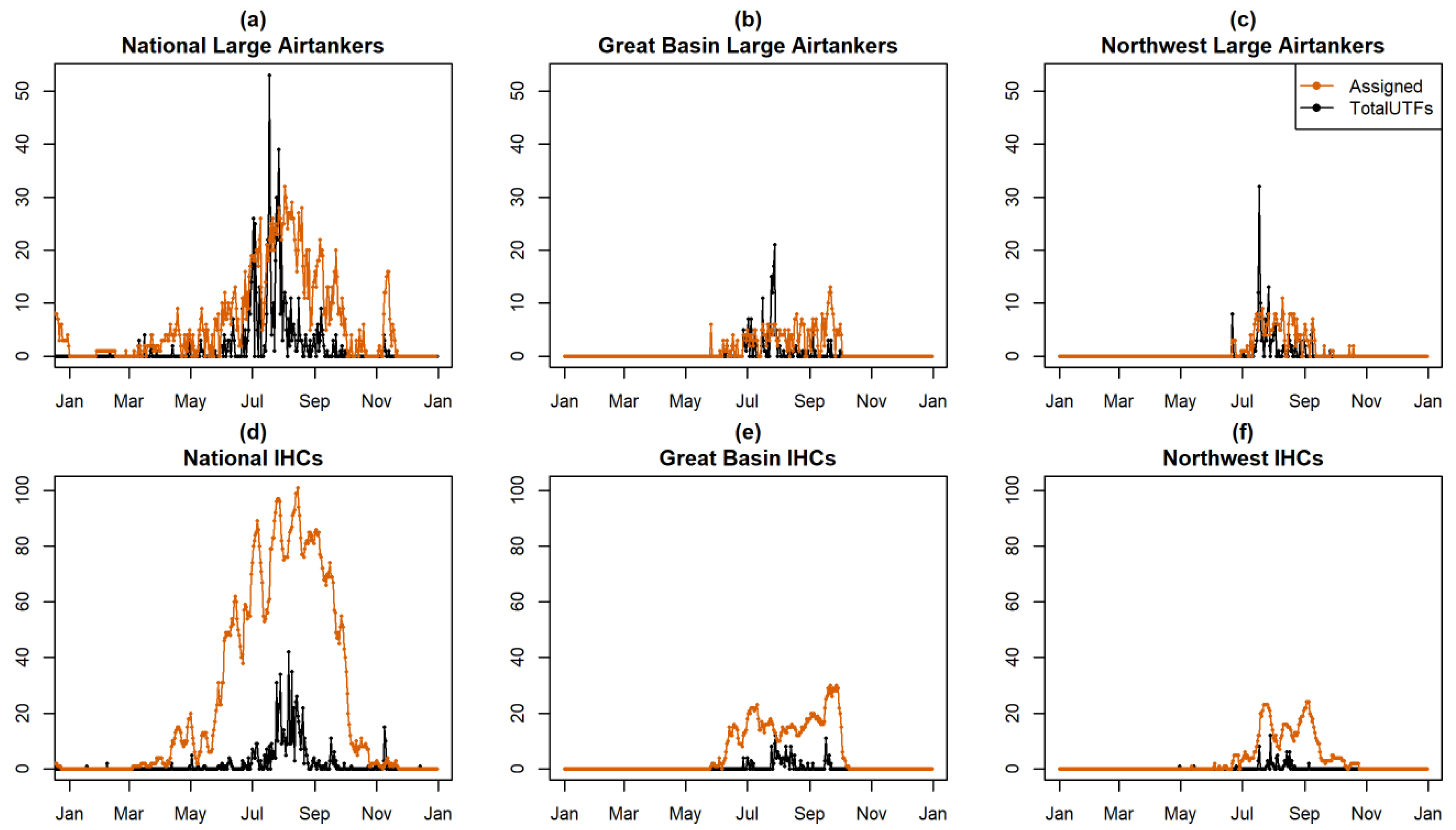 Figure 7. The number of filled requests for large airtankers (a), number of filled requests for Type 1 crews (b), number of requests returned UTF for large airtankers (c), and number of requests returned UTF for Type 1 crews (d) by year (2014–2018), bars colored by the type of fire and the fire location, i.e., inside or outside of California (CA) and Alaska (AK), requesting the resource.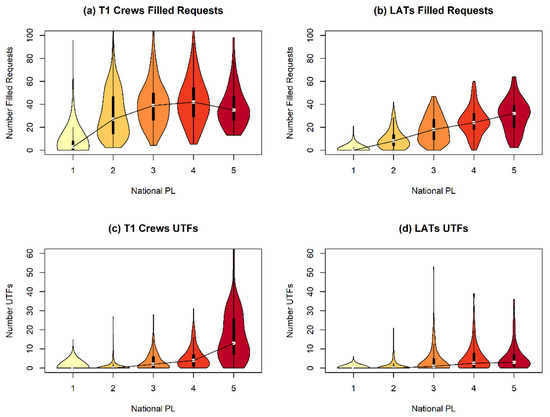 Figure 8. Violin plots showing the total number of filled requests daily by Preparedness Level (PL) for all days from 2014 to 2018 for (a) T1 crews and (b) large airtankers (LATs). In addition, violin plots showing the total number of requests returned UTF daily by PL for all days from 2014 to 2018 for (c) T1 crews and (d) LATs.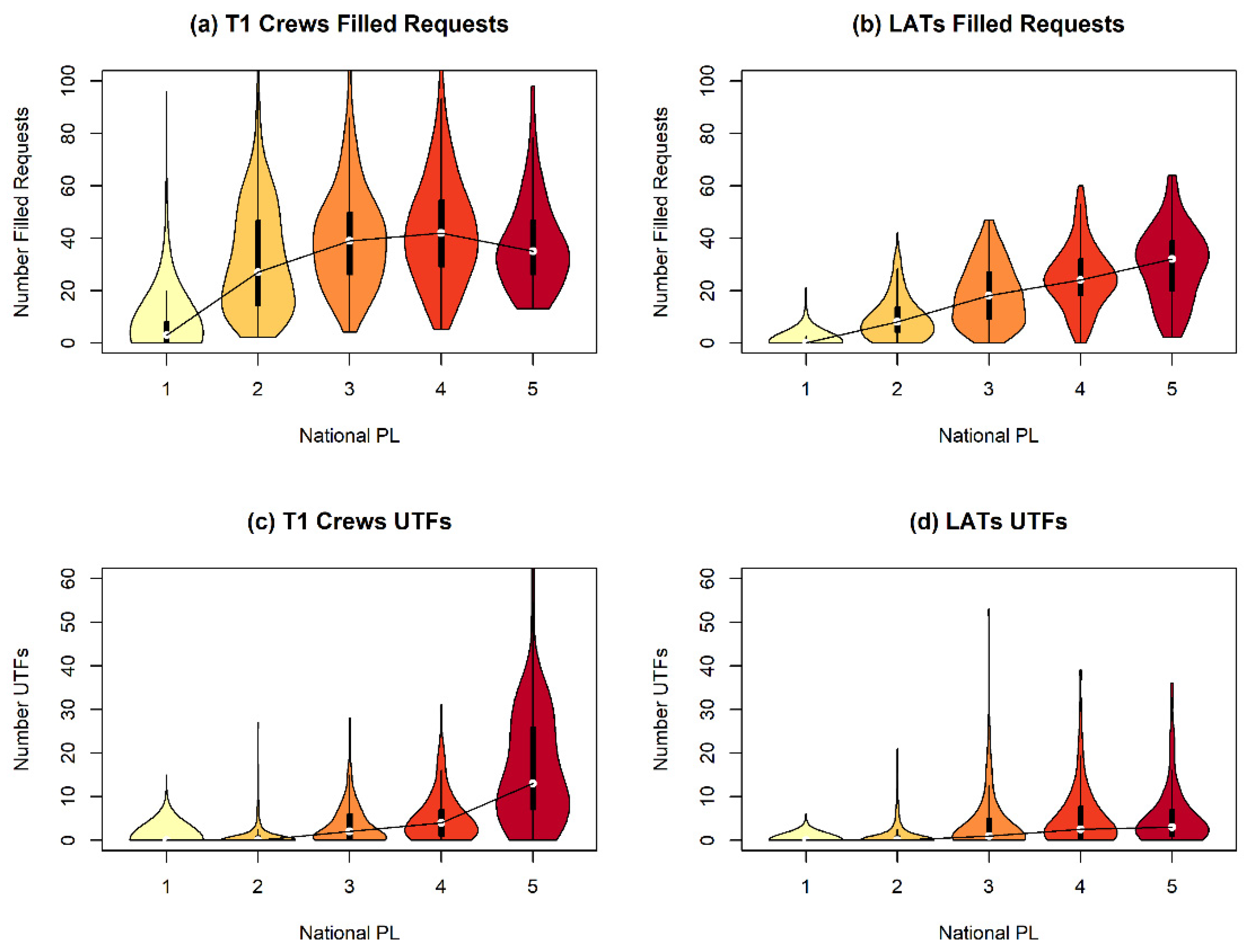 Table 1. Selected examples of destructive "off-season" wildfires, illustrating the shift from a "fire season" to a "fire year" in the US.
| Ignition Month/Year | Fire Name | Ignition State | Final Fire Size (Hectares) |
| --- | --- | --- | --- |
| February, 2015 | Round | California | 2645 |
| November, 2016 | Chimney Tops 2 | Tennessee | 6936 |
| March, 2017 | Northwest Oklahoma Complex | Oklahoma/Kansas | 315,368 |
| December, 2017 | Thomas | California | 114,078 |
| November, 2018 | Camp | California | 62,053 |

© 2020 by the authors. Licensee MDPI, Basel, Switzerland. This article is an open access article distributed under the terms and conditions of the Creative Commons Attribution (CC BY) license (http://creativecommons.org/licenses/by/4.0/).