At a Microsite Scale, Native Vegetation Determines Spatial Patterns and Survival of
Pinus contorta

Invasion in Patagonia

1

Laboratorio de Invasiones Biológicas (LIB), Facultad de Ciencias Forestales, Universidad de Concepción, Concepción 4070386, Chile

2

Instituto de Ecología y Biodiversidad (IEB), Santiago 7800003, Chile

3

Departamento de Botánica, Facultad de Ciencias Naturales y Oceanográficas, Universidad de Concepción, Concepción 4070386, Chile

*

Author to whom correspondence should be addressed.

Received: 8 July 2019 / Revised: 26 July 2019 / Accepted: 27 July 2019 / Published: 2 August 2019
Abstract
Research Highlights:
The invasive species
Pinus contorta
, has become a new component of the vegetation in the Patagonian Steppe, invading the complex matrix of bare ground, tussock grasses and cushion plants. At a microsite scale, the type of native vegetation is one of the multiple factors determining the establishment of
P. contorta
and in some cases, increasing its survival, and as a result, the invasion of the species.
Background and Objectives:
The presence of trees, particularly pines, where they are naturally absent, represents a clear threat to Patagonian steppe ecosystems. Thus, understanding the interaction between pines and native plant species may be the key to understanding the invasion and applying management actions.
Pinus contorta
is considered one of the most aggressive among the pines species, with recognized impacts on regions in the southern hemisphere and Europe, and it is one of the main invaders in the Patagonian steppe. Our aim in this study is to determine the influence of surrounding vegetation on
P. contorta
spatial distribution, its establishment and future development in the Chilean Patagonia.
Materials and Methods:
We used point pattern analysis to determine the existence of spatial associations between
P. contorta
and the resident vegetation of the Patagonian steppe. Further, a seeding experiment was carried out to assess the influence of the surrounding vegetation during
P. contorta
establishment and first growing season.
Results:
We found that young
P. contorta
individuals are positively associated with the native cushion plant
B. magellanica
and also to tussock grasses. Seeding experiments showed that
P. contorta
is influenced by resident plant species during establishment and is able to establish on any ground cover type in the Patagonian steppe, but some resident plant species increase
P. contorta
survival chances.
Conclusions: Pinus contorta
is interacting with native vegetation and becoming an active component of the Patagonian steppe mosaic. Although pines can establish in any type of vegetation in the Patagonian steppe mosaics, native cushion and tussock grasses may be facilitating the process and promoting pine survival, allowing it to survive and thrive in this stressful environment.
View Full-Text
►

▼

Figures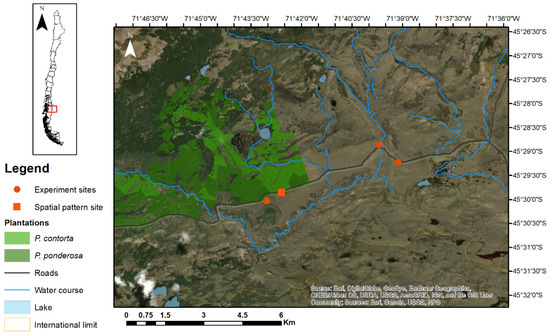 Figure 1
This is an open access article distributed under the
Creative Commons Attribution License
which permits unrestricted use, distribution, and reproduction in any medium, provided the original work is properly cited (CC BY 4.0).

Share & Cite This Article
MDPI and ACS Style
Langdon, B.; Cavieres, L.A.; Pauchard, A. At a Microsite Scale, Native Vegetation Determines Spatial Patterns and Survival of Pinus contorta Invasion in Patagonia. Forests 2019, 10, 654.
Note that from the first issue of 2016, MDPI journals use article numbers instead of page numbers. See further details here.
Related Articles
Comments
[Return to top]