Management Implications of Using Brush Mats for Soil Protection on Machine Operating Trails during Mechanized Cut-to-Length Forest Operations
1
Forest Operations, Department of Ecology and Ecosystem Management, Technical University of Munich, Hans-Carl-von-Carlowitz-Platz 2, 85354 Freising, Germany
2
Faculty of Forestry and Environmental Management, University of New Brunswick, P.O. Box 4400 Fredericton, NB E3B 6C2, Canada
3
Department of Forest Work Science and Engineering, Georg-August-Universität Göttingen, Büsgenweg 4, 37077 Göttingen, Germany
*
Author to whom correspondence should be addressed.
Received: 20 November 2018 / Revised: 18 December 2018 / Accepted: 25 December 2018 / Published: 29 December 2018
Abstract
Mechanized cut-to-length forest operations often rely on the use of brush mats created from harvesting debris (tree limbs, tops, and foliage) to reduce soil disturbances as a result of in-stand machine traffic. These brush mats, placed directly on the forest floor within machine operating trails, distribute loads of timber harvesting and extraction machinery to a greater area, thereby reducing peak pressures exerted to the ground and rutting for maintaining technical trafficability of operating trails. Forest biomass has also been promoted as a source of green and renewable energy, to reduce carbon emissions from energy production. However, to maintain sufficient quality of biomass for bioenergy operations (high heating value and low ash content), brush needs to be free of contaminants such as mineral soil. This constraint eliminates the possibility of the dual use of brush, first as a soil protective layer on machine operating trails and afterwards for bioenergy generation. Leaving machine operating trails uncovered will cause machine loads to be fully and directly applied to the soil, thus increasing the likelihood of severe soil disturbance, tree growth impediment and reducing trail trafficability. The main objective of this study was to quantify the effect of varying machine operating trail spacing and width on the amount of brush required for soil protection. This was achieved by creating five model forest stands (four mature and one immature), commonly found in New Brunswick, Canada, and using their characteristics as input in the Biomass Opportunity and Supply Model (BiOS) from FPInnovations. BiOS provided several key biomass related outputs allowing the determination of the amount of biomass available for soil protection, which was the main focus of this research. The simulation results showed that regardless of trail area tested, all four mature forest stands were able to support uniform distribution of 20 kg m
−2
brush mats (green mass) throughout their entire trail network during clear-cut operations but not during partial harvests. From the three factors assessed (brush amount, trail width, and trail spacing), trail width had the highest effect on the required brush amount for trail protection, which in turn has a direct impact on the amount of brush that could be used for bioenergy generation.
View Full-Text
►

▼

Figures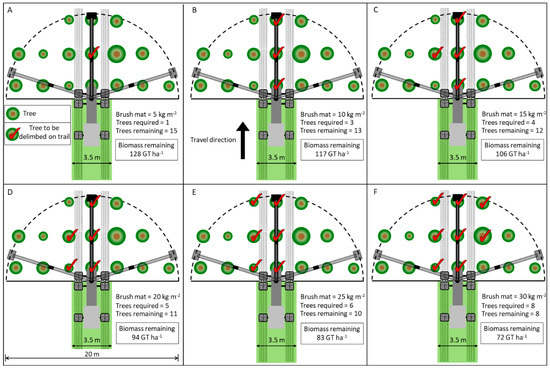 Figure 1
This is an open access article distributed under the
Creative Commons Attribution License
which permits unrestricted use, distribution, and reproduction in any medium, provided the original work is properly cited (CC BY 4.0).

Share & Cite This Article
MDPI and ACS Style
Labelle, E.R.; Jaeger, D. Management Implications of Using Brush Mats for Soil Protection on Machine Operating Trails during Mechanized Cut-to-Length Forest Operations. Forests 2019, 10, 19.
Note that from the first issue of 2016, MDPI journals use article numbers instead of page numbers. See further details here.
Related Articles
Comments
[Return to top]