Land Use Zoning at the County Level Based on a Multi-Objective Particle Swarm Optimization Algorithm: A Case Study from Yicheng, China
1
School of Resource and Environmental Science, Wuhan University, Luoyu Road 129, Wuhan 430079, China
2
Key Laboratory of Geographical Information System, Ministry of Education, Wuhan University, Luoyu Road 129, Wuhan 430079, China
3
Department of Computer Science, Central China Normal University, Luoyu Road 152, Wuhan 430079, China
*
Author to whom correspondence should be addressed.
Received: 25 June 2012 / Revised: 21 July 2012 / Accepted: 25 July 2012 / Published: 6 August 2012
Abstract
Comprehensive land-use planning (CLUP) at the county level in China must include land-use zoning. This is specifically stipulated by the China Land Management Law and aims to achieve strict control on the usages of land. The land-use zoning problem is treated as a multi-objective optimization problem (MOOP) in this article, which is different from the traditional treatment. A particle swarm optimization (PSO) based model is applied to the problem and is developed to maximize the attribute differences between land-use zones, the spatial compactness, the degree of spatial harmony and the ecological benefits of the land-use zones. This is subject to some constraints such as: the quantity limitations for varying land-use zones, regulations assigning land units to a certain land-use zone, and the stipulation of a minimum parcel area in a land-use zoning map. In addition, a crossover and mutation operator from a genetic algorithm is adopted to avoid the prematurity of PSO. The results obtained for Yicheng, a county in central China, using different objective weighting schemes, are compared and suggest that: (1) the fundamental demand for attribute difference between land-use zones leads to a mass of fragmentary land-use zones; (2) the spatial pattern of land-use zones is remarkably optimized when a weight is given to the sub-objectives of spatial compactness and the degree of spatial harmony, simultaneously, with a reduction of attribute difference between land-use zones; (3) when a weight is given to the sub-objective of ecological benefits of the land-use zones, the ecological benefits get a slight increase also at the expense of a reduction in attribute difference between land-use zones; (4) the pursuit of spatial harmony or spatial compactness may have a negative effect on each other; (5) an increase in the ecological benefits may improve the spatial compactness and spatial harmony of the land-use zones; (6) adjusting the weights assigned to each sub-objective can generate a corresponding optimal solution, with a different quantity structure and spatial pattern to satisfy the preference of the different decision makers; (7) the model proposed in this paper is capable of handling the land-use zoning problem, and the crossover and mutation operator can improve the performance of the model, but, nevertheless, leads to increased time consumption.
View Full-Text
►

▼

Figures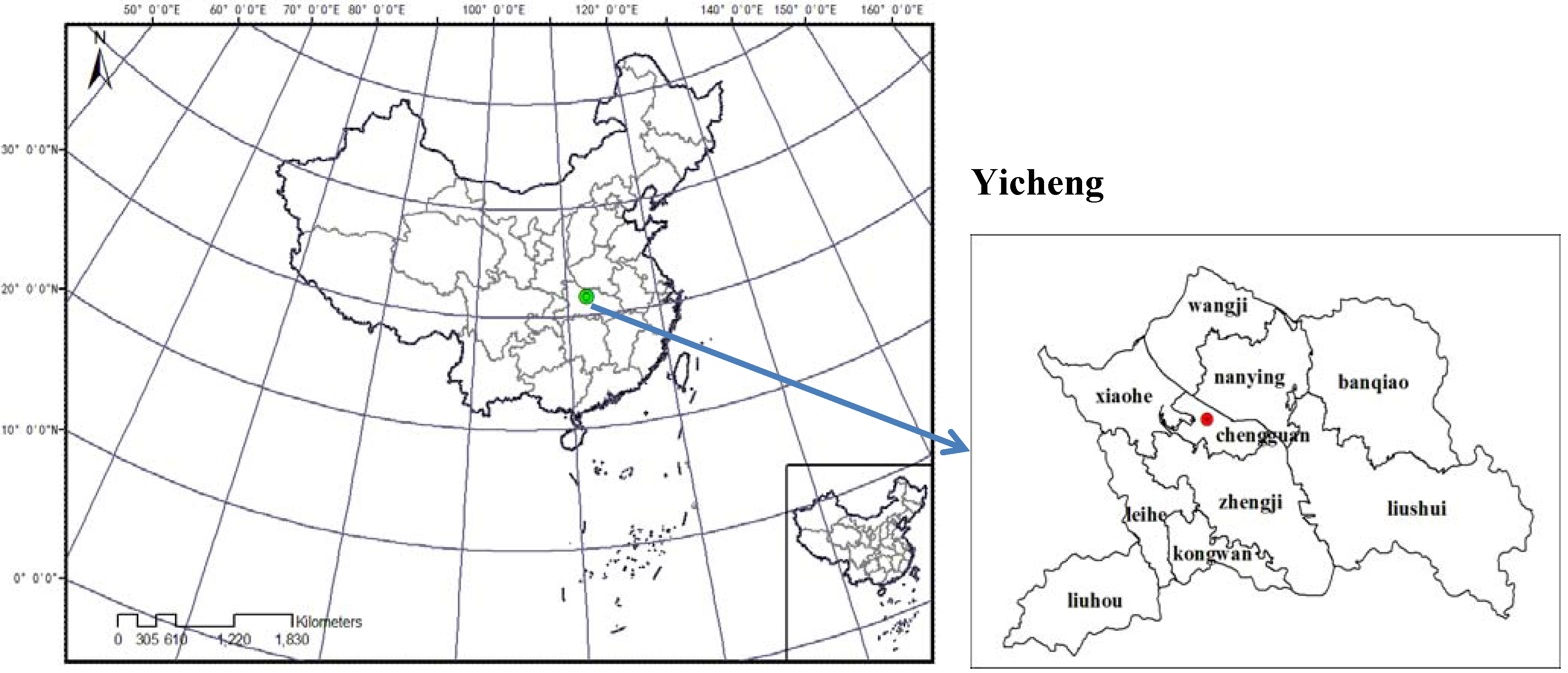 Figure 1

Share & Cite This Article
MDPI and ACS Style
Liu, Y.; Wang, H.; Ji, Y.; Liu, Z.; Zhao, X. Land Use Zoning at the County Level Based on a Multi-Objective Particle Swarm Optimization Algorithm: A Case Study from Yicheng, China. Int. J. Environ. Res. Public Health 2012, 9, 2801-2826.
Related Articles
Comments
[Return to top]