Ammonium Removal from Aqueous Solutions by Clinoptilolite: Determination of Isotherm and Thermodynamic Parameters and Comparison of Kinetics by the Double Exponential Model and Conventional Kinetic Models
Department of Environmental Engineering, Süleyman Demirel University, Isparta 32260, Turkey
Received: 15 February 2012 / Revised: 11 March 2012 / Accepted: 13 March 2012 / Published: 19 March 2012
Abstract
The adsorption isotherm, the adsorption kinetics, and the thermodynamic parameters of ammonium removal from aqueous solution by using clinoptilolite in aqueous solution was investigated in this study. Experimental data obtained from batch equilibrium tests have been analyzed by four two-parameter (Freundlich, Langmuir, Tempkin and Dubinin-Radushkevich (D-R)) and four three-parameter (Redlich-Peterson (R-P), Sips, Toth and Khan) isotherm models. D-R and R-P isotherms were the models that best fitted to experimental data over the other two- and three-parameter models applied. The adsorption energy (E) from the D-R isotherm was found to be approximately 7 kJ/mol for the ammonium-clinoptilolite system, thereby indicating that ammonium is adsorbed on clinoptilolite by physisorption. Kinetic parameters were determined by analyzing the
nth
-order kinetic model, the modified second-order model and the double exponential model, and each model resulted in a coefficient of determination (R
2
) of above 0.989 with an average relative error lower than 5%. A Double Exponential Model (DEM) showed that the adsorption process develops in two stages as rapid and slow phase. Changes in standard free energy (∆G°), enthalpy (∆H°) and entropy (∆S°) of ammonium-clinoptilolite system were estimated by using the thermodynamic equilibrium coefficients.
View Full-Text
►

▼

Figures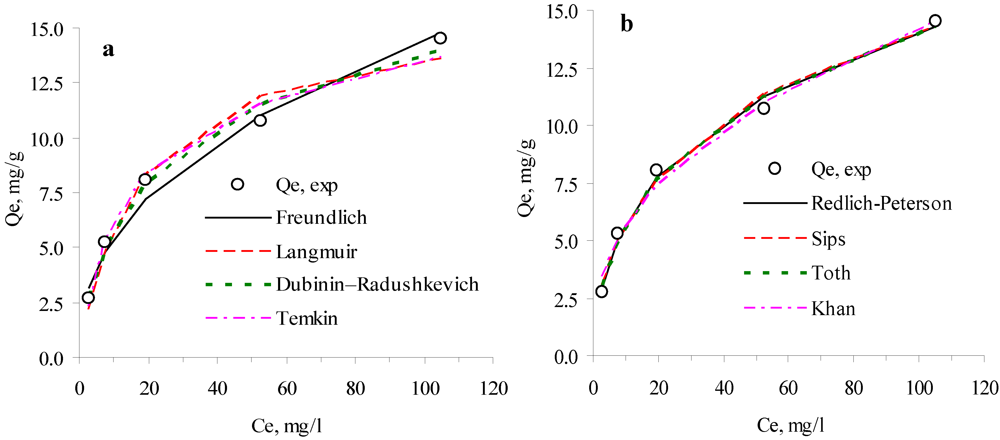 Figure 1

Share & Cite This Article
MDPI and ACS Style
Tosun, İ. Ammonium Removal from Aqueous Solutions by Clinoptilolite: Determination of Isotherm and Thermodynamic Parameters and Comparison of Kinetics by the Double Exponential Model and Conventional Kinetic Models. Int. J. Environ. Res. Public Health 2012, 9, 970-984.
Related Articles
Comments
[Return to top]