Air Change Rates and Interzonal Flows in Residences, and the Need for Multi-Zone Models for Exposure and Health Analyses
1
School of Public Health, University of Michigan, Ann Arbor, MI 48108, USA
2
College of Public Health, University of Iowa, Iowa City, IA 51503, USA
3
National Exposure Research Laboratory, Office of Research and Development, US Environmental Protection Agency, Research Triangle Park, NC 27711, USA
4
Community Action Against Asthma, Community Partner at Large, Detroit, MI 48108, USA
5
School of Medicine, University of Michigan, Ann Arbor, MI 48108, USA
*
Author to whom correspondence should be addressed.
Received: 30 August 2012 / Revised: 13 November 2012 / Accepted: 29 November 2012 / Published: 12 December 2012
Abstract
Air change rates (ACRs) and interzonal flows are
key determinants of indoor air quality (IAQ) and building energy use. This paper characterizes ACRs and interzonal flows in 126 houses, and evaluates effects of these parameters on IAQ. ACRs measured using weeklong tracer measurements in several seasons averaged 0.73 ± 0.76 h
−1
(median = 0.57 h
−1
, n = 263) in the general living area, and much higher, 1.66 ± 1.50 h
−1
(median = 1.23 h
−1
, n = 253) in bedrooms. Living area ACRs were highest in winter and lowest in spring; bedroom ACRs were highest in summer and lowest in spring. Bedrooms received an average of 55 ± 18% of air from elsewhere in the house; the living area received only 26 ± 20% from the bedroom. Interzonal flows did not depend on season, indoor smoking or the presence of air conditioners. A two-zone IAQ model calibrated for the field study showed large differences in pollutant levels between the living area and bedroom, and the key parameters affecting IAQ were emission rates, emission source locations, air filter use, ACRs, interzonal flows, outdoor concentrations, and PM penetration factors. The single-zone models that are commonly used for residences have substantial limitations and may inadequately represent pollutant concentrations and exposures in bedrooms and potentially other environments other where people spend a substantial fraction of time.
View Full-Text
►

▼

Figures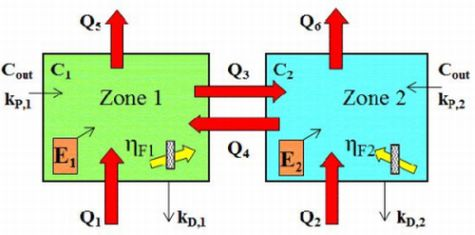 Graphical abstract

Share & Cite This Article
MDPI and ACS Style
Du, L.; Batterman, S.; Godwin, C.; Chin, J.-Y.; Parker, E.; Breen, M.; Brakefield, W.; Robins, T.; Lewis, T. Air Change Rates and Interzonal Flows in Residences, and the Need for Multi-Zone Models for Exposure and Health Analyses. Int. J. Environ. Res. Public Health 2012, 9, 4639-4661.
Related Articles
Comments
[Return to top]