Technology-Based Substance Use Interventions: Opportunities for Gender-Transformative Health Promotion
1
Centre of Excellence for Women's Health, D404-4500 Oak St, Vancouver, BC V6H 3N1, Canada
2
Canada FASD Research Network, PO Box 11364, Vancouver, BC V5R 0A4, Canada
*
Author to whom correspondence should be addressed.
Received: 20 December 2019 / Revised: 1 February 2020 / Accepted: 4 February 2020 / Published: 5 February 2020
Drawing on data from a scoping review on sex, gender and substance use, this narrative review explores the use of gender-informed and technology-based approaches in substance use prevention and health promotion interventions. With an ever-changing landscape of new technological developments, an understanding of how technology-based interventions can address sex, gender, and intersecting equity considerations related to substance use is warranted. Current technology-based approaches to substance use prevention and health promotion are described and assessed for gender-specific and gender transformative outcomes, and limitations are discussed related to inclusivity, access, confidentiality, and a dearth of research on technological approaches that integrate gender-based analysis. A call for action designed to advance technology-based health promotion, prevention and brief interventions that address gender equity simultaneously with substance use is proposed.
1. Introduction
Historically, substance use prevention and treatment interventions have employed directive, gender-blind and abstinence-oriented approaches [
1
,
2
,
3
,
4
,
5
,
6
,
7
]. However, research from the substance use field has demonstrated the importance of sex and gender considerations in substance use responses including prevention and treatment interventions [
8
,
9
,
10
,
11
]. The gendered factors, influences, and differences as to how individuals respond to substance use prevention and cessation cannot be ignored. For example, concerns surrounding weight gain have been found more often to be a reason for avoiding smoking cessation for women compared to men [
12
]. Other gender-mediated reasons for smoking cessation have demonstrated that men are more likely to quit as a result of tobacco policy, and that social unacceptability is more closely associated with quitting among women [
13
]. Such gender-informed influences are integral to understanding how to approach substance use health promotion, prevention and brief intervention efforts.
In understanding gender-responsive approaches, it is important to consider the range in which gender inclusions and considerations can impact gender equity outcomes. See
Figure 1
. Gender-blind programs ignore gender norms, roles and relations and may therefore reinforce gender-based discrimination, biases and stereotypes. Gender-specific programs acknowledge gender norms, consider women's and men's specific needs and act to accommodate these needs to some degree. Gender-transformative approaches focus on the dual goals of improving health, social or economic status as well as gender equity [
14
]. The benefits of gender-transformative approaches have been demonstrated globally, addressing gender norms, stereotypes or relations as a route to improved health outcomes when undertaking prevention and health promotion efforts [
14
,
15
,
16
,
17
]. Future programs and studies can be created or evaluated using sex and gender-based analysis plus (SGBA+) to determine their implementation (or lack of) of a gender-transformative approach or to analyze the effectiveness of programs for promoting inclusivity. This form of analysis provides an important perspective to evaluating programs and evidence for potential gaps in relation to sex, gender and intersectional equity [
18
].
Simultaneous to the growing commitment to SGBA+, there has been an increased interest in incorporating technology into substance use prevention and treatment. Technology has become more interwoven into day-to-day life and into the health care sector with the advancements of technology and Internet-based care (eHealth). In one regard, technology provides a significant opportunity for prevention and health promotion interventions to reach large audiences. Technology has more recently been used to connect with adolescents and young adults but also older generations and individuals of all genders, with a focus on health promoting and harm reducing decision making. However, gaps and cautions remain as to the reach and inclusivity of these technological approaches to date. Given the dearth of research beyond web-based tobacco and alcohol interventions [
19
], an understanding of the scope of technological approaches to prevention and health promotion for all substances is warranted. Further, it is timely to examine how sex and gender play into decision making surrounding substance use prevention efforts and how gender-informed harm reduction-oriented approaches might be further or more effectively achieved in technology-based interventions. This article will provide an examination of how technology-based substance use prevention approaches are integrating health promotion and harm reduction, and how sex, gender and intersecting factors of age, race, and socioeconomic status related to substance use are, or are not, being achieved in these efforts. It will further provide recommendations for the direction of future research on technology-based substance use prevention and health promotion approaches.
2. Methods
This narrative review is based on a subset of findings from a scoping review conducted on the integration of sex and gender in research on opioids, alcohol, tobacco and cannabis prevalence and patterns of use, health effects, and prevention, treatment and harm reduction interventions and outcomes. The four substances were chosen for having differential sex and gender impacts, and for their current critical concern in Canada.
The scoping review was based on two broad questions:
(1)

How do sex- and gender-related factors impact: (a) patterns of use; (b) health effects of; and (c) prevention/treatment or harm reduction outcomes for opioid, alcohol, tobacco/nicotine and cannabis use?

(2)

What harm reduction, health promotion/prevention and treatment interventions and programs are available that include sex, gender and gender-transformative elements and how effective are these in addressing opioid, alcohol, tobacco/ nicotine and cannabis use?
The scoping review methodology has been described in full in Hemsing et al. [
20
]. Over five thousand (5030) papers were included in the original review, which excluded research specific to pregnant women who use substances, but was inclusive of women, girls, men, boys, trans and gender diverse people of all other ages and demographics. The included papers were categorized by substance (alcohol, tobacco, opioid, and cannabis and multiple substances/substance use generally) as well as by research focus (i.e., prevalence, health effects and biological responses, and prevention and intervention type) in an Endnote library. This narrative review draws upon articles from the scoping review findings. The authors reviewed articles categorized in the prevention (64 articles), harm reduction (50 articles), and brief intervention (76 articles) fields for relevance and did additional key word searches in the full library using the terms: Tech(nology) (8 articles), Health Promotion (8 articles), Web(site) (15 articles), Internet (8 articles), App(s) (3 articles), Computer(s) (11 articles), Mobile (4 articles), Text Message (2 articles), (Tele)Phone (9 articles), Online (11 articles), Social Media (5 articles), Digital (3 articles), Fitbit (1) and Video(s) (3 articles). Due to the prevalence of articles that focused on technology-based brief interventions, an additional targeted search was done for the studies categorized as having a research focus on brief interventions, which identified 17 papers. 52 articles from the combined search were excluded for being duplicate values.
A total of 239 articles were analyzed for inclusion, 54 meet the criteria of examining sex and/or gender in technology-based substance use prevention approaches and outcomes, and 45 were included in this article. Of these articles, 11 were computer-based, 12 were phone-based, 19 were web-based and 3 examined multiple technological mediums. Since 'technology-based interventions' was not a specific category in the original scoping review, a narrative review approach was used for this article in order to examine all of the literature more broadly related to this topic.
3. Technology-Based Substance Use Prevention and Health Promotion Approaches
There were multiple ways in which substance use prevention and health promotion approaches incorporated gender and technology in the literature including brief web-based interventions (16 articles), targeted web-based messaging (three articles), social media, websites and virtual communities (eight articles), computer games (three articles), text messaging (three articles), mobile phone applications (apps) (seven articles) and telephone interventions (five articles). Of the 45 included articles, 11 reported on patterns and prevalence of use and 34 evaluated the efficacy of technology-based interventions. The interventions ranged from gender blind to gender transformative. Of the nine articles that described gender-transformative approaches, only five unique interventions were reported—all of which were conducted with only girls or women. Two of these interventions were brief web-based interventions, two were mobile phone apps, and one was a telephone-delivered intervention.
As a result of the dearth of gender-transformative interventions exemplified in the literature, the review findings have been categorized by technological approach in order to examine the literature more broadly and provide a critical analysis of how gender has been considered across all technology-based platforms (see
Table S1
for details). The following section will examine gender inclusion by technological medium and how these platforms have incorporated variances of harm reduction, health promotion, prevention, and treatment.
4. Gender Considerations in Technology-Based Substance Use Interventions
5. Future Directions for Gender Integration in Technology-Based Substance Use Interventions
6. Limitations
The purpose of this review was to provide an examination of how technology-based substance use prevention approaches have integrated gender-informed health promotion and harm reduction, and how sex, gender and intersecting factors of age, race, and socioeconomic status related to substance use are, or are not, being achieved in these efforts. To identify the breadth of the literature on this topic, provide descriptive detail of the types of interventions that have been conducted, and to identify patterns and prevalence of use, a narrative review was conducted. Only four unique gender-transformative interventions were examined in the quantitative studies available, all of which included samples of only girls and/or women. Quantitative studies also varied in inclusion or measures of effect sizes, and thus there was an overall lack of data availability and consistency to conduct a meta-analysis that examined gender-comparative effects of gender-informed interventions. Future research in this field would benefit from more quantitative research that includes gender comparators, including trans and gender diverse individuals. This would also facilitate meta-analyses of the effects of gender-transformative interventions.
7. Conclusions
There has been a substantial amount of research conducted on the effects that sex and gender factors have on substance use and technological approaches to substance use prevention and health promotion. Compared to gender—and culturally-blind programming, the studies gathered and examined, demonstrated that gender—and culturally-tailored programming is more desired and effective at raising awareness and demonstrating measurable attitudinal and behavioural change related to substance use. And yet, few programs have incorporated sex and gender evidence into their program design, delivery and specific audiences to be reached, and fewer have analyzed the effectiveness of programs developed specifically through a SGBA+ lens. It is evident that there is still a considerable way to go to link the two and further incorporate sex, gender, and gender-transformative approaches in technology-based substance use prevention and health promotion efforts. Future research on this topic would benefit from additional quantitative analyses that incorporate gender comparisons to further identify effective gender-informed and transformative approaches.
The research has shown that compared to men, women tend to prefer technology-based substance use interventions, show higher substance use rates, and find these interventions more helpful. Generally, both men and women prefer technology-based interventions versus non technology-based interventions. Further, gender-specific and culturally-specific substance use programming is a preferential method for boys and girls. Programs that are educational and provide opportunities for self-reflection using personalized normative feedback and/or critical thinking are particularly successful. This research review demonstrates that health promotion-based technological approaches have some of the largest effects on women and girls—particularly in studies that focused on girls and reducing alcohol use and related harms. There is significant opportunity to partner with young men and women, and with technological platform designers, to increase the use, reach and effectiveness of health promotion, substance use prevention and brief interventions that take gender into account and advance gender equity.
With the advancements of technology-based health promotion and prevention efforts, there is a great opportunity to modify technological approaches to respond to the evidenced gaps, echoing the movement and progress of global eHealth and mHealth initiatives. These interventions have the opportunity to respond to shifts in technological engagement, reaching across generations with the goal and ability of streamlining the efficiency of substance use prevention and harm reduction, while keeping in mind how gender-transformative interventions can lead to successful health outcomes.
Author Contributions
Conceptualization, J.S. and N.P.; Methodology, J.S.; Formal Analysis, J.S.; Data Curation, J.S. and L.W.; Writing—Original Draft Preparation, J.S.; Writing—Review and Editing, J.S., L.W., and N.P.; Visualization, J.S.; Supervision, N.P.; Funding Acquisition, N.P. All authors have read and agree to the published version of the manuscript.
Funding
This research was supported by the Canadian Institutes of Health Research (CIHR)—Institute of Gender and Health Team Grant #384548.
Conflicts of Interest
The authors declare no conflict of interest.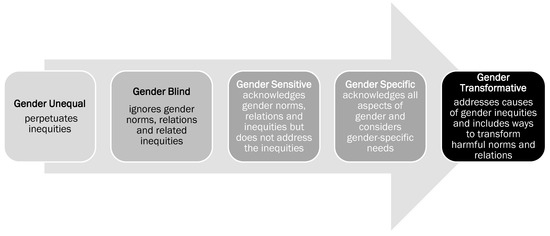 Figure 1.
Gender Integration Continuum, reproduced adaptation with permission from Greaves, L., Pederson, A., Poole, N., Making it Better: Gender Transformative Health Promotion; published by Women's Press, 2014 [
14
] (p. 22).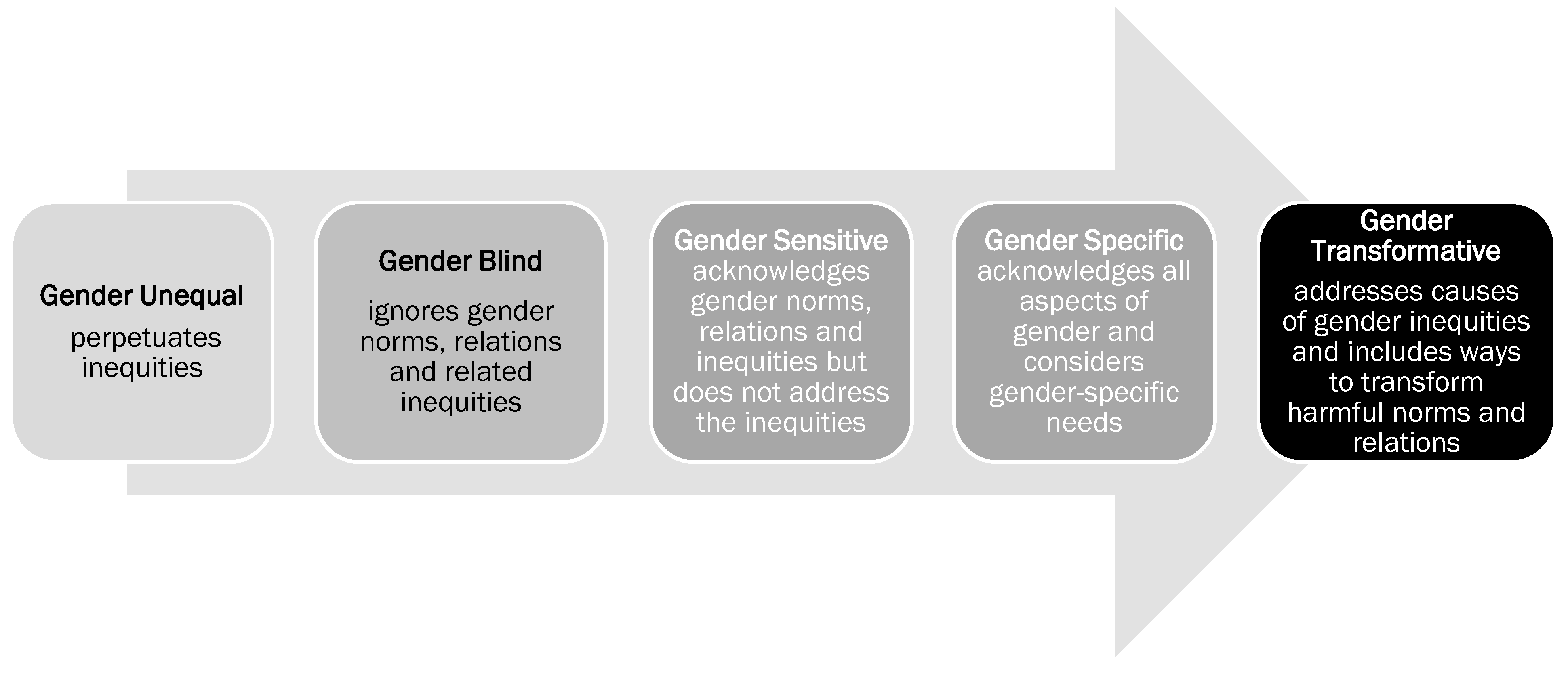 © 2020 by the authors. Licensee MDPI, Basel, Switzerland. This article is an open access article distributed under the terms and conditions of the Creative Commons Attribution (CC BY) license (http://creativecommons.org/licenses/by/4.0/).