Open Access This article is
freely available
re-usable
Article
Rotavirus Seasonality: An Application of Singular Spectrum Analysis and Polyharmonic Modeling
1
Novosibirsk State Technical University, Novosibirsk 630073, Russia
2
Institute of Cytology and Genetics, Siberian Branch of the Russian Academy of Sciences, Novosibirsk 630090, Russia
3
State Research Center for Virology and Biotechnology "Vector", Koltsovo, Novosibirsk Region 630559, Russia
4
Friedman School of Nutrition Science and Policy, Tufts University, Boston, MA 02111, USA
*
Author to whom correspondence should be addressed.
Received: 23 August 2019 / Accepted: 1 November 2019 / Published: 6 November 2019
Abstract
:
The dynamics of many viral infections, including rotaviral infections (RIs), are known to have a complex non-linear, non-stationary structure with strong seasonality indicative of virus and host sensitivity to environmental conditions. However, analytical tools suitable for the identification of seasonal peaks are limited. We introduced a two-step procedure to determine seasonal patterns in RI and examined the relationship between daily rates of rotaviral infection and ambient temperature in cold climates in three Russian cities: Chelyabinsk, Yekaterinburg, and Barnaul from 2005 to 2011. We described the structure of temporal variations using a new class of singular spectral analysis (SSA) models based on the "Caterpillar" algorithm. We then fitted Poisson polyharmonic regression (PPHR) models and examined the relationship between daily RI rates and ambient temperature. In SSA models, RI rates reached their seasonal peaks around 24 February, 5 March, and 12 March (i.e., the 55.17 ± 3.21, 64.17 ± 5.12, and 71.11 ± 7.48 day of the year) in Chelyabinsk, Yekaterinburg, and Barnaul, respectively. Yet, in all three cities, the minimum temperature was observed, on average, to be on 15 January, which translates to a lag between the peak in disease incidence and time of temperature minimum of 38–40 days for Chelyabinsk, 45–49 days in Yekaterinburg, and 56–59 days in Barnaul. The proposed approach takes advantage of an accurate description of the time series data offered by the SSA-model coupled with a straightforward interpretation of the PPHR model. By better tailoring analytical methodology to estimate seasonal features and understand the relationships between infection and environmental conditions, regional and global disease forecasting can be further improved.
Keywords:
time series analysis; singular spectrum analysis; periodogram spectral analysis; Poisson polyharmonic regression model; rotavirus; seasonality; ambient temperature; cold climate; Russia
1. Introduction
However, analytical tools suitable for identification of seasonal peaks along with their uncertainty metrics are limited and rarely used in a systematic manner. In surveillance reports worldwide, seasonal peaks are often presented by the month with the highest number of cases, which is insufficient to accurately compare seasonal peaks across populations, geographic locations, and time periods. Yet, if the incidence of an infectious disease observed in a specific population is tracked in a systematic manner and is expressed in a proper chronological order at high temporal resolution, researchers can apply modern sophisticated methodology to conduct in-depth data analysis. In other words, if we assemble cases of health outcomes as they occur in time, aggregate these events with respect to time units, say into daily or weekly cases, and compile these counts or rates into so-called time series, we will be able to apply analytical methods suitable for time series data.
Infections that are highly contagious often exhibit sharp spikes in time series of disease incidence. Infections that are highly seasonal tend to peak at the same time of the year. Methods that are most critical in describing seasonal features include models for: 1) adequate selection of a form for a long-term trend, 2) identification of a cycle length or period, and 3) detection of a seasonal peak and amplitude along with the relevant measures of uncertainty. Thus, the models describing time series of disease records have to take into account a potentially complex structure that is non-linear and non-stationary. Non-stationarity and non-linearity are likely to be present when an infection is sensitive to environmental conditions governing pathogen's transmission and host health.
In the present study, we developed a two-step modeling procedure to take advantage of both approaches. First, we identified periodicity in the observed data and, then, using this information, built models to determine and compare seasonal characteristics. We demonstrated the approach by examining the relationship between daily time series of RI rates and ambient temperature in three Russian cities from 2005 to 2011 using SSA and Poisson polyharmonic regression (PPHR) models. We identified the structure of temporal variation in daily time series of RI rates and temperature using the SSA model—a new class of spectral analysis models. We then applied PPHR models to examine the relationship between daily time series of RI and ambient temperature and estimate seasonal peaks. We provide the models' assessments and an interpretation of modeling results. We conclude this communication with the discussion of main findings, limitations, and further research directions.
2. Data and Methods
We abstracted all fully anonymized laboratory-confirmed cases of rotavirus (A08.0, ICD-10), representing rotaviral infection in three Russian cities: 12,423 cases in Chelyabinsk, 13,342 cases in Yekaterinburg, and 3307 cases in Barnaul as recorded by the Climate–Water–Diseases–Infections (CliWaDIn) database version 1.0 [
29
,
30
]. Using the date of testing, we created daily time series of cases for each city. To compare rotavirus incidence between cities, the time series of cases were converted into time series of daily rates per 1 million persons. As denominators, we used the annual population for each city and each year: for Chelyabinsk—from 1 January 2005 to 30 June 2011 (2372 study days); for Yekaterinburg—from 1 January 2005 to 31 July 2011 (2403 study days); and for Barnaul—from 1 January 2006 to 31 December 2011 (2191 study days) as shown in
Table 1
.
Annual demographic data were obtained from the official Russian census website [
31
]. Daily average temperature records were obtained from the city public sites [
32
] and then stored, curated, and maintained by the CliWaDIn database [
29
].
Two cities, Chelyabinsk and Yekaterinburg, are located relatively close to each other (~193 km apart) and have over 1 million residents. Barnaul is about half the size and is 1460 km and 1520 km away from Chelyabinsk and Yekaterinburg, respectively (
Figure 1
). All three cities shared similar climate conditions according to the Köppen–Geiger climate classification system [
33
]. The Köppen climate classification divides climates into five main climate groups: A (tropical), B (dry), C (temperate), D (continental), and E (polar), with each group being divided based on seasonal precipitation and temperature patterns, also represented by a letter.
2.1. Exploratory Analysis
We examined the suitability of a Poisson distribution for daily RI rates based on the distributional shape, the coefficients of skewness and kurtosis, and the Kolmogorov–Smirnov test. We applied the periodogram spectral analysis to identify temporal components and seasonal periodicity.
2.2. SSA Method
The basic SSA algorithm decomposes an original non-zero time series into four main components: trend, seasonal component, additional periodic components, and noise. An original non-zero time series, is a series of length
N
(
N
> 2) and with at least one value of
i
when . In the presented analysis, we constructed the SSA model (Model A) of the time series of daily RI rates using the SSA algorithm, which consists of four steps: embedding, singular value decomposition (SVD), eigentriple grouping, and diagonal averaging, as described below.
Step 1: Embedding. The main feature of the SSA algorithm is the window of length (
L
) . To perform the first step of embedding, we mapped the original time series into a sequence of
K = N − L +
1 lagged vectors of size
L
:
to form the trajectory matrix
Y
of the series , defined as:
Step 2: Singular value decomposition. At the second step, we performed the SVD procedure of the trajectory matrix
Y
:
where is the corresponding orthonormal system of the eigenvectors of the matrix with as the ordered non-zero eigenvalues, and are the factoring vectors. The collection is called the
i
-th eigentriple of the SVD, so all information about each of the components is contained in the
i
-th eigentriple.
Step 3: Eigentriple grouping. The eigentriple grouping procedure partitions the set of indices into
m
disjoint subsets , where . The resultant matrix that correspond to the group
I
is defined as . When the resultant matrices are computed for the groups , the expansion (2) leads to the decomposition:
Step 4: Diagonal averaging. At this step, we transformed each matrix of the grouped decomposition (3) into a new series of length
N
. Diagonal averaging applied to a resultant matrix produces a reconstructed series . Therefore, the initial series was decomposed into a sum of
m
reconstructed series:
The process of finding the complete decomposition of the original time series is equivalent to the identification of eigentriple of SVD of the trajectory matrix , corresponding to the trend, periodic components, and noise and their grouping by the component types.
We identified the temporal components for daily RI visually based on the analysis of graphs of eigenvectors. In general, eigenvectors have the same form as a component of the original series, to which they correspond. An eigenvector corresponding to the trend changes slowly and describes a long-term trend in the time series. The seasonal component with a period
T
, is defined by a pair of eigenvectors. In an ideal situation, this pair follow sine and cosine functions with period T and identical amplitude and phase. Thus, a two-dimensional diagram constructed on a plane of neighboring eigenvectors should have a spiral form. The number of turns of the resulted spiral indicates the period of a harmonic component. Finally, a period of a harmonic component is a ratio of the number of components in the expansion (the window length) to the number of spiral turns.
2.3. Poisson Polyharmonic Regression (PPHR) Model
To describe the temporal patterns in the time series of daily RI rates and to estimate peak timing, we modeled the random sequences, , in the form of additive mixtures of harmonic components with periods corresponded to the number of days per year using a stationary regression with Poisson-distributed discrete noise, where and . The general form of a PPHR model is:
where is the outcome interest at time
t
;
t = 1, 2, …, N
is time in days, where
N
is the number of days in a time series; is an intercept and the reflects mean daily values over the study period. The periodic
sin
and
cos
components have a frequency of
=
1/365.25; are the estimated parameters of the model (or regression coefficients) for
k
—number of the periodic components. This model can also contain the trend terms reflecting the general dynamics of change during the observation period.
From the general form (5), we selected the components that were most reasonable to describe the annual and semi-annual oscillations based on the periodogram spectral analysis and the results of SSA modeling (a detailed explanation of how SSA modeling was used to build PPHR model is provided in
Section 3
). Thus, we built the PPHR for the daily rates with the following structure (Model B):
where , the estimated parameters of the model. The seasonal terms: and represent the annual oscillation (when one seasonal peak is expected); the seasonal terms: and represent the semi-annual oscillation (when two seasonal peaks are likely); the function of trend is the third-degree polynomial to account for a potential overall slow non-linear change in RI over the study period. To ease the interpretation of model parameters, we also explored a simplified version of Model B, Model B' with one seasonal term and one linear trend term:
We compared Model B and B' to understand the improvements in model accuracy by considering additional terms.
2.4. Analysis of the Relationship between Daily RI Rates and Ambient Temperature
To examine the relationship between daily RI rates and ambient temperature, we expanded PPHR model (Models B and B') by including two terms for ambient temperature: one term ( for an immediate effect with 1-day lag (
t-1
) and the second term ( for a lagged effect with a variable lag (
t-l
). Thus, Models C and its simplified version C' have the structure:
and:
where are the estimated parameters for the temperature terms; is the value of the average temperature on day
t
-1; is the value of the average temperature on day
t-l
;
l
is the lag in days between the time of disease incidence maximum and the time of temperature minimum. The inclusion of two terms for temperature is justified by a potential difference between a seasonal peak in RI and a seasonal nadir in temperature. If such difference is detected the two terms should reflect the immediate and the lagged effects.
To estimate this lag
l
and to determine the seasonal nadir in the daily time series of temperature in each city, we used a harmonic regression model with a Gaussian distribution for ambient temperature as the outcome variable, Model D:
where is the mean of the ambient temperature over the study period; are the estimated parameters of the model for two harmonic terms as in Models B' and C'; is the time series frequency; is the model residuals. In cold climates, the average ambient temperature exhibits only one seasonal peak and one season nadir, thus two harmonic terms should be sufficient.
We estimated the parameters of Model C' and determined the statistical significance of the contribution of the temperature component in explaining the variance of the time series of daily RI rates. We also estimated the relative risk (RR) of daily RI, associated with immediate (RR1) and lagged (RR2) effects in temperature associated with 1 °C, as:
and their lower and upper bounds of the confidence intervals (95%CI), as:
To estimate the model parameters obtained with PPHR approaches, we used the iterative Gauss–Newton least squares method [
34
]. We plotted the values of RI rates estimated from Models A, B', and C'. Finally, we estimated the average seasonal peaks of disease incidence from Model A, Model B', and Model C' and estimated the difference (lag) between the peak timing in disease incidence and the time when temperature reaches its minimum.
The quality of fit for the constructed models was evaluated by the coefficient of determination
D
, reflecting the overall proportion of variance in explained by the model components and the proximity to the Poisson-distributed residuals, , having the minimum values of the statistical characteristics (mean, median, minimum, maximum, standard deviation, and mean absolute error (MAE)). All analysis was performed using Statistica 12.0 (StatSoft Inc., Palo Alto, CA, USA) statistical software. Codes for SSA models [
35
] were based on the "Caterpillar" SSA algorithm and can be requested from the author (O.K.A.). The compiled dataset containing daily time series of RI rates and temperature is provided in the
Supplementary Materials Table S1
.
4. Discussion
In summary, we introduced a multi-step modeling procedure and illustrated its ability to define the cycle length or period, select the shape for a long-term trend, and perform peak identification. With the proposed approach we were able to reconstruct the daily incidence of infections in each city and demonstrate with high accuracy that, while the general seasonal shape of the RI incidence looked the same, each city had its own seasonal features. Despite the substantial distances between Chelyabinsk or Yekaterinburg, and Barnaul, the peak temperature was observed on the same date, 15 January, in all three cities. The peaks of RI ranged from mid-February to early April exhibiting a 9–16-day shift in peak incidence among the cities. Remarkably, the lag between the time of temperature minimum and the time of the rotavirus incidence maximum depended on the city and was approximately ~40 days in Chelyabinsk, ~47 days in Yekaterinburg, and ~58 days in Barnaul. After adjusting for seasonality, the contribution of the environmental temperature to the explained variance of the time series of daily RI rates was quite small for both immediate and lagged effects (0.01%–0.04% and 0.26%–0.5%, respectively). It is unlikely that these differences will be detected if one applies a standard approach of using monthly records and reporting a month with the highest counts or rates.
Growing utilization of electronic health records and improved laboratory testing foster the development of reliable surveillance systems to monitor local, regional, and global health and, thus, to improve resource allocation, health communication strategies, assessment of efficacy and efficiencies of public health intervention and prevention programs. By knowing when the infection may start to peak, public health authorities can exercise targeted health promotion campaigns, hospital managers can organize laboratory testing and treatment stockpiling, pharmaceutical companies can distribute vaccines, and physicians, nurses, and practitioners can be vigilant in detecting early cases. The production and distribution of vaccines, laboratory testing, and public health communication campaigns are costly and contribute substantially to the overall health care cost. The entire supply chain operation (e.g., which health care services are chosen, when and where they are delivered, how they are distributed) fails when a disease seasonal pattern is not taken into consideration or a disease spikes unexpectedly. By improving the accuracy of predicting seasonal peaks we could optimize prevention, health care delivery, and ultimately reduce costs.
In explored data, the formal tests rejected the Poisson assumption due to the disproportionally high contribution of days with low rates that is typical for infections with a well-defined seasonal pattern, e.g., long periods of low incidence alternated by a sharp rise and decline at regular intervals. The common approach for further improvement in model fitting would be to apply a negative binomial or a zero-inflated distribution. Although in our case such improvements would be negligibly small, yet this feature would be important in future forecasting models. We choose to illustrate the modeling approach using rotaviral infection for its notorious, globally observed, and well-defined winter peaks. The natural expansion of this work would be to apply the developed method to other winter infections, such as influenza, or summer infections, such as salmonellosis, and to incorporate it in the analysis of data collected by national and global surveillance systems.
The hybrid modeling based on simultaneous application of these approaches for the identification of temporal structure in infectious diseases is quite promising. Combined use of approaches makes it possible to design "quality" models of infectious diseases that can be used in practice, to describe and predict accurately the time of the peak of infectious diseases, their amplitude, and duration. This type of analysis enables comprehensive analyses of a temporal structure of infectious disease with complex pathways and environmental links and their seasonal characteristics. The ability to define and quantify seasonal peaks is essential in improving timely resource allocation, targeting health communication strategies, assessing the efficacy and efficiencies of public health intervention and prevention programs, and developing accurate forecasting of disease transmission.
5. Conclusions
The two-step modeling procedure to examine seasonal peaks in rotaviral infection and the relationship between infection and ambient temperature allows to take advantage of the precision offered by singular spectrum analysis (SSA)—a new class of spectral analysis model—and the simplicity and interpretability of harmonic regression models. The ability to better quantify disease seasonality and its complex relationships with environmental parameters opens up new opportunities for accurate characterization of global disease patterns, optimizing resource allocation and health care delivery, understanding the contribution of factors governing multifaceted disease seasonality, and, eventually, for developing disease forecasting scenarios associated with prevention strategies and climate change.
Supplementary Materials
The following are available online at
https://www.mdpi.com/1660-4601/16/22/4309/s1
, Supplementary Table S1: The daily rates of rotaviral infection and daily average values of temperature in °C for three Russian cities from 1 January 2005 to 31 December 2011.
Author Contributions
O.K.A. and E.N.N. designed the data analysis protocol; V.B.L. oversaw data collection and project conceptualization; O.K.A. oversaw data abstraction and conducted data analysis; O.K.A. and E.N.N. were involved in the study conceptualization, drafted, and edited the manuscript. All authors have reviewed and approved the manuscript. E.N.N. was responsible for funding acquisition.
Funding
E.N.N. was in part supported by the grant on "Ethical Dimensions of Data Access, Sharing, and Communication" from the Jonathan M. Tisch College of Civic Life at Tufts University.
Acknowledgments
The authors wish to acknowledge the contribution of the research teams involved in the data collection and constriction of the CliWaDIn database (Registration Number: 2011620720, Russian Federation; October 4th, 2011), including researchers of the Novosibirsk State Technical University (Gubarev V.V. - lead): Khitsenko V.E., Chistyakov N.A., Yun S.G., Yakoviva I.N., Kazanskaya O.V.; scientists of the State Research Center of Virology and Biotechnology "VECTOR" (SRC VB "VECTOR", Loktev V.B. (lead): Grazhdantseva A.A., Kochneva G.V., Protopopova E.V., Razumov I.A., Sivolobova G.F., Shvalov A.N., Zhirakovskaya E.V.; specialists of the Russian Federal Service for Surveillance on Consumer Rights Protection and Human Wellbeing (Rospotrebnadzor): Aksenova V.I., Belova T.V., Belozerceva N.B., Brusnicyna L.A., Ivanova L.V., Kozlovskii L.I., Mironova O.V., Ozerskaya L.V., Makshanceva S.N., Novoshincev V.N., Rad'kova N.N., Tarasov B.N.; Vaneeva G.K., Yakovleva T.S. and technical advisors: Egorov A.I. and Wright J.M. The authors are also thankful to Aishwarya Venkat for producing the climatic map and Yuri N. Naumov, Ryan Simpson, and Tania M. Alarcon Falconi for technical and editorial assistance. Authors are thankful to the reviewers for providing thoughtful comments and suggestions.
Conflicts of Interest
The authors declare no conflict of interest. The funders had no role in the design of the study; in the collection, analyses, or interpretation of data; in the writing of the manuscript, or in the decision to publish the results.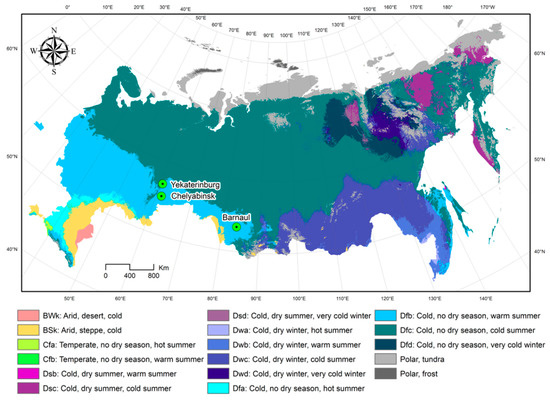 Figure 1.
Köppen–Geiger climate classification and locations for three Russian cities: Chelyabinsk, Yekaterinburg, and Barnaul (adapted from Reference [
33
]).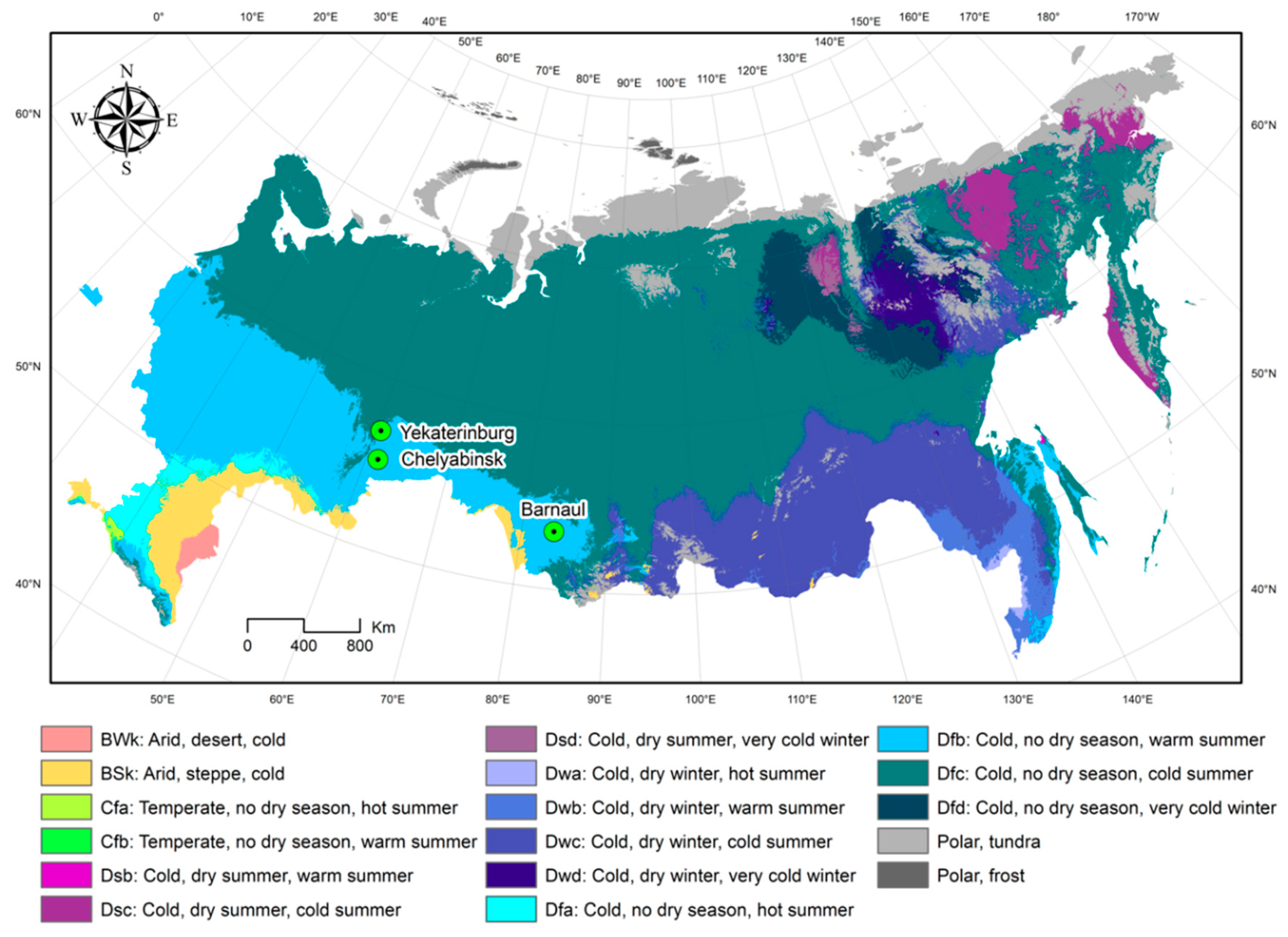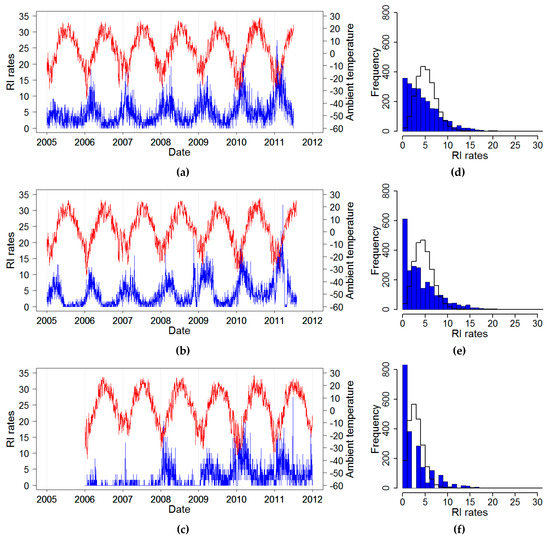 Figure 2. Time series of daily ambient temperature (red line) and daily rates of rotaviral infection (RI) (blue line) (a–c) along with the RI rate empirical distribution (blue color bars) and fitted Poisson distribution (black line) (d–f): (a,d) Chelyabinsk; (b,e) Yekaterinburg; and (c,f) Barnaul, Russia, 2005–2011.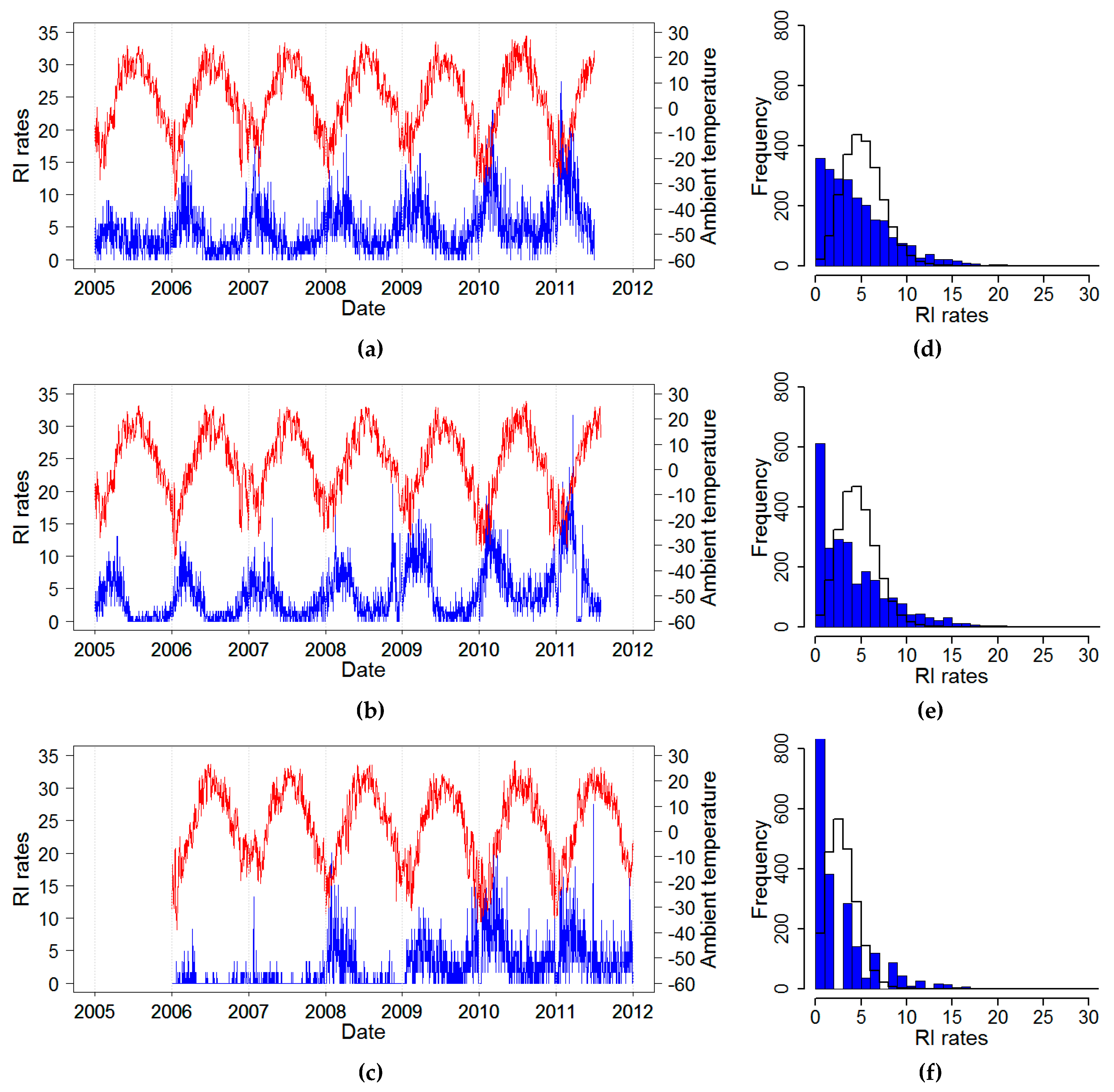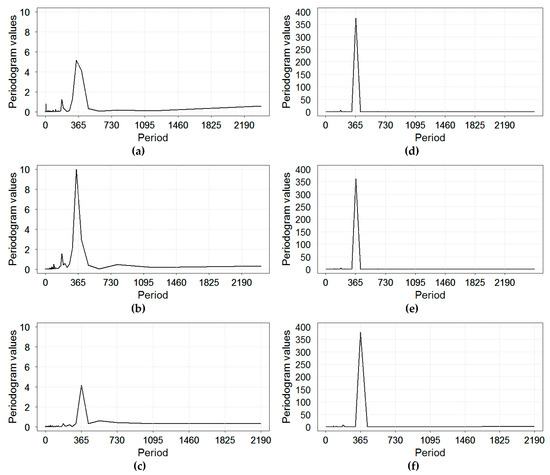 Figure 3. The periodogram spectral analysis for time series of daily rates of rotaviral infection (RI) (a–c) and daily ambient temperature (d–f) in three Russian cities: (a,d) Chelyabinsk; (b,e) Yekaterinburg; and (c,f) Barnaul, 2005–2011.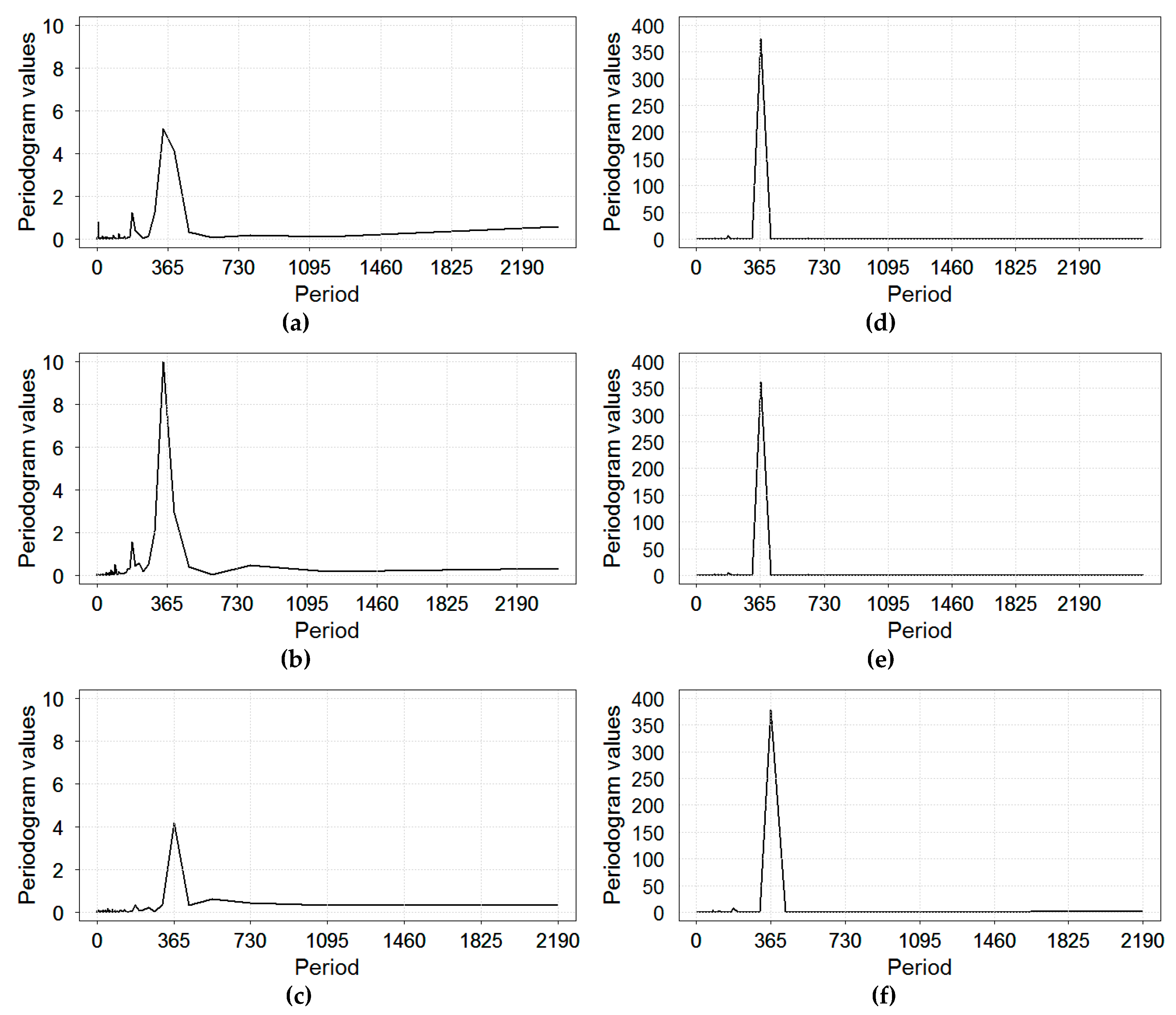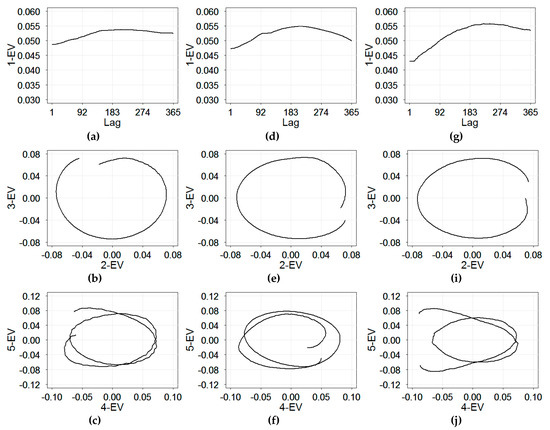 Figure 4. Plots of the eigenvectors (EV) pairs: 1-EV and lag, 2–EV and 3-EV, and 4-EV and 5-EV for Chelyabinsk (a–c); Yekaterinburg (d–f); and Barnaul (g–j).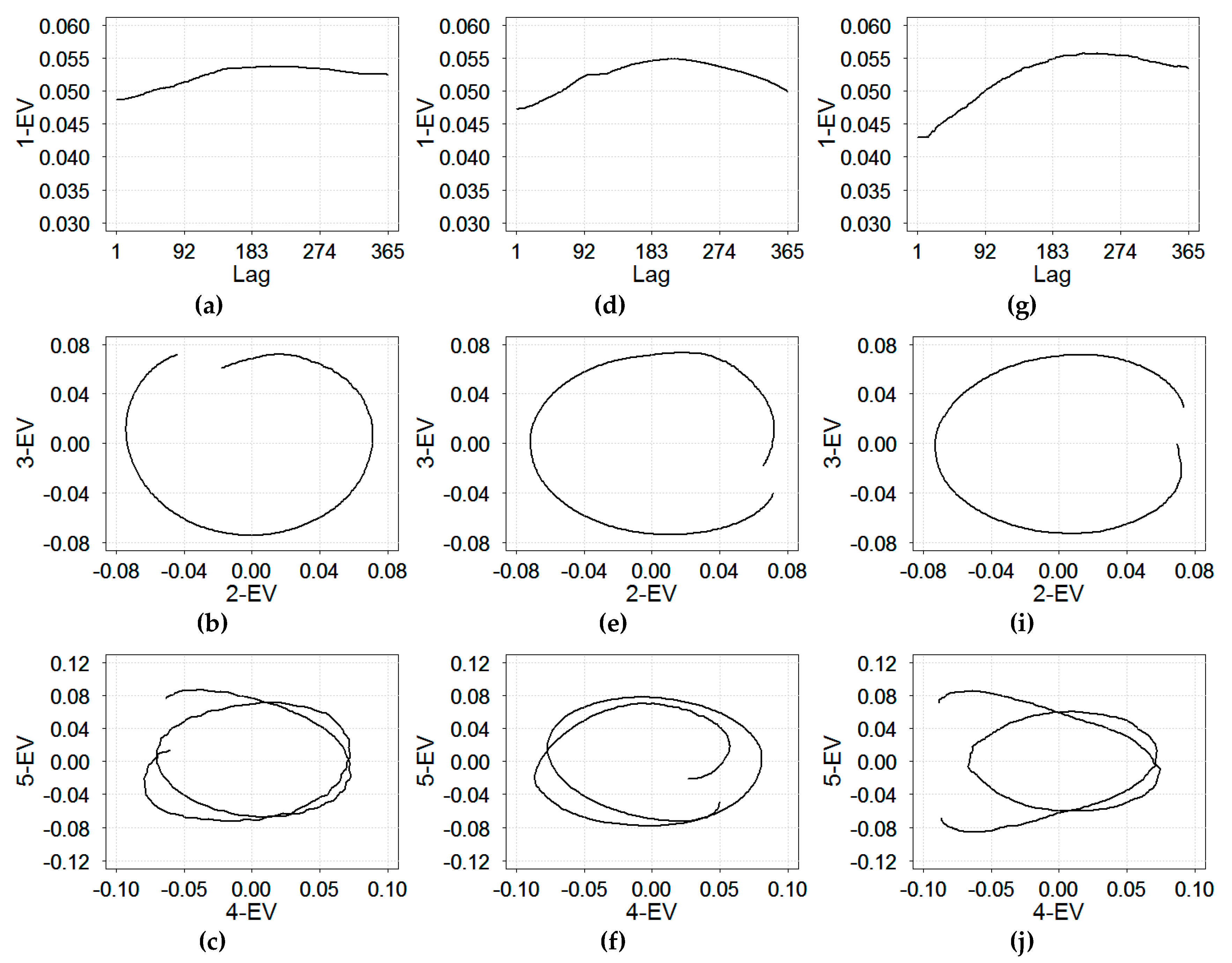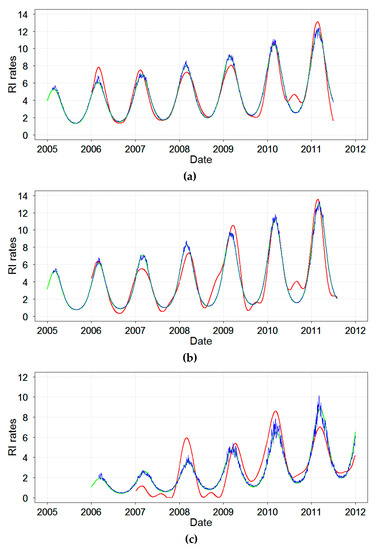 Figure 5. The predicted RI rates based on Model A (red line), Model B' (green line), and Model C' (blue line) in: (a) Chelyabinsk, (b) Yekaterinburg, and (c) Barnaul, Russia, 2005–2011.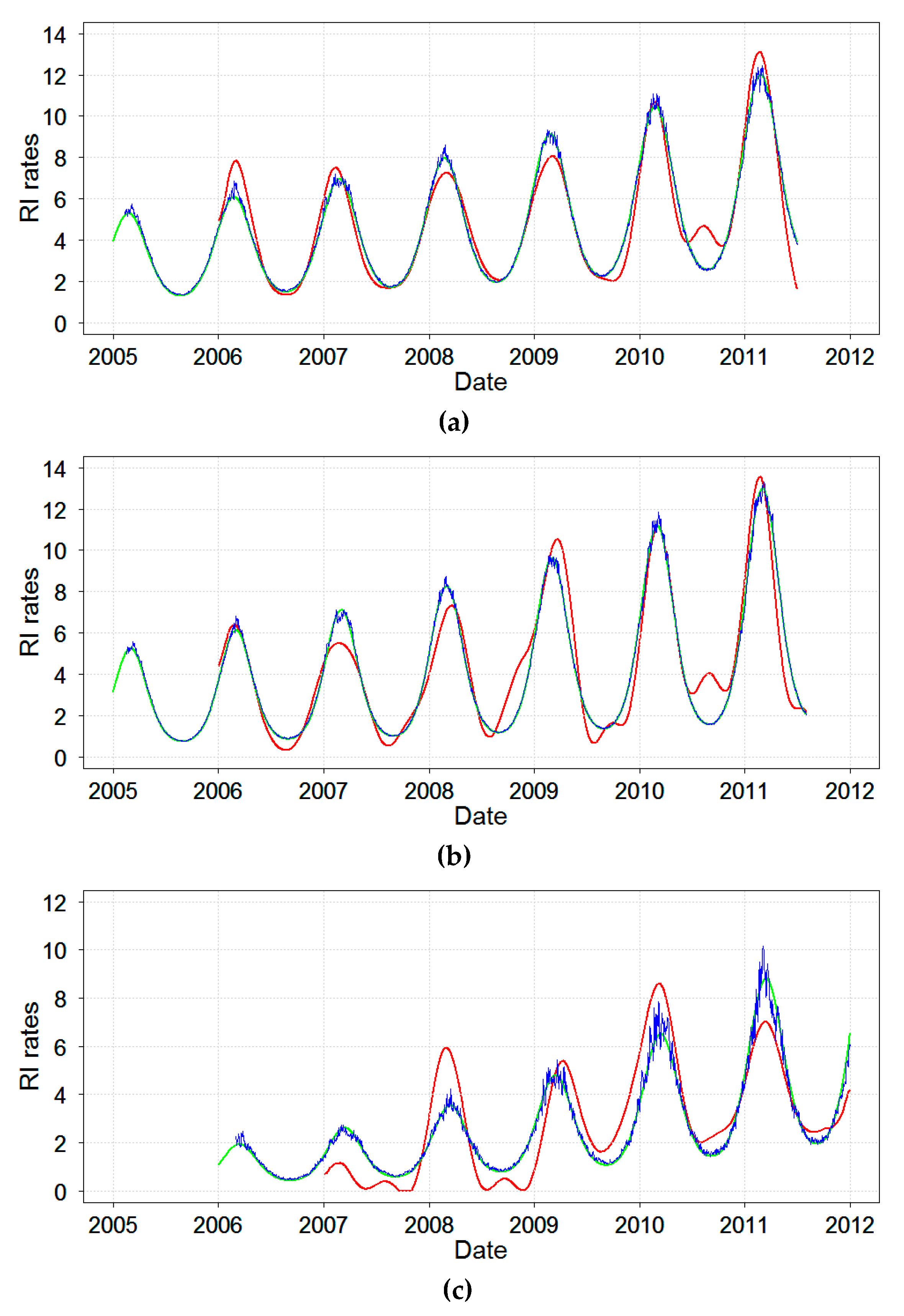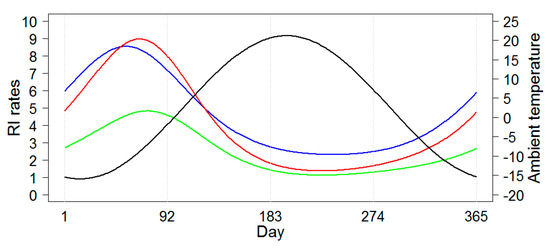 Figure 6. The average seasonal curves for daily time series rotaviral infection (RI) rate based on Model C' for three cities, Chelyabinsk (blue line), Yekaterinburg (red line), and Barnaul (green line), and for the average daily temperature which was identical for all three cities (black line).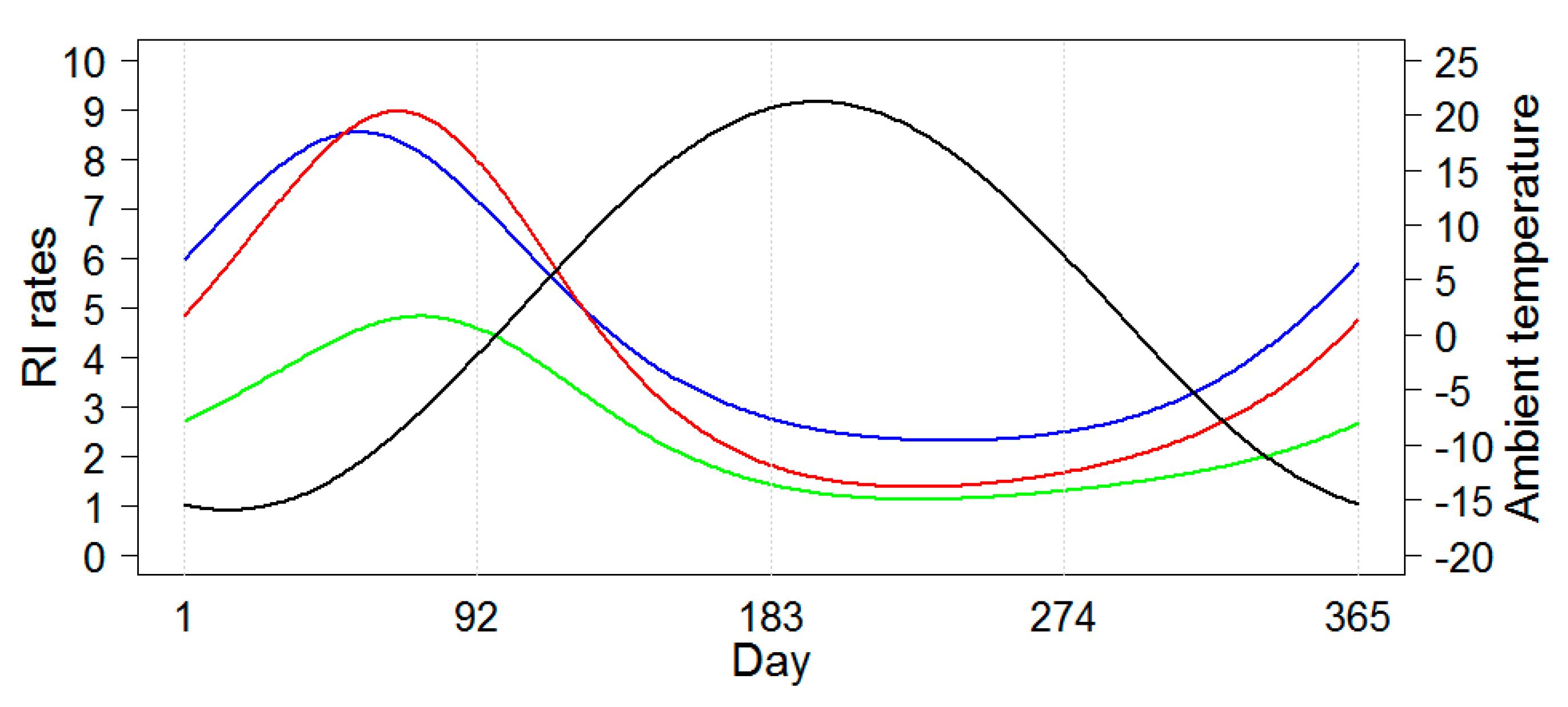 Table 1. General study site characteristics: population, location, study period, and total number of rotavirus cases for three Russian cities: Chelyabinsk, Yekaterinburg and Barnaul, 2005–2011.
Parameter
Chelyabinsk
Yekaterinburg
Barnaul
General Characteristics:
Population (mean)
1,103,862
1,326,133
607,785
2005
1,095,100
1,304,300
631,200
2006
1,093,000
1,308,400
604,200
2007
1,091,500
1,315,100
600,100
2008
1,092,500
1,323,000
597,200
2009
1,093,699
1,332,264
597,296
2010
1,130,132
1,349,772
612,401
2011
1,131,108
1,350,100
612,100
Latitude
Longitude
55.1644° N
61.4368° E
56.8389° N
60.6057° E
53.3548° N
83.7698° E
Study period start
Study period end
1 Jan 2005
30 Jun 2011
1 Jan 2005
31 Jul 2011
1 Jan 2006
31 Dec 2011
Number of days
2372
2403
2191
Number of cases
12,423
13,342
3307

Table 2. Statistical characteristics of daily rates of rotaviral infection (RI) (outcome) and daily average temperature (exposure) for three Russian cities: Chelyabinsk, Yekaterinburg, and Barnaul, 2005–2011.
Parameter
Chelyabinsk
Yekaterinburg
Barnaul

Outcome:

Daily RI rate per 1 M population
Number of cases
12,423
13,342
3307
Mean SE
4.72 ± 0.08
4.16 ± 0.08
2.48 ± 0.07
1st; 3rd quartile
1.83; 6.40
0.77; 6.06
0; 3.34
Median; Maximum
3.66; 27.39
3.02; 31.71
1.63; 27.57
Skewness; Kurtosis
1.47; 3.07
1.43; 2.65
1.88; 4.46

Exposure:

Daily ambient temperature in °C (Mean SE)
Winter: Dec–Feb
Spring: Mar–May
Summer: Jun–Aug
Fall: Sep–Nov
−13.27 ± 0.31
4.85 ± 0.35
17.91 ± 0.17
4.47 ± 0.35
−13.78 ± 0.32
3.93 ± 0.33
17.25 ± 0.18
3.55 ± 0.34
−15.84 ± 0.35
4.03 ± 0.41
18.02 ± 0.17
3.91 ± 0.37
Cities Parameters
Models
A
B
B'
C
C'
D
Chelyabinsk
 Minimum
−7.715
−7.796
−7.107
−7.610
−7.178
−22.91
 Mean
0.027
0.011
0.042
0.008
0.039
0.000
 Median
−0.266
−0.317
−0.280
−0.310
−0.274
0.218
 Maximum
15.42
15.97
16.58
16.28
16.82
16.24
 Std. deviation
2.669
2.657
2.688
2.656
2.687
5.499
 MAE *
1.986
2.013
2.029
2.012
2.032
4.317
 D **
52.70
48.97
47.75
49.43
48.25
82.93
Yekaterinburg
 Minimum
−9.246
−10.57
−10.90
−10.71
−11.57
−21.43
 Mean
0.027
−0.026
0.016
−0.027
0.010
0.000
 Median
−0.180
−0.365
−0.258
−0.374
−0.276
0.301
 Maximum
20.10
19.19
19.31
19.48
19.74
16.32
 Std. deviation
2.475
2.531
2.575
2.533
2.582
5.561
 MAE
1.737
1.778
1.789
1.779
1.795
4.369
 D
62.77
58.85
57.45
59.39
57.80
82.36
Barnaul
 Minimum
−6.955
−8.232
−8.640
−8.621
−10.02
−23.15
 Mean
0.003
−0.054
−0.086
−0.051
−0.091
0.000
 Median
−0.264
−0.455
−0.680
−0.474
−0.692
0.124
 Maximum
24.27
24.88
24.13
24.16
24.16
16.405
 Std. deviation
2.678
2.626
2.728
2.625
2.741
5.954
 MAE
1.810
1.774
1.914
1.761
1.929
4.707
 D
43.06
40.31
35.54
40.84
35.84
82.94
* MAE: mean absolute error; ** D: variation explained (%).

Table 4. Variance explained by the Model B and C' components and the immediate and lagged effects of ambient temperature estimated from Model C' in three cities.
Characteristics
Chelyabinsk
Yekaterinburg
Barnaul
Variance explained by the Model B by components:
 Trend
11.48
11.67
21.46
 Annual seasonal component
36.73
46.49
18.51
 Semi-annual seasonal component
0.759
0.690
0.343
 Total variance
48.97
58.85
40.31
Variance explained by the Model C' by components:
 Trend
10.35
10.47
15.03
 Annual seasonal component
37.39
46.98
20.51
 Temperature (immediate effect)
0.011
0.012
0.042
 Temperature (lagged effect)
0.499
0.341
0.262
 Total variance
48.25
57.80
35.84
Effect of ambient temperature:
 RR1
1.00063
1.00166
0.99517
 LCIRR1
 UCIRR1
0.99726
1.00401
0.99825
1.00509
0.98964
1.00072
 RR2
0.99585
0.99608
0.98996
 LCIRR2
 UCIRR2
0.99276
0.99895
0.99309
0.99909
0.98510
0.99484
RR: relative risk; LCI and UCI: lower and upper bounds of the 95% confidence interval, respectively.

Table 5. The estimates of peak timing in rotaviral infection for a non-leap year for models A, B', and C'.
Cities
Models
Chelyabinsk
Yekaterinburg
Barnaul
A
B'
C'
A
B'
C'
A
B'
C'
Peak *
55.17
(3.21)
55.14
(0.14)
53.16
(3.4)
64.17
(5.12)
62.14 (0.14)
60.43 (1.25)
71.11
(7.48)
74.17 (0.15)
72.83 (3.52)
Dates
24 Feb
24 Feb
22 Feb
5 Mar
3 Mar
1 Mar
12 Mar
15 Mar
14 Mar
Range (days)
42–62
55–56
40–65
53–80
62–63
56–70
56–99
74–75
63–84
Dates
11 Feb
3 Mar
24 Feb
25 Feb
9 Feb
6 Mar
22 Feb
21 Mar
3 Mar
4 Mar
25 Feb
11 Mar
25 Feb
9 Apr
15 Mar
16 Mar
4 Mar
25 Mar
Lag in days **
40
40
38
49
47
45
56
59
58
* Average peak (mean standard error). ** Average lag between time of disease incidence maximum and time of temperature minimum.

© 2019 by the authors. Licensee MDPI, Basel, Switzerland. This article is an open access article distributed under the terms and conditions of the Creative Commons Attribution (CC BY) license (http://creativecommons.org/licenses/by/4.0/).