Cluster of Legionnaires' Disease in an Italian Prison
1
Department of Health Promotion, Mother and Child Care, Internal Medicine and Medical Specialties, University of Palermo, 90133 Palermo, Italy
2
Unit of Microbiology, Virology and Parasitology, A.O.U.P, 90127 Palermo, Italy
3
Laboratory of Public Health, ASP 6, 90141 Palermo, Italy
4
Sicilian Health Department, Public Health and Environmental Risks Service, 90127 Palermo, Italy
*
Author to whom correspondence should be addressed.
Received: 4 May 2019 / Revised: 28 May 2019 / Accepted: 4 June 2019 / Published: 11 June 2019
Abstract
Background:
Legionella pneumophila
(Lp) is the most common etiologic agent causing Legionnaires' Disease (LD). Water systems offer the best growth conditions for Lp and support its spread by producing aerosols. From 2015 to 2017, the Regional Reference Laboratory of Clinical and Environmental Surveillance of Legionellosis of Palermo monitored the presence of Lp in nine prisons in Western Sicily. During this investigation, we compared Lp isolates from environmental samples in a prison located in Palermo with isolates from two prisoners in the same prison. Methods: We collected 93 water samples from nine Sicilian prisons and the bronchoalveolar lavages (BALs) of two prisoners considered cases of LD. These samples were processed following the procedures described in the Italian Guidelines for the Prevention and Control of Legionellosis of 2015. Then, genotyping was performed on 19 Lp colonies (17 from water samples and 2 from clinical samples) using the Sequence-Based Typing (SBT) method, according to European Study Group for Legionella Infections (ESGLI) protocols. Results: Lp serogroup (sg) 6 was the most prevalent serogroup isolated from the prisons analyzed (40%), followed by Lp sg 1 (16%). Most of all, in four penitentiary institutions, we detected a high concentration of Lp >10
4
Colony Forming Unit/Liter (CFU/L). The environmental molecular investigation found the following Sequence Types (STs) in Lp sg 6: ST 93, ST 292, ST 461, ST 728, ST 1317 and ST 1362, while most of the isolates in sg 1 belonged to ST 1. We also found a new ST that has since been assigned the number 2451 in the ESGLI-SBT database. From the several Lp sg 1 colonies isolated from the two BALs, we identified ST 2451. Conclusions: In this article, we described the results obtained from environmental and epidemiological investigations of Lp isolated from prisons in Western Sicily. Furthermore, we reported the first cluster of Legionnaires' in an Italian prison and the molecular typing of Lp sg 1 from one prison's water system and two BALs, identified the source of the contamination, and discovered a new ST.
View Full-Text
►

▼

Figures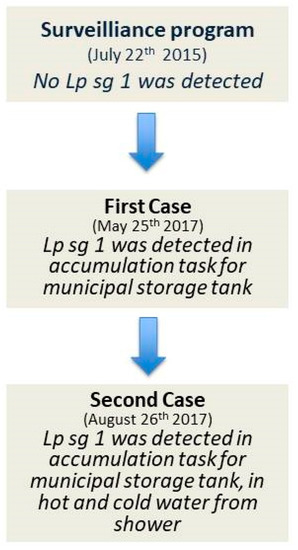 Figure 1
This is an open access article distributed under the
Creative Commons Attribution License
which permits unrestricted use, distribution, and reproduction in any medium, provided the original work is properly cited (CC BY 4.0).

Share & Cite This Article
MDPI and ACS Style
Fasciana, T.; Mascarella, C.; Distefano, S.A.; Calà, C.; Capra, G.; Rampulla, A.; Di Carlo, P.; Palermo, M.; Giammanco, A. Cluster of Legionnaires' Disease in an Italian Prison. Int. J. Environ. Res. Public Health 2019, 16, 2062.
Note that from the first issue of 2016, MDPI journals use article numbers instead of page numbers. See further details here.
Related Articles
Comments
[Return to top]