Association between Dietary Mineral Intake and Chronic Kidney Disease: The Health Examinees (HEXA) Study
1
Department of Medicine, College of Medicine, Seoul National University, 103 Daehakro, Jongnogu, Seoul 03080, Korea
2
Department of Preventive Medicine, College of Medicine, Seoul National University, 103 Daehakro, Jongnogu, Seoul 03080, Korea
3
Department of Biomedical Sciences, College of Medicine, Seoul National University, 103 Daehakro, Jongnogu, Seoul 03080, Korea
4
Cancer Research Institute, Seoul National University, 103 Daehakro, Jongnogu, Seoul 03080, Korea
5
Division of Public Health and Preventive Medicine, Seoul National University Hospital, 101 Daehakro, Jongnogu, Seoul 03080, Korea
6
Division of Nephrology, Department of Internal Medicine, Seoul National University Hospital, 101 Daehakro, Jongnogu, Seoul 03080, Korea
7
JW Lee Center for Global Medicine, College of Medicine, Seoul National University, IhwaJang-gil 71 Jongnogu, Seoul 03087, Korea
8
Department of Family Medicine, Seoul National University Hospital, 101 Daehakro, Jongnogu, Seoul 03080, Korea
*
Author to whom correspondence should be addressed.
Received: 26 April 2018 / Revised: 11 May 2018 / Accepted: 11 May 2018 / Published: 24 May 2018
Abstract
Few studies have explored the association between mineral intake and chronic kidney disease (CKD). A cross-sectional analysis investigated the association between mineral intake (calcium, phosphorus, sodium, potassium, iron, and zinc) and CKD using the Health Examinee (HEXA) cohort of the Korean Genome and Epidemiologic Study (KoGES). For 159,711 participants, mineral intake was assessed by a food frequency questionnaire. CKD was defined as an estimated glomerular filtration rate (eGFR) of less than 60 mL/min/1.73 m
2
. Dietary intake of each mineral was divided into quartiles and the quartile including recommended dietary allowance (RDA) or adequate intake (AI) of each mineral was used as a reference. We assessed the association between the quartile of mineral intakes and CKD using polytomous logistic regression models. The lowest quartiles of phosphorus (≤663.68 mg/day, odds ratio [OR] = 1.64, 95% confidence interval [CI]: 1.25–2.15), potassium (≤1567.53 mg/day, OR = 1.87, 95% CI: 1.27–2.75), iron (≤6.93 mg/day, OR = 1.53, 95% CI: 1.17–2.01), and zinc (≤5.86 mg/day, OR = 1.52, 95% CI: 1.02–2.26) were associated with higher odds for advanced CKD compared with the references. The present study suggests that an inadequate intake of some minerals may be associated with CKD occurrence in the general population. Due to the reverse causation issue in this cross-sectional study design, further longitudinal prospective studies are needed in order to prove the results.
View Full-Text
►

▼

Figures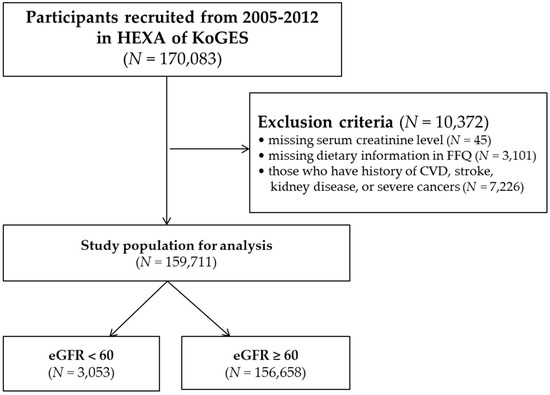 Figure 1
This is an open access article distributed under the
Creative Commons Attribution License
which permits unrestricted use, distribution, and reproduction in any medium, provided the original work is properly cited (CC BY 4.0).

Share & Cite This Article
MDPI and ACS Style
Kim, J.; Lee, J.; Kim, K.-N.; Oh, K.-H.; Ahn, C.; Lee, J.; Kang, D.; Park, S.K. Association between Dietary Mineral Intake and Chronic Kidney Disease: The Health Examinees (HEXA) Study. Int. J. Environ. Res. Public Health 2018, 15, 1070.
Note that from the first issue of 2016, MDPI journals use article numbers instead of page numbers. See further details here.
Related Articles
Comments
[Return to top]