Prevalence of Self-Reported Gluten-Related Disorders and Adherence to a Gluten-Free Diet in Salvadoran Adult Population
1
División de Ciencias e Ingeniería, Departamento de Ciencias Químico Biológicas y Agropecuarias, Universidad de Sonora, Navojoa, Sonora 85880, Mexico
2
Facultad de Ciencias de la Salud Luis Edmundo Vasquez, Departamento de Salud Pública, Universidad Dr. José Matias Delgado, Antiguo Cuscatlán 1502, El Salvador
3
Nutrition Sciences Academic Unit, University of Sinaloa, Av. Cedros and Sauces Street, Los Fresnos, Culiacán, Sinaloa 80019, Mexico
4
Instituto Tecnológico del Valle del Yaqui, Block 611, Bácum, Valle del Yaqui, Sonora 82276, Mexico
*
Authors to whom correspondence should be addressed.
Received: 9 February 2018 / Revised: 26 March 2018 / Accepted: 13 April 2018 / Published: 18 April 2018
Abstract
Gluten-related disorders are not considered of relevance at public health level in Central America. The prevalence of gluten-related disorders, and adherence to a gluten-free diet, remain unknown in the Central American region. We conducted a cross-sectional survey of the Central American population from San Salvador, El Salvador, to estimate the prevalence rates of self-reported gluten-related disorders and adherence to a gluten-free diet. 1326 individuals were surveyed. Self-reported prevalence rates were (95% Confidence Interval): gluten sensitivity 3.1% (2.3–4.2); physician-diagnosed celiac disease 0.15% (0.04–0.5); wheat allergy 0.75% (0.4–1.3); non-celiac gluten sensitivity 0.98% (0.5–1.6). The prevalence rate of adherence to a gluten-free diet was 7.0% (5.7–8.5). Seven self-reported physician diagnosed gluten-sensitive cases informed the co-existence of non-celiac gluten sensitivity with celiac disease and/or wheat allergy. Among the non-self-reported gluten sensitivity individuals following a gluten-free diet, 50% reported that they were seeing a health professional for gluten-free dietary advice. Gluten sensitivity is commonly reported in Salvadoran population, but some health professionals acknowledge the coexistence of wheat allergy, celiac disease, and non-celiac gluten sensitivity. Among studies at population level, the prevalence of adherence to a gluten-free diet in Salvadoran population is the highest reported until now. However, just a few of the gluten-free diet followers were doing it for health-related benefits; the others reported weight control and the perception that the diet is healthier as the main motivation for adopting such a diet.
View Full-Text
►

▼

Figures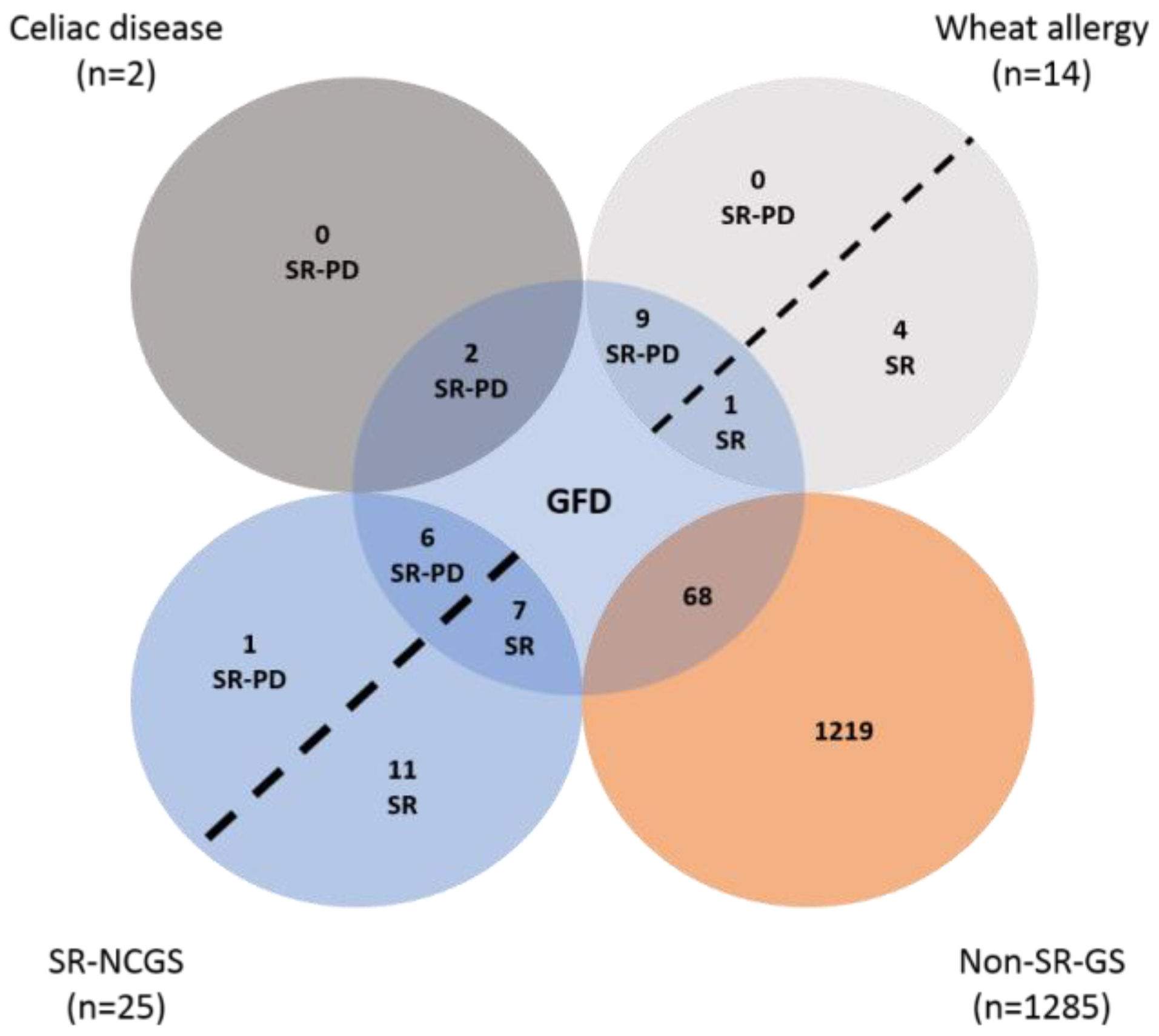 Figure 1
This is an open access article distributed under the
Creative Commons Attribution License
which permits unrestricted use, distribution, and reproduction in any medium, provided the original work is properly cited (CC BY 4.0).

Share & Cite This Article
MDPI and ACS Style
Ontiveros, N.; Rodríguez-Bellegarrigue, C.I.; Galicia-Rodríguez, G.; Vergara-Jiménez, M.D.J.; Zepeda-Gómez, E.M.; Arámburo-Galvez, J.G.; Gracia-Valenzuela, M.H.; Cabrera-Chávez, F. Prevalence of Self-Reported Gluten-Related Disorders and Adherence to a Gluten-Free Diet in Salvadoran Adult Population. Int. J. Environ. Res. Public Health 2018, 15, 786.
Note that from the first issue of 2016, MDPI journals use article numbers instead of page numbers. See further details here.
Related Articles
Comments
[Return to top]