Open Access This article is
freely available
re-usable
Review
Radiofrequency Electromagnetic Radiation and Memory Performance: Sources of Uncertainty in Epidemiological Cohort Studies
1
Centre for Population Health Research on Electromagnetic Energy (PRESEE), School of Public Health and Preventive Medicine, Monash University, 553 St Kilda Road, Melbourne, VIC 3004, Australia
2
School of Engineering, University of Melbourne, Parkville, Melbourne, VIC 3010, Australia
3
Department of Economic Development, Jobs, Transport and Resources (DEDJTR), AgriBio Centre, 5 Ring Rd, Bundoora, Melbourne, VIC 3083, Australia
*
Author to whom correspondence should be addressed.
Received: 21 February 2018 / Accepted: 23 March 2018 / Published: 26 March 2018
Abstract
:
Uncertainty in experimental studies of exposure to radiation from mobile phones has in the past only been framed within the context of statistical variability. It is now becoming more apparent to researchers that epistemic or reducible uncertainties can also affect the total error in results. These uncertainties are derived from a wide range of sources including human error, such as data transcription, model structure, measurement and linguistic errors in communication. The issue of epistemic uncertainty is reviewed and interpreted in the context of the MoRPhEUS, ExPOSURE and HERMES cohort studies which investigate the effect of radiofrequency electromagnetic radiation from mobile phones on memory performance. Research into this field has found inconsistent results due to limitations from a range of epistemic sources. Potential analytic approaches are suggested based on quantification of epistemic error using Monte Carlo simulation. It is recommended that future studies investigating the relationship between radiofrequency electromagnetic radiation and memory performance pay more attention to treatment of epistemic uncertainties as well as further research into improving exposure assessment. Use of directed acyclic graphs is also encouraged to display the assumed covariate relationship.
Keywords:
radiofrequency electromagnetic radiation; epistemic uncertainty; aleatory uncertainty; memory; cognitive function
1. Introduction
It is difficult to directly compare the MoRPhEUS, ExPOSURE and HERMES studies as they have different exposure metrics and the outcomes were tested by multiple cognitive test batteries: CogHealth and the Intelligenz-Struktur-Test 2000R (I-S-T 2000R). They also all have various sources of uncertainty whose nature and magnitude were not analysed in great detail. Potentially these sources of uncertainty may be the primary cause of the inconsistencies seen between these epidemiological cohort studies and a more thorough uncertainty analysis could potentially reconcile these differences. The aim of this review was to identify the sources of uncertainty in currently used exposure assessment techniques and study designs in the MoRPhEUS, ExPOSURE and HERMES studies which investigate RF-EMR exposure and memory performance in children and adolescents. This review was limited to epidemiological cohort studies investigating RF-EMR exposure and memory outcomes in children and adolescents.
2. Uncertainty Analysis
Uncertainty has a negative connotation, as it is associated with a lack of conviction in the results and a widening of the uncertainty band or confidence interval [
19
]. However, uncertainty analysis is critical to obtaining more value from epidemiological data to aid in risk assessment and quantifying confidence in the results [
20
]. In the field of RF-EMR and cognitive function performance, there are a large number of potential sources of uncertainty. These sources include:
Statistical variability

Measurement error

Context

Expert opinion (subjective judgements)

Linguistic uncertainty

Model input uncertainty

Model uncertainty
These sources of uncertainty have been characterised into two distinct groups in previous studies [
21
,
22
]: aleatory uncertainty (statistical variability) and epistemic uncertainty (lack of information). Being the most common source of uncertainty, statistical variability is widely elaborated and accounted for (using confidence intervals and
p
-values) while epistemic uncertainties have not been widely discussed in the epidemiological literature. There has been a continuous development of the taxonomy of uncertainty analysis. A taxonomy of uncertainty is presented in
Figure 1
.
Linguistic uncertainty is considered as a separate category by Regan et al. [
23
], as it covers ambiguity in speech and writing, interpretation and information loss in communication. In this paper it will be regarded as a source of epistemic uncertainty as categorised by others [
24
,
25
].
2.1. Aleatory Uncertainty
Aleatory uncertainty is generally regarded as irreducible due to the fact that it is the natural statistical variability found in data. It is used interchangeably with the term "statistical variability" or "error". It is regarded as irreducible because there will always be a residual error in a study. Aleatory uncertainty can be characterized via probability distributions, using replicated data, and quantified as the output of a model using a Monte Carlo simulation [
25
]. In Monte Carlo simulation, values are drawn at random from a probability distribution for each input; the model output is computed in an iterative process that produces an output distribution for the model. (See
Figure 2
).
Probabilistic simulation is a powerful method of addressing statistical variability and its propagation through a modelling process [
26
]. For example, uncertainty can be treated in the context of a dose response curve for input uncertainty, where the model may be inserted in the innermost loop of a Monte Carlo simulation [
27
].
2.2. Epistemic Uncertainty
Epistemic uncertainty is characterised as a source of uncertainty that is due to a lack of knowledge. It differs from aleatory uncertainty in that it is reducible with the collection of more information. For example, insufficient understanding of the underlying processes or imprecise assessments of exposure or outcome metrics are common sources of epistemic uncertainty, but these can be reduced by acquiring more knowledge. Epistemic uncertainty can be further classified into two types. Type 1 uncertainty is the most common type and relates to uncertainty caused by "known unknowns" such as data transcription errors and linguistic ambiguity. Measurement error, context, expert opinion and model uncertainty can also fall under this category. Type 2 epistemic uncertainty refers to "unknown unknowns" and is much less common, but far more serious and potentially disastrous. These events are often very rare, unexpected and can have potential major impacts [
25
]. Biological examples include the Spanish flu of 1918 or the Bubonic Plague of 1349. Salient differences between epistemic and aleatory uncertainty are summarised in
Table 1
.
Common sources of epistemic uncertainty that may occur in epidemiological studies investigating RF-EMR exposure and memory performance are detailed below:
2.3. Measurement Error
Billing records provide more thorough and accurate mobile phone usage data, but lack key information such as distance from head, signal strength, laterality and phone calls made through OTT services. There is also the possibility that other users have accessed the phone which cannot be accounted for with billing records. Errors in documentation represent a source of epistemic uncertainty.
2.4. Context
Recognising the correct context, which is the external environment and conditions that affect the association being investigated, is important for reducing the uncertainty in the models. Failure to account for confounders and effect modifiers can introduce significant bias into the model leading to false findings. This is particularly difficult in RF-EMR exposure research, as the purpose for using RF-EMR emitting devices is changing frequently. Economic and social factors need to be considered and represented in the model. The Directed Acyclic Graph (DAG) is an effective method for identifying confounders and effect modifiers as well as the structure of associations between variables of interest [
36
]. DAGs are transparent illustrations of the causal hypothesis which can help the author rationalise analytical methods used in a study. They can also be used to identify methodological problems that could introduce uncertainty into the model. DAGs have been recommended for broader use, and to be included in supplementary material by journals [
37
,
38
]. As the context for RF-EMR is constantly shifting, it is important to clearly document the assumptions made and associations tested to prevent potential sources of uncertainty from entering the model.
Figure 3
shows an example of a DAG developed from the adjusted variables found in the MoRPhEUS, ExPOSURE and HERMES studies. Based on this DAG, age, ethnicity, physical activity, socio-economic status (SES), school level, sex, time between examinations and video gaming would need to be adjusted for to estimate the direct effect between RF-EMR exposure and cognitive function outcomes. However as further information is gathered, this can be adjusted to reflect changes in the covariate structure.
2.5. Expert Opinion (Subjective Judgement)
A potential source of epistemic uncertainty can occur when subjective judgement is used to estimate facts or classifications. For example, subjective judgements are made in these studies regarding the age of participants and the length of follow up time. Investigators may have picked the age and follow up time where they believed they were most likely to see an association had one existed or due to logistic and funding constraints. However, as previously mentioned, a one year follow up is a relatively short period for dose-related changes in cognitive function in adolescents. Also the age at which adolescents start using a mobile phone and other RF-EMR emitting devices has changed over the past decade with exposure now occurring at a younger age compared to a decade ago. Data interpretation can also be considered a subjective judgement. Only with further investigation could uncertainty arising from these subjective judgements be reduced.
2.6. Linguistic Uncertainty
Linguistic uncertainty is possible because any language is vague and ambiguous. It is considered epistemic because it can be reduced by resolving ambiguities and increasing specificity. Ambiguities are common because some words have multiple meanings and interpretations. Australia has a multicultural society and different ethnic groups could have different interpretations to the same word. There is also a strong chance that English may not be the first language for a significant portion of participants in Australian studies. In some European countries there are many different dialects spoken within the same city and in the broader field of mobile phone use and health, the Interphone and Mobi-kids studies were conducted in multiple countries [
4
,
39
,
40
]. Even though the questionnaires used were validated and locally adapted, the possibility of some data being 'lost in translation' cannot be dismissed. This could theoretically introduce a systematic bias that would skew the findings from this study.
2.7. Model Input Uncertainty
The digitisation of raw data and the transfer of data into spreadsheets, or other software packages, are inputs that are subject to errors. Data corruption, entry mistakes and duplications are examples of input errors which can propagate through the model and contribute to output error [
26
]. This is considered an epistemic source of uncertainty as it can be reduced with more thorough data checking and cleaning. Sources of error and the subsequent error propagation during the modelling process are shown in the schematic
Figure 4
.
2.8. Model Uncertainty
Where possible, dose-response associations should be investigated, however, because it is extremely difficult to measure the dose for RF-EMR, many exposure metrics are used as proxies for dose. Therefore, exposure-response associations are investigated instead. The exposure-dose relationship can introduce uncertainty into the model, as it is difficult to know what summary measures of exposure accurately reflect the biologically effective dose a priori [
41
,
42
]. The most common exposure summary measures are duration of exposure, exposure intensity and cumulative exposure [
43
]. Cumulative exposure is the most frequently used metric in the field of RF-EMR research and is commonly used in other fields for chronic diseases with long latency [
43
], as it has been shown to correlate more strongly in cancer risk studies [
44
].
However, cumulative exposure models may not be the most appropriate for non-cancer related outcomes, such as cognitive function and memory performance, or for doses which have a rapid biological clearance rate. So far, only tissue heating has been identified as a confirmed health effect from RF-EMR exposure. The levels experienced from mobile phone and other RF-EMR emitting devices are low and have been shown to result in a negligible temperature increase, as the human body is adept in thermoregulation [
1
]. Other pathological mechanisms cannot be ruled out, but research into RF-EMR exposure and the effect on brain electrical activity, sleep, heart rate and blood pressure have not found consistent evidence of adverse health effects at levels below those required to cause significant tissue heating [
1
]. As tissue heating can be quickly dealt with by thermoregulation, an intensity based model may be more appropriate. Cumulative exposure models assume that each unit of dose causes a constant amount of injury [
45
]. They also assume that continuous exposure and short duration high intensity exposure which average out to the same amount of cumulative exposure are independently related to disease risk [
41
]. These assumptions introduce uncertainty into the model which can only be reduced with further research.
3. Uncertainty in RF-EMR and Memory Research in Children and Adolescents
Critical appraisal of the MoRPhEUS, ExPOSURE and HERMES cohort studies [
9
,
14
,
18
] investigating RF-EMR and memory outcomes shows significant sources of uncertainty that were not addressed, or were qualitatively, but not quantitatively discussed. This is common across all epidemiological cohort studies as well as cross sectional studies investigating other cognitive outcomes such as the Amsterdam Born Children and their Development (ABCD) study [
46
], as the potential for bias is usually discussed qualitatively but rarely quantified [
47
].
4. Discussion
This review has investigated the concept of uncertainty analysis in relation to the field of RF-EMR and cognitive functions, particularly with respect to memory performance in children and adolescents. It was necessary to summarise, characterise and interpret many sources of uncertainty present, especially in exposure assessments which are extremely difficult to quantify objectively. In analysing the previous studies, it has been found that predominantly only a qualitative assessment of sources of uncertainty was conducted, yet it is imperative to conduct more robust quantitative uncertainty analysis to strengthen the findings of these epidemiological cohort studies and improve the usefulness of epidemiological data for risk assessment.
The model uncertainty observed in these studies could in part be due to uncertainty over the biological mechanisms through which RF-EMR causes disease. The only established negative health effect from RF-EMR is thermal heating, however despite little and inconsistent evidence, non-thermal effects cannot be dismissed entirely. Yet without establishing a biological mechanism for disease via non-thermal effects, the model will always be under some degree of epistemic uncertainty.
In the context of RF-EMR exposure and cognitive function, it is biologically plausible that cognitive functions associated with the temporal lobe of the brain such as memory, visual item recognition and auditory processing are more likely to have an association compared to functions associated with regions deeper in the brain that receive less exposure from handsets. The amount of exposure decreases with distance, which needs to be taken into account, as well as the debate over cumulative exposure vs. intensity model. This source of epistemic uncertainty could only be reduced with further research, but the broader usage of DAGs and Monte Carlo simulation could certainly be used to improve uncertainty analysis by identifying the correct covariate relationships and providing probability distributions to represent variables with inherent uncertainty.
5. Conclusions
Epistemic uncertainties include errors in human judgement, transcription, measurement, model structure and data processing errors. These uncertainties are often not appreciated by researchers and make it difficult to produce definitive conclusions from a single study of the effect of RF-EMR exposure on memory. It is important to consider uncertainty analysis in order to strengthen confidence in findings and to increase the accuracy of risk assessment.
Specifically, in addition to replicating statistical studies, a more comprehensive analysis of possible error sources could be made by supporting consideration of epistemic uncertainty. Once the major epistemic errors have been identified, the next step is to quantify these errors where possible, which would aid in their reduction and enable treatment in combination with errors due to statistical variability. A well-established method in the peer-reviewed literature is Monte Carlo simulation, which has the advantage that it can combine different sources of uncertainty into a total figure for uncertainty by representing model inputs with probability distributions for both statistical variability and quantified epistemic uncertainty [
24
,
25
].
Acknowledgments
This review was supported by the Centre for Population Health Research on Electromagnetic Energy (PRESEE), School of Public Health and Preventive Medicine, Monash University. The centre is funded by a Grant from the National Health and Medical Research Council, Australia.
Author Contributions
Christopher Brzozek contributed to the conception of the review and prepared the manuscript. Kurt K. Benke contributed to the conception of the review, the preparation and revising of the manuscript. Geza Benke contributed to the conception of the review and the revising of the manuscript. Berihun M. Zeleke and Michael J. Abramson substantively revised the manuscript.
Conflicts of Interest
Michael Abramson reports grants from Pfizer, grants from Boehringer-Ingelheim, other from Sanofi, outside the submitted work. Michael also holds a small parcel of shares in Telstra which operates a cell telephone network in Australia. The other authors declare no conflicts of interest.
Figure 1. A taxonomy of uncertainty that shows the division between statistical variability and epistemic uncertainty.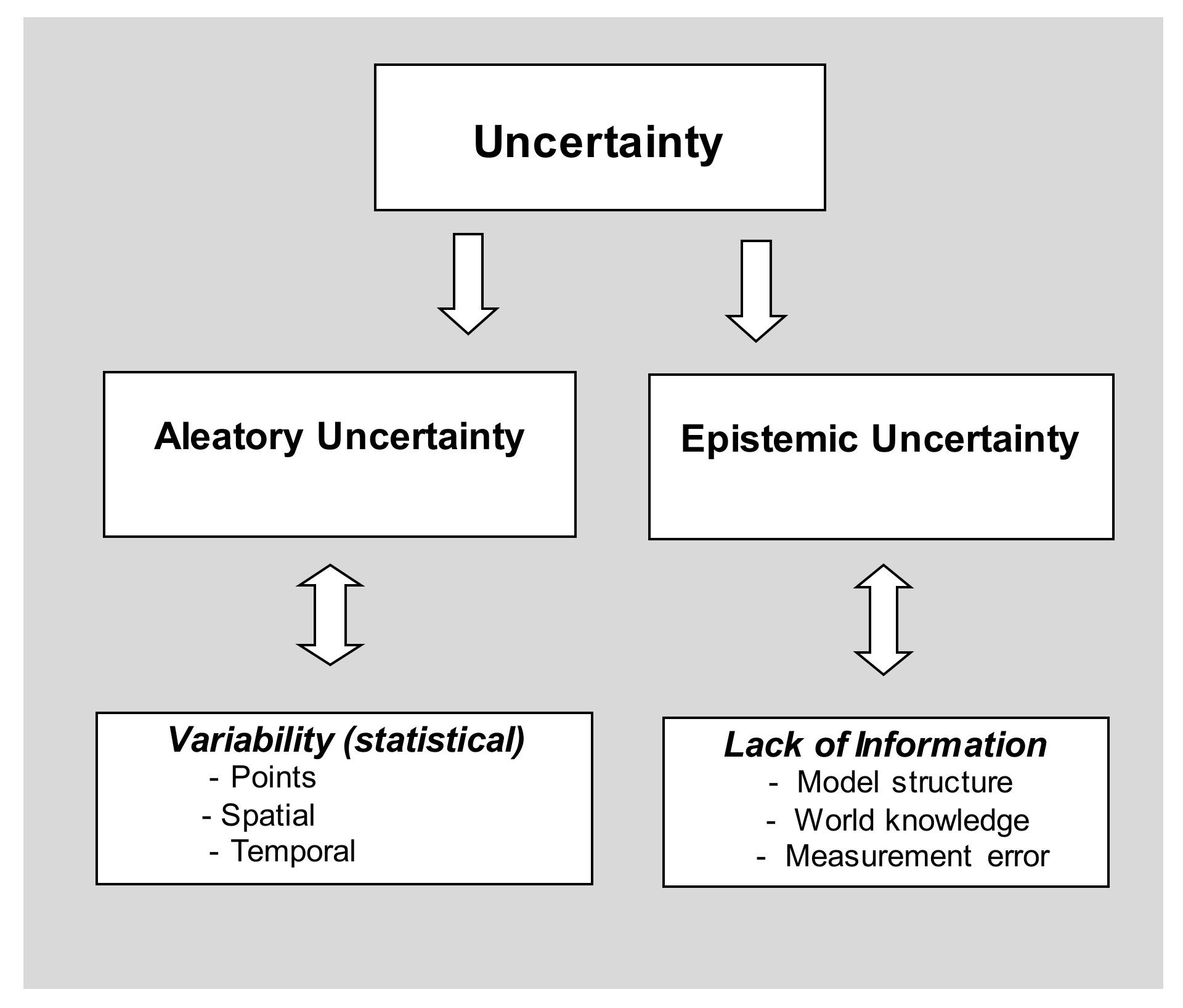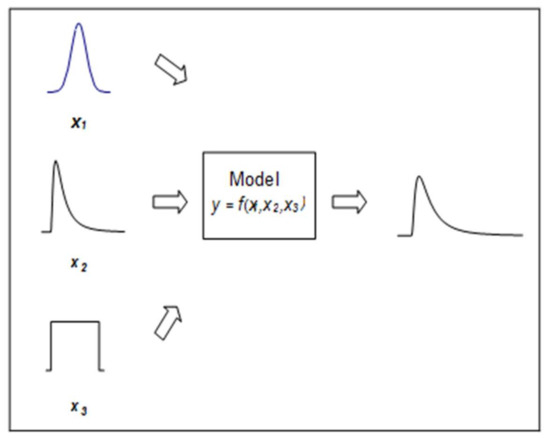 Figure 2. Monte Carlo simulation is an iterative process where each trial requires a new set of inputs which are random samples from probability distributions. After the simulation has been halted, the output of the model is represented by a probability distribution from which the mean, median and confidence intervals can be calculated.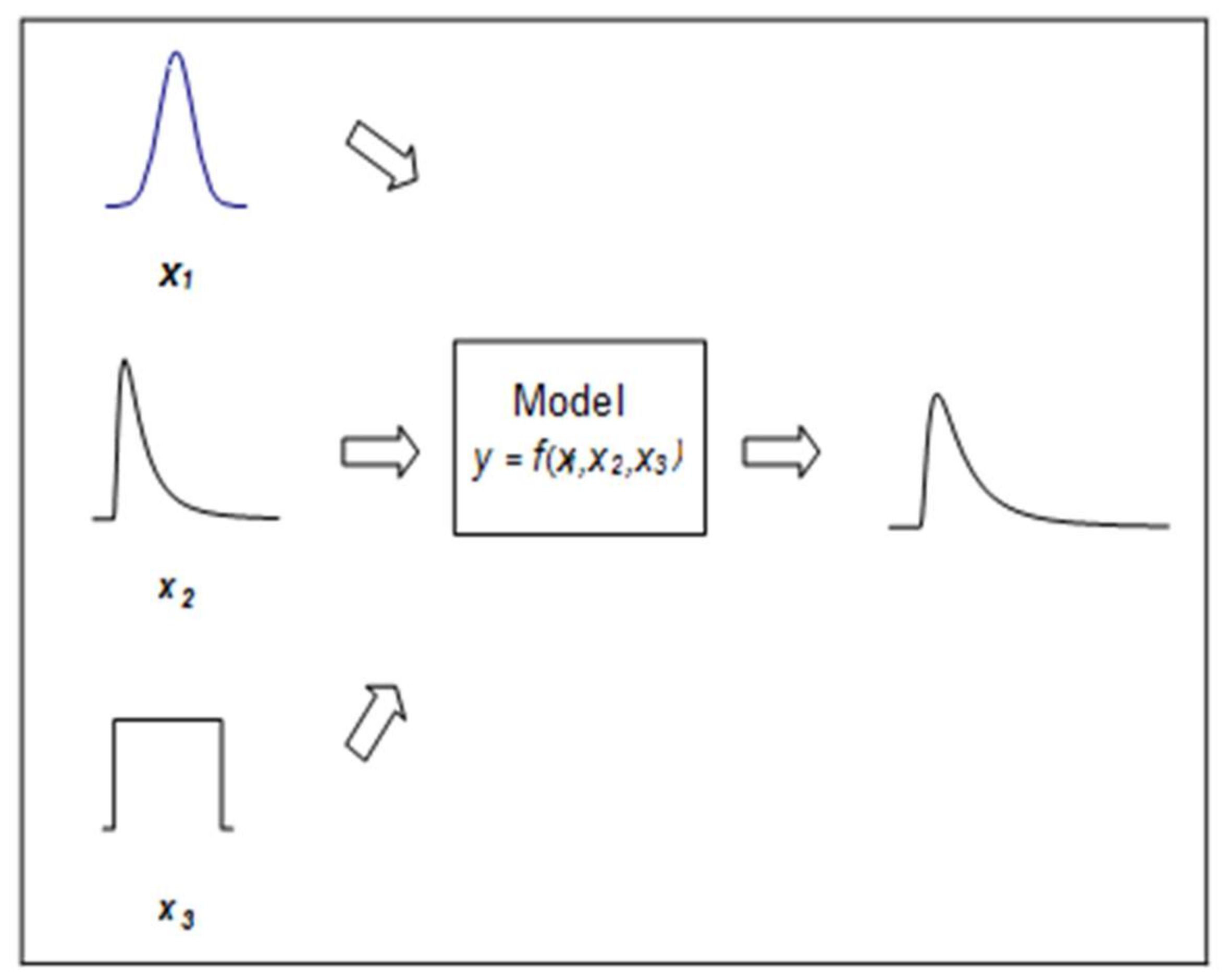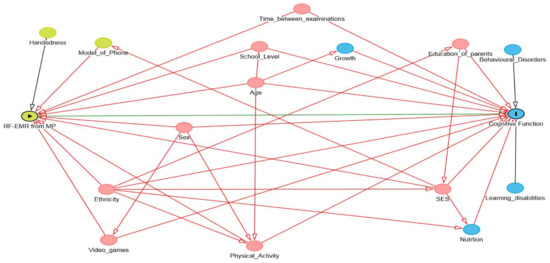 Figure 3. An example of a directed acyclic graph for associations between RF-EMR exposure and cognitive functions. Green variables are ancestors of the exposure. Blue variables are ancesters of the outcome and red variables are ancesters of both exposure and outcome.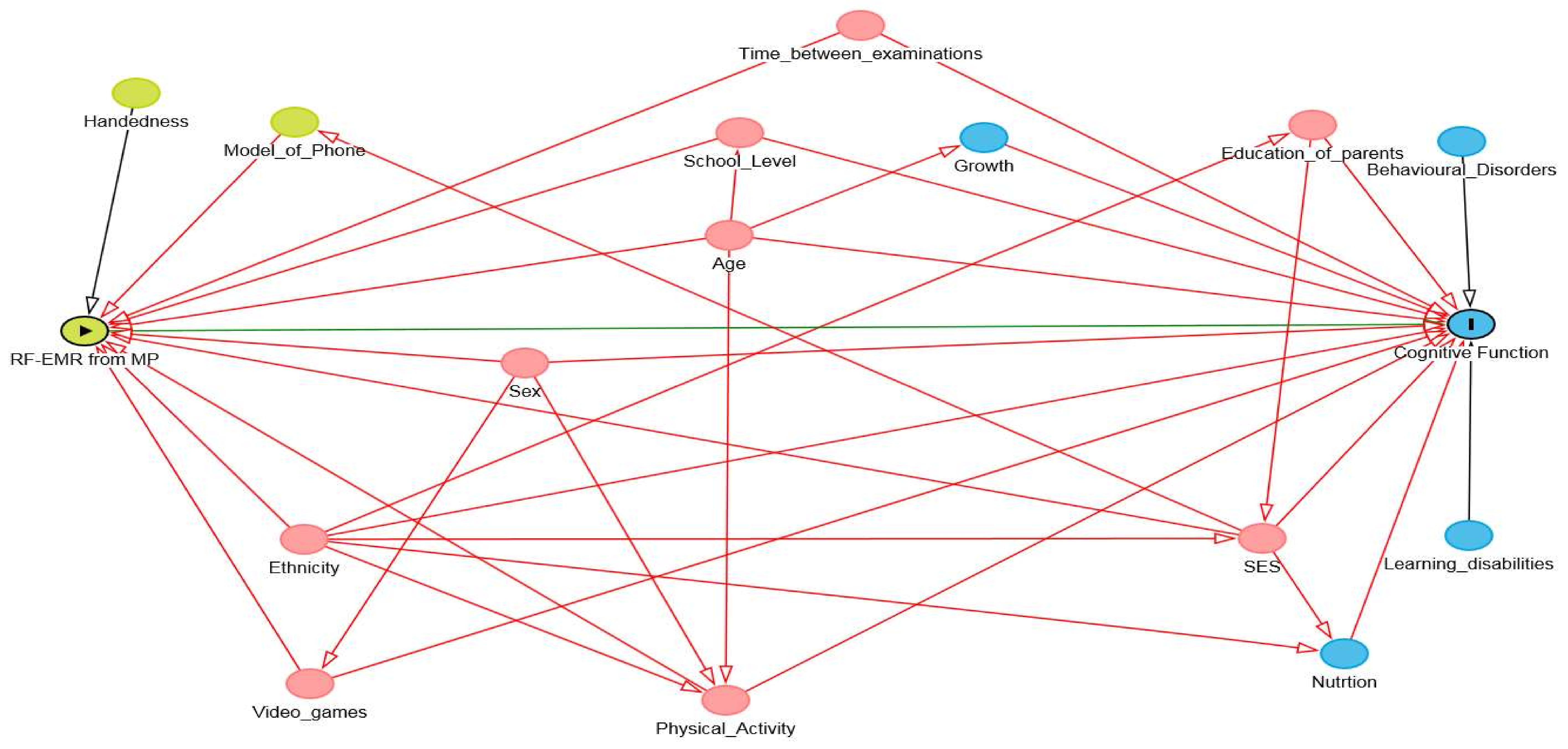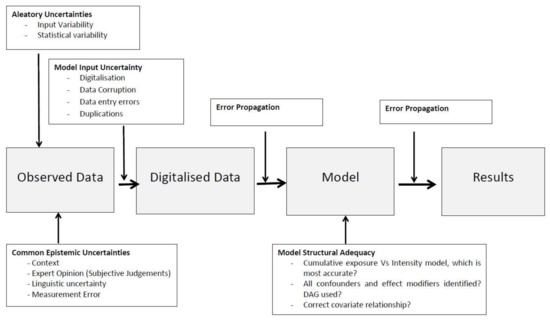 Figure 4.
Visual representation of the sources of uncertainty found throughout the modelling process of RF-EMR and Cognitive function. Sources of uncertainty can enter the modelling process at different points and can be due to known and unknown sources. (Adapted from Robinson et al. [
25
]).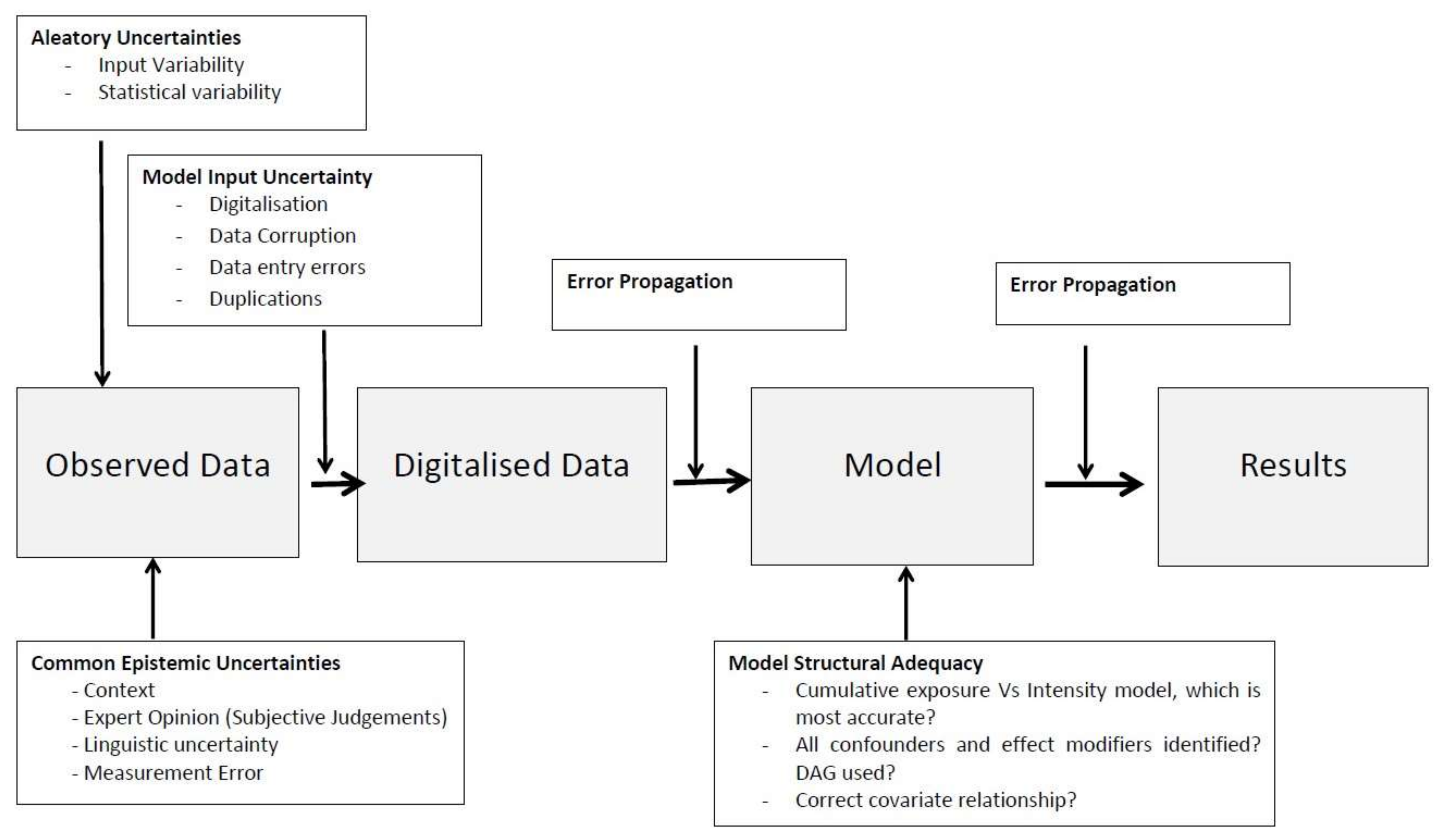 Table 1.
Key differences between aleatory uncertainty and epistemic uncertainty (adapted from Benke et al. [
21
]).
| Aleatory Uncertainty | Epistemic Uncertainty |
| --- | --- |
| Stochastic | Subjective |
| Irreducible | Reducible |
| Variability | State of Knowledge |
Study
Design
Number of Participants (N)
Age (at Baseline)
Cognitive Test Battery
Memory Outcome
Associations Found
MoRPhEUS
Cohort
Baseline: 317
Follow-up: 238
12.9
(11.7–14.3) 1
CogHealth
Working Memory
One back task 4 −0.091
(−0.170, −0.013)
Two back task 4
−0.098 (−0.169, −0.027)
HERMES
Cohort
Baseline: 439
Follow-up: 425
14 (0.85) 2
Intelligenz-Struktur-Test 2000R
Figural and Verbal Memory
Figural memory 5
Brain: −1.16
(−1.99, −0.34)
Body: −0.86
(−1.67, −0.05)
ExPOSURE
Cohort
Baseline: 619
Follow-up: 412
10 (0.4) 2
CogHealth
Working Memory
None
ABCD
Cross sectional
Baseline: 2354
(5–6) 3
Amsterdam Neuro-psychological Tasks program
None
N/A
1 Interquartile range; 2 Standard deviation; 3 Range; 4 Arcsine transformed accuracy. Regression coefficient (95% confidence interval) between total reported voice calls per week and working memory from cross sectional analysis; 5 Figural memory performance in highest exposure category (≥75%) compared to lowest (≤50%) by dose measurements. Regression coefficient (95% confidence interval) from longitudinal analysis.

© 2018 by the authors. Licensee MDPI, Basel, Switzerland. This article is an open access article distributed under the terms and conditions of the Creative Commons Attribution (CC BY) license (http://creativecommons.org/licenses/by/4.0/).