A Comparative Analysis of Climate-Risk and Extreme Event-Related Impacts on Well-Being and Health: Policy Implications
1
School of Science and the Environment, Manchester Metropolitan University, Chester Street, Manchester M1 5GD, UK
2
Institute of Energy Policy and Research (IEPRe), Universiti Tenaga Nasional (UNITEN), Kajang 43000, Malaysia
3
Department of Urban Studies & Planning, Massachusetts Institute of Technology, Boston, MA 77 Massachusetts Avenue, Cambridge, MA 02139-4307, USA
4
Instituto de Ecología y Ciencias Ambientales (IECA), Facultad de Ciencias, Universidad de la República, Montevideo 11400, Uruguay
5
Department of Biology & CESAM Centre for Environmental and Marine Studies, University of Aveiro, 3810-193 Aveiro, Portugal
6
Department of Sociology, University of Vienna, Rooseveltplatz 2, 1090 Vienna, Austria
7
Center for Food Security Studies (CFSS), College of Development Studies, Addis Ababa University, Addis Ababa 150129, Ethiopia
8
Cities Research Institute, Griffith University, Nathan Campus, 170 Kessels Road, Nathan, QLD 4111, Australia
9
Research and Transfer Center,"Sustainability and Climate Change Management", Faculty of Life Sciences, Hamburg University of Applied Sciences, Ulmenliet 20, 21033 Hamburg, Germany
10
Facultad de Medicina—Instituto Boliviano de Biología de Altura (IBBA), Universidad Mayor de San Andrés (UMSA), Unidad de Cambio Climático, Ambiente y Salud, Claudio Sanjinez S/N, Miraflores, La Paz, Bolivia
11
Montpellier Research in Management, Montpellier Business School, 34000 Montpellier, France,
[email protected]
*
Author to whom correspondence should be addressed.
Received: 25 December 2017 / Revised: 31 January 2018 / Accepted: 7 February 2018 / Published: 13 February 2018
Abstract
There are various climate risks that are caused or influenced by climate change. They are known to have a wide range of physical, economic, environmental and social impacts. Apart from damages to the physical environment, many climate risks (climate variability, extreme events and climate-related hazards) are associated with a variety of impacts on human well-being, health, and life-supporting systems. These vary from boosting the proliferation of vectors of diseases (e.g., mosquitos), to mental problems triggered by damage to properties and infrastructure. There is a great variety of literature about the strong links between climate change and health, while there is relatively less literature that specifically examines the health impacts of climate risks and extreme events. This paper is an attempt to address this knowledge gap, by compiling eight examples from a set of industrialised and developing countries, where such interactions are described. The policy implications of these phenomena and the lessons learned from the examples provided are summarised. Some suggestions as to how to avert the potential and real health impacts of climate risks are made, hence assisting efforts to adapt to a problem whose impacts affect millions of people around the world. All the examples studied show some degree of vulnerability to climate risks regardless of their socioeconomic status and need to increase resilience against extreme events.
View Full-Text
►

▼

Figures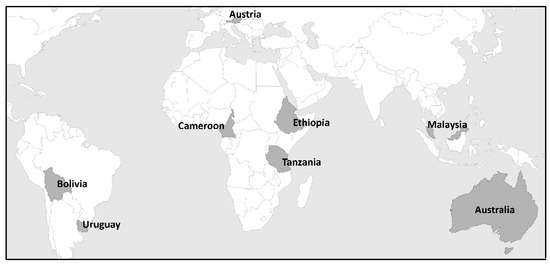 Figure 1
This is an open access article distributed under the
Creative Commons Attribution License
which permits unrestricted use, distribution, and reproduction in any medium, provided the original work is properly cited (CC BY 4.0).
Supplementary material
Externally hosted supplementary file 1
Doi: -
Link: http://-
Description: Title Page

Share & Cite This Article
MDPI and ACS Style
Leal Filho, W.; Al-Amin, A.Q.; Nagy, G.J.; Azeiteiro, U.M.; Wiesböck, L.; Ayal, D.Y.; Morgan, E.A.; Mugabe, P.; Aparicio-Effen, M.; Fudjumdjum, H.; Chiappetta Jabbour, C.J. A Comparative Analysis of Climate-Risk and Extreme Event-Related Impacts on Well-Being and Health: Policy Implications. Int. J. Environ. Res. Public Health 2018, 15, 331.
Note that from the first issue of 2016, MDPI journals use article numbers instead of page numbers. See further details here.
Related Articles
Comments
[Return to top]