Simulating Cross-Contamination of Cooked Pork with
Salmonella enterica

from Raw Pork through Home Kitchen Preparation in Vietnam

1

Center for Public Health and Ecosystem Research, Hanoi University of Public Health, 1A Duc Thang Road, Duc Thang Ward, North Tu Liem District, Hanoi 100000, Vietnam

2

Veterinary Epidemiology Unit, School of Veterinary Medicine, Rakuno Gakuen University, 582 Bunkyodai Midorimachi, Ebetsu, Hokkaido 069-8501, Japan

3

International Livestock Research Institute, 298 Kim Ma Street, Hanoi 100000, Vietnam

4

Department of Epidemiology and Public Health, Swiss Tropical and Public Health Institute (Swiss TPH), 57 Socinstrasse, 4002 Basel, Switzerland

5

University of Basel, Socinstrasse 57, 4002 Basel, Switzerland

6

International Livestock Research Institute, 30709 Naivasha Street, Nairobi 00100, Kenya

7

National Institute of Veterinary Research, 86 Truong Chinh, Hanoi 100000, Vietnam

*

Author to whom correspondence should be addressed.

Received: 3 September 2018 / Revised: 15 October 2018 / Accepted: 15 October 2018 / Published: 22 October 2018
Abstract
Pork is the most commonly consumed meat in Vietnam, and
Salmonella enterica
is a common contaminant. This study aimed to assess potential
S. enterica
cross-contamination between raw and cooked pork in Vietnamese households. Different scenarios for cross-contamination were constructed based on a household survey of pork handling practices (416 households). Overall, 71% of people used the same knife and cutting board for both raw and cooked pork; however, all washed their hands and utensils between handling raw and cooked pork. The different scenarios were experimentally tested. First,
S. enterica
was inoculated on raw pork and surfaces (hands, knives and cutting boards); next, water used for washing and pork were sampled to identify the presence and concentration of
S. enterica
during different scenarios of food preparation. Bootstrapping techniques were applied to simulate transfer rates of
S. enterica
cross-contamination. No cross-contamination to cooked pork was observed in the scenario of using the same hands with new cutting boards and knives. The probability of re-contamination in the scenarios involving re-using the cutting board after washing was significantly higher compared to the scenarios which used a new cutting board. Stochastic simulation found a high risk of cross-contamination from raw to cooked pork when the same hands, knives and cutting boards were used for handling raw and cooked pork (78%); when the same cutting board but a different knife was used, cross-contamination was still high (67%). Cross-contamination between was not seen when different cutting boards and knives were used for cutting raw and cooked pork. This study provided an insight into cross-contamination of
S. enterica
, given common food handling practices in Vietnamese households and can be used for risk assessment of pork consumption.
View Full-Text
►

▼

Figures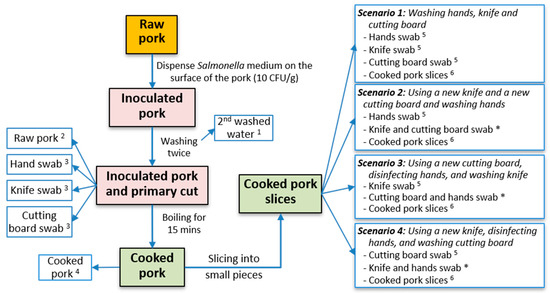 Figure 1
This is an open access article distributed under the
Creative Commons Attribution License
which permits unrestricted use, distribution, and reproduction in any medium, provided the original work is properly cited (CC BY 4.0).

Share & Cite This Article
MDPI and ACS Style
Dang-Xuan, S.; Nguyen-Viet, H.; Pham-Duc, P.; Grace, D.; Unger, F.; Nguyen-Hai, N.; Nguyen-Tien, T.; Makita, K. Simulating Cross-Contamination of Cooked Pork with Salmonella enterica from Raw Pork through Home Kitchen Preparation in Vietnam. Int. J. Environ. Res. Public Health 2018, 15, 2324.
Note that from the first issue of 2016, MDPI journals use article numbers instead of page numbers. See further details here.
Related Articles
Comments
[Return to top]