Effect of Job Strain on Job Burnout, Mental Fatigue and Chronic Diseases among Civil Servants in the Xinjiang Uygur Autonomous Region of China
1
Department of Social Medicine, College of Public Health, Xinjiang Medical University, Urumqi 830011, China
2
Department of Occupational Health and Environmental Health, College of Public Health, Ningxia Medical University, Yinchuan 750000, China
3
Department of Occupational Health and Environmental Health, College of Public Health, Xinjiang Medical University, Urumqi 830011, China
4
Department of Occupational Health and Environmental Health, College of Public Health, Nantong University, Nantong 226000, China
5
School of Biomedical Sciences, Faculty of Medicine, The Chinese University of Hong Kong, Hong Kong, China
†
These authors contributed equally to this work.
*
Authors to whom correspondence should be addressed.
Academic Editor: Yasushi Suwazono
Received: 15 June 2017 / Revised: 31 July 2017 / Accepted: 1 August 2017 / Published: 3 August 2017
Abstract
Job strain is a major concern in view of its effects among civil servants associated with job burnout, mental fatigue and chronic diseases. The objective of this study was to assess the job strain level among civil servants and examine the effect of job strain on job burnout, mental fatigue and the resulting chronic diseases. A cross-sectional study with a representative sample consisting of 5000 civil servants was conducted from March to August 2014. Using a structured questionnaire, the job strain level, job burnout and mental fatigue were measured by using the Personal Strain Questionnaire (PSQ), Maslach Burnout Inventory (MBI) and Multidimensional Fatigue Inventory (MFI-20), respectively. Overall, 33.8% of the civil servants were found to be afflicted with high and moderate job strain. The characteristics of most of the civil servants with a higher-job strain level were as follows: female, Uygur, lower educational level and job title rank, shorter working experience, married marital status, and lower income level. Civil servants suffering from chronic disease mainly had hypertension and coronary heart disease, which accounted for 18.5% of the diseases. Civil servants with a high-job strain level exhibited higher rates of burnout, mental fatigue scores and incidence of chronic diseases. There was a multiple linear regression model composed of three predictor variables in job burnout, which accounted for 45.0% of its occurrence: female gender, lower-income level, higher-job strain in civil servants, the greater the rate of job burnout was. Four factors—male gender, lower-job title rank, higher-job strain, shorter-job tenure of civil servants—explained 25.0% of the mental fatigue model. Binary logistic regression showed that intermediate-rank employees (OR = 0.442, 95% CI: 0.028–0.634;
p
< 0.05), job tenure of 10–20 years (OR = 0.632, 95% CI: 0.359–0.989;
p
< 0.05), and low-job strain (OR = 0.657, 95% CI: 0.052–0.698;
p
< 0.05) were all associated with significantly lower odds of chronic disease. The risk of chronic disease was higher in civil servants with high-job burnout scores and mental fatigue scores compared with civil servants with lower scores (OR = 1.139, 95% CI: 1.012–3.198; OR = 1.697, 95% CI: 1.097–2.962). These data provide evidence for the effects of job strain on job burnout, mental fatigue and chronic diseases among civil servants.
View Full-Text
►

▼

Figures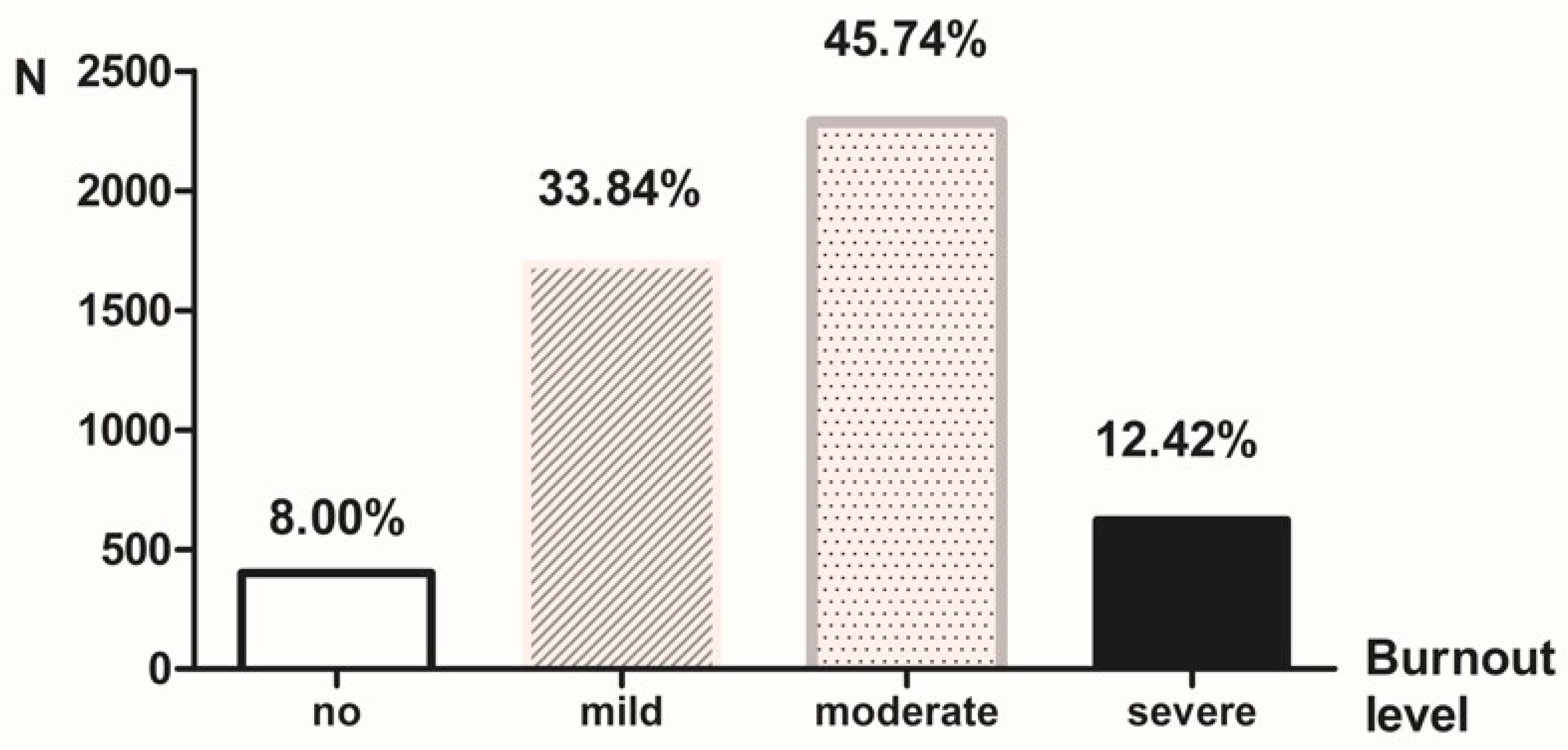 Figure 1
This is an open access article distributed under the
Creative Commons Attribution License
which permits unrestricted use, distribution, and reproduction in any medium, provided the original work is properly cited (CC BY 4.0).

Share & Cite This Article
MDPI and ACS Style
Guan, S.; Xiaerfuding, X.; Ning, L.; Lian, Y.; Jiang, Y.; Liu, J.; Ng, T.B. Effect of Job Strain on Job Burnout, Mental Fatigue and Chronic Diseases among Civil Servants in the Xinjiang Uygur Autonomous Region of China. Int. J. Environ. Res. Public Health 2017, 14, 872.
Note that from the first issue of 2016, MDPI journals use article numbers instead of page numbers. See further details here.
Related Articles
Comments
[Return to top]