Open Access This article is
freely available
re-usable
Communication
Insecticidal Effects of Plasma Treated Water
1
Faculty of Natural Sciences and Technology, University of Applied Sciences and Arts, Von-Ossietzky-Strasse 99/100, 37085 Göttingen, Germany
2
Fraunhofer IST Application Centre, Von-Ossietzky-Strasse 100, 37085 Göttingen, Germany
*
Author to whom correspondence should be addressed.
Received: 12 October 2017 / Accepted: 22 November 2017 / Published: 27 November 2017
Abstract
:
The efficacy of plasma-treated tap water (PTW) for the possible treatment of a mealybug (
Planococcus citri
) infestation was studied under laboratory conditions. Mealybugs growing on
Nerium oleander
have been treated using PTW after being transferred to Petri dishes, thus avoiding possible buffering effects that might occur in an in-situ study. When treating tap water with a dielectric barrier discharge for several minutes (1, 3, 5 and 10 min) a distinct acidification of the water can be determined, resulting in a pH value of 1.8 after 10 min treatment. The efficacies of the treated tap water samples were compared to the efficacies achieved using classically acidified water. The classical acidification of tap water was carried out using nitric acid and hydrochloric acid to see any possible influences of the salt of the acid in question. The application of PTW revealed high mortality rates of approx. 90% after an observation period of 24 h. PTW appears promising for the treatment of smaller plant stock and commodities as produced by small scale farmers or in greenhouses as an environmentally friendly substitute or supplement to conventional pesticides.
Keywords:
atmospheric pressure plasma; plasma; pest treatment; tap water; mealybug;
Planococcus citri
; plasma-based pest management
Acknowledgments
The funding within the project of "Plasmagestützte Schädlingsbekämpfung im Alltag (Plasma based Pest Management in Everyday Life)" of the Niedersächsisches Vorab: Volkswagen Stiftung (ZN2779) is gratefully acknowledged.
Author Contributions
Lars ten Bosch, Robert Köhler conceived and designed the experiments; Rinat Ortmann and Lars ten Bosch performed the experiments; All authors analysed the data; Wolfgang Viöl and Stephan Wieneke contributed reagents, materials and analysis tools; Lars ten Bosch and Robert Köhler wrote the paper. Wolfgang Viöl and Stephan Wieneke ultimately revised the paper.
Conflicts of Interest
The authors declare no conflict of interest.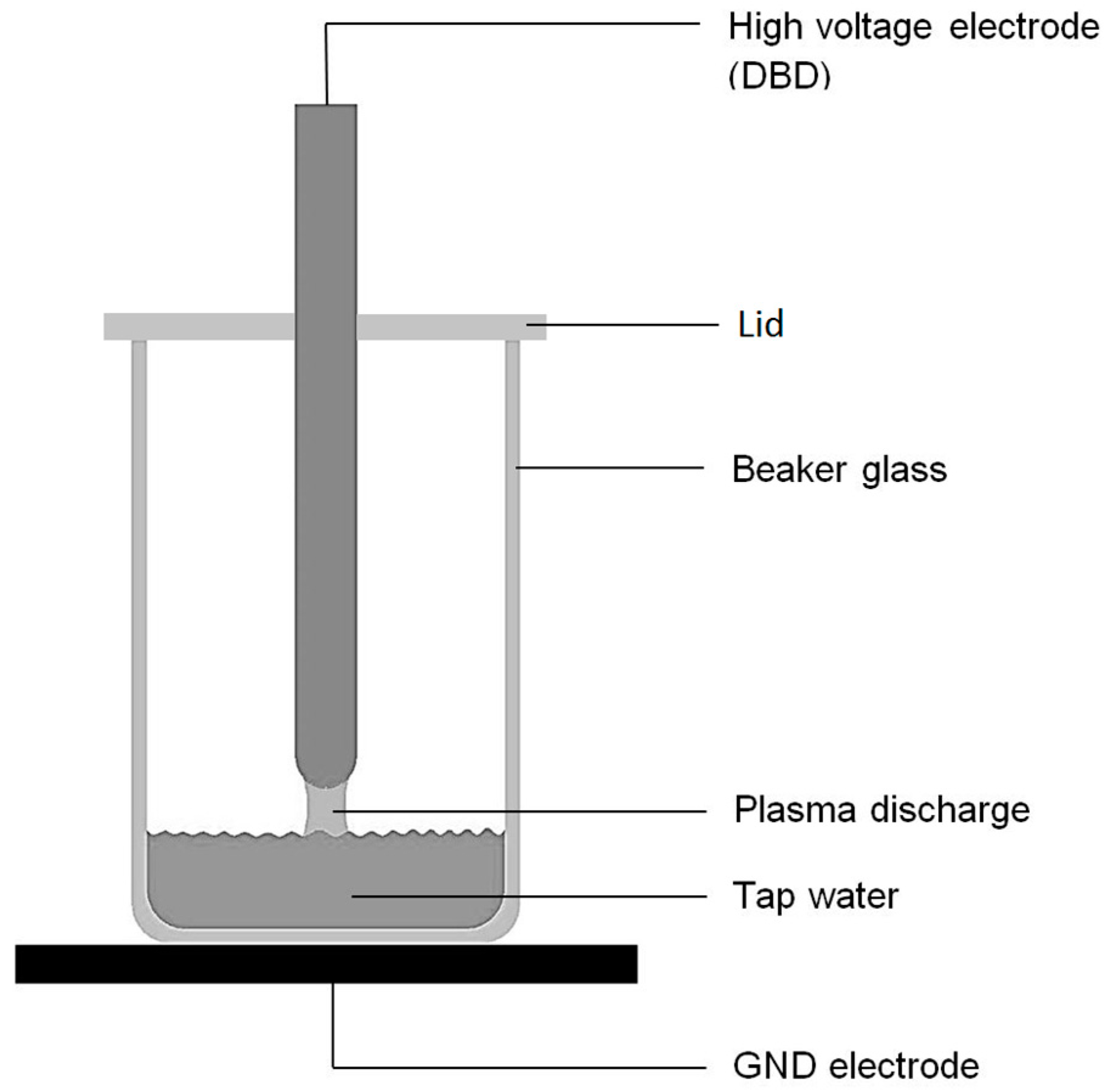 Figure 2. (a) Petri dish containing one test group of 20 mealybugs, each placed on one droplet (2 μL) of test liquid CAW; (b) Close-up of (a) single mealybug transferred to a test liquid droplet of PTW placed in a petri dish (droplet volume = 2 μL).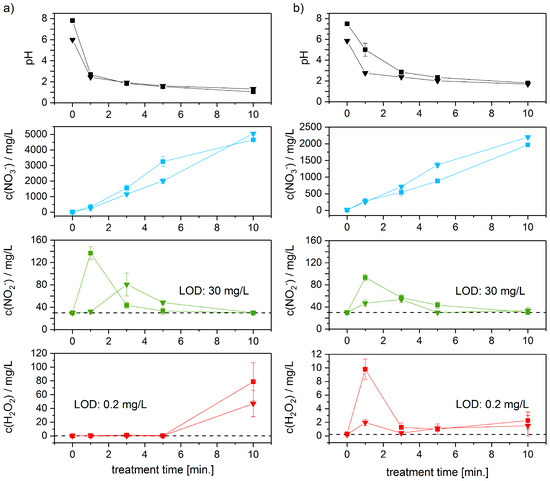 Figure 3. Development of concentration of pH, nitrate, nitrite and hydrogen peroxide due to CAP-treatment of (a) 1 mL treated liquid volume and (b) 3 mL treated liquid volume. The ■ data points show the behaviour of regular tap water (n = 3), whereas the ▼ data points depict the behaviour of deionized water (n = 3). Reducing the liquid volume from 3 mL to 1 mL the necessary treatment time to obtain comparable values of pH, nitrate, nitrite and hydrogen peroxide is reduced to 1/3, accordingly.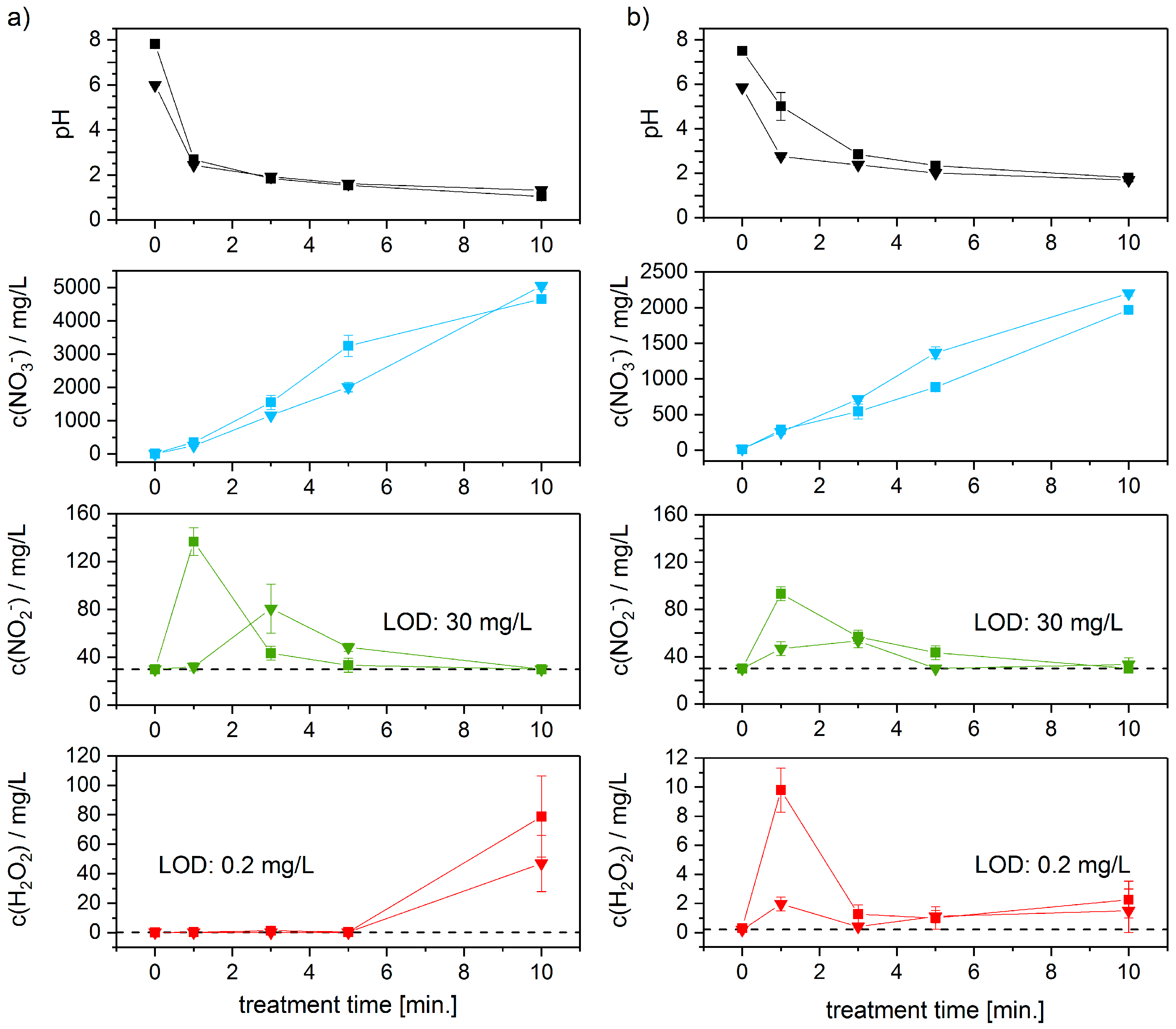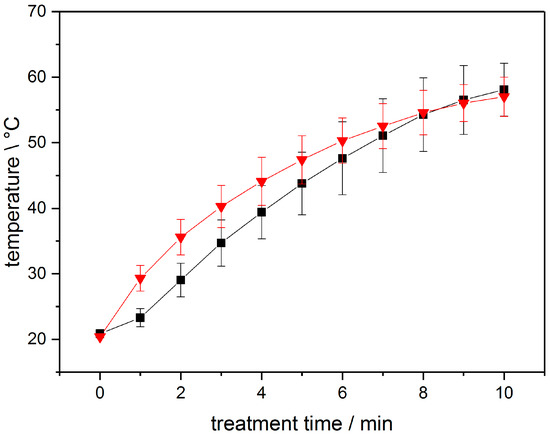 Figure 4.
Temperature behaviour of 1 mL (red graph) and 3 mL (black graph) liquid during a plasma treatment using the setup displayed in
Figure 1
(n = 3).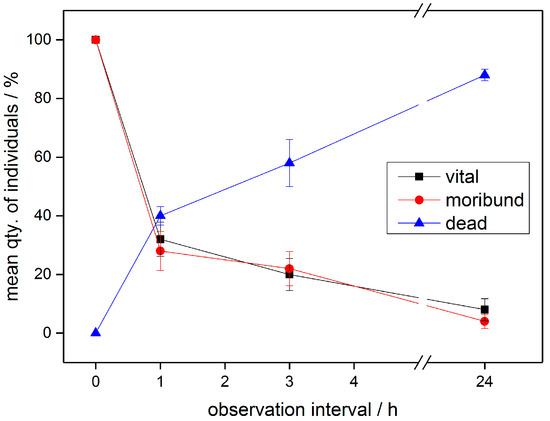 Figure 5.
Development of the different vitality states vital, moribund and dead during the MR assessment after PTW treatment of mealybugs (
Planococcus citri
).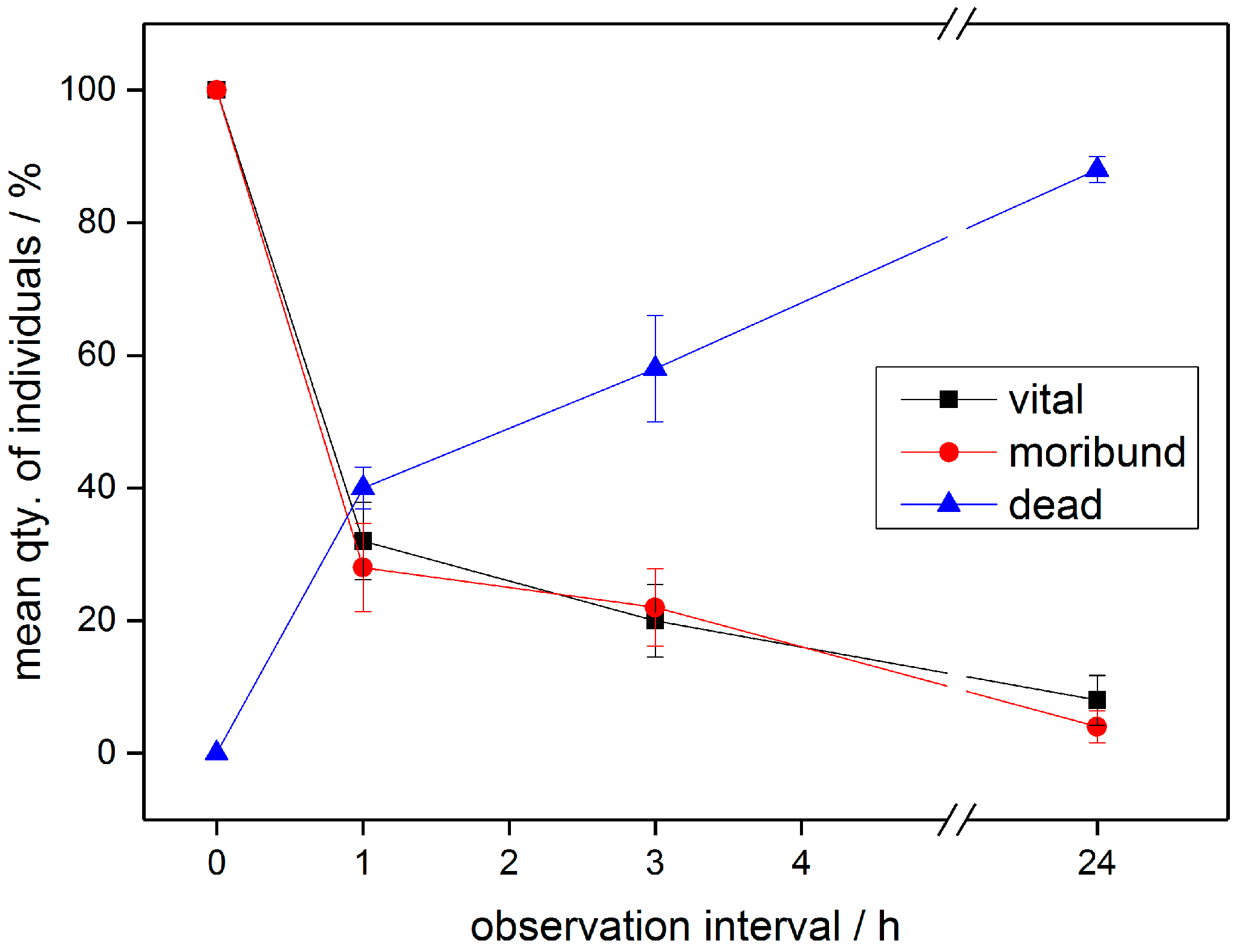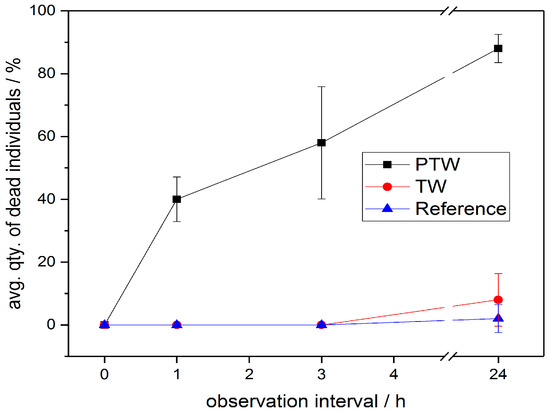 Figure 6.
Comparison of mortification rates obtained using PTW and untreated TW vs. untreated reference samples. 3 replicates consisting of 10 individuals per treatment were used. The significance of differences between the treatment methods and the dry control were tested globally by one-way-ANOVA at α = 0.001 with correction for multiple testing, according to Bonferroni. The significant differences between PTW and TW are given with
p
= 6.82 × 10
−9
, (σ = 1). No significant differences between TW and dry reference were found.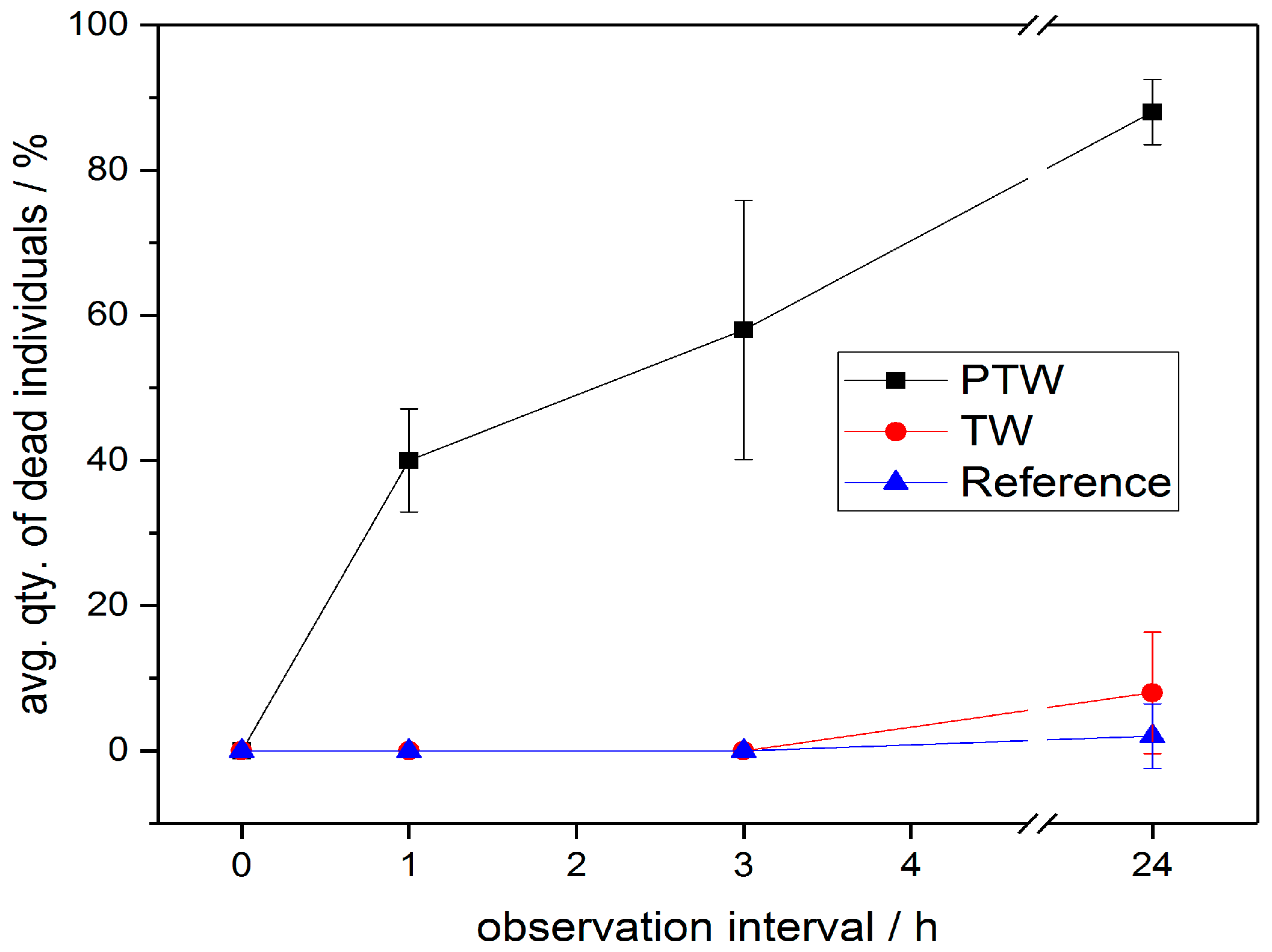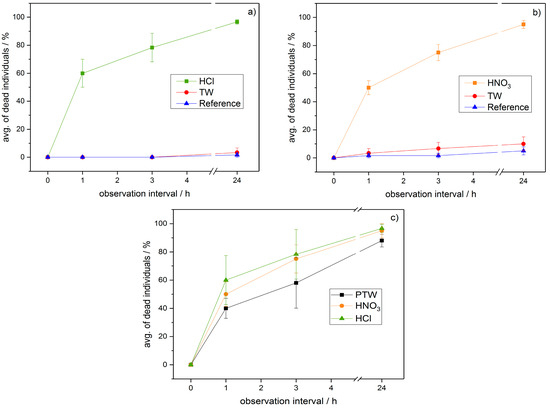 Figure 7.
Mortification rates achieved using HCl (
a
) and HNO
3
(
b
) compared to untreated reference samples as well as (
c
) direct comparison of the mortification rates of CAW/PTW; pH of 1.8 for all liquids tested. The significance of differences between the treatment methods were tested globally by one-way-ANOVA+Bonferroni, α = 0.001: (
a
) HCl/TW:
p
= 1.52 × 10
−6
, (σ = 1); (
b
) HNO
3
/TW
p
= 1.52 × 10
−6
, (σ = 1). (
c
) HCl/PTW:
p
= 0.008, (σ = 0), HNO
3
/PTW
p
= , (σ = 0); HNO
3
/HCl
p
= 1, (σ = 0).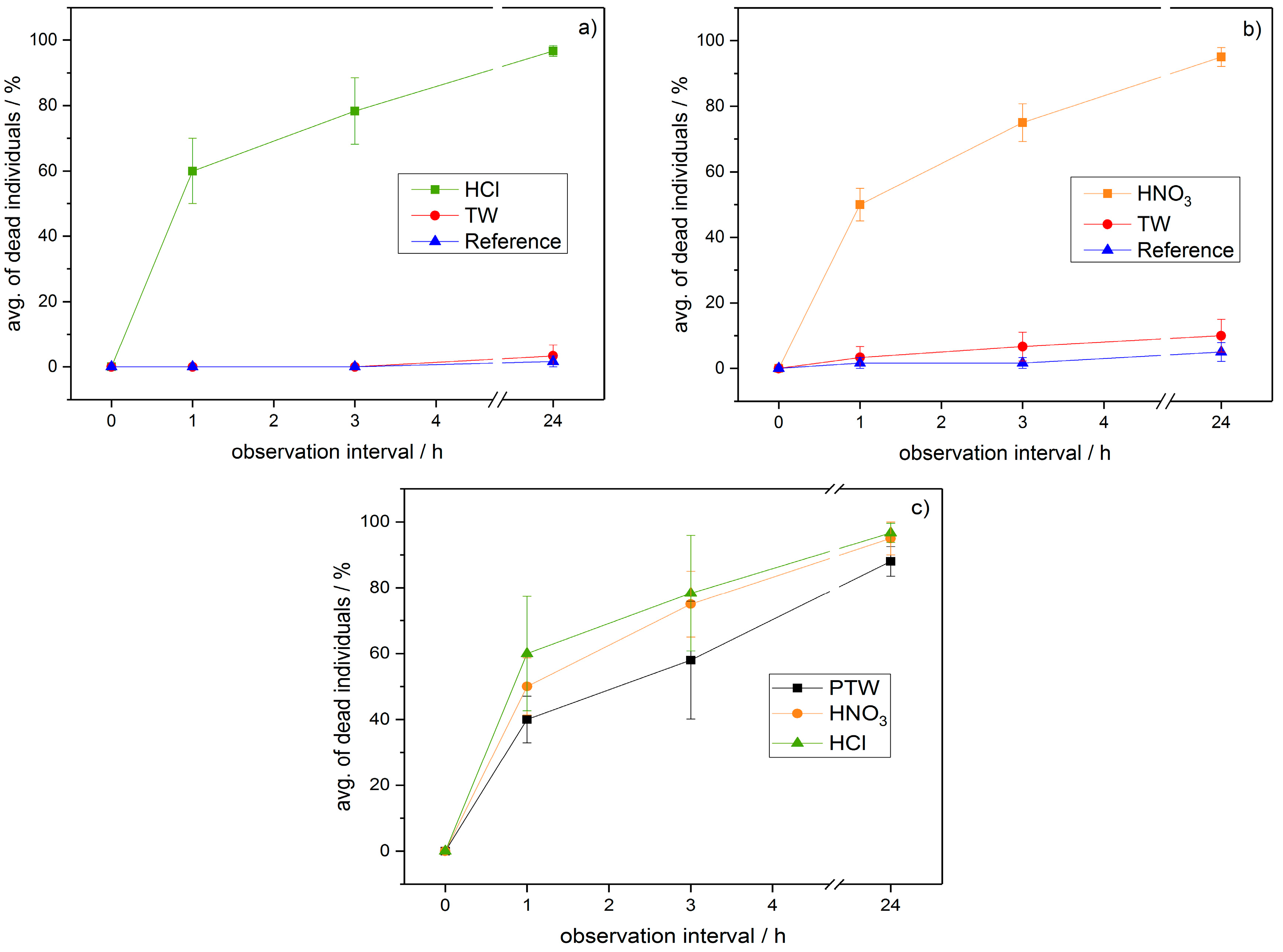 | Input Parameter | Value |
| --- | --- |
| Electric power | ≈11 W |
| Power density | ≈5 W/cm2 |
| Discharge gap | 3 mm |
| Appl. voltage | ≈30 kV (p-p) |
| Natural frequency | ≈200 kHz |
| Puls rep. Rate | 14 kHz |
| Waveform | decaying sine |

© 2017 by the authors. Licensee MDPI, Basel, Switzerland. This article is an open access article distributed under the terms and conditions of the Creative Commons Attribution (CC BY) license (http://creativecommons.org/licenses/by/4.0/).