Health Impacts from Corn Production Pre-and Post-NAFTA Trade Agreement (1986–2013)
1
Center for Health and the Global Environment, Department of Environmental Health, Harvard TH Chan School of Public Health, Boston, MA 02215, USA
2
Facultad de Ingeniería Civil, Universidad de Colima, Coquimatlán 28400, Mexico
3
Instituto Mexicano del Seguro Social, Unidad de Medicina Familiar 19. Colima, Colima 28000, Mexico
*
Author to whom correspondence should be addressed.
Academic Editors: Jason K. Levy and Peiyong Yu
Received: 6 April 2016 / Revised: 5 July 2016 / Accepted: 6 July 2016 / Published: 13 July 2016
Abstract
Life cycle assessment (LCA) is a powerful methodology for the study of health impacts and public policies. We performed this study to quantitatively explain the potential health impacts on disability-adjusted life years (DALYs) of corn produced in Mexico and imported from the United States of America (U.S.) from 1984 until 2014. The processes are hybrid and organic corn production. The functional unit was defined as 1 ton of corn production. Results indicate a total value of 178,431, 244,175, and 283,426 DALYs of three decades: 1984–1993, 1994–2003, and 2004–2013, of Mexican production; the U.S. production and transport were also calculated, showing values of 29,815, 65,837, and 107,729 for the same three decades. Additionally, DALYs were obtained for the category of human health and climate change by functional unit: 802.31 (1984–1993), 802.67 (1994–2003), and 803.92 (2004–2013), and for imported corn transported to Mexico from the U.S., 859.12 (1984–2013). DALYs on human toxicity were obtained: 99.05 (1984–1993), 99.05 (1994–2003), and 99.04 (2004–2013), and for the corn imported and transported to Mexico from the U.S., 116.25 (1984–2013). Conclusions: Environmental and health impacts in terms of DALYs are higher when corn is imported versus the corn produced in Mexico. Environmental health and nominal corn cultivation and transport impacts have increased as a result of the North American Free Trade Agreement (NAFTA). Mexico needs to redefine its public policies to suffer less of an environmental burden from corn to ensure global environmental health and food security.
View Full-Text
►

▼

Figures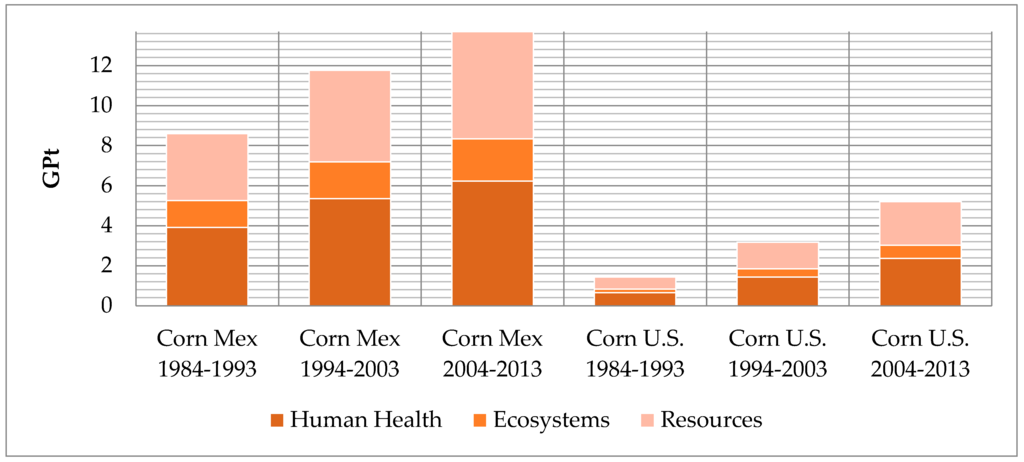 Figure 1
This is an open access article distributed under the
Creative Commons Attribution License
which permits unrestricted use, distribution, and reproduction in any medium, provided the original work is properly cited (CC BY 4.0).

Share & Cite This Article
MDPI and ACS Style
Mendoza-Cano, O.; Sánchez-Piña, R.A.; González-Ibarra, Á.J.; Murillo-Zamora, E.; Nava-Garibaldi, C.M. Health Impacts from Corn Production Pre-and Post-NAFTA Trade Agreement (1986–2013). Int. J. Environ. Res. Public Health 2016, 13, 709.
Note that from the first issue of 2016, MDPI journals use article numbers instead of page numbers. See further details here.
Related Articles
Comments
[Return to top]