The Urban-Rural Gradient In Asthma: A Population-Based Study in Northern Europe
1
Department of Public Health, Danish Ramazzini Centre, Aarhus University, DK-8000 Aarhus C, Denmark
2
Department of Medical Sciences: Respiratory, Allergy and Sleep Research, Uppsala University, 751 05 Uppsala, Sweden
3
Allergy and Lung Health Unit, Centre for Epidemiology and Biostatistics, Melbourne School of Population and Global Health, The University of Melbourne, Victoria 3010, Australia
4
Division of Occupational and Environmental Medicine, Department of Public Health and Clinical Medicine, Umeå University, 901 87 Umeå, Sweden
5
Department of Respiratory Medicine and Sleep, Landspitali University Hospital, Reykjavik IS-108, Iceland
6
Faculty of Medicine, University of Iceland, Reykjavik IS-101, Iceland
7
Department of Occupational and Environmental Medicine, Sahlgrenska University Hospital, Gothenburg 405 30, Sweden
8
Lung Clinic, Tartu University Hospital, Tartu 50406, Estonia
9
Institute of Clinical Science, University of Bergen, 5020 Bergen, Norway
10
National Research Center for Working Environment, Copenhagen DK-2100, Denmark
*
Author to whom correspondence should be addressed.
Academic Editors: Helena Solo-Gabriele and Alesia Ferguson
Received: 5 October 2015 / Revised: 10 December 2015 / Accepted: 15 December 2015 / Published: 30 December 2015
Abstract
The early life environment appears to have a persistent impact on asthma risk. We hypothesize that environmental factors related to rural life mediate lower asthma prevalence in rural populations, and aimed to investigate an urban-rural gradient, assessed by place of upbringing, for asthma. The population-based Respiratory Health In Northern Europe (RHINE) study includes subjects from Denmark, Norway, Sweden, Iceland and Estonia born 1945–1973. The present analysis encompasses questionnaire data on 11,123 RHINE subjects. Six categories of place of upbringing were defined: farm with livestock, farm without livestock, village in rural area, small town, city suburb and inner city. The association of place of upbringing with asthma onset was analysed with Cox regression adjusted for relevant confounders. Subjects growing up on livestock farms had less asthma (8%) than subjects growing up in inner cities (11%) (hazard ratio 0.72 95% CI 0.57–0.91), and a significant urban-rural gradient was observed across six urbanisation levels (
p
= 0.02). An urban-rural gradient was only evident among women, smokers and for late-onset asthma. Analyses on wheeze and place of upbringing revealed similar results. In conclusion, this study suggests a protective effect of livestock farm upbringing on asthma development and an urban-rural gradient in a Northern European population.
View Full-Text
►

▼

Figures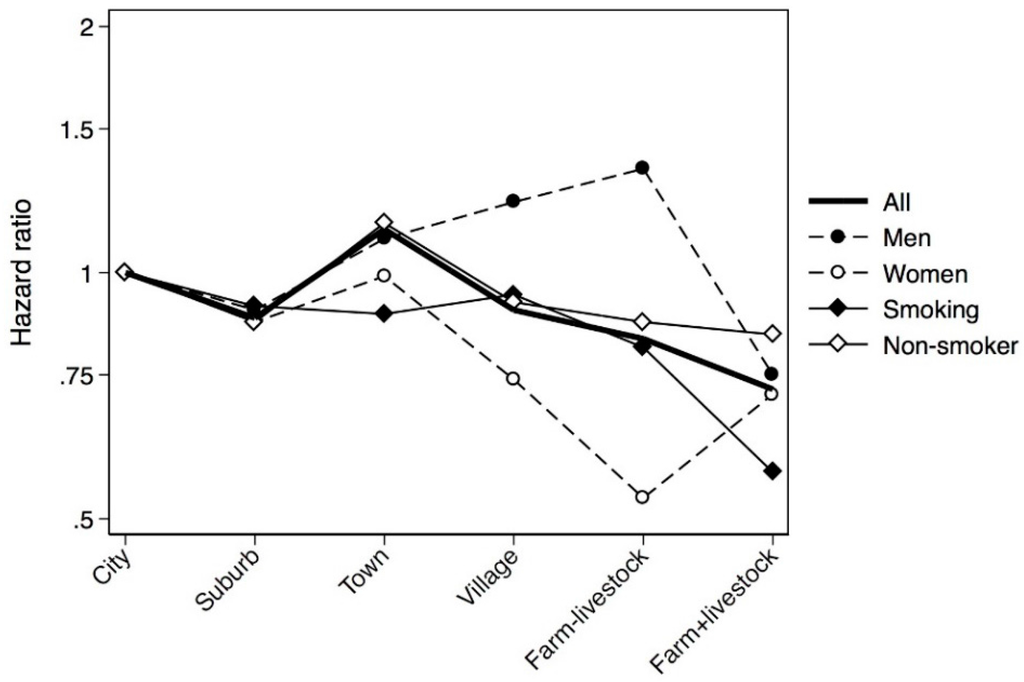 Figure 1
This is an open access article distributed under the
Creative Commons Attribution License
which permits unrestricted use, distribution, and reproduction in any medium, provided the original work is properly cited (CC BY 4.0).

Share & Cite This Article
MDPI and ACS Style
Timm, S.; Frydenberg, M.; Janson, C.; Campbell, B.; Forsberg, B.; Gislason, T.; Holm, M.; Jogi, R.; Omenaas, E.; Sigsgaard, T.; Svanes, C.; Schlünssen, V. The Urban-Rural Gradient In Asthma: A Population-Based Study in Northern Europe. Int. J. Environ. Res. Public Health 2016, 13, 93.
Note that from the first issue of 2016, MDPI journals use article numbers instead of page numbers. See further details here.
Related Articles
Comments
[Return to top]