The Effect of a 12-Week Omega-3 Supplementation on Body Composition, Muscle Strength and Physical Performance in Elderly Individuals with Decreased Muscle Mass
1
Department of Palliative Medicine, Poznan University of Medical Sciences, Poznan 61-245, Poland
2
Department of Pathophysiology, Poznan University of Medical Sciences, Poznan 60-806, Poland
3
Department of Human Nutrition and Hygiene, Poznan University of Life Sciences, Poznan 60-624, Poland
4
Department of Geriatric and Gerontology, Poznan University of Medical Sciences, Poznan 60-781, Poland
5
Department of Adult Psychiatry, Poznan University of Medical Sciences, Poznan 60-572, Poland
*
Author to whom correspondence should be addressed.
Academic Editor: Paul B. Tchounwou
Received: 11 April 2015 / Revised: 18 June 2015 / Accepted: 24 August 2015 / Published: 28 August 2015
Abstract
The aim of the study was to assess the effect of a polyunsaturated omega-3 fatty acids (PUFA) supplementation on the parameters of body composition, muscle strength and physical performance in elderly people with decreased muscle mass (DMM). Fifty three elderly people with an ALM index (the ratio of appendicular lean mass to squared height) either below (−2SD: low muscle mass-LMM) or between (−1SD and −2SD: the risk of LMM-rLMM) the ALM index for the young Polish reference population were randomly assigned to PUFA-treated groups (LMM-PUFA, rLMM-PUFA) or control groups (LMM-control, rLMM-control). PUFA-treated groups received capsules containing 1.3 g of PUFA and 10 mg of vitamin E, while the control groups received 11 mg of vitamin E daily for 12 weeks. Body composition (BIA analysis), muscle strength (hand grip measured with dynamometer) and physical performance (Timed Up and Go test-TUG) were assessed before and after supplementation. No statistically significant differences were observed either in muscle mass or in the hand grip and TUG in any group. The post-pre difference (mean ± SD) in ALM index was as follows (kg/m
2
): LMM-PUFA: 0.00 ± 0.30, rLMM-PUFA: 0.00 ± 0.22, LMM-control: 0.03 ± 0.36, rLMM-control: –0.03 ± 0.20. In our study, a 12 week supplementation of PUFA did not affect the evaluated parameters in elderly individuals with DMM.
View Full-Text
►

▼

Figures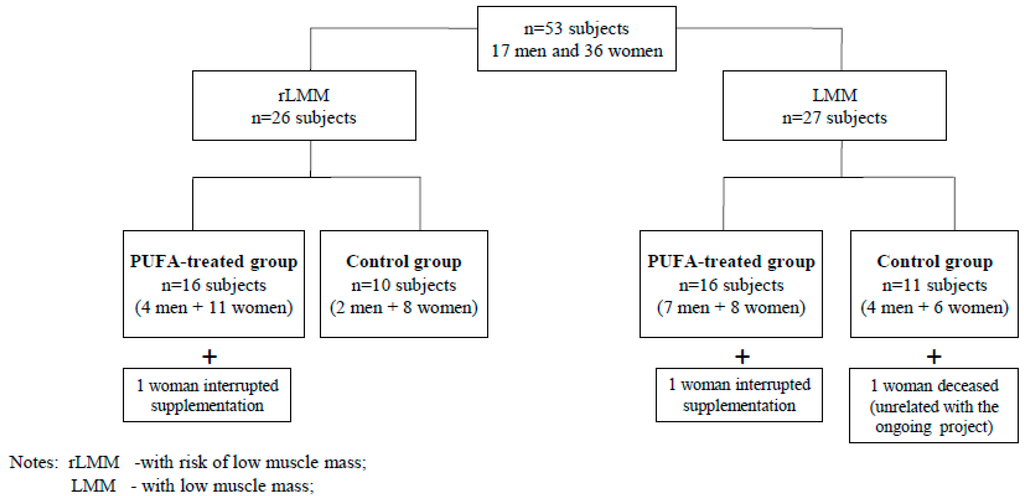 Figure 1
This is an open access article distributed under the
Creative Commons Attribution License
which permits unrestricted use, distribution, and reproduction in any medium, provided the original work is properly cited (CC BY 4.0).

Share & Cite This Article
MDPI and ACS Style
Krzymińska-Siemaszko, R.; Czepulis, N.; Lewandowicz, M.; Zasadzka, E.; Suwalska, A.; Witowski, J.; Wieczorowska-Tobis, K. The Effect of a 12-Week Omega-3 Supplementation on Body Composition, Muscle Strength and Physical Performance in Elderly Individuals with Decreased Muscle Mass. Int. J. Environ. Res. Public Health 2015, 12, 10558-10574.
Related Articles
Comments
[Return to top]