Exploring Powered Wheelchair Users and Their Caregivers' Perspectives on Potential Intelligent Power Wheelchair Use: A Qualitative Study
1
School of Rehabilitation, Université de Montréal, C.P. 6128 Succursale Centre-Ville, Montréal, QC H3C 3J7, Canada
2
Center for Interdisciplinary Research in Rehabilitation (CRIR)—IRGLM Site, 6300 Avenue Darlington, Montréal, QC H3S 2J4, Canada
3
Centre de Recherche de l'Institut Universitaire de Gériatrie de Montréal (CRIUGM), 4545 Chemin Queen Mary, Montréal, QC H3W 1W4, Canada
4
School of Physical and Occupational Therapy, McGill University, 3654 Promenade Sir-William-Osler, Montréal, QC H3G 1Y5, Canada
5
Center for Interdisciplinary Research in Rehabilitation (CRIR)—JRH Site, 3205 Place Alton-Goldbloom, Laval, QC H7V 1R2, Canada
6
Polytechnique Montréal, C.P. 6079 Succursale Centre-Ville, Montréal, QC H3C 3A7, Canada
7
Department of Rehabilitation, Faculty of Medicine, Université Laval, Pavillon Ferdinand-Vandry, 1050 Avenue de la Médecine, Québec, QC G1V 0A6, Canada
8
Center for Interdisciplinary Research in Rehabilitation and Social Integration (CIRRIS), Institut de Réadaptation en Déficience Physique de Québec (IRDPQ), 525 Boulevard Hamel, Québec, QC G1M 2S8, Canada
9
School of Computer Science, McGill University, 3480 University Street, Montréal, QC H3A 0E9, Canada
*
Author to whom correspondence should be addressed.
Received: 2 December 2013 / Revised: 30 January 2014 / Accepted: 10 February 2014 / Published: 21 February 2014
Abstract
Power wheelchairs (PWCs) can have a positive impact on user well-being, self-esteem, pain, activity and participation. Newly developed intelligent power wheelchairs (IPWs), allowing autonomous or collaboratively-controlled navigation, could enhance mobility of individuals not able to use, or having difficulty using, standard PWCs. The objective of this study was to explore the perspectives of PWC users (PWUs) and their caregivers regarding if and how IPWs could impact on current challenges faced by PWUs, as well as inform current development of IPWs. A qualitative exploratory study using individual interviews was conducted with PWUs (n = 12) and caregivers (n = 4). A semi-structured interview guide and video were used to facilitate informed discussion regarding IPWs. Thematic analysis revealed three main themes: (1) "challenging situations that may be overcome by an IPW" described how the IPW features of obstacle avoidance, path following, and target following could alleviate PWUs' identified mobility difficulties; (2) "cautious optimism concerning IPW use revealed participants" addresses concerns regarding using an IPW as well as technological suggestions; (3) "defining the potential IPW user" revealed characteristics of PWUs that would benefit from IPW use. Findings indicate how IPW use may help overcome PWC difficulties and confirm the importance of user input in the ongoing development of IPWs.
View Full-Text
►

▼

Figures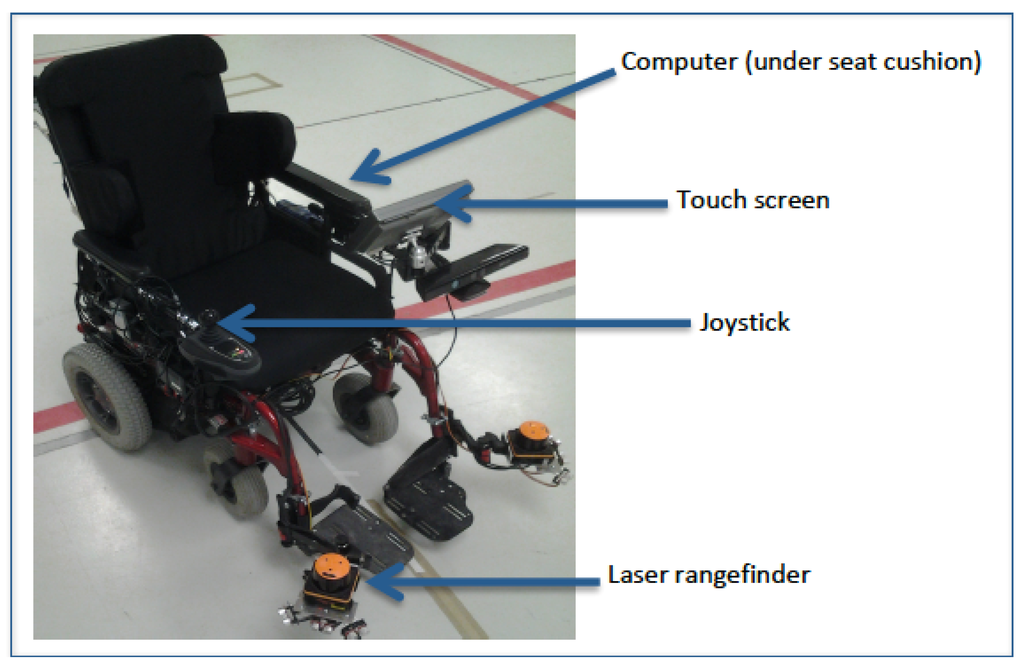 Figure 1

Share & Cite This Article
MDPI and ACS Style
Kairy, D.; Rushton, P.W.; Archambault, P.; Pituch, E.; Torkia, C.; El Fathi, A.; Stone, P.; Routhier, F.; Forget, R.; Demers, L.; Pineau, J.; Gourdeau, R. Exploring Powered Wheelchair Users and Their Caregivers' Perspectives on Potential Intelligent Power Wheelchair Use: A Qualitative Study. Int. J. Environ. Res. Public Health 2014, 11, 2244-2261.
Related Articles
Comments
[Return to top]