Chlorpyrifos Exposure and Respiratory Health among Adolescent Agricultural Workers
1
Department of Epidemiology and Environmental Health, State University of New York at Buffalo, 270 Farber Hall, Buffalo, NY 14214, USA
2
Community Medicine and Public Health Department, Faculty of Medicine, Menoufia University, Shebin El-Kom 32511, Egypt
3
Clinical Pathology and Hematology and Immunology, Menoufia University, Shebin El-Kom 32511, Egypt
4
Department of Pharmacology and Toxicology, State University of New York at Buffalo, 102 Farber Hall, Buffalo, NY 14214, USA
5
Department of Occupational and Environmental Health, University of Iowa, 145 N. Riverside Drive 100 CPHB Iowa City, IA 52242, USA
6
Oregon Institute of Occupational Health Sciences, Oregon Health and Science University, 3181 SW Sam Jackson Park Road, L606 Portland, OR 97239, USA
*
Author to whom correspondence should be addressed.
Received: 29 October 2014 / Revised: 4 December 2014 / Accepted: 11 December 2014 / Published: 16 December 2014
Abstract
Chlorpyrifos (CPF) is a commonly used organophosphate insecticide (OP). In adults, exposure to OPs has been inconsistently associated with reduced lung function. OP exposure and lung function has not been assessed in adolescents. The objective of this study was to assess CPF exposure and lung function among Egyptian adolescents. We conducted a 10-month study of male adolescent pesticide applicators (n = 38) and non-applicators of similar age (n = 24). Urinary 3,5,6-trichloro-2-pyridinol (TPCy), a CPF-specific metabolite, was analyzed in specimens collected throughout the study. Spirometry was performed twice after pesticide application: day 146, when TCPy levels were elevated and day 269, when TCPy levels were near baseline. Applicators had higher levels of TCPy (mean cumulative TCPy day 146 = 33,217.6; standard deviation (SD) = 49,179.3) than non-applicators (mean cumulative TCPy day 146 = 3290.8; SD = 3994.9). Compared with non-applicators, applicators had higher odds of reporting wheeze, odds ratio = 3.41 (95% CI: 0.70; 17.41). Cumulative urinary TCPy was inversely associated with spirometric measurements at day 146, but not at day 269. Although generally non-significant, results were consistent with an inverse association between exposure to CPF and lung function.
View Full-Text
►

▼

Figures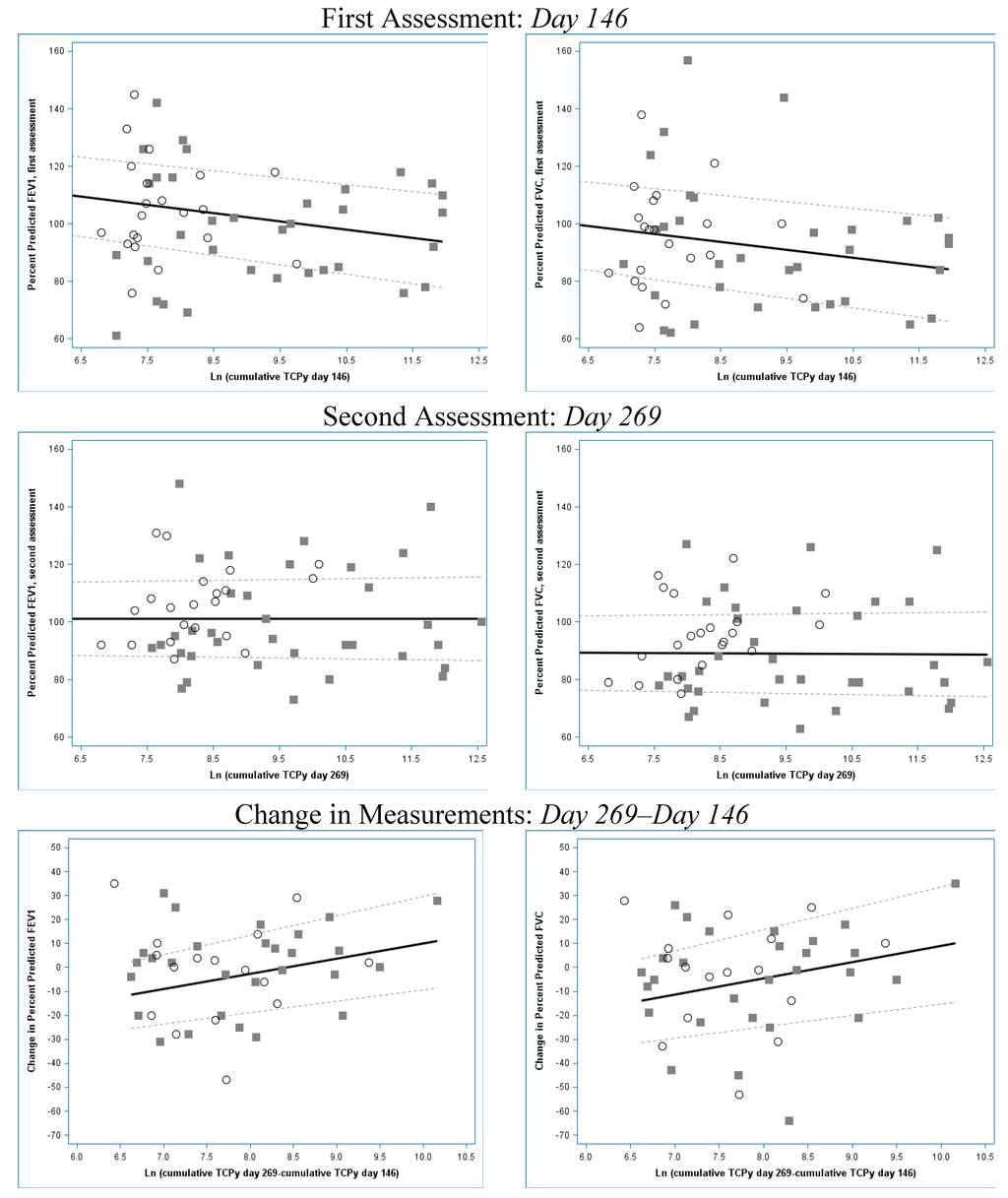 Figure 1
This is an open access article distributed under the
Creative Commons Attribution License
which permits unrestricted use, distribution, and reproduction in any medium, provided the original work is properly cited (CC BY 4.0).

Share & Cite This Article
MDPI and ACS Style
Callahan, C.L.; Al-Batanony, M.; Ismail, A.A.; Abdel-Rasoul, G.; Hendy, O.; Olson, J.R.; Rohlman, D.S.; Bonner, M.R. Chlorpyrifos Exposure and Respiratory Health among Adolescent Agricultural Workers. Int. J. Environ. Res. Public Health 2014, 11, 13117-13129.
Related Articles
Comments
[Return to top]