Effectiveness of a Multi-Component Smoking Cessation Support Programme (McSCSP) for Patients with Severe Mental Disorders: Study Design
1
Departmento de Psiquiatría, Universidad de Oviedo, 33006 Oviedo, Spain
2
Centro de Investigación Biomédica en Red de Salud Mental, CIBERSAM, Universidad de Oviedo, 33006 Oviedo, Spain
3
Universidad Nacional de la Patagonia Austral, Puerto San Julián, 9310 Santa Cruz, Argentina
4
Instituto Interuniversitario de Postgrado en Salud, Santa Rosa, 6300 La Pampa, Argentina
5
Complejo Hospitalario de Jaén, Equipo de Salud Mental de Andújar, 23740 Jaén, Spain
6
Unidad de Psicosis Refractarias, Hospital Psiquiátrico de Álava, 01006 Vitoria, Spain
7
Centro de Investigación Biomédica en Red de Salud Mental, CIBERSAM, Universidad del País Vasco, 48940 Leioa-Bizkaia, Spain
*
Author to whom correspondence should be addressed.
Received: 1 November 2013 / Revised: 13 December 2013 / Accepted: 14 December 2013 / Published: 24 December 2013
Abstract
Only a few studies have examined the efficacy and safety of smoking cessation programmes in patients with mental disorders. The aim of this paper is to describe in detail the methodology used in the study as well as the Multi-component Smoking Cessation Support Programme in terms of pharmacological treatments and psychological interventions. An open-label 9-month follow-up study was conducted in Spain. A total of 82 clinically stable outpatients with schizophrenia, schizoaffective or bipolar disorder were enrolled. Treatment consisted of a programme specifically developed by the research team for individuals with severe mental disorders. The programme consisted of two phases: (1) weekly individual motivational therapy for 4–12 weeks, and (2) a 12-week active treatment phase. During this phase, at each study visit patients received a one- or two-week supply of medication (transdermal nicotine patches, varenicline or bupropion) with instructions on how to take it, in addition to group psychotherapy for smoking cessation. Evaluations were performed: (1) at the time of enrolment in the study, (2) during the 12-week active treatment phase of the study (weekly for the first 4 weeks and then biweekly), and (3) after the end of this phase (two follow-up assessments at weeks 12 and 24). Evaluations included: (1) smoking history, (2) substance use, (3) psychopathology, (4) adverse events, and (5) laboratory tests. The importance of this study lies in addressing a topical issue often ignored by psychiatrists: the unacceptably high rates of tobacco use in patients with severe mental disorders.
View Full-Text
►

▼

Figures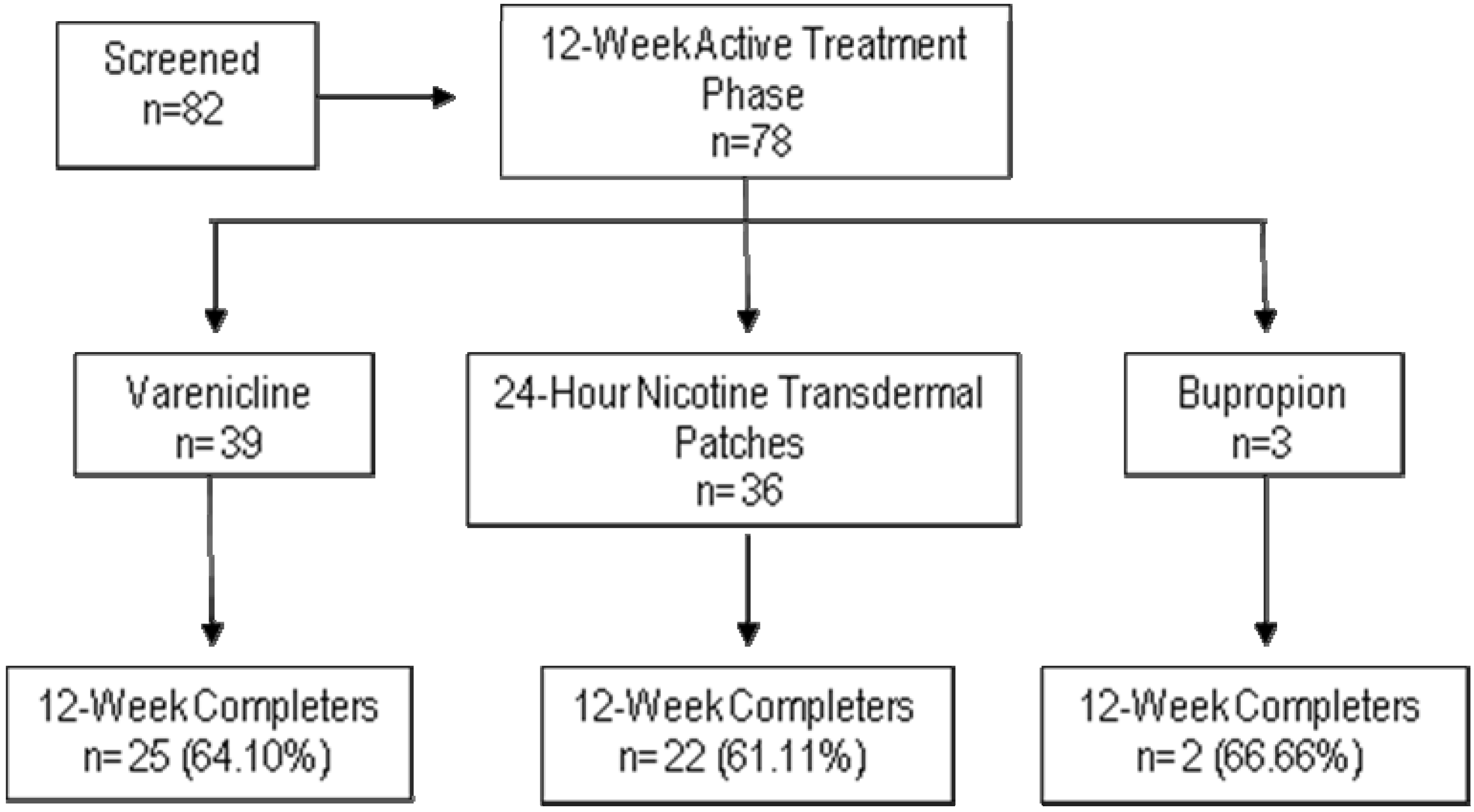 Figure 1

Share & Cite This Article
MDPI and ACS Style
Garcia-Portilla, M.P.; Garcia-Alvarez, L.; Saiz, P.A.; Diaz-Mesa, E.; Galvan, G.; Sarramea, F.; Garcia-Blanco, J.; Elizagarate, E.; Bobes, J. Effectiveness of a Multi-Component Smoking Cessation Support Programme (McSCSP) for Patients with Severe Mental Disorders: Study Design. Int. J. Environ. Res. Public Health 2014, 11, 373-389.
Related Articles
Comments
[Return to top]