West Nile Virus State of the Art Report of MALWEST Project
1
Department of Hygiene and Epidemiology, Faculty of Medicine, University of Thessaly, Larissa 41222, Greece
2
Laboratory of Entomology and Agricultural Zoology, School of Agricultural Sciences, University of Thessaly, Volos 38446, Greece
3
National Reference Center for Arboviruses, Department of Microbiology, School of Medicine, Aristotle University of Thessaloniki, Thessaloniki 54124, Greece
4
Laboratory of Microbiology and Parasitology, Faculty of Veterinary Medicine, University of Thessaly, Karditsa 43100, Greece
5
Laboratory of Microbiology and Infectious Diseases, School of Veterinary Medicine, Faculty of Health Sciences, Aristotle University of Thessaloniki, Thessaloniki 54124, Greece
6
Laboratory of Pathology, Faculty of Veterinary Medicine, University of Thessaly, Karditsa 43100, Greece
7
Department of Parasitology, Entomology and Tropical Diseases, National School of Public Health, Athens 11521, Greece
8
Laboratory of Biological Control of Pesticides, Benaki Phytopathological Institute, Athens 14561, Greece
9
Hellenic Centre for Disease Control and Prevention (KEELPNO), Athens 15123, Greece
10
Department of Microbiology, Faculty of Medicine, University of Athens, Athens 11527, Greece
*
Author to whom correspondence should be addressed.
†
Nikolaos Vakalis, Ioannis Tselentis, Anna Psaroulaki, Zissis Mamouris, Yeorgios Photis, Maria Papanastassopoulou, Vasiliki Spyrou, Sotirios Tsiodras, Theano Georgakopoulou, Marios Detsis, Evdokia Vassalou, Spyridoula Zarzani, Athanassios Zounos, Katerina Komata, Georgios Balatsos, Stavroula Beleri, Anastasia Mpimpa, Vasilios Papavasilopoulos, Ioannis Rodis, Grigorios Spanakos, Nikolaos Tegos, Maria Mavrouli, Anastasia Stavropoulou, Lida Politi, Georgia Mageira, Varvara Christopoulou, Georgia Diamantopoulou, Nikolaos Spanakis, Georgia Vrioni, Evangelia-Theofano Piperaki, Kornilia Mitsopoulou, Ilias Kioulos, Antonios Michaelakis, Ioannis Stathis, Elpida Papadopoulou, Theodolinta Testa, Ourania Tsakalidou, Katerina Moutou, Theologia Sarafidou, Konstantinos Stamatis, Konstantina Sarri, George Rachiotis, Nikolaos Bitsolas, Charalambos Ioannou, Christos Athanasiou, Christos Gerofotis, Zisis Dalabiras, Periklis Birtsas, Labrini Athanasiou, Vasilis Antalis, Maria Keramarou, Dimosthenis Chochlakis, Maria Konstantinou, Panagiotis Manetos, Stylianos Tsobanoglou, Spyros Mourelatos, Panagiotis Pergantas and Georgios Eleftheriou.
Received: 30 July 2013 / Revised: 11 November 2013 / Accepted: 12 November 2013 / Published: 2 December 2013
Abstract
During the last three years Greece is experiencing the emergence of West Nile virus (WNV) epidemics. Within this framework, an integrated surveillance and control programme (MALWEST project) with thirteen associate partners was launched aiming to investigate the disease and suggest appropriate interventions. One out of seven work packages of the project is dedicated to the State of the Art report for WNV. Three expert working groups on humans, animals and mosquitoes were established. Medical databases (PubMed, Scopus) were searched together with websites: e.g., WHO, CDC, ECDC. In total, 1,092 relevant articles were initially identified and 258 of them were finally included as references regarding the current knowledge about WNV, along with 36 additional sources (conference papers, reports, book chapters). The review is divided in three sections according to the fields of interest: (1) WNV in humans (epidemiology, molecular characteristics, transmission, diagnosis, treatment, prevention, surveillance); (2) WNV in animals (epidemiological and transmission characteristics concerning birds, horses, reptiles and other animal species) and (3) WNV in mosquitoes (control, surveillance). Finally, some examples of integrated surveillance programmes are presented. The introduction and establishment of the disease in Greece and other European countries further emphasizes the need for thorough research and broadening of our knowledge on this viral pathogen.
View Full-Text
►

▼

Figures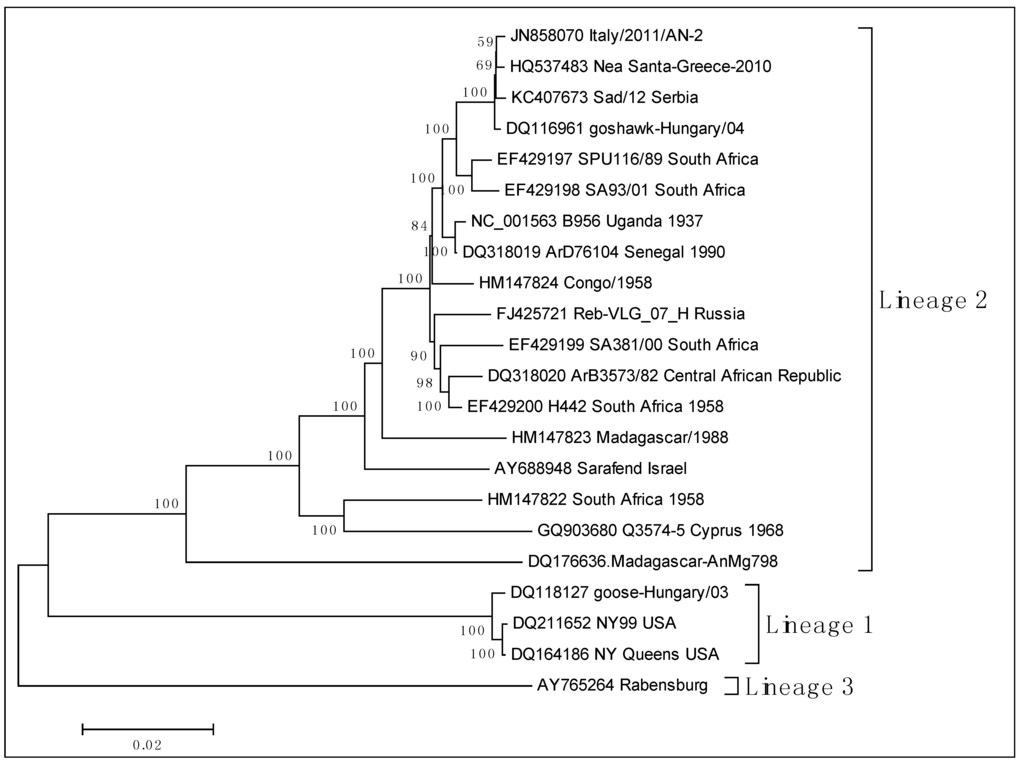 Figure 1

Share & Cite This Article
MDPI and ACS Style
Marka, A.; Diamantidis, A.; Papa, A.; Valiakos, G.; Chaintoutis, S.C.; Doukas, D.; Tserkezou, P.; Giannakopoulos, A.; Papaspyropoulos, K.; Patsoula, E.; Badieritakis, E.; Baka, A.; Tseroni, M.; Pervanidou, D.; Papadopoulos, N.T.; Koliopoulos, G.; Tontis, D.; Dovas, C.I.; Billinis, C.; Tsakris, A.; Kremastinou, J.; Hadjichristodoulou, C.; Project, F.T.M. West Nile Virus State of the Art Report of MALWEST Project. Int. J. Environ. Res. Public Health 2013, 10, 6534-6610.
Related Articles
Comments
[Return to top]