Differential Effects of Domoic Acid and
E. coli

Lipopolysaccharide on Tumor Necrosis Factor-α, Transforming Growth Factor-β1 and Matrix Metalloproteinase-9 Release by Rat Neonatal Microglia: Evaluation of the Direct Activation Hypothesis

1

Department of Pharmacology, Chicago College of Osteopathic Medicine, Midwestern University, 555 31st Street, Downers Grove, Illinois 60515, USA

2

Department of Pharmacology, Chicago College of Osteopathic Medicine, Midwestern University, 555 31st Street, Downers Grove, Illinois 60515, USA

3

Department of Pharmacology, Chicago College of Osteopathic Medicine, Midwestern University, 555 31st Street, Downers Grove, Illinois 60515, USA

4

Department of Pharmacology, Chicago College of Osteopathic Medicine, Midwestern University, 555 31st Street, Downers Grove, Illinois 60515, USA

5

Department of Pharmacology, Chicago College of Osteopathic Medicine, Midwestern University, 555 31st Street, Downers Grove, Illinois 60515, USA

6

Abbott Laboratories, Abbott Park, Illinois 60064, USA

7

GlaxoSmithKline Pharmaceuticals, Department of Cardiovascular Pharmacology, King of Prussia, Pennsylvania 19406, USA

8

Harbor Branch Oceanographic Institution, Division of Biomedical Marine Research, 5600 US 1 North, Fort Pierce, FL 34946, USA

*

Author to whom correspondence should be addressed.

Received: 24 August 2007 / Accepted: 20 September 2007 / Published: 24 September 2007
Abstract
The excitatory amino acid domoic acid is the causative agent of amnesic shellfish poisoning in humans. The
in vitro
effects of domoic acid on rat neonatal brain microglia were compared with
E. coli
lipopolysaccharide (LPS), a known activator of microglia mediator release over a 4 to 24 hour observation period. LPS [3 ng/mL] but not domoic acid [1mM] stimulated a statistically significant increase in TNF-α mRNA and protein generation. Furthermore, both LPS and domoic acid did not significantly affect TGF- β1 gene expression and protein release. Finally, an
in vitro
exposure of microglia to LPS resulted in statistically significant MMP-9 expression and release, thus extending and confirming our previous observations. However, in contrast, no statistically significant increase in MMP-9 expression and release was observed after domoic acid treatment. Taken together our observations do not support the hypothesis that a short term (4 to 24 hours) in vitro exposure to domoic acid, at a concentration toxic to neuronal cells, activates rat neonatal microglia and the concomitant release of the pro-inflammatory mediators tumor necrosis factor-α (TNF-α) and matrix metalloproteinases-9 (MMP-9), as well as the anti- inflammatory cytokine transforming growth factor β1 (TGF-β1).
View Full-Text
►

▼

Figures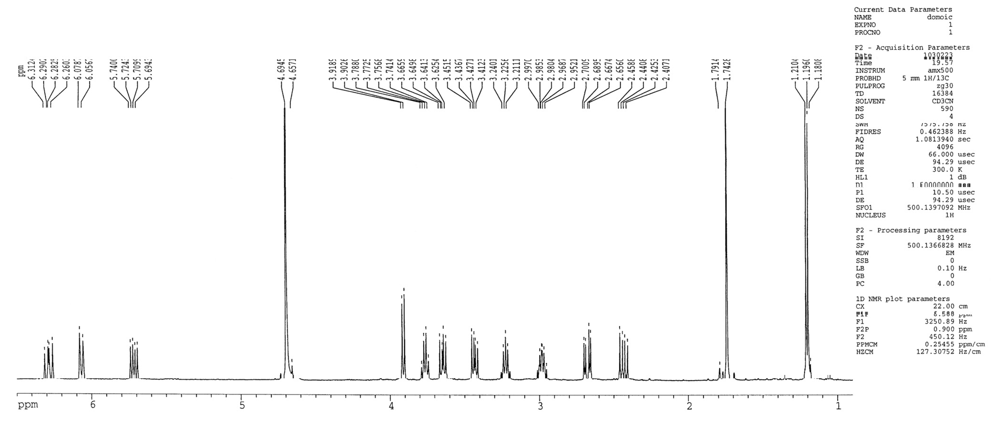 Figure 1

Share & Cite This Article
MDPI and ACS Style
Mayer, A.M.S.; Guzman, M.; Peksa, R.; Hall, M.; Fay, M.J.; Jacobson, P.B.; Romanic, A.M.; Gunasekera, S.P. Differential Effects of Domoic Acid and E. coli Lipopolysaccharide on Tumor Necrosis Factor-α, Transforming Growth Factor-β1 and Matrix Metalloproteinase-9 Release by Rat Neonatal Microglia: Evaluation of the Direct Activation Hypothesis. Mar. Drugs 2007, 5, 113-135.
Related Articles
Comments
[Return to top]