In Vitro

Anticancer Activity of Phlorofucofuroeckol A via Upregulation of Activating Transcription Factor 3 against Human Colorectal Cancer Cells

1

Department of Bioresource Sciences, Andong National University, Andong 36729, Korea

2

Chuncheon Bioindustry Foundation, Chuncheon 24234, Korea

3

Department of Herbal Medicine Resource, Kangwon National University, Dogye 25949, Korea

4

Gyeongbuk Institute for Marine Bioindustry, Uljin 36315, Korea

*

Author to whom correspondence should be addressed.

†

These authors equally contributed to this study.

Academic Editor: Keith B. Glaser

Received: 28 February 2016 / Revised: 18 March 2016 / Accepted: 24 March 2016 / Published: 29 March 2016
Abstract
Phlorofucofuroeckol A (PFF-A), one of the phlorotannins found in brown algae, has been reported to exert anti-cancer property. However, the molecular mechanism for the anti-cancer effect of PFF-A has not been known. Activating transcription factor 3 (ATF3) has been reported to be associated with apoptosis in colorectal cancer. The present study was performed to investigate the molecular mechanism by which PFF-A stimulates ATF3 expression and apoptosis in human colorectal cancer cells. PFF-A decreased cell viability through apoptosis of human colorectal cancer cells. PFF-A increased ATF3 expression through regulating transcriptional activity. The responsible
cis
-element for ATF3 transcriptional activation by PFF-A was cAMP response element binding protein (CREB), located between positions −147 and −85 of the ATF3 promoter. Inhibition of p38, c-Jun
N
-terminal kinases (JNK), glycogen synthase kinase (GSK) 3β, and IκB kinase (IKK)-α blocked PFF-A-mediated ATF3 expression. ATF3 knockdown by ATF3 siRNA attenuated the cleavage of poly (ADP-ribose) polymerase (PARP) by PFF-A, while ATF3 overexpression increased PFF-A-mediated cleaved PARP. These results suggest that PFF-A may exert anti-cancer property through inducing apoptosis via the ATF3-mediated pathway in human colorectal cancer cells.
View Full-Text
►

▼

Figures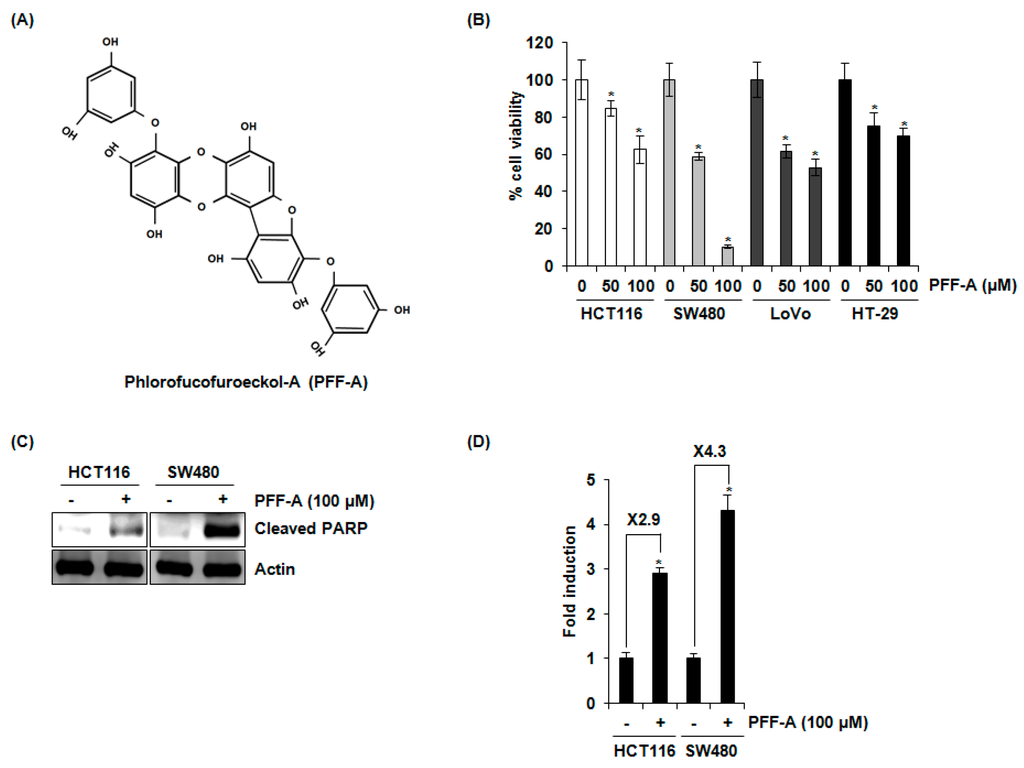 Figure 1
This is an open access article distributed under the
Creative Commons Attribution License
which permits unrestricted use, distribution, and reproduction in any medium, provided the original work is properly cited (CC BY 4.0).

Share & Cite This Article
MDPI and ACS Style
Eo, H.J.; Kwon, T.-H.; Park, G.H.; Song, H.M.; Lee, S.-J.; Park, N.-H.; Jeong, J.B. In Vitro Anticancer Activity of Phlorofucofuroeckol A via Upregulation of Activating Transcription Factor 3 against Human Colorectal Cancer Cells. Mar. Drugs 2016, 14, 69.
Note that from the first issue of 2016, MDPI journals use article numbers instead of page numbers. See further details here.
Related Articles
Comments
[Return to top]