c-Jun
N

-Terminal Kinase Phosphorylation Is a Biomarker of Plitidepsin Activity

1

PharmaMar, Avda. De los Reyes, 1, Pol. Ind. La Mina-Norte, Colmenar Viejo E-28770, Madrid, Spain

2

National Epidemiology Centre, Monforte de Lemos, 5, Madrid E-28029, Spain

3

Institute for Biomedical Research "Alberto Sols", Spanish National Research Council (CSIC), Autonomous University of Madrid, Arturo Duperier, 4, Madrid E-28029, Spain

*

Author to whom correspondence should be addressed.

†

Current address: Atelerix Consulting, BOX 612, Clinton, CT 06413, USA.

Received: 27 February 2013 / Revised: 1 April 2013 / Accepted: 18 April 2013 / Published: 21 May 2013
Abstract
Plitidepsin is an antitumor drug of marine origin currently in Phase III clinical trials in multiple myeloma. In cultured cells, plitidepsin induces cell cycle arrest or an acute apoptotic process in which sustained activation of c-Jun
N
-terminal kinase (JNK) plays a crucial role. With a view to optimizing clinical use of plitidepsin, we have therefore evaluated the possibility of using JNK activation as an
in vivo
biomarker of response. In this study, we show that administration of a single plitidepsin dose to mice xenografted with human cancer cells does indeed lead to increased phosphorylation of JNK in tumors at 4 to 12 h. By contrast, no changes were found in other
in vitro
plitidepsin targets such as the levels of phosphorylated-ERK, -p38MAPK or the protein p27
KIP1
. Interestingly, plitidepsin also increased JNK phosphorylation in spleens from xenografted mice showing similar kinetics to those seen in tumors, thereby suggesting that normal tissues
might be useful for predicting drug activity. Furthermore, plitidepsin administration to rats at plasma concentrations comparable to those achievable in patients also increased JNK phosphorylation in peripheral mononuclear blood cells. These findings suggest that changes in JNK activity provide a reliable biomarker for plitidepsin activity and this could be useful for designing clinical trials and maximizing the efficacy of plitidepsin.
View Full-Text
►

▼

Figures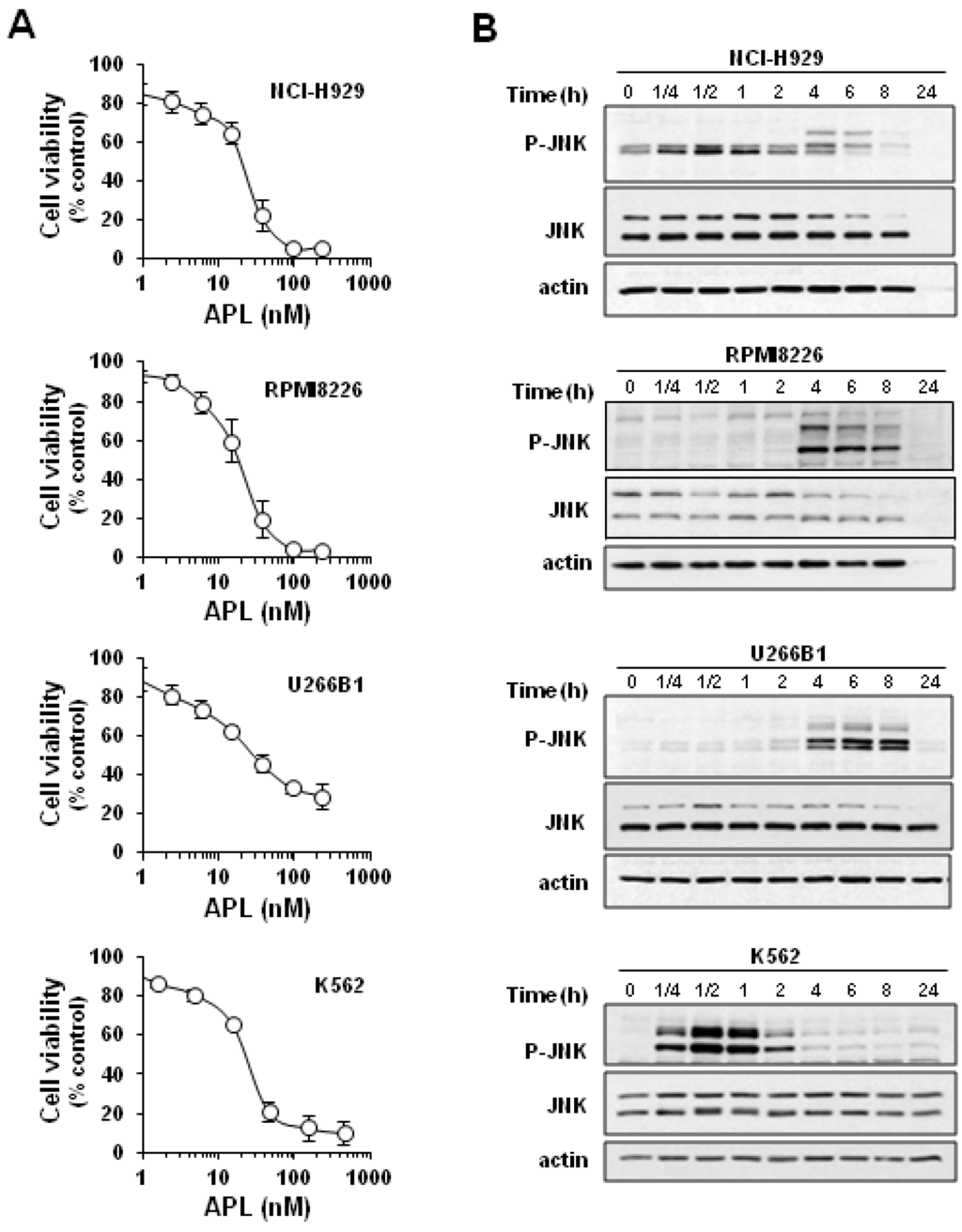 Figure 1

Share & Cite This Article
MDPI and ACS Style
Muñoz-Alonso, M.J.; Álvarez, E.; Guillén-Navarro, M.J.; Pollán, M.; Avilés, P.; Galmarini, C.M.; Muñoz, A. c-Jun N-Terminal Kinase Phosphorylation Is a Biomarker of Plitidepsin Activity. Mar. Drugs 2013, 11, 1677-1692.
Related Articles
Comments
[Return to top]