Asperolide A, a Marine-Derived Tetranorditerpenoid, Induces G2/M Arrest in Human NCI-H460 Lung Carcinoma Cells, Is Mediated by p53-p21 Stabilization and Modulated by Ras/Raf/MEK/ERK Signaling Pathway
1
Department of Biochemistry and Molecular Biology, College of Basic Medical Second Military Medical University, 800 Xiangyin Road, Shanghai 200433, China
2
Key Laboratory of Experimental Marine Biology, Institute of Oceanology, Chinese Academy of Sciences, Qingdao 266071, China
3
VIP Medicine Department, Changhai Hospital, Shanghai 200433, China
*
Authors to whom correspondence should be addressed.
†
These authors contributed equally to this work.
Received: 30 November 2012 / Revised: 6 January 2013 / Accepted: 14 January 2013 / Published: 29 January 2013
Abstract
Here we first demonstrate that asperolide A, a very recently reported marine-derived tetranorditerpenoid, leads to the inhibition of NCI-H460 lung carcinoma cell proliferation by G2/M arrest with the activation of the Ras/Raf/MEK/ERK signaling and p53-dependent p21 pathway. Treatment with 35 μM asperolide A (2 × IC
50
) resulted in a significant increase in the proportion of G2/M phase cells, about a 2.9-fold increase during 48 h. Immunoblot assays demonstrated time-dependent inhibition of G2/M regulatory proteins. Moreover, asperolide A significantly activated MAP kinases (ERK1/2, JNK and p38 MAP kinase) by phosphorylation, and only the inhibition of ERK activation by PD98059 reversed downregulation of G2/M regulatory proteins CDC2, and suppressed upregulation of p21 and p-p53 levels. Transfection of cells with dominant-negative Ras (RasN17) mutant genes up-regulated asperolide A-induced the decrease of cyclin B1 and CDC2, suppressed Raf, ERK activity and p53-p21 expression, and at last, abolished G2/M arrest. This study indicates that asperolide A-induced G2/M arrest in human NCI-H460 lung carcinoma cells relys on the participation of the Ras/Raf/MEK/ERK signaling pathway in p53-p21 stabilization. An
in vivo
study with asperolide A illustrated a marked inhibition of tumor growth, and little toxcity compared to Cisplatin therapy. Overall, these findings provide potential effectiveness and a theoretical basis for the therapeutic use of asperolide A in the treatment of malignancies.
View Full-Text
►

▼

Figures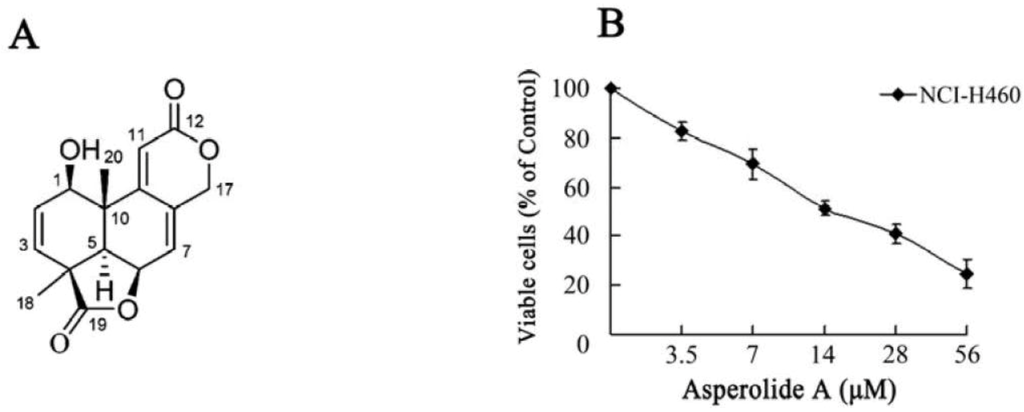 Figure 1

Share & Cite This Article
MDPI and ACS Style
Lv, C.; Sun, W.; Sun, H.; Wei, S.; Chen, R.; Wang, B.; Huang, C. Asperolide A, a Marine-Derived Tetranorditerpenoid, Induces G2/M Arrest in Human NCI-H460 Lung Carcinoma Cells, Is Mediated by p53-p21 Stabilization and Modulated by Ras/Raf/MEK/ERK Signaling Pathway. Mar. Drugs 2013, 11, 316-331.
Related Articles
Comments
[Return to top]