HPLC-ESI-IT-MS/MS Analysis and Biological Activity of Triterpene Glycosides from the Colombian Marine Sponge
Ectyoplasia ferox
1
Grupo de Investigación Productos Naturales Marinos, Facultad de Química Farmacéutica, Universidad de Antioquia, Calle 70 N° 52-21, Medellín, Colombia
2
Unidad de Investigación e Innovación, Humax Pharmaceutical S.A, 050010, Itagüí, Colombia
3
Grupo de Biotecnología Animal, Universidad Nacional de Colombia, 050034, Medellín, Colombia
4
Grupo Natura, Facultad de Ciencias Naturales, Universidad ICESI, 760050, Cali, Colombia
*
Author to whom correspondence should be addressed.
Received: 17 September 2013 / Revised: 28 October 2013 / Accepted: 13 November 2013 / Published: 2 December 2013
Abstract
The marine sponge
Ectyoplasia ferox
produces antipredatory and allelopathic triterpenoid glycosides as part of its chemical defense repertoire against predators, competitors, and fouling organisms. These molecules are responsible for the pharmacological potential found in the glycosides present in this species. In order to observe the glycochemical diversity present in
E
.
ferox
,
a liquid chromatography coupled to a tandem mass spectrometry approach to analyse a complex polar fraction of this marine sponge was performed. This gave valuable information for about twenty-five compounds three of which have been previously reported and another three which were found to be composed of known aglycones. Furthermore, a group of four urabosides, sharing two uncommon substitutions with carboxyl groups at C-4 on the terpenoid core, were identified by a characteristic fragmentation pattern. The oxidized aglycones present in this group of saponins can promote instability, making the purification process difficult. Cytotoxicity, cell cycle modulation, a cell cloning efficiency assay, as well as its hemolytic activity were evaluated. The cytotoxic activity was about IC
50
40 µg/mL on Jurkat and CHO-k
1
cell lines without exhibiting hemolysis. Discussion on this bioactivity suggests the scanning of other biological models would be worthwhile.
View Full-Text
►

▼

Figures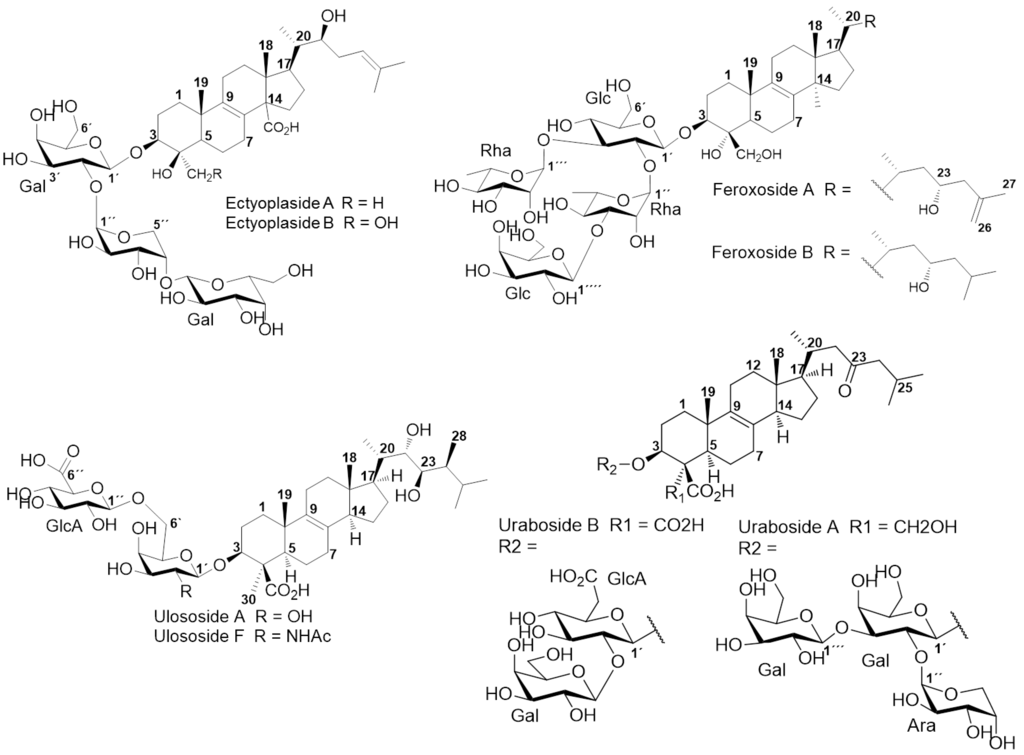 Figure 1

Share & Cite This Article
MDPI and ACS Style
Colorado-Ríos, J.; Muñoz, D.; Montoya, G.; Márquez, D.; Márquez, M.-E.; López, J.; Martínez, A. HPLC-ESI-IT-MS/MS Analysis and Biological Activity of Triterpene Glycosides from the Colombian Marine Sponge Ectyoplasia ferox. Mar. Drugs 2013, 11, 4815-4833.
Related Articles
Comments
[Return to top]