Integrated Metagenomic and Metatranscriptomic Analyses of Microbial Communities in the Meso- and Bathypelagic Realm of North Pacific Ocean
1
Center for Biosignatures Discovery Automation, Biodesign Institute, Arizona State University, Tempe, AZ 85287-6501, USA
2
School of Chemical Engineering and Technology, Tianjin University, Tianjin 300072, China
*
Authors to whom correspondence should be addressed.
Received: 9 July 2013 / Revised: 11 September 2013 / Accepted: 13 September 2013 / Published: 11 October 2013
Abstract
Although emerging evidence indicates that deep-sea water contains an untapped reservoir of high metabolic and genetic diversity, this realm has not been studied well compared with surface sea water. The study provided the first integrated meta-genomic and -transcriptomic analysis of the microbial communities in deep-sea water of North Pacific Ocean. DNA/RNA amplifications and simultaneous metagenomic and metatranscriptomic analyses were employed to discover information concerning deep-sea microbial communities from four different deep-sea sites ranging from the mesopelagic to pelagic ocean. Within the prokaryotic community, bacteria is absolutely dominant (~90%) over archaea in both metagenomic and metatranscriptomic data pools. The emergence of archaeal phyla
Crenarchaeota
,
Euryarchaeota
,
Thaumarchaeota
, bacterial phyla
Actinobacteria
,
Firmicutes
, sub-phyla
Betaproteobacteria
,
Deltaproteobacteria
, and
Gammaproteobacteria
, and the decrease of bacterial phyla
Bacteroidetes
and
Alphaproteobacteria
are the main composition changes of prokaryotic communities in the deep-sea water, when compared with the reference Global Ocean Sampling Expedition (GOS) surface water. Photosynthetic
Cyanobacteria
exist in all four metagenomic libraries and two metatranscriptomic libraries. In Eukaryota community, decreased abundance of fungi and algae in deep sea was observed. RNA/DNA ratio was employed as an index to show metabolic activity strength of microbes in deep sea. Functional analysis indicated that deep-sea microbes are leading a defensive lifestyle.
View Full-Text
►

▼

Figures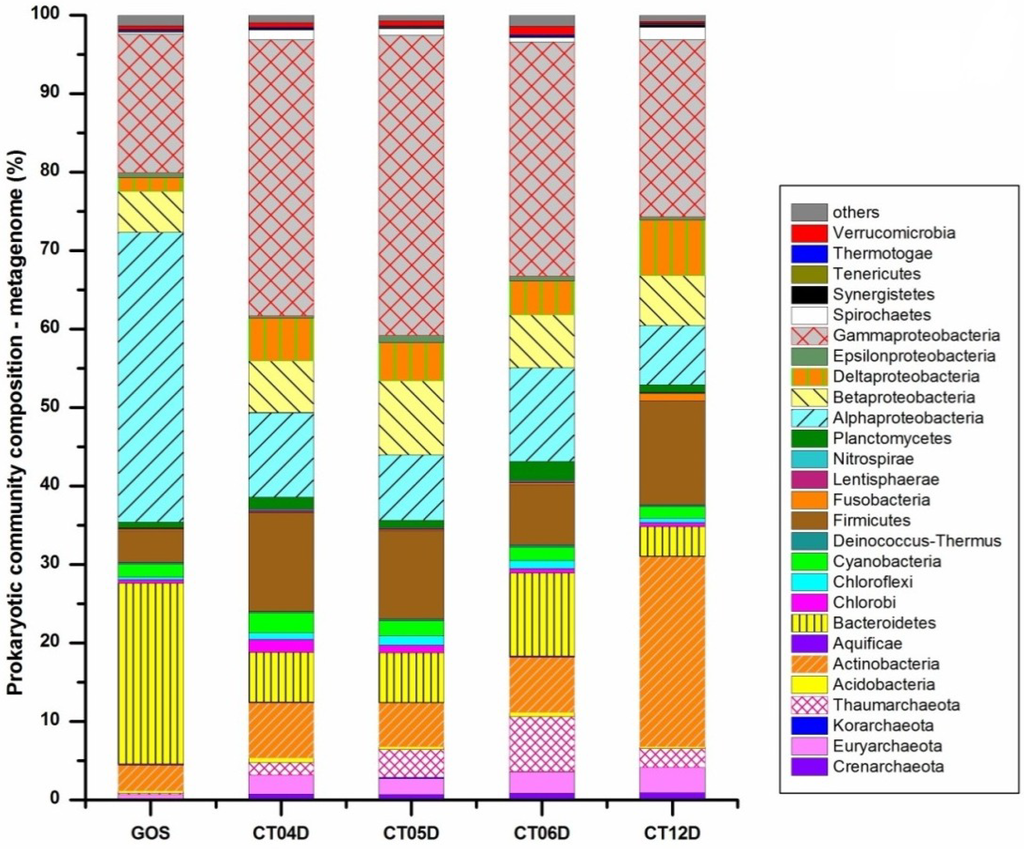 Figure 1

Share & Cite This Article
MDPI and ACS Style
Wu, J.; Gao, W.; Johnson, R.H.; Zhang, W.; Meldrum, D.R. Integrated Metagenomic and Metatranscriptomic Analyses of Microbial Communities in the Meso- and Bathypelagic Realm of North Pacific Ocean. Mar. Drugs 2013, 11, 3777-3801.
Related Articles
Comments
[Return to top]