Cellular and Transcriptional Responses of
Crassostrea gigas

Hemocytes Exposed

in Vitro

to Brevetoxin (PbTx-2)

1

Laboratory of Immunology Applied to Aquaculture, Department of Cell Biology, Embryology and Genetics, Biological Sciences Center, Federal University of Santa Catarina, 88040-900, Florianópolis, SC, Brazil

2

Laboratory of Cell Defense, Department of Biochemistry, Biological Sciences Center, Federal University of Santa Catarina, 88040-900, Florianópolis, SC, Brazil

*

Author to whom correspondence should be addressed.

Received: 31 January 2012 / Revised: 20 February 2012 / Accepted: 24 February 2012 / Published: 5 March 2012
Abstract
Hemocytes mediate a series of immune reactions essential for bivalve survival in the environment, however, the impact of harmful algal species and their associated phycotoxins upon bivalve immune system is under debate. To better understand the possible toxic effects of these toxins,
Crassostrea gigas
hemocytes were exposed to brevetoxin (PbTx-2). Hemocyte viability, monitored through the neutral red retention and MTT reduction assays, and apoptosis (Hoechst staining) remained unchanged during 12 h of exposure to PbTx-2 in concentrations up to 1000 µg/L. Despite cell viability and apoptosis remained stable, hemocytes incubated for 4 h with 1000 µg/L of PbTx-2 revealed higher expression levels of
Hsp70
(
p
< 0.01) and
CYP356A1
(
p
< 0.05) transcripts and a tendency to increase
FABP
expression, as evaluated by Real-Time quantitative PCR. The expression of other studied genes (
BPI
,
IL-17
,
GSTO
,
EcSOD
,
Prx6
,
SOD
and
GPx
) remained unchanged. The results suggest that the absence of cytotoxic effects of PbTx-2 in
Crassostrea
gigas
hemocytes, even at high concentrations, allow early defense responses to be produced by activating protective mechanisms associated to detoxification (
CYP356A1
and possibly
FABP
) and stress (
Hsp70
), but not to immune or to antioxidant (
BPI
,
IL-17
,
EcSOD
,
Prx6
,
GPx
and
SOD
) related genes.
View Full-Text
►

▼

Figures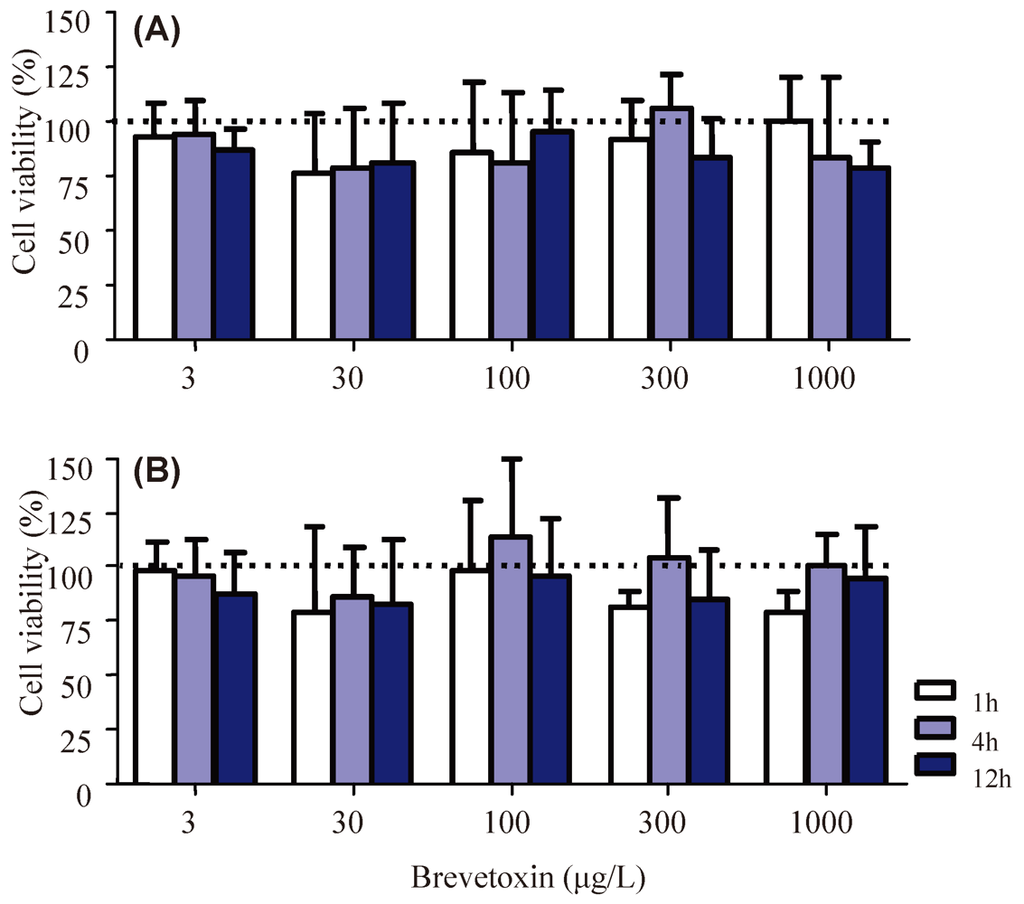 Figure 1

Share & Cite This Article
MDPI and ACS Style
Mello, D.F.; De Oliveira, E.S.; Vieira, R.C.; Simoes, E.; Trevisan, R.; Dafre, A.L.; Barracco, M.A. Cellular and Transcriptional Responses of Crassostrea gigas Hemocytes Exposed in Vitro to Brevetoxin (PbTx-2). Mar. Drugs 2012, 10, 583-597.
Related Articles
Comments
[Return to top]