Open Access
Feature Paper
Article
Compatibility and Efficacy of Isaria fumosorosea with Horticultural Oils for Mitigation of the Asian Citrus Psyllid, Diaphorina citri (Hemiptera: Liviidae)
Received: 29 September 2017 / Revised: 20 October 2017 / Accepted: 27 October 2017 / Published: 31 October 2017
PDF Full-text (2243 KB) | HTML Full-text | XML Full-text
Abstract
Horticultural oils are an important component of integrated management programs of several phytophagous arthropods and pathogens affecting fruit, ornamentals and vegetables in greenhouse and field production systems. Although effective against the target pest, their incompatibility with biological control agents can compromise efforts to
[...] Read more.
Horticultural oils are an important component of integrated management programs of several phytophagous arthropods and pathogens affecting fruit, ornamentals and vegetables in greenhouse and field production systems. Although effective against the target pest, their incompatibility with biological control agents can compromise efforts to develop eco-friendly management programs for important agricultural pests. In this study, we assessed the in vitro effect of selected refined petroleum oils used in citrus and other horticultural crops with a biopesticide containing the entomopathogenic fungi,
Isaria fumosorosea
(PFR-97) under laboratory conditions. Further, we used leaf disk bioassays to evaluate the combined efficacy of petroleum oils and
I. fumosorosea
against the Asian citrus psyllid,
Diaphorina citri
(Hemiptera: Liviidae), a major pest of citrus in the United States. All five petroleum oil treatments (Orchex, Sun Pure, Conoco Blend -1, Conoco Blend -2, and JMS) were compatible with
I. fumosorosea
blastospores, as none of them were found to affect
I. fumosorosea
colony-forming units and radial fungal growth measured at 3, 6, 9, and 12 days post-inoculation. All mixed treatments performed better than
I. fumosorosea
alone against
D. citri
, where the highest mean survival time of
D. citri
was 12.5 ± 0.7 days. No significant differences in
D. citri
survival time and
I. fumosorosea
growth (fungal development index) on dead cadavers, which is important for determining their horizontal transmission, were observed when mixed with Orchex, Sun Pure, Conoco Blend -2, and JMS. Results indicated that horticultural oils in combination with
I. fumosorosea
could offer citrus growers an alternative treatment for integrating into their current management programs while battling against
D. citri
in citrus production systems. Due to their eco-friendly, broad-spectrum effect, it could provide control against various citrus pests, while also encouraging the retention of effective chemistries for a longer period in the marketplace. However promising, these combination treatments need to be tested further with
I. fumosorosea
under grove conditions to confirm their field efficacy.
Full article
►

▼

Figures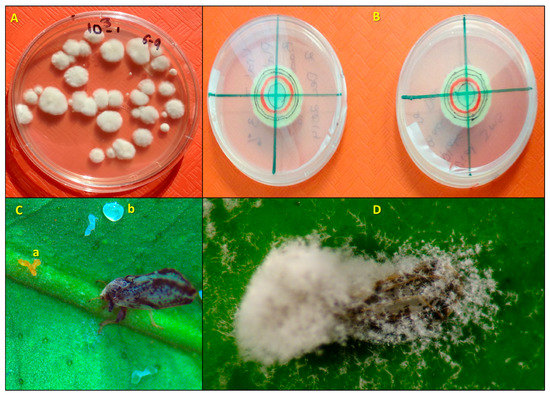 Figure 1