Special Issue "Enzymes and Their Biotechnological Applications"
A special issue of Biomolecules (ISSN 2218-273X).
Deadline for manuscript submissions: closed (30 June 2013)
Printed Edition Available!
A printed edition of this Special Issue is available
here
.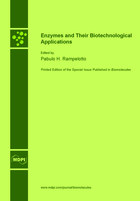 Special Issue Editor
Guest Editor
Prof. Pabulo H. Rampelotto
Center of Biotechnology and PPGBCM, Federal University of Rio Grande do Sul, Porto Alegre, RS, Brazil
E-Mail
Interests:
biotechnology; next generation sequencing; metagenomics; molecular biology and biochemistry of microorganisms; extremophiles; grand challenges
Special Issue Information
Dear Colleagues,
The development of new enzymes is one of the most thriving branches of biotechnology. Although the applications of enzymes are already well established in some areas, recent advances in modern biotechnology have revolutionized the development of new enzymes. The use of genetic engineering has further improved manufacturing processes and enabled the commercialization of enzymes that could previously not be produced. Protein engineering and the possibility of introducing small changes to proteins are bringing ever more powerful means of analysis to the study of enzyme structure and its biochemical and biophysical properties, which have leading to the rational modification of enzymes to match specific requirements and also the design of new enzymes with novel properties. The developments in bioinformatics and the availability of sequence data have significantly increased the efficiency of identifying genes with biotech potential from nature. Complementary to chemical synthesis, biosynthesis of drug metabolites with mammalian or microbial bioreactors offers certain advantages, and sometime is the only practical route to the desired metabolite. At the same time, new technological developments are stimulating the chemical and pharmaceutical industry to embrace enzyme technology. Altogether, these advances have made it possible to provide tailor-made enzymes displaying new activities and adapted to new process conditions, enabling a further expansion of their use in several branches of biotechnology. This Special Issue focuses on the discovery and development of new enzymes and their applications in different areas of biotechnology. The Special Issue will contain a collection of papers written by authors who are leading experts in the field including selected papers from the 4th International Symposium on Enzymes & Biocatalysis (SEB-2013). We cordially welcome you to join us in this endeavor. The submission of comprehensive reviews or original research articles is most welcome. It is an opportunity to take part in and to influence future trends in one of the fastest growing fields of research.
Professor Pabulo Henrique Rampelotto
Guest Editor
Manuscript Submission Information
Manuscripts should be submitted online at www.mdpi.com by registering and logging in to this website. Once you are registered, click here to go to the submission form. Manuscripts can be submitted until the deadline. All papers will be peer-reviewed. Accepted papers will be published continuously in the journal (as soon as accepted) and will be listed together on the special issue website. Research articles, review articles as well as short communications are invited. For planned papers, a title and short abstract (about 100 words) can be sent to the Editorial Office for announcement on this website.
Submitted manuscripts should not have been published previously, nor be under consideration for publication elsewhere (except conference proceedings papers). All manuscripts are thoroughly refereed through a single-blind peer-review process. A guide for authors and other relevant information for submission of manuscripts is available on the Instructions for Authors page. Biomolecules is an international peer-reviewed open access quarterly journal published by MDPI.
Please visit the Instructions for Authors page before submitting a manuscript. The Article Processing Charge (APC) for publication in this open access journal is 650 CHF (Swiss Francs). Submitted papers should be well formatted and use good English. Authors may use MDPI's English editing service prior to publication or during author revisions.
Keywords
biocatalysis polymerization and polymer synthesis
biocatalysis synthesis of chiral molecules
biocatalytic technologies
enzyme biosensor
enzyme inhibitors
environmental enzymology
enzymatic protein engineering technology
extremophilic enzymes
functional genomics and bioinformatics for novel enzymes
industrial biotechnology
new enzyme development
pharmaceutical biotechnology
structural and functional characterization of enzymes
Planned Papers
The below list represents only planned manuscripts. Some of these manuscripts have not been received by the Editorial Office yet. Papers submitted to MDPI journals are subject to peer-review.
Type of Paper: Review
Title: Angling for Uniqueness in Enzymatic Preparation of Glycosides
Author: Antonio Trincone
Affiliation: Institute of Biomolecular Chemistry, National Research Council, Via Campi Flegrei, 34, 80078 Pozzuoli, Naples, Italy; E-Mail: antonio.trincone@icb.cnr.it
Abstract: In the early days of biocatalysis, limitations of an enzyme modeled the enzymatic applications; nowadays, enzymes can be engineered to be suitable for the process requirements. However, this is a general bird's-eye view and cannot be specific for articulated situations found in different class of enzymes or for selected enzymatic processes. As far as the enzymatic preparation of glycosides is concerned, recent scientific literature is crowded with examples of uniqueness related to the features of the biocatalyst (yield, substrate specificity, regioselectivity, resistance to particular reaction condition). The invention of glycosynthases is just one of the aspects that burst forth the research in this field; protein engineering, metagenomics and reaction engineering led to the discovery of an expanding number of novel enzymes and to the setting up of new bio-based processes for the preparation of glycosides. In this review, new examples from last decade are compiled with attention both to cases in which naturally present and genetically inserted characteristic of the catalysts make them attractive for biocatalysis.
Type of Paper: Article
Title: The Effect of Culture Conditions on Lipase Production by Geotrichum Candidum 4013
Authors: Jana Brabcová 1,2 and Marie Zarevúcka 2,*
Affiliations: 1 Institute of Chemical Technology Prague, Faculty of Food and Biochemical Technology, Technická 5, 160 28 Prague 6, Czech Republic
2 Institute of Organic Chemistry and Biochemistry AS CR, Flemingovo n. 2, 166 10 Prague 6, Czech Republic; E-Mail: zarevucka@uochb.cas.cz (M.Z.)
Abstract: The interest in microbial lipase production has increased in the last decades, because of its large potential in a wide range of industrial applications as additives in food processing, fine chemicals, detergents, waste water treatment, diagnostic, cosmetics, pharmaceuticals and medical. Moreover the lipases from Geotrichum candidum are currently the subject of investigation and industrial interest because it shows a strong preference for unsaturated fatty acids. Till now, the studies on lipolytic enzymes produced by Geotrichum sp. were generally focused on increasing or decreasing of their activity reflecting composition of culture media, but not on effects on the production of particular enzymes. Lipases with different specificities can be produced altering the medium composition. Some components of the culture medium can stimulate lipase production while others can act as repressors. The most common stimulators are long chain fatty acids and organic nitrogen sources, while common repressors are glucose and glycerol. The fungus Geotrichum candidum 4013 produces three extracellular lipases (Lip45kDa, Lip59kDa and Lip61kDa). The effect of culture conditions for maximum individual lipase production by Geotrichum candidum 4013 was studied in connection with composition of culture medium, time and temperature of lipase production. The enzymes were tested for their hydrolytic ability to p-nitrophenyl esters and compounds having a structure similar to the original substrate (triacylglycerols).
Type of Paper: Review
Title: Biocatalyst Engineering for Improving Catalytic Performance in Neat Organic Solvents
Authors: Munishwar Nath Gupta*, Joyeeta Mukherjee, Priyanka Dubey, Deepika Malhotra
Affiliation: Department of Chemistry, Indian Institute of Technology Delhi, Hauz Khas, New Delhi 110016, India; Email: munishwar@chemistry.iitd.ernet.in
Abstract: The use of enzymes in nearly anhydrous organic solvent generally results in low initial rates/percentage conversions. The current review focuses on some biocatalyst designs like immobilization on nanomaterials, enzyme precipitated and rinsed with organic solvents (EPROS), crosslinked enzyme crystals (CLEC), crosslinked enzyme aggregates (CLEA), protein coated microcrystals (PCMC) and crosslinked protein coated microcrystals (CLPCMC) which show much better catalytic efficiency in such media as compared to other kinds of biocatalyst preparations. The basic methodology and principle behind these efficient designs is described. The relatively recent results on catalytic promiscuity as seen in low water media as well have also been covered. It is hoped that this will further encourage wider biotechnological applications of enzymes in neat organic solvents.
Type of Paper: Article
Title: Morita-Baylis-Hillman Reaction of 4-Nitrobenzaldehyde with 2-Cyclohexenone Catalysed by Lipases in Aqueous-Organic Co-Solvent Mixtures
Authors: Manali Kapoor , Abir B. Majumder and Munishwar Nath Gupta*
Affiliation: Department of Chemistry, Indian Institute of Technology Delhi, Hauz Khas, New Delhi 110016, India. *Email: munishwar@chemistry.iitd.ernet.in
Abstract: Lipases catalyzed the reaction between 4-nitrobenzaldehyde and 2-cyclohexen-1-one in aqueous-DMSO co-solvent mixtures to give Morita-Baylis-Hillman product and aldol product. Among lipases, Burkholderia cepacia lipase gave the best overall conversion of 96% in 50% (v/v) DMSO while Mucor javanicus lipase showed highest stereoselectivity in the formation of the aldol (79% ee) and Morita-Baylis-Hillman product (63% ee) with 30% (v/v) DMSO.
Type of Paper: Review
Title: Biocatalytic Applications of Transglutaminases
Authors: Natalie Rachel1, 2, 3 and Joelle N. Pelletier1a, 2, 3, 4 *
Affiliations: 1Département de chimie, Université de Montréal, Montréal, Québec H3C 3J7, Canada; 2CGCC, the Center in Green Chemistry and Catalysis, Montréal, Canada; PROTEO, the Québec Network for Protein Function, Structure and Engineering, Québec, Canada; 4Département de biochimie, Université de Montréal, Montréal, Québec H3C 3J7, Canada; Email: joelle.pelletier@umontreal.ca
Abstract: In nature, transglutaminases catalyze the formation of amide bonds between proteins to form insoluble protein aggregates. They have long been applied in the food and textile industries as a protein cross-linking agent to alter the texture of meat, wool and leather. In recent years, novel applications of transglutaminases in areas ranging from materials sciences to medicine have come to light. There has also been a substantial effort to further investigate the fundamentals of transglutaminases, as there are many characteristics that remain poorly understood. These studies also work towards the goal of developing these enzymes as more efficient tools. Progress in this area includes additional structural information and novel chemical and biological assays. We review these recent biocatalytic achievements in order to illustrate the versatility of transglutaminases.
Type of Paper: Article
Title: Total Biosynthesis of Andrastins
Authors: Yudai Matsuda, Takayoshi Awakawa, Ikuro Abe*
Affiliations: Graduate School of Pharmaceutical Sciences, The University of Tokyo; *Email: abei@mol.f.u-tokyo.ac.jp
Abstract: Andrastins (andrastin A-D), produced by several Penicillium species, exhibits an inhibitory activity against the protein farnesyltransferase, and thus can be the leads for antitumor agents. They are the members of the fungal meroterpenoids derived from 3,5-dimethylorsellinic acid (DMOA), which comprise an especially large number of structurally diverse compounds. Here, we report the identification of the biosynthetic gene cluster for andrastins in the genome of Penicillium chrysogenum, and the reconstitution of the biosynthesis of andrastins in a heterologous fungal expression system. In this study, we characterized five enzymes involved in the biosynthesis of andrastins, which are unique to the biosynthetic pathway of andrastins, and succeeded in the heterologous production of andrastin A by expressing nine genes from the biosynthetic gene cluster.