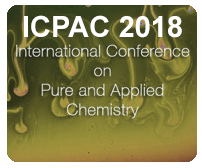 2–6 July 2018
The International Conference on Pure and Applied Chemistry (ICPAC) 2018
Mautirius
The International Conference on Pure and Applied Chemistry (ICPAC) is a biennial conference which started in 2010. The 5th ICPAC conference (ICPAC-2018) will be held on 2-6 July 2018 in Mauritius. The Organising Committee has adopted the theme "Chemistry for a Clean and Healthy Planet" for this event.<false,>In 2018, we will mark the:
1. 50th Anniversary of the Independence of Mauritius, &
2. 100 years since the Nobel Prize in Chemistry was awarded to Fritz Haber for the synthesis of ammonia.
The Conference will be held at Hotel Sofitel Mauritius Impérial Resort & Spa, Flic-en-Flac, Mauritius, where the sun sets over Mauritius' white sand beaches and turquoise water.
Workshop/Symposium Proposal 30th Nov 2017
Abstract Submission (Oral or Poster) 15th Feb 2018
Booking for Accommodation 15th Mar 2018
Early Registration 15th Mar 2018
Full Paper (Optional) 1st Oct 2018
The organisers look forward to welcoming you, academicians and researchers, to participate in this international gathering.
For more information about the conference, registration, and submission of abstract, please visit:

24–26 October 2018
2018 International Conference on Biotechnology and Bioengineering
Budapest, Hungary
Welcome to the 2018 International Conference on Biotechnology and Bioengineering (8th ICBB) which will be held in Budapest, Hungary during October 24-26, 2018. The conference has been designed to provide an innovative and comprehensive overview of biotechnology and bioengineering, and a focus will be given to major research advances, including: New Approaches & Methods; Cell and Immunology; Genomics & Molecular Biology; Biomaterials, Biopolymers & Bioenergy; Biomedicine, Pharmacology & Toxicology; Biomedical Engineering & Techniques; and other related aspects. More information about the conference can be found at http://icbb.apaset.org/