Special Issue "Polar Microbiology: Recent Advances and Future Perspectives"
A special issue of Biology (ISSN 2079-7737).
Deadline for manuscript submissions: closed (30 November 2012)
Special Issue Editor
Guest Editor
Prof. Pabulo H. Rampelotto
Center of Biotechnology and PPGBCM, Federal University of Rio Grande do Sul, Porto Alegre, RS, Brazil
E-Mail
Interests:
biotechnology; next generation sequencing; metagenomics; molecular biology and biochemistry of microorganisms; extremophiles; grand challenges
Special Issue Information
Dear Colleagues,
Polar microbiology is a promising field of research that can tell us much about the fundamental features of life. The microorganisms that inhabit Arctic and Antarctic environments are important not only because of the unique species they represent, but also because of their diverse and unusual physiological and biochemical properties. Furthermore, microorganisms living in Polar Regions provide useful models for general questions in ecology and evolutionary biology given the reduced complexity of their ecosystems, the relative absence of confounding effects associated with higher plants or animals, and the severe biological constraints imposed by the polar environment. In terms of applied science, the unique cold-adapted enzymes and other molecules of polar microorganisms provide numerous opportunities for biotechnological development. Another compelling reason to study polar microbial ecosystems is the fact that they are likely to be among the ecosystems most strongly affected by global change. For these reasons, polar microbiology is a thriving branch of science with the potential to provide new insights into a wide range of basic and applied issues in biological science. In this context, it is timely to review and highlight the progress so far and discuss exciting future perspectives. In this special issue, some of the leaders in the field describe their work, ideas and findings.

Prof. Pabulo Henrique Rampelotto
Guest Editor
Print Edition available!
A Print Edition of this Special Issue is available
here
.
Hardcover: 57.50 CHF*
Pages:
14
, 452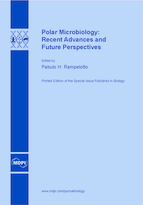 *For contributing authors or bulk orders special prices may apply.
Prices include shipping.
Keywords
biodiversity
biogeochemistry
biogeography
biotechnology
evolutionary biology
genetics, genomics and proteomics
microbiology
molecular biology
molecular ecology
physiology and metabolism