Need Help?
Support
Find support for a specific problem in the support section of our website.
Get Support
Feedback
Please let us know what you think of our products and services.
Give Feedback
Information
Visit our dedicated information section to learn more about MDPI.
Get Information
clear
23 September 2021

2020 MDPI Top Reviewer Award—Winners Announced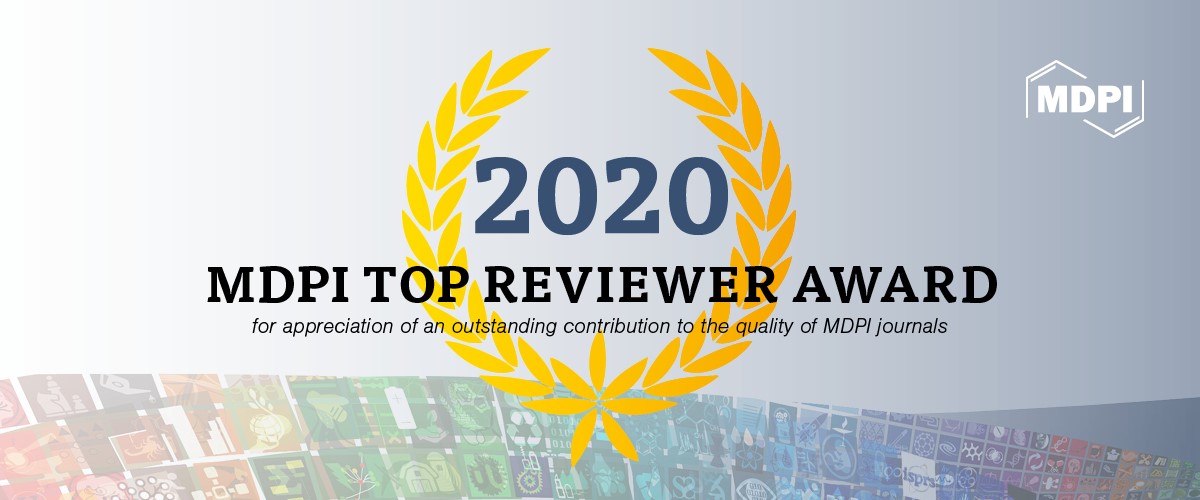 Rigorous peer-review is the cornerstone of high-quality academic publishing. Over 369,916 scholars served as reviewers for MDPI journals in 2020. We are extremely appreciative of all those who made a contribution to the editorial process in this capacity. At the beginning of every year, journal editorial offices publish a list of all reviewers' names to express our gratitude. In addition, this year, the MDPI Top Reviewer Award was announced, to recognize the very best reviewers for their expertise and dedication, and their high-quality, and timely review reports. We are pleased to announce the following winners of the 2020 MDPI Top Reviewer Award:
Adriana Burlea-Schiopoiu;
Alban Kuriqi;
Álvaro González-Vila;
Alessandro Alaimo;
Alexey Beskopylny;
Alexander Yu Churyumov;
Alberto Fernández-Isabel;
Andrea Mastinu;
Antonios N. Papadopoulos;
Anton Rassõlkin;
Antonio Humberto Hamad Minervino;
Arkadiusz Matwijczuk;
Artur Słomka;
Baojie He;
Bartłomiej Potaniec;
Bojan Đurin;
Camilo Arturo Rodriguez Diaz;
Carmelo Maria Musarella;
Chiachung Chen;
Chiman Kwan;
Cristian Busu;
Danil Pimenov;
Dan-Cristian Dabija;
Delfín Ortega-Sánchez;
Demetrio Antonio Zema;
Denis Butusov;
Elena Lucchi;
Gaurab Dutta;
Livia Anastasiu;
M. R. Safaei.
For more information about how to become a reviewer of MDPI journals, please see: www.mdpi.com/reviewers.