Open Access
Article
Brevianamides and Mycophenolic Acid Derivatives from the Deep-Sea-Derived Fungus Penicillium brevicompactum DFFSCS025
Received: 29 December 2016 / Revised: 3 February 2017 / Accepted: 10 February 2017 / Published: 17 February 2017
PDF Full-text (1657 KB) | HTML Full-text | XML Full-text | Supplementary Files
Abstract
Four new compounds (1–4), including two brevianamides and two mycochromenic acid derivatives along with six known compounds were isolated from the deep-sea-derived fungus Penicillium brevicompactum DFFSCS025. Their structures were elucidated by spectroscopic analysis. Moreover, the absolute configurations of 1
[...] Read more.
Four new compounds (
1
–
4
), including two brevianamides and two mycochromenic acid derivatives along with six known compounds were isolated from the deep-sea-derived fungus
Penicillium brevicompactum
DFFSCS025. Their structures were elucidated by spectroscopic analysis. Moreover, the absolute configurations of
1
and
2
were determined by quantum chemical calculations of the electronic circular dichroism (ECD) spectra. Compound
9
showed moderate cytotoxicity against human colon cancer HCT116 cell line with IC
50
value of 15.6 μM. In addition,
3
and
5
had significant antifouling activity against
Bugula neritina
larval settlement with EC
50
values of 13.7 and 22.6 μM, respectively. The NMR data of
6
,
8
, and
9
were assigned for the first time.
Full article
►

▼

Figures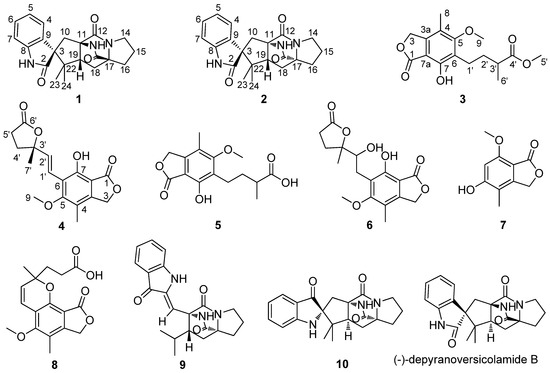 Figure 1