The Marine Natural Product Pseudopterosin Blocks Cytokine Release of Triple-Negative Breast Cancer and Monocytic Leukemia Cells by Inhibiting NF-κB Signaling
1
Bio-Pharmaceutical Chemistry & Molecular Pharmacology, Faculty of Applied Natural Sciences, Technische Hochschule Koeln, Chempark, 51368 Leverkusen, Germany
2
Department of Chemistry, and Department of Biomedical Sciences, Atlantic Veterinary College, University of Prince Edward Island, Charlottetown, PE C1A 4P3, Canada
*
Author to whom correspondence should be addressed.
Received: 16 May 2017 / Revised: 14 August 2017 / Accepted: 21 August 2017 / Published: 23 August 2017
Abstract
Pseudopterosins are a group of marine diterpene glycosides which possess an array of biological activities including anti-inflammatory effects. However, despite the striking in vivo anti-inflammatory potential, the underlying in vitro molecular mode of action remains elusive. To date, few studies have examined pseudopterosin effects on cancer cells. However, to our knowledge, no studies have explored their ability to block cytokine release in breast cancer cells and the respective bidirectional communication with associated immune cells. The present work demonstrates that pseudopterosins have the ability to block the key inflammatory signaling pathway nuclear factor κB (NF-κB) by inhibiting the phosphorylation of p65 and IκB (nuclear factor of kappa light polypeptide gene enhancer in B-cells inhibitor) in leukemia and in breast cancer cells, respectively. Blockade of NF-κB leads to subsequent reduction of the production of the pro-inflammatory cytokines interleukin-6 (IL-6), tumor necrosis factor alpha (TNFα) and monocyte chemotactic protein 1 (MCP-1). Furthermore, pseudopterosin treatment reduces cytokine expression induced by conditioned media in both cell lines investigated. Interestingly, the presence of pseudopterosins induces a nuclear translocation of the glucocorticoid receptor. When knocking down the glucocorticoid receptor, the natural product loses the ability to block cytokine expression. Thus, we hypothesize that pseudopterosins inhibit NF-κB through activation of the glucocorticoid receptor in triple negative breast cancer.
View Full-Text
►

▼

Figures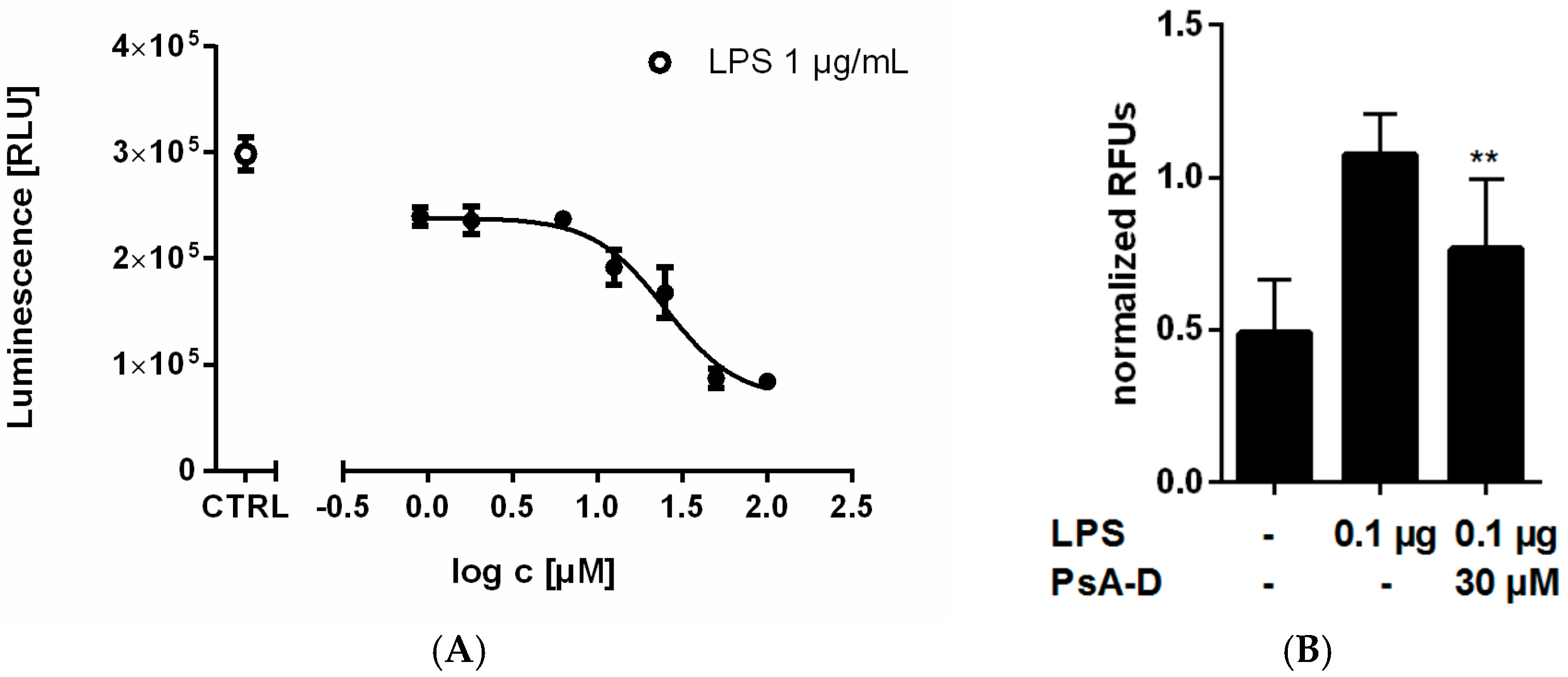 Figure 1
This is an open access article distributed under the
Creative Commons Attribution License
which permits unrestricted use, distribution, and reproduction in any medium, provided the original work is properly cited. (CC BY 4.0).
Share & Cite This Article
MDPI and ACS Style
Sperlich, J.; Kerr, R.; Teusch, N. The Marine Natural Product Pseudopterosin Blocks Cytokine Release of Triple-Negative Breast Cancer and Monocytic Leukemia Cells by Inhibiting NF-κB Signaling. Mar. Drugs 2017, 15, 262.
Note that from the first issue of 2016, MDPI journals use article numbers instead of page numbers. See further details here.
Related Articles
Comments
[Return to top]