Special Issue "Chromatin Control of Viral Infection"
A special issue of Viruses (ISSN 1999-4915). This special issue belongs to the section "Animal Viruses".
Deadline for manuscript submissions: closed (31 May 2013)
Special Issue Editor
Guest Editor
Dr. Thomas M. Kristie
Chief, Molecular Genetics Section, LVD, NIAID, Building 33, Room 3W20B.7, 33 North Drive, MSC 3209, Bethesda, MD 20892-3209, USA
Website
|
E-Mail
Interests:
herpes simplex virus gene expression; transcriptional coactivators in herpesvirus lytic and latency reaction; chromatin control of herpesvirus lytic and latency-reaction cycles; mechanisms involved in RNAP II-mediated gene transcription
Special Issue Information
Dear Colleagues,

The role of chromatin and epigenetic regulation in cellular transcription, replication, repair, and development has been well recognized. However, invading viral pathogens that depend upon cellular nuclear machinery are also subject to the regulatory impacts of chromatin.
For lytic pathogens, successful infection depends upon the ability to counter cellular defense mechanisms such as deposition of repressive chromatin structures with the ability to utilize cellular chromatin modulation activities that promote the efficient utilization of cellular transcription and/or replication machinery. Additionally, viral pathogens whose complex replication cycles include coupled stages of lytic replication and latency/persistence are impacted epigenetic states that play controlling roles in determining the viral state.
Advances in understanding the basic biology of chromatin deposition, modification, and modulation/remodeling will contribute to the understanding of viral diseases and present novel opportunities for prophylaxis or treatment. The workshop "2012 Chromatin Control of Viral Infection" brings together leaders in this research area representing various viral families as well as select experts in general chromatin biology.

Dr. Thomas M. Kristie
Guest Editor

Corresponding article relevant for this topic:
Aaron Arvey, Italo Tempera and Paul M. Lieberman
Interpreting the Epstein-Barr Virus (EBV) Epigenome Using High-Throughput Data
Viruses 2013, 5(4), 1042-1054; doi:10.3390/v5041042
Print Edition available!
A Print Edition of this Special Issue is available
here
.
Hardcover: 47.50 CHF*
Pages: 316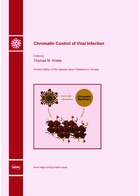 *For contributing authors or bulk orders special prices may apply.
Prices include shipping.